<![if !vml]>

<![endif]>  FRANK S. TAYLOR  FAMILY AND ROYAL NAVY HISTORY.NET  <![if !vml]>
<![endif]>
H.M.S. APHIS
JIMMY JONES
O/Tel
Royal Navy
CJX 611689
  <![if !vml]>
<![endif]>
  

J.E. Jones
<![if !vml]>
<![endif]>
1939-45 Star, Italy Star, France and Germany Star, Defence Medal, 1939-45 War Medal
Among the many people whom I met during my researches was Mr Angus Jones, (Royal Marine Commando) whose' younger brother Jimmy served on HMS Aphis in the Mediterranean. Angus contacted me as a result of Dion Crooks article in RSA Review published August 2010 (See HMS Scarab). Unfortunately Jimmy had passed away but Angus was able to make a number of very valuable contributions in particular referring me to a book "Armed with Stings" by Cecil Hampshire. I have placed an excerpt from the publication on this website.
<![if !vml]>
<![endif]>
Angus with his youngest daughter Katy,
and grand daughter Paige. 2002
Angus also independently confirmed (from conversations he had with his brother Jimmy) that it was Aphis and Scarab that engaged and disabled the two German Corvettes Unterseebootjager-6083, which had formerly been the Italian Capriolo, and Kemid Allah following the landings in Southern France. Jimmy was always concerned that the facts in the American account of this incident were not accurate. As Douglas Fairbanks Jnr stated the action was all but over when USS Endicott arrived. (See excerpt from interview with Lieutenant-Commander Douglas Fairbanks Jnr. - United States Navy Reserve The American version gives different view of the incident.)
Jimmy always stated that Lieutenant-Commander Douglas Fairbanks Jnr. was a true gentleman, a leader of men and respected by all the crew. Angus was able to provide a copy of a signed photo of Douglas Fairbanks Jnr dated 1944 addressed to Jimmy and signed "Best Wishes, Douglas Fairbanks".
<![if !vml]>
<![endif]>
In addition Angus also provided additional information regarding the Adoption of HMS Aphis by the Township of Warminster, Wiltshire.
The following are extracts from correspondence.
From: Town Clerk [mailto:townclerk@warminster-tc.gov.uk]
Sent: Tuesday, 26 May 2009
To: 'Angus Jones'
Subject: RE: HMS Aphis
Dear Angus
Thank you for your email regarding HMS Aphis. I am attaching two photographs of the plaque & ship that are on display at Warminster Town Council offices known as Dewey House. The Plaque was found in a skip in the early 70's when our Old Town Hall was sold by Wiltshire County Council. It was rescued by the White Ensign Society cleaned and put up in their offices but repatriated to Warminster Town Council in 2006.
The plaque was presented to the people of Warminster for their efforts in raising funds towards Warship Week. The Plaque measured 18" X 14" and weighs 20lbs. I know that our local Museum Dewey Museum, will have a lot of information and I would suggest that you write to them. Unfortunately they do not have an email address. If you would like to put a request through myself I would happily pass this onto them.
The museum is run by three very elderly gentlemen who have a wide knowledge of all things relating to Warminster so I am sure that they could inform you better than I.
Their address is:
Dewey Museum, Warminster Library, Three Horseshoes Mall, Warminster, Wilts, BA12 9BT, Tel 01985 216022.
I hope that this information is useful to you.
Regards
Heather Abernethie
<![if !vml]>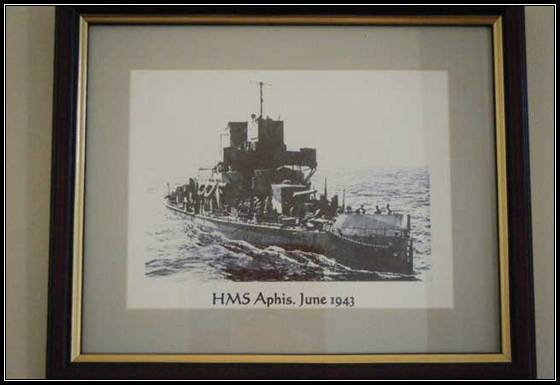 <![endif]>
<![if !vml]>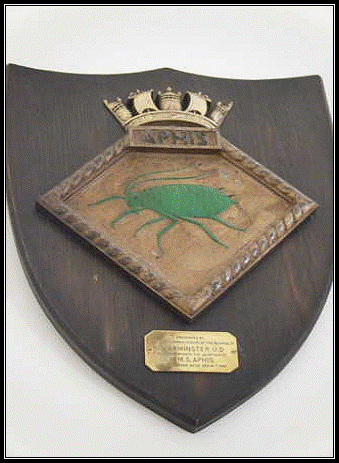 <![endif]>
From: Angus Jones [adjones@xtra.co.nz]
Sent: 26 May 2009
To: 'Town Clerk'
Subject: HMS Aphis
Dear Heather,
There is a man in New Zealand whose late father was a member of the crew of HMS Scarab. Scarab was an insect class gunboat just like Aphis. In fact Scarab was in the naval actions with Aphis when Fairbanks was in overall command. The man's name is Russ Taylor. Now Russ has a little family web site mostly concerning his father and HMS Scarab, but of course Aphis gets a mention. I sent him a copy of the photo that you sent me of the crest of HMS Aphis. He thought it was very good and requested me to ask you if it was OK for him to use it on his Scarab web site. He also found out that another council in the UK has a crest of Scarab. However they have it stored in their basement and not on display.
Thanking you in anticipation.
All the Best,
Angus
From: Town Clerk [townclerk@warminster-tc.gov.uk]
Sent: Tuesday, 26 May 2009
To: 'Angus Jones'
Subject: RE: HMS Aphis
Dear Angus     Absolutely no problem at all.
---
Angus is a man with a rich and varied life experience. He was kind enough to supply the following details which I have included here. Note that though the combatants may change as history moves on the geography and human fall-out remains much the same. His records and sites relate to the 1956 Suez Crisis.
Angus Jones
(Ex 42 Commando Royal Marines)
| | |
| --- | --- |
| <![if !vml]><![endif]> | I was only a National Serviceman in my teens, but I think the training I received was of a very high standard. It may interest you to know that in my recruit's handbook, it said that we should treat older people with respect, and also not whistle at strange girls... |
From: Angus Jones
Sent: Thursday, January 22, 2009
Subject: Suez Crisis 1956 Little Stories.
Note that in the web site addresses below instead of Angus they have used Agnus. They said that this was for security reasons. I have no idea why.
I am not sure if you know of the Britain's Small Wars website. History is often just a broad statement of fact, but the BSW site gives a more personal point of view from the soldiers, sailors, airmen and marines, who were involved in the various conflicts from 1945 to the present.
My two older brothers served in the Royal Navy in WW2. One was in the Atlantic and later in the Med on Special Operations. The other was on the Russian Convoys and later in the Pacific Fleet. My stories are a bit trivial compared to theirs. My little stories are a bit tongue in cheek, but there are some sad bits. The stories concern the Suez Crisis in 1956. Later I will write about my year in Londonderry, N. Ireland
<![if !vml]>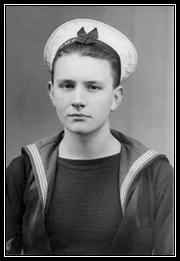 <![endif]>   <![if !vml]>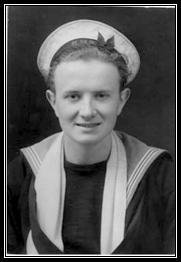 <![endif]> 
Gerry (left) and Jimmy
If you would like to read my little stories the web site addresses are:
www.britains-smallwars.com/suez/Agnus/Approval.html "Don't Cry, The Shooting is Over for Now"
www.britains-smallwars.com/suez/Agnus/Approval2.html "After the Ceasefire"
www.britains-smallwars.com/suez/Agnus/Approval3_REV.html "Suez a Postscript". Includes photos from the Globe and Laurel, of the military funerals at Royal Navy Cemetery, Haslar, 14th Dec 1956.
www.britains-smallwars.com/suez/Agnus/Approval4.html  "Suez Crisis Postal History, An Egyptian Perspective". One of the stamps shows British Paras being shot out of the sky. The last of these concerns postage stamps.
The address for the Audio slideshow by Capt Derek Oakley is:
http://news.bbc.co.uk/go//pr/fr/-/2/hi/uk_news/6092170.stm
A top marine recalls the Egypt invasion and the humiliation of withdrawal
Angus also provided the following items – I have used his words to describe them wherever possible.
I have here a small pocket size booklet LA CORSE LIBEREE. The text is in French. On the back in Jimmy's writing - 'Ajaccio (Corsica) June 1944.' I think that the liberation of Corsica was before the date that Jimmy wrote on the back. However it does indicate that the Aphis called in at that time. The booklet is an interesting item from those times.
Liberation of Corsica Booklet
<![if !vml]>
<![endif]>
Ajaccio (Corsica) June 1944
  <![if !vml]>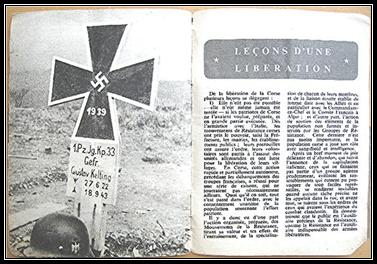 <![endif]>
(Click to enlarge)
  <![if !vml]>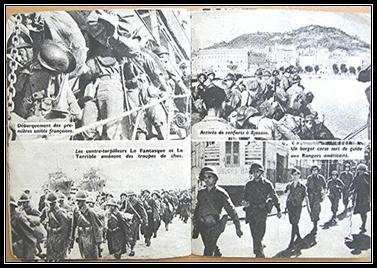 <![endif]>
LA CORSE LIBEREE
(Click to enlarge)
<![if !vml]>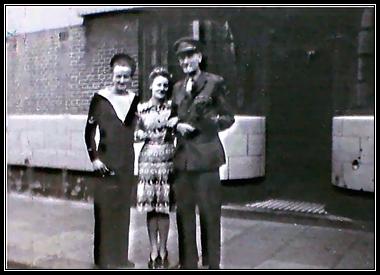 <![endif]> 
Jimmy with his Dad and older sister Margot 1945
<![if !vml]>
<![endif]> 
Jimmy (x) with shipmates aboard Aphis
 (note 6 inch gun behind Jimmy)
  <![if !vml]>
<![endif]>
Jimmy (right) in Taranto August 1945
<![if !vml]><![endif]>

Royal Navy Censor Stamp WW2

<![if !vml]><![endif]>

Royal Navy Airgraph WW2   30 Oct 1944
<![if !vml]>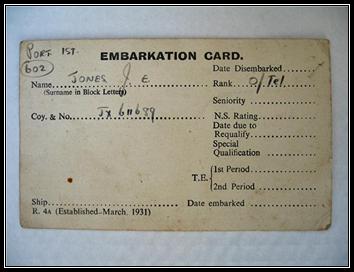 <![endif]>
Royal Navy Embarkation Card WW2
<![if !vml]>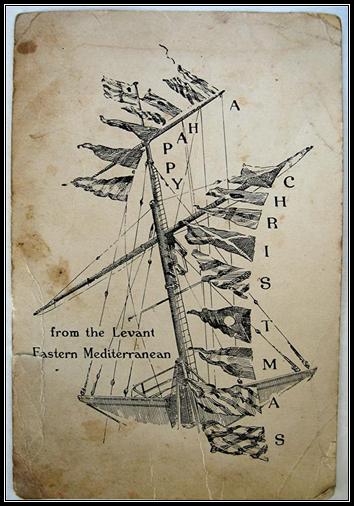 <![endif]>
Christmas 1944   Eastern Mediterranean
<![if !vml]>
<![endif]>
Christmas Greetings 1944
<![if !vml]>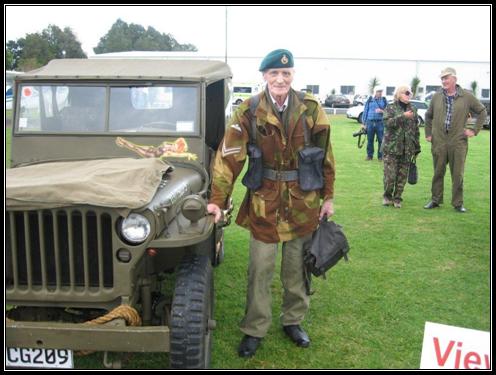 <![endif]>
Angus Jones – present day