H.M.S. APHIS
Dr. PETER J. MILLER
Surgeon Lieutenant
Royal Navy
<![if !vml]>
<![endif]>
<![if !vml]>
<![endif]>
Russ Taylor and Dr. Peter Miller outside Peter's home in Rugby, Warwickshire
<![if !vml]>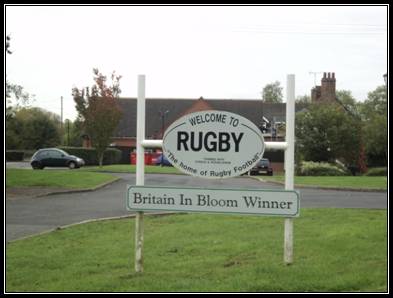 <![endif]>
(Click to enlarge)
When I first met Peter, his first words were "It's great to see the son of one of our shipmates".
The Skipper of Aphis was Lieutenant Commander Frank Bethell, very well respected and liked by all. Second in command was Lt. Tony de Cossan, one of five officers aboard. There was a crew complement of 70 men, the same as on Scarab.
Peter served in North Africa, Sicily and Italy and went as far as Ascona on the East side of Italy. He was decommissioned in Malta and from there to Alexandria Military Hospital as a general duties officer in charge of a hospital ward treating patients.
Peter remembers his days on Aphis with fondness. As he said to me, "Those were the days…or were they?"
One poem he quoted to me was "The Ancient Mariner" (the young bright-eyed mariner).
Peter was born in Malta. At the time of his enlistment he was the Chief Operating Surgeon at the Royal Navy Hospital.
Below is a firsthand eyewitness account which is very intense – entitled "MAINLY MYSELF"
<![if !vml]><![endif]>
Peter seated with a photo portrait of himself and one of his drawings of HMS Aphis
<![if !vml]><![endif]>
Close up of the photo portrait (used in his autobiography "Mainly Myself")
Note: Russ's Dad (circled) in picture
Former Naval Doctor gives an account of his career to Air cadets
Posted by Danielle Hicks on Jan 28, 2010 in News
<![if !vml]>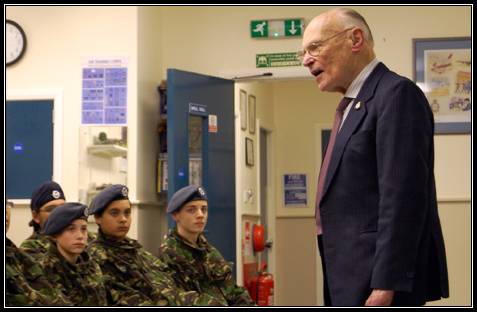 <![endif]>
"Who can say they know someone who can thank the outbreak of World War Two for making their dreams come true? I can and I do".
These were the opening words by Peter Miller on a recent visit to 2438 Squadron Air Training Corps. The cadets listened as Peter Miller told them of his life's adventures and stories.
Born in Malta to a British Naval family in October 1917 Peter J Miller always wanted to follow in his father's footsteps and join the Royal Navy. Loving the water and his father's naval stories his dream of following in his father's footsteps were shattered after learning he was colour blind. Though he didn't want to do anything else as a career he decided that life on water was to be a distant dream so he set about becoming a doctor.
He trained as a General Practitioner at St Bart's College in London. By the time the Second World War broke out in 1939 Peter was loving life as a doctor though he still had his dream of joining the Royal Navy. In September 1940 he experienced the Blitz first hand and helped many injured service personnel and civilians through the terrible times.
Knowing that there was a national shortage of service personnel Peter set about fulfilling his life's dream of joining the Royal Navy once again. Luckily for Peter even with his colour blindness, because there was a demand for naval personnel he was offered a place as a naval surgeon on HMS Aphis in the seas around the Mediterranean. He jumped at the chance to join the Royal Navy and set about fulfilling his life long dream.
Built in 1915 HMS Aphis was a Royal Navy Insect class gunboat. The Insect class patrol boats were a class of small, but well-armed Royal Navy ships designed for use in shallow rivers or inshore. The ships were designed to operate in shallow fast-flowing rivers, with a shallow draught and a good turn of speed to counter river flow.
On board the ship he was given the rank of Surgeon Lieutenant. As ship's doctor he was to treat everything from tuberculosis to burns victims, missing limbs, head trauma, flash burns and splinter wounds. As this ship was based in the Mediterranean, life as the ship's doctor was very quiet for him but he still enjoyed his life on board.
Once the war had finished Peter settled back into civilian life and moved to Rugby to open up his own General Practice until he retired in 1982.
During and after his talk Dr Peter Miller showed the cadets photographs of himself taken during the war and paintings he had done of HMS Aphis.
Commanding Officer Flight Lieutenant Nathan Adams said "This was an excellent opportunity for the Cadets to understand a first hand account of what it was like to serve as a Doctor on board a Royal Navy ship in the Second World War. I think it is vitally important that the Cadets can have this experience whilst the generation that fought in the war can still pass on their experiences, so that the message from history can be passed on to future generations and not forgotten".
Dr Peter Miller still lives in Rugby and is the Chairman of the Rupert Brook Society and a County Surgeon for the St Johns Ambulance.

Source: http://cv3.coventrytelegraph.net/2010/01/former-naval-doctor-gives-an-a.html
The following is an excerpt from Peter's autobiography giving an account of his time on HMS Aphis.
Mainly Myself
By Peter Miller
Printed in 2010 by Limney Group, Mansfield, Nottingham.
<![if !vml]>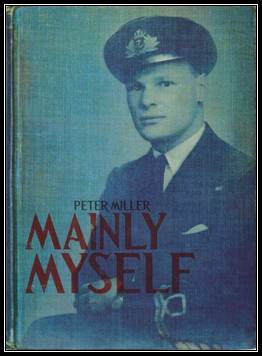 <![endif]>
All text pages are supplied by Peter Miller, Cover and image pages by Sean Hopkins.
This book could not have been produced without the help and support of Peter's daughters, Anne, Susan and Jean
<![if !vml]>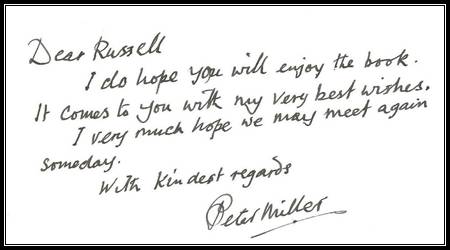 <![endif]>
<![if !vml]>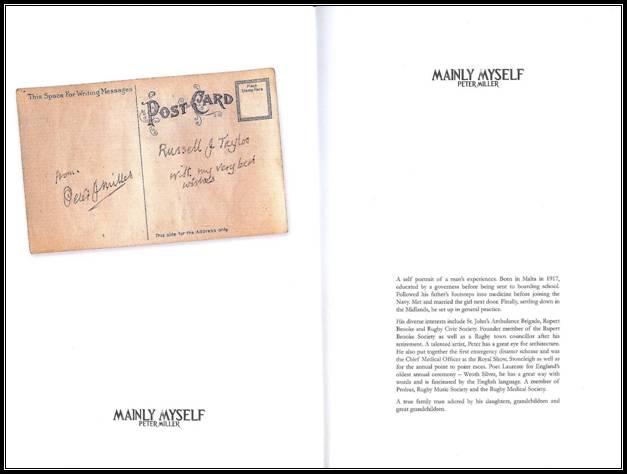 <![endif]>
It was in March 1943 that I decided I had had enough of hospital life and, as I have explained, was getting bored with the routine of it – a routine in which I did not seem to be gaining any education of any value or experience of any use. Besides which I was beginning to think I should go to sea, which was after all what I had joined the Navy for. So I went to the Fleet Medical Officer and asked for a ship. 'What kind of ship would you like Miller?' he asked. 'Oh, I don't know Sir' I replied, 'perhaps one of those new Hunt-class destroyers' – destroyers that were doing such daring work in the Eastern Mediterranean and in the Aegean. It seemed to me at the time that he must have had a distorted sense of humour – though he was probably only filling the next vacancy - for he eventually sent me to what must have been the oldest ship in the British Navy, a China River Gunboat called HMS Aphis.
The Gunboat – Armed with stings
'Others like soldiers armed in their stings'
(Shakespeare, Henry V, Act 1, Scene 2)
I first saw this little ship one grey afternoon in March. She lay at her berth at one of the dockyard quays at Alexandria, looking like no ship I had ever seen before, conspicuous by tow disproportionately large guns, one fore and one aft of the box-like superstructure which housed the engines and which was surmounted by two funnels side-by-side. The guns were six-inch, heavier than her original armament; they had a range of thirteen miles, and had been installed for the purposes of offshore bombardment in the Mediterranean campaign. The engine-room of necessity occupied the greater part of the superstructure for the vessel's draught was only five feet, while the freeboard – that is to say the height of the ship's side from the waterline to the deck – was only three feet. We officers had cabins in the forepart of the ship, where also was the wardroom; thus we lived between the upper deck and the bilges, a height of eight feet.
The ships of this class, the 'Insect' class, had originally been built for service on rivers, and at the end of the First World War Aphis, which had been built in 1915, had spent some time on the Danube and had eventually served on the Yangtze. When the second war came these little ships had been shored up internally with balks of timber and brought from the Far East under their own steam to the Mediterranean. Their individual voyages had all been hazardous in the extreme but they had all arrived safely and by the end of 1940 three of the 'Insects', Aphis, Ladybird and Gnat were in the Mediterranean and a fourth, HMS Cricket was about to join them. By the time I joined Aphis, in 1942, there were two more of these little ships in the Med, Cockchafer and Scarab, making a flotilla of six, which constituted part of what was called the Inshore Squadron, their role being mainly coastal bombardment. They were seldom in company and mainly operated individually. The Army frequently called upon them to supply firepower from the sea. The flotilla carried two medical officers. In 1941 the Ladybird was sunk in Tobruk harbour by dive bombers and had remained with her burnt out upper works sticking out of the water and serving as an anti-aircraft gun platform.
I found I had three fellow officers; the Captain, a thick-set, bearded, regular naval officer, Lieutenant Commander Frank Bethell, R.N.; the First Lieutenant an intelligent man of aristocratic lineage with traces of Italian descent, a fluent Italian speaker, Lieutenant Tony de Cossan, R.N.V.R., and finally the Sub-Lieutenant and Navigator Alaric Mortimore, R.N.V.R., who had been in commerce in West Africa before the war. We were looked after by two Maltese stewards and a Maltese cook and, when not on operations or in a heavy sea, were tolerably comfortable. My sickbay had both port and starboard entrances and was situated immediately under the bridge and wheelhouse being part of the main superstructure. It had two bunks one above the other and a desk and a chair. The SBA (Sick-berth Attendant) slept in one of them when they were not occupied by sick men. Our complement, including officers, was seventy men; this was wartime manning and a very large number to carry in such a small boat, but a very small number to engage the attention of a medical officer.
Within hours of my joining the ship it was ready for sailing and we left for Tripoli, in Libya, which was to be our base for the time being. We were in fact following the Eight Army as it pushed westward along the North African coast. As I had little else to do I found I was in charge of the wines and spirits and the messing economy of the Wardroom. The two Maltese stewards and the cook also from Malta were answerable directly to me and I was answerable to my fellow officers for their contentment in matters of food and drink. With so little to do life could be tedious; when the ship was at sea I used to spend many hours sitting on a seat in the starboard wing of the bridge.
We had not been long in Tripoli before the three executive officers came together in the Wardroom with maps and charts and other papers; the doors were locked, the stewards sent away aft, and I was left to serve the drinks, having been dubbed 'Security Barman' – an operation was being planned. I learned that we were to sail by night across the Gulf of Gabes and bombard Rommel's Headquarters at Gabes. The proposed operation was discussed with relaxed professionalism by the three officers, but even so there was an air of intense expectancy and I soon learned that something momentous was being planned.
So far so good, we were to attack Rommel, but we were not prepared for what happened immediately before our expedition. On the evening of March 20th, soon after darkness had fallen, the all-but-defeated Italians launched one of their last attacks. Twelve Savoia-Marchetti torpedo-bombers suddenly swooped on Tripoli and dropped circling torpedoes in the harbour. Seven of the twelve were shot down, but not before they had inflicted considerable damage. A petrol tanker was hit and went up in flames, its blazing cargo spread over the harbour whose waters were soon completely set alight by the burning fuel. A ship carrying munitions, the Ocean Voyager, had also received a torpedo and was on fire. To add to this inferno, one of the shot-down aircraft crashed in flames into a storage dump of hundreds of barrels of oil, only a few yards from our ship. These instantly ignited, adding to the conflagration.
Aphis, like every other unit in Tripoli was pouring anti-aircraft fire into the night sky. For a time, being the only unoccupied member of the ship's company, I sat rather wretchedly and apprehensively in the empty wardroom. When our excessively noisy three-inch anti-aircraft gun opened up immediately above my head, I thought for a moment that the ship had been hit. I couldn't sit beneath it for long and presently went on deck to view the fantastic scene.
Just before midnight the Ocean Voyager, only yards from us blew up. So great was the blast that the Aphis's wire head rope parted and we were set adrift by the bow. The munitions ship was cut in two by the explosion and the two portions driven apart along the harbour bed; I subsequently learned that the ship's cat had been rescued unharmed from the fore part. One of the ship's boilers landed in the town nearly a mile away.
In the small hours of 21st March we steamed out of the still burning harbour on our planned expedition, escorted by five 'Fairmile' motor launches. These were lightly armed patrol vessels, skippered mainly by R.N.V.R. lieutenants, whose task was to act as escorts for Aphis, and later to create a diversion by a coastal raid and feigned landing behind enemy lines while we were bombarding. We had to travel a distance of some hundred miles to our firing position, and as the next night fell we were still chugging along escorted by our five small boats. In the first hours of darkness a twin-engined plane flew over us very low. We thought we recognised one of our own Beaufighters and waved ecstatically and exclaimed excitedly. Later we learned that there had been no British aircraft in that area at that time and it must have been German. It flew on and left us unmolested. It must have been a case of mutually mistaken identity, we mistook the plane for one of ours and they must have mistaken us for a German destroyer escorted by German E-boats.
As I have said our target was Gabes and, as I subsequently learned, we effectively shelled the railway station and a group of buildings that contained Rommel's staff. The whole operation which had been codenamed 'Intrusion', and included the diversionary activity of the motor launches, had been intended to draw off enemy forces to meet where they were supposed to think was a threatened landing in their rear, and thus ease the pressure on Montgomery's thrust on the strongly defended Mareth Line. It was apparently successful. A single coastal light had been used by the Captain of Aphis to fix his position for the shoot. The ship steering solely by dead reckoning had steamed up and down in the arc of a giant circle of radius 13 miles with the target at its centre. At the end of its run it would turn around and repeat the arc in the opposite direction. By this means 56 shells fired at extreme range were accurately landed on the target, an extraordinary feat of navigation. Later we received a signal from the Senior Naval Officer Inshore Squadron, 'Well done accurate Aphis!', and when we had eventually moved on up the coast in the wake of the Eighth Army and were mingling socially with the French inhabitants of Sousse we found they were referring to 'Le bombardement du flotte Britannique'.
When all this was over and when in the early hours of 22 March we turned for home we were aware that we must have caused some disturbance and that the enemy would be out looking for us. After all the excitement the thing was to turn in and get some sleep. Our escort had rejoined us and I remember feeling uneasy about the prospect of enemy reprisals. Sub-Lieutenant Mortimore, having achieved this remarkable feat of navigation calmly announced that he was now going to get some sleep. I remember being lead by his example and thinking, 'If he can sleep – well so can I', and I slept soundly for several hours, to be awakened by the noise of men murmuring and moving about the deck. It was daylight and one could see a bright flaring light which had suddenly appeared on the horizon as though someone had struck a giant match. It was the Heinkel 111, which had come out looking for us, being shot down by our Spitfire escort.
When we returned to Tripoli, mission accomplished, still accompanied by our escort, at the dawn of another day, the fires had burned themselves out, and through the surrounding devastation we regained our usual berth. The captain of the guard ship, a minesweeper, anchored at the entrance of the harbour, who was a friend of our captain, came aboard later that day for a drink. Over our glasses in the wardroom he said, referring to his 3-inch gun, 'I had one up the spout for you, and I nearly let you have it.' Apparently he had mistaken us for an enemy marauding force. Also invited on board that day were the two New Zealand pilots of the protecting spitfires that had saved us by shooting down the German plane. We were keen to show our gratitude by plying them with drinks.
After the big shoot we had a couple of fairly uneventful months cruising around and exercising, during which we moved our base forward to Sousse which had since fallen to the Eighth Army. While at Sousse I received orders from senior staff to board a captured Italian hospital ship. I was instructed to interview the doctor and to inspect the medical records, in order to establish the ship's bona fides.
The doctor turned out to be a senior surgeon of some distinction and I remember having a feeling of compunction, at having to interrogate this dignified member of a profession in which I was still a relatively inexperienced junior. I had to remind myself that I was there as an officer of a conquering power interrogating an enemy officer to make sure his ship was not carrying out clandestine operations while masquerading as a hospital ship. He was polite and co-operative and showed me everything. Later I wrote in my report to the Admiralty.
'I was struck by the convenience of such a small ship, the adequacy of her fittings, and by the amount of useful surgical work that had been done actually at sea. When times were quieter she had been employed in the regular evacuation of small numbers of sick from the Italian islands to the mainland. She was understaffed for she carried only one naval doctor, but her usefulness was undeniable.'
I remember wondering why we had not got anything similar, and being conscious of the inadequacy of our own naval medical service compared with that of the Italians.
Another diversion of our quieter period came with the orders to land on a very small, uninhabited island in the Gulf of Sousse and make sure it contained no enemy forces. Its emptiness seemed obvious but anyway we did as we were told. I was of the landing party which was very small – as I remember it we were only four – I don't think anybody took it very seriously; why I was there I can't remember; perhaps because I had nothing else to do. The party consisted of the First Lieutenant, the Sub-Lieutenant and myself and one senior rating. We took Lee-Enfield rifles. 'Here Doc, you'd better have a rifle.' they said, 'B-but wha-what about the Geneva Convention?' I stammered. 'Oh blow that!' they said, 'Just take one, just in case'. And so it was that we were put ashore and walked in a leisurely way over the low featureless scrubland like four sportsmen patrolling a Scottish grouse moor with our guns. I don't know what we would have done if we had encountered an armed enemy force but it was pretty obvious this diminutive island was deserted. I can imagine a report which might have read…'A landing party was put ashore from HMS Aphis. No enemy resistance was encountered. Our force took possession of the island in the name of the Allied Forces, etc…!' We didn't actually hoist a flag!
The next step in the allied campaign directed towards the invasion of the mainland was to subdue the island of Pantelleria, which lay directly between Malta and Sicily. This small, mountainous island had been turned by Mussolini into a heavily defended naval base and garrison. The softening up of the island began as soon as the North African campaign was over and consisted of repeated bombardment from cruisers and destroyers.
On 11 June the assault proper began. A formidable invasion force had been mustered and Aphis was to participate in the preliminary bombardment. We sailed from the Tunisian port of Sfax, which had by then become our base. In the event the island surrendered after only a brief resistance. I was not surprised. I can remember that soon after the bombardment had begun the island disappeared under a pall of dust and smoke that rose high into the air. Aphis started to bombard, accurately as we subsequently learned. The defenders resisted from 9.30 in the morning until one o'clock in the afternoon. At 11.00 am the bombardment from the heavier ships had started; Aphis opened fire at 11.30 and I can remember the incredible concussion and all-enveloping flash that ensued when our two 6-inch guns were discharged simultaneously. For one brief moment I, who never did know what was happening, thought the ship had been hit. At midday the shelling had ceased and the assault troops had gone in.
We had on board with us a captain R.N., who had come as an observer. We saw some of our bombers attacking the island. The captain was almost beside himself with boyish excitement. We saw a stick of bombs just released and, almost in slow motion, glistening in a sharply defined pattern against the clear blue sky, before plunging downwards. 'Look Doc! Look at the bombs! You'll never see anything as clear as that again!' He could not have known that this sort of image would be endlessly repeated on colour television for decade after decade. I can remember being slightly shocked at war being treated as a spectator sport – all very well when you're on the winning side! Exultation was perhaps understandable after the grim years of Allied defiance against almost impossible odds in the Mediterranean. Yes the tide was turning in our favour, but the Italian campaign had yet to be fought.
On the same day we had witnessed a 'dog-fight' by fighter planes over the island. Our ship's company stood on the deck cheering and yelling as though they had been at a football match. But this was warfare; one of those pilots up there was going to kill the other one. This mood of exultation arose from the fact that Pantelleria seemed to be a walkover. This was a small thing against the bigger picture. Italy was on the verge of surrender but there were to be nearly two more years of war with countless further loss of lives.
Soon we left Sousse and, after a brief sojourn at Sfax a little further up the coast, took up our berth at Malta, where preparations were going ahead for the invasion of Sicily. It was with a sense of some excitement that I came, for the second time in my life, to the island where I was born, and which I not unnaturally came to love. I was to see quite a lot of it during the years which ensued. It was while I was in Tunisia that, by courtesy of the Army, we were taken on a desert motoring trip to see Tunisia's famous Roman amphitheatre. It was on the same trip that we came to a totally deserted yet completely intact small Arab town and were able to wander through it at will. The town had been evacuated because of the war and was no doubt waiting to be repopulated. In the meantime I had the fascinating experience of being able to explore a small Arab house with its shady inner rooms and inner court where once a fountain played. Our army friends looked after us well, supplying us with all necessities and lending us a 15-cwt truck and a motorcycle. It was the only time in my life that I have ridden a motorcycle and found it quite an exciting experience switch backing over the bomb-devastated roadways and quaysides.
It was in Tripoli that I had again met my brother. His Indian Army Service Corps unit was moving up with the Fifth Indian Division, and we had somehow kept track of one another. He came to lunch (Probably bully beef) in Aphis, bringing with him, memorably, a whole leg of lame and two huge new white loaves. That made him doubly welcome, for by that time we were on ships' biscuits ('hard tack') instead of bread and our meat was solely corned beef.
I had like being in Tunisia, where I had found pleasant recreation, but it was in Malta, that I found the most social enjoyment. This land of my birth had in imagination meant much to me and I was not disappointed. The first thing I had to do was to visit Bight Hospital and see the house where I was born. There it is they said; this is the house you're thinking of where the senior surgeon used to live; and it was a heap of bombed rubble. The Naval Hospital there was where I would be sending my patients and where I would apply for specialist help, and I soon found I was a welcome visitor to the doctors' mess. I played there (very badly) what was to prove the last but one game of tennis in my life; I hadn't touched a racket for the last three or four years; I succeeded in hitting a ball into the harbour – quite a range! I was sometimes invited to a meal which, up in the clean heights of Bighi village overlooking the Grand Harbour, was a welcome change from the ship and from the noise and dirt of the dockyard.
I had a cousin, Innes Westmacott, an R.A.F. Wing-Commander, who was something of a hero of mine. He was one of 'The Few' who fought the Battle of Britain. He is dead now, but in his lifetime he had survived three aircraft crashes, including being shot down in flames in a Spitfire over his own county of Essex. He was burned but fortunately not too badly. I had visited him in hospital in Chelmsford. He described how, as he parachuted to safety, he had spotted far below him, but growing ever bigger, his grandparents' house, the old Rectory, Wickham Bishops, and could clearly discern the familiar cedar tree and the tennis court, in reassuringly peaceful contrast to what he had just endured.
In Malta he described what he was doing as 'cloak and dagger' stuff. I learned later that he was flying a Mosquito over Sicily by night doing drops to one of our agents. He arranged for me to have a flight in a Wellington bomber, and accompanied me as we flew low over the water. The pilot took us down to no more than ten feet. I was seated in the transparent nose of the machine and can remember the thrill of flying so low over the water – so fast it was but a blur, so low that one felt one could almost touch it.
Innes had another cousin in Malta – another Westmacott, not my side of the family – who was a Lieutenant in a submarine. He introduced me to him and he invited us both to lunch in his vessel, which was in the dockyard. As we sat elbow-to-elbow on a built-in settee against a narrow table in the ship's 'wardroom', having our lunch served by the officers' steward, I was able to get some sense of the confined and claustrophobic nature of a submariner's life; but nevertheless in harbour, and for a guest there was a clean white tablecloth and everything was spick and span. I went about quite a lot with Innes, who introduced me to many of his friends, both service and civilian, and provided me with a pleasant social background.
It was from Malta then that we set out as part of the massive force assembled for the invasion of Sicily. Half way across we broke down. A fault had developed in our ancient engines. It was doubtful whether we should be able to continue and participate or whether we should have to turn back. In the event our chief engineer fixed whatever was wrong and we were able to proceed. I can remember that my feelings at the time were anything but brave. If we had to return to Malta I reasoned my fear would be set at rest; it wouldn't be like running away; it would be out of my hands and an honourable escape from the combat I was afraid of. So, half of me wanted to return to the safety of Malta, and the other half would have been mortified at missing the grand conflict. I was ashamed of my craven state of mind.
We were part of a large bombardment force, Force 'A', under Rear-Admiral Troubridge, consisting a tow cruisers, three destroyers, the monitor Erebus, the anti-aircraft cruiser Carlisle and the two other Insect Class gunboats Scarab and Cockchafer. I need hardly have had any fear as we were such a huge force and by that time had established almost complete air superiority in the Mediterranean. On arrival off Sicily we found our strength further reinforced by the, to us unexpected, appearance of the famous battle cruiser HMS Warspite.
Incidentally, I saw Warspite three times in my life. The first was the event in my childhood, which I have already related, when my father was her P.M.O, then there was this occasion in her war paint over thirty years later, and finally, as I climbed St. Michael's Mount, in Cornwall, in 1956, there she lay, stripped of her upper works, a rusting hulk aground in Mounts Bay. The story was that, defiant to the last, she had broken her tow during a storm while on her last passage to the breaker's yard and had been driven ashore. I later heard that the ship had to be broken up where it lay and taken away piece by piece. But now this was 1943, and there was the Warspite at the outset of the action, glinting in the early sunlight of dawn, with her great gun-barrels etched against the pale blue sky of a Mediterranean morning, reassuring to everyone in that invasion force that her colossal fire-power was there to protect them and speed their advance into enemy territory.
The Invasion of Sicily
Not a seat but a springboard
Churchill, Radio Broadcast, 29 Nov. 1942 (On North Africa)
Aphis was allotted to 'Acid' Beach. This was the British sector and extended from a point just south of Syracuse to the American area ten miles to the west of Cape Passero. The H-hour of D-day had been designated as thirty minutes after midnight on July 10th, but on the morning of July 9th a wind arose and the sea got up, yet it was too late to stop this huge seaborne force which started off prepared for a rough passage, but fortunately, by midnight the wind began to ease and by dawn the force was lying off Sicily on a nearly flat and untroubled sea.
Soon the troops were ashore and green flares began to go up, signalling initial success. Our job was to stand off and shoot at any targets indicated by the Army. But I do not remember that we were much called upon. In the initial stages of the invasion we simply lay at anchor, and hung about in case we were wanted, or occasionally shifted position, among the invasion fleet. At first we had on board an R.A.F. film unit, whose camera was mounted on top of the engine-room superstructure amidships. As the camera rolled, a Spitfire flew along the beach, quite low above the heads of the troops. Suddenly there was a burst of automatic anti-aircraft fire from some of the merchant ships and the Spitfire broke up and exploded in mid-air. The officer in charge of the camera crew danced and screamed with rage: 'Oh you bloody, bloody, bloody fools! You…you…Oh my God, you stinking criminal murderers! It transpired that this was uncontrolled fire from trigger-happy U.S. merchantmen. It was a distressing sight, but the hapless pilot was not the only one in the annals of war to have been destroyed by friendly fire.
Aphis had a motor sampan, not a motorboat, but a Chinese-built vessel driven by a petrol engine, which had been with the ship since its China-river days. It was perennially broken down and the chief engineer would from time to time tinker with it, but to no avail. Consequently, whenever we wanted to go ashore, we had to row. We had a whaler, a small carvel-built lifeboat or tender, with four oars and two sails, as our other water-borne transport. I don't know why the naval authorities had not thought of supplying us with a replacement motorboat, but so it was, and wherever we wanted to go we had to row ourselves. It was like being in Nelson's navy. We would either have four or two men at the oars, depending on circumstances, and often the officers would take a turn, which was quite an enjoyable form of exercise. It was the only safe means we had of going from ship to ship in the invasion anchorage.
I don't know how many medical officers there were scattered about the invasion fleet, but I would occasionally be invited to render medical assistance to ships that didn't carry a doctor. One way of summoning a doctor was to fly the appropriate flag asking for medical assistance. One of the American 'Liberty' ships – 10,000 ton cargo vessels – had been flying this flag, we didn't know for how long exactly, but my captain told me to go and see what was wrong. They must have forgotten to take it down, for when I got there it turned out that it had been flying for several hours and that they had already had a visit from a doctor who had had the sick man evacuated. When I had started out in the rowing boat I hadn't the faintest idea what I was going to encounter, so I had taken my surgeon's emergency field medical case plus an enormous bright metal autoclave drum full of sterile dressings; these two packages I had slung round my shoulders by means of two knotted triangular bandages.
On arrival at the ship my boatmen, who had orders not to stay away from Aphis longer than absolutely necessary put me off at the bottom of a rope ladder and turned around and rowed away.
At this stage no one had thought of shouting down that a doctor was no longer needed and I started with my unwieldy burdens to climb the rope ladder to the ship's deck high above me. At the end of this perilous climb I had to grasp the edge of the ship's side and heave my legs over on to the deck. At that precise moment my centre-of-gravity seemed to shift and I felt myself falling, pulled backwards by my heavy load. Wildly I flung one arm forward, managed to grasp the ship's side and landed safely on the deck, saved by a whisker from what could have been a nasty outcome. The ship's officers apologised profusely for their mistake in forgetting to take down the signal flag, and promised to signal my boat back as soon as possible. In the meantime…I heard a voice saying, 'Could you use a steak?' Well it was wartime and I hadn't seen a steak for quite some time. They sat me down in front of what must have been the biggest and juiciest steak that I'd ever seen. A welcome consolation and one of the outstanding food experiences of my life.
At some stage of the invasion, I forget exactly when, one of our destroyers had been so badly damaged by enemy action that it had had to be abandoned. It had caught fire and, still burning, would have served as a beacon to enemy bombers. So a decision was taken to sink it. Several of our ships concentrated their fire on it. It was a horrifying sight even though we knew there was no one aboard. Fresh fires were started, new holes continually appeared, so that presently the blazing ship took on the appearance of a giant watchman's brazier, until the destruction was complete, and the fragmented ship plunged beneath the surface. It was a fearsome spectacle and one, which had effectively demonstrated the awful destructive power of high explosive.
I only to leave my ship once more while with the invasion fleet and this was to put a drip on a casualty who had been badly burned and arrange for his evacuation. We had with us a hospital ship, white with conspicuous red crosses; it had a full complement of doctors and nurses and every possible facility; by night it was brightly illuminated and had a huge cross picked out in red bulbs, conspicuously visible from the air, on top of the superstructure. It was to this ship that I had to send any of my patients that needed hospital care.
After a few days when the battle in our vicinity had ceased and the front line had moved on, we had become so established at our anchorage that it was possible to go ashore and buy freshly picked lemons and Marsala wine. This we did on several occasions – rowing the ship's boat as usual. On one such occasion my Captain, Lieutenant-Commander Bethell had gone with several ratings and another officer, I was not with them, and had landed in a little cove. There on the beach they discovered the bodies of English army nurses, clad in their full white uniforms, together with the bodies of their patients, washing about in the sandy shallows. The shock was tremendous, for this was the first intimation we had as to what had happened to the hospital ship. It had been sunk the previous night by an enemy aircraft dropping a bomb down its funnel. This was no accident; it was a deliberate act of vengeance, by an enemy already feeling himself defeated.
When the landing party had returned with this awful story, and the full and ghastly significance of it had sunk in, I can remember recalling certain words in Shakespeare's Henry V, and feeling a surge of hatred and loathing of the German enemy which perhaps I had not quite so intensely felt before. Shakespeare has King Henry saying, when he is told that the defeated French, fleeing from the battle, had entered the undefended English camp and slaughtered all the boys; 'I was not angry since I came to France until this instant.'
Many years later I was recounting this event to a lady who had been an army nurse, when she said, 'but didn't you know, we did that to one of theirs.' I had immediately replied that I didn't think we British could have done such a thing on purpose – it must have been an accident, I said, whereas the hospital ship at Sicily had been lit with a brilliant red cross. She said she hadn't known the exact circumstances; but we agreed that all hospital ships were conspicuously marked. There you are, she said, it had happened, she didn't know how or why – how strange and horrible is war!
Bit by bit we made our way up the coast and eventually took on board a bombardment liaison officer (BLO) to direct our shooting. He was a captain in the Royal Artillery and for some days lived aboard with us. He was a pleasant enough chap except for one irritating habit. He would sit on the bridge, as we were cruising up and down, singing softly to himself over and over again, like a mantra, to the tune of the opening bars of Beethoven's Fifth Symphony
'Kentisher Byng stood for his King,
Letting the crop-headed parliament swing'
Until we were all driven crazy by it.
Together with our BLO we nosed, slow, tentative and searching, up the coast. Nothing much seemed to be happening, although we knew the army was steadily advancing. The beauty and apparent tranquillity of the scene was remarkable; nothing to disturb the calm of Shelley's '…blue Mediterranean where he lay, lulled by the coil of his crystalline streams', when suddenly there arose beside us a tall spout of white water; we were being shelled. Fear is de-humanising. I was petrified as further shots fell nearer and nearer. I felt momentarily gripped by a kind of all-devouring terror. What should I do? How should I behave, standing there on the deck under a canvas awning? There's not much you can do about it when you're being shelled anyway, and I was very conscious that many pairs of eyes would watch my demeanour and bearing. As ever the M.O. had no tasks other than stand and wait, a state of affairs demoralising in itself. As the fourth spout arose, just astern of us and uncomfortably near, the First Lieutenant thrust his head out of the Training Station – the small gunnery control office in the superstructure – and said, 'How close was that one Doc?' Willing myself to an air of nonchalance that I did not feel and trying to speak casually, I replied, 'Oh, I dunno, about a cable's length.' (200 yards) He looked astern at the patch of white water subsiding in our wake and said, 'Don't be a bloody fool, Doc, half a cable!' At that point the captain gave the order to put the wheel over and we turned 180 degrees and steamed away. No more shots fell; we were soon out of range. I learned that a 9-inch railway gun had opened up on us. It must have been at extreme range. If only the gun-captain had waited until we were well within his range he could have blown us out of the water. With our decrepit engines we could at that time only make eight and a half knots anyway.
Soon after this we learned that there was no further call for Aphis's guns for the time being and we withdrew to a safe distance from the enemy and dropped anchor in a little bay enclosed by green hilly headlands. Soon came the 'pipe', All hands to bathe' and presently, within a short while of being shelled, we were splashing about, totally relaxed, in the warm sea. I was enjoying the swim and had stayed in alone long after the others had climbed back to the ship. I was close to the ship when suddenly I became aware of a disturbance in the water quite near me; it was as if someone had thrown a handful of pebbles into the water. Then the next thing I became aware of was a roaring and rushing sound as an aeroplane pulled itself steeply away from near ground level. It was a Messerschmitt 1090 that had come from behind the headland and had just shot us up. As I climbed up the short ladder to the deck everyone was picking themselves up off the deck and dusting themselves down; there was a hole through the funnel, but no other damage, and miraculously no one was hurt. It was only then that I looked down at my left shoulder and found it densely streaked, down to the elbow, with black marks. I then realised that these were the marks made by exploding cannon shells, which explained the strange disturbance in the water near me, and suddenly brought home to me how near death I had been. In that same day that I had been consciously and miserably seized by the fear of death, I had been brought even closer to it and yet utterly and blissfully unconscious of it.
After these incidents we moved steadily northwards towards the toe of Italy, stopping meanwhile, for short periods at the ports of Augusta and Catania, passing the cliff-built town of Taormina and gazing with tantalised yearning at its incomparable beauty as seen from seawards. How we would have loved to stop the ship, drop anchor and go ashore and explore this jewel of the Mediterranean, but our orders did not allow of this and we steamed slowly by until the high-built dwellings of this wonderful town had faded from view. The pace of the war was such that we never did have time or opportunity to explore this ancient and beautiful land. I convinced myself that I would go back when the war was over but I never did.
Messina was captured on 17 August and soon after we were berthed in the harbour there, awaiting the invasion of Italy, the 'gran disbarco' that the harbour-side urchins told us would soon take place. How did they know we asked them? 'Oh, the Americans tell us', they replied. We had spent some time in Augusta, which has a huge bay and a magnificent natural harbour and had been a base for the Italian navy. While there I was taught to use a service revolver and fired several shots into butts, for me another near-infringement of the Geneva Convention, but the ship's officers said that I might need to use a revolver in self-protection. In the event no such situation arose, and we saw little further of the war until the massive and amazingly peaceful and untroubled crossing of the armies into Italy took place. We may have fired a few rounds in support of the landing-craft that crossed the Strait of Messina and put the army ashore in Calabria, but I have no very clear recollection of this … nevertheless I am tempted to include at this point a quotation from A. Cecil Hampshire's Armed with Stings:
One hour before first light on September 3rd three hundred Allied landing craft headed for the beaches of the Italian mainland just north of Reggio. Within their steel hulls they carried the battle-hardened troops of the XIII Corps of the Eighth Army. The soldiers had come a long way from Alamein, but in the mists of that Mediterranean summer morning they could descry the squat silhouette of one of the Navy's hardest fighting warships which had accompanied them throughout their long triumphant advance, her guns as usual spouting flame in their support. She was the Aphis, and with her was the Scarab, as yet an unfamiliar figure to the troops except for her outlines.
This crossing of the Allied forces into Calabria, although supported initially by a barrage of naval and military gunfire, was almost completely unopposed; it was well established by the end of the first day and, by the end of the third day, 35,000 troops and nearly 7,000 vehicles had been ferried to the mainland. The Germans had withdrawn their forces and were in full retreat to the north. This first invasion of the European mainland came to be known as the 'Messina Regatta'.
A bright sunrise on the morning of 8th September saw Aphis in position in the Gulf of Santa Eufemia off the small port of Vibo Valentia Marina. I remember this tranquil morning with a soft breeze and a calm sparkling sea, the wardroom scuttles wide open to the gentle weather, the breakfast laid and served by the stewards; I was alone, the other officers having gone on deck to their stations. This was the beginning of Operation 'Ferdy', an invasion planned to land a large body of troops behind enemy lines in the toe of Italy, and, as I finished my meal in relaxed physical comfort, I suddenly became aware of gunfire from the beach several miles away, of smoke arising. One of the first waves of our landing craft had been hit; the army were encountering resistance. What a contrast, I thought at the time, between me in comfort in my ship and the poor bloody infantry slogging their way ashore in the teeth of enemy resistance.
Aphis, Scarab and a monitor HMS Erebus were standing at some distance offshore to give fire support to the army. What had happened was that the Italian, on the verge of total national collapse, had ceased to offer any resistance and the planners of the operation had expected to encounter very little opposition at this port so far behind enemy lines. They had expected it to be largely undefended but, as luck would have it, the crossroad at that moment was thronged with retreating Germans and their artillery. The night had been dark and the harbour had proved difficult to locate, so that what was to have been a night action at 2.30 am had become delayed till an hour before sunrise. So it was that what was to have been almost a walkover had encountered an unexpected level of resistance and the invading forces had a tough time of it with unexpected numbers of casualties.
The guns of the retreating army had been turned on the invaders. With the element of surprise lost and the landing delayed, these unexpected guns were only too effective and, to get into the harbour the two tank landing ships (LST) had to run the gauntlet of enemy fire. This they managed to do but one of them was hit many times and some of her vehicles were blazing. The ship remained a target for the German guns until they could be silenced. Rear-Admiral Roderick McGrigor, in command of the naval forces, had flown his flag on a motor torpedo boat and this too was hit and sunk and the Admiral wounded. Undeterred he transferred his flag to a motor launch and the assault went on. Soon the big guns laying to seaward became effective and one by one the enemy gun positions were put out of action. I remember a call for fire being made to Erebus and hearing a shell from her 15-inch gun passing overhead; it sounded like an express train; soon came a signal over our radio – 'Position obliterated!' I thought then, how satisfactory for us, but how awful too; somehow I thought of the wives and girl-friends of the gun crew writing letters to them, little knowing they were blown to bits. An enemy, yes, but they had also been part of Earth's mankind and they had just ceased to exist; such is warfare!
The wounded man was a signalman in a Flak Landing-Craft, I wrote in my report to the Admiralty, and his case illustrates some of the difficulties of treatment and disposal of casualties during landing operations. I was writing in a state of dismay and anger; at Vibo Valentia we had been 20 miles in advance of the Eighth Army positions in Calabria and even further from a major hospital or hospital ship. I had received no instructions whatever about the evacuation of casualties and had the impression that no such arrangements had been made. The landing craft had pulled offshore with two wounded and had requested medical attention. One of the wounded had a severe head injury and for him I couldn't do much. The other, whose life I tried to save, had a shrapnel wound of the chest and was bleeding internally.
My captain had put the Aphis within a cable's length of the flak craft and I was rowed over to it in the whaler. When I saw how badly injured was the man with the chest wound I decided that I must put up a drip; so I returned with my Sick-Berth Attendant (SBA) to my ship to collect the necessary gear. On my return to the wounded man I found his condition had deteriorated. I put up an intravenous infusion of plasma by cutting down a vein at the ankle and inserting a cannula. I had chosen this method as I hoped to be able to give him some blood later. I had left him in charge of my SBA while I returned to Aphis, having arranged to take blood from a donor. At this stage I had persuaded the captains of both ships to draw alongside each other and remain thus for a short period. First however I had to be prepared to start another bottle of plasma while I was getting the blood, but when I returned to my patient I found that in a state of increasing delirium and restlessness, he had kicked the cannula out of the vein; so my attempt at resuscitation had been useless.
By then it had become obvious that the casualty would have to be transferred. I had already asked the captain of the LCF to go alongside HMS Erebus and had had a short consultation with that ship's two medical officers. By then I had been in the landing craft for quite a long time and if I was to give blood as I had originally intended I should have to expend further time going from ship to ship, to say nothing of bleeding a donor and repeating the cut-down operation on the other foot. I decided that I could not stay with the patient any longer, as the Aphis was standing by for bombardment. Accordingly he was transferred to Erebus, which ship had at least got the proper facilities.
When he was struck by the shrapnel he had been moved by his shipmates off the upper deck, squeezed through a narrow hatchway and down an almost perpendicular ladder. Now, in his weakened condition and strapped to a Neill-Robertson stretcher, he had to be got up the ladder. This proved to be almost impossible due to an unwieldy hatch-cover – rather like a small sentry box – which was permanently welded into position above the square hatch. Inwardly I cursed the designer of this ship and simply could not understand how anyone could be so stupid as to design a hatchway like this in a ship of war – bitterly I reflected that thousands of this design had been mass-produced without anyone considering the problem of getting wounded men through this kind of hatchway.
I found it inconceivable that this problem had not been addressed while the ships were being built; in the same way I found it inconceivable that no orders or guidelines had been issued regarding the sea-borne evacuation of casualties in an operation such as the present. Throughout my sea-going service in the Med I had received no instructions whatsoever about back-up medical services or about the evacuation of casualties. In discussion with other naval doctors I satisfied myself that this was because none such existed. No directives had been issued to naval doctors in my position, and it seemed to me that the most senior medical officer on this war zone was exercising merely the functions of personnel management, drafting and stores departments, and it seemed to me that all medical planning for combined operations had been left to the Army. As in Nelson's day we were isolated in our ships and left to get on with it.
While in Alexandria I had met the Surgeon-Commander of the anti-aircraft cruiser Carlisle; we found we both had the same ideas about the lack of plans for evacuation and treatment of casualties in combined operations. We agreed about the need to equip and staff landing craft as sea-borne first-aid posts or advance dressing stations in which casualties could be resuscitated while they were being evacuated. These ideas we were going to put into a joint paper which we were going to write to the admiralty next time we met. We never did meet again and the paper was never written, but I did put these ideas into the report I wrote about the Vibo Valentia affair. The Admiralty acknowledged it with a laconic, 'Your remarks have been noted in office.' There was no further comment and I heard no more, but I did hear that some such vessels as I had suggested were in fact used in the D-Day landings in Normandy.
The operation off Vibo Valentia, although much more hard-fought and bloody than anticipated was nevertheless a success, our troops had cut off the retreating Germans and the ground had been well prepared for the landings at Salerno, which took place soon after. As we stood off that day waiting for fire-orders, there came the news over the radio that Italy had surrendered. It was late in the day and the action ashore was winding down, the ship's company were ecstatic and rejoicing as though the war was already won. I was sitting peaceful and relaxed in the wing of the bridge, reading Henry Williamson's The Dream of Fair Women when, as if to remind us that the war quite definitely was not over, there came an enemy shell at masthead height which just missed me, passing whickering and snickering over my head, to plop harmlessly into the sea. I continued my reading. This proved to be the last time that Aphis was fired on while I was with the ship.
Following the attack at Vibo Valentia we pottered about off the coast of Calabria for a few more days until, in Cecil Hampshire's words, "Bethell in the Aphis was satisfied that all enemy resistance had been overcome." Indeed so quiet was it, the enemy having withdrawn a considerable distance to the north, that, cruising gently along that beautiful mountainous coast, we nosed our way into a little bay and dropped anchor. Some of us went ashore. I was with Tony, the First Lieutenant, and was able to benefit from his faultless Italian. We were ecstatically received by hordes of small boys, who escorted us up the steep rocky path from the tiny fishing harbour to the small village perched high above in a fold of the mountain. Gradually the villagers turned out to watch us and greet us, while our juvenile escorts excitedly explained who we were and how they had met us on the shore. They took us to the village priest who swept us inside his house and uncorked the liqueurs. Soon Tony and the priest were engaged in voluble conversation, while I sipped the drinks, ate cake and figs and savoured the charm of the occasion. Our initial reception in that conquered and surrendered territory had been by a gang of small boys and a village priest.
This scene, so well remembered by reason of its beauty and charm, was for me my last contact with Italy while serving in Aphis. Soon we had orders to return to Port Said to repair our flagging engines and replace our worn-out gun-barrels. As an MO I had no brief to remain with the ship over a long refit and I was removed and sent back to Alexandria after only just over nine months service with the ship. It wasn't until more than fifty years later that I learned of the subsequent adventures of this little warship.
As I was preparing to leave, I carried out the last clinical act in my not overfull 'casebook', it was to lance a very large abscess, this I did by administering to the patient a short-acting intravenous anaesthetic. In Port Said, at that time, routinely at midday, there would be a practice anti-aircraft shoot when literally every AA weapon in the harbour would blast-off simultaneously. It so happened that the anaesthetic was wearing off just as the shooting began. Emerging boozily from his stupor my patient exclaimed in a thickly slurred voice, 'Bloody good, Doc. Performing an operation under fire!' And so nine months of virtually no clinical work amongst a small group of mainly healthy men ended with a bang.
Minesweeping
You missed that one – you want to get your eyes tested!
A fellow officer in HMS Fareham, said to me
My next ship was a minesweeper. And so I went watching for mines and came to realise that I was slightly short-sighted and the next time we put into Malta I went to an optician and got myself fitted out for the first time with glasses for distance vision. One couldn't afford to miss spotting mines as they bobbed to the surface their moorings having been cut by our sweep wire. My job during minesweeping operations was to stand on the bridge and provide an extra pair of eyes to call out instantly as a mine broke surface. What better job for an otherwise idle medical officer?
<![if !vml]>
<![endif]>
Print of a Royal Navy Insect Class Gun Boat on the Yangtze River, China 1920
From Peter's collection.
<![if !vml]>
<![endif]> <![if !vml]>
<![endif]>
H.M.S. Aphis
Painting by Peter. J. Miller
Bombardment of Vibo Valentia, Southern Italy, Retreating Germans returning from Calabria