HMS BIRMINGHAM
HERBERT (Bert) GEORGE BATEMAN
Able Seaman
Royal Navy
1941 - 1943
<![if !vml]>
<![endif]>
Note: Bert's footwear
Herbert George Bateman was born 24 February 1924, in Leominster, Herefordshire, United Kingdom. He had 3 brothers and 1 sister and passed away in Leominster October 2000 aged 76. Bert served on HMS Birmingham from 1941 to 1943.  For more detailed information on HMS Birmingham including the U-boat attack at Alexandria in 1943 please refer to Frank Bee, James Herbert Hemsley and HMS Birmingham WWII on this website
H.M. Ships Bert served on:
| | |
| --- | --- |
| HMS Birmingham | 1941 - 1943 |
| HMS Warspite | 1943 - 1944 |
| HMNZS Leander | 1944 - 1945 |
<![if !vml]>
<![endif]>
HMS Birmingham at Alexandria 1943
<![if !vml]>
<![endif]>
HMS Birmingham Crest
<![if !vml]>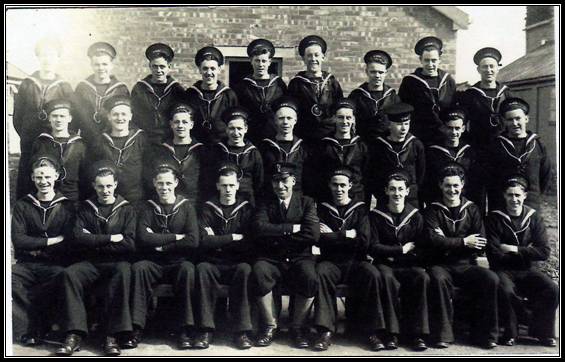 <![endif]>
HMS Birmingham
 New crew intake: Bert – middle row left end
<![if !vml]>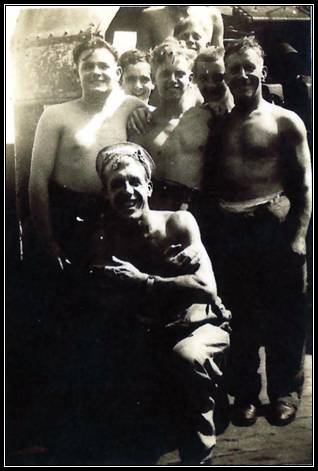 <![endif]>
Members of the crew HMS Birmingham
(Note crew member 2nd from left looks like Bert)
Bert was reassigned to HMS Warspite March 1943 in Durban from where it sailed to Freetown on 16 March 1943. (See telegram below received in Herefordshire on 26 March 1943) He was assigned to the starboard battery as an anti-aircraft gunner.
<![if !vml]>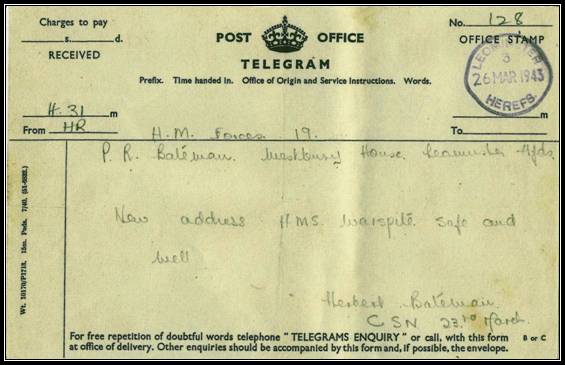 <![endif]>
Telegram from Bert regarding his transfer to HMS Warspite
HMS WARSPITE is perhaps marginally the most famous of her Class. She was in action with German and Italian surface warships, supported many Malta convoys as well as carrying out bombardments to support of allied military operations in North Africa. Her crowning glory was to lead the surrendered Italian Fleet into Malta after the capitulation of Italy in September 1943. A few weeks later she sustained further serious damage when hit by a radio controlled glider bomb off the Salerno beachhead and after several months out of service supported the allied landings in Normandy. Despite detonating an acoustic mine off Harwich she resumed these support duties and later carried out bombardments at Walcheren. Her final end was, in many ways, just as well remembered as her wartime service, since she ran aground in Mounts Bay, Cornwall when on passage to the breakers yard under tow. Her eventual dismantling extended over 10 years.
She was a much loved vessel by her commanders and crews. Once on her return to Malta Warspite received the following signal from Admiral Cunningham C in C ANXF, "Operation well carried out. There is no question when the old lady lifts her skirts she can run.")
On the 27th September 1945 Admiral Andrew Cunningham was installed as Knight of the Thistle in St Giles Cathedral, Edinburgh. At this time he handed over Warspite's ensign to the Cathedral for safe keeping. This was the Admiral's final tribute to his much loved flagship and ensured at least one small reminder of the "Grand Old Lady" remained.
Source: Walcheren Island 1944, account of landing craft
www.naval-history.net/WW2Memoir-Walcheren.htm
HMS Warspite went into the Mediterranean to support the American landings in the Gulf of Salerno and as part of Operation Husky. On 16 September 1943 HMS Warspite was hit by a radio-controlled 3000 lb. Glider Bomb which penetrated right through six decks before exploding. A second bomb narrowly missed Bert's AA gun turret and blew up in the water beside the ship. Bert's living quarters on board were destroyed and his kit ruined.
The following extract is from www.naval-history.net. The account covers 6 days.
SERVICE HISTORIES of ROYAL NAVY WARSHIPS in WORLD WAR 2
by Lt Cdr Geoffrey B Mason RN (Rtd) (c) 2003
HMS WARSPITE - Queen Elizabeth-class 15in gun Battleship
1943 July
14th
At 1700 hours Force H comprising battleships Nelson (C in C Force H), Rodney, Warspite, and Valiant, aircraft carriers Formidable and Illustrious escorted by destroyers Jervis (D 14), Ilex, Pathfinder, Penn and Petard sailed from Malta for Gibraltar. Warspite was en route to the UK to prepare for the Normandy landings.
<![if !supportLineBreakNewLine]>
<![endif]>
At 2000 hours the CinC Force H received a signal recalling Force H and instructing him to detach Warspite and Valiant with the escorting destroyers to proceed with all dispatch to Salerno Bay.
(The reason for this deployment was because during the 12th-14th September the Germans unleashed a concerted counterattack by six divisions against the Salerno beachhead with the objective of driving the allies into the sea before it could link with the Eighth Army. Heavy casualties were inflicted and on 13th they drove a salient between the two American divisions, the 34th and 45th, where the Sele and Calore Rivers merged. The Allied troops were too thinly spread to be able to resist the concentrated attacks. The heavy batteries of the battleships were urgently needed to redress the situation)
15th
 At 1100 hours Warspite, Valiant and destroyers Jervis (D 14), Ilex, Pathfinder, Penn and Petard arrived off the beachhead in the middle of an air attack by FW 190's. Warspite's gunnery officers crossed to the HQ ship USS Biscayne to obtain target information . At 1320 hours the gunnery officers returned and her captain of Marines embarked on Petard who landed him on the beachhead to act as FOO for her bombardment. Warspite then moved to a position approximately 1000 yards off the mouth of the Sele River in the US assault area.
At 1752 hours Warspite opened fire with her main armament on Altavilla, in support of US troops, 9 out of her 12 salvos were right on the target. Warspite's target was also being bombarded by cruisers Aurora, Mauritius and Penelope and USS Philadelphia. As darkness closed in Warspite and Valiant withdrew to seaward.
During the night the assembled shipping came under sustained air attack. The destroyer escorts were positioned around the two battleships approximately 4000 yards out. During one air attack a 6in shell from Warspite hit Petard and exploded amongst the ammunition supply party for A and B guns, killing 2 and wounding 6.
16th
At 0830 hours Warspite returned to her previous day's bombardment position, with destroyers Cleveland, Cottesmore and Garth as escort and resumed her bombardment of enemy positions. One of her targets was a German ammunition dump behind Altavilla she fired 48 rounds of 15in at the target, 16 of which fell right on the target and 8 were within 100 yards.
Mid morning the bombarding ships came under heavy air attack. Due to the nature of the mission and the concentration of shipping the ability to take avoiding action was limited. During one air attack a 4in shell from Warspite hit destroyer Offa, exploding on B gun deck, killing one and wounding several others.
At 1400 hours she was moving away from her bombardment position having completed her mission. When she was attacked, out of the sun, by 12 FW 190 fighter-bombers, these were fought off without result. But in repelling this attack all attention had been concentrated on these 12 aircraft.
At 1427 hours, moving at 10 knots through the congested shipping, with her attention diverted and only a few minutes after the fighter-bombers had disappeared; the ship's lookouts sighted a group of high-level D0 217 K-2 bombers which released 3 FX-1400 (Fritz X) glider bombs. Of the three glider bombs launched, two found their target.
The first bomb came straight for the port side of the ship and penetrated six decks to hit her double bottom before exploding and flooding No.4 boiler-room and eventually causing the flooding of 4 of the other 5 boiler rooms.
The second was a near miss amidships abreast the bulge on the starboard side, where it burst under water causing a long gash in her starboard bulge. The third bomb was a near miss on the starboard side aft. From the time of sighting to the time of the bombs' arrival was some seven to ten seconds. 9 men were killed and 14 injured. All steam was lost and the ship could not steer. All communications were temporarily out of action and some 5,000 tons of flood-water had increased her draught by about five feet.
(The attacking aircraft were from the Luftwaffe unit 111/KG100 based at Marseilles. They released their air to ship wireless glider bombs from 20000 feet. The FX-1400 was a radio controlled gliding armour piercing bomb, guided by a joystick from the mother plane. It was 3.26 meters long, weighed 1570 Kg and had 320 Kg of explosive and emitted a smoke trail for identification by the bomb aimer.  It reached a terminal velocity of 600 miles/hour and could pierce 130mm of armour. The bombs aimed at Warspite were guided by Corporal Huhn, Sergeant Meyer and Warrant Officer Mrowitz. A proficient bomb aimer could achieve 50% hits within a 15 meter radius)
Warspite was left drifting without power, Radar out of action, unable to operate her armament or steer. She had 4 destroyers in company. Captain Parker issued orders to prepare for a tow, changed over to mechanical steering and called upon HM AA Cruiser Delhi to provide AA protection.
By 1615 hours the Fleet Tug USS Hopi had a line on her. Two more Fleet Tugs, the USS Moreno and USS Narragansett, arrived soon afterwards and course was set for the Straits of Messina at 4 knots. At 1930 hours cruiser Scylla joined the escort.
At 2300 hours cruiser Euryalus arrived on the scene. At which time Warspite was drifting sideways, despite the best efforts of the tugs. With the agreement of Captain Parker, Admiral Vian ordered Euryalus abreast of the battleship's bulky bows to pick up her towing hawser. As soon as this was secured, Euryalus went ahead dead slow. Unfortunately at this point the tugs had cast off their own tows and Warspite had become a waterlogged deadweight and the towing hawser parted.
17th
At 0130 hours the tugs had secured further towing hawsers and had her under way again. A speed of 4 knots was maintained through the night. But by next morning Warspite's list had increased to 4.5 degrees. However she was only 45 miles from the Salerno beachhead and making very slow progress. Her diesel dynamos were providing electric power which enabled her pumps to prevent the flood-water spreading. Two more tugs, HM Tugs Nimble and Oriana joined and, although the towing hawsers parted many times, the 5 tugs gradually worked the speed up to 6 knots.
18th
In the Straits of Messina HM Ocean Salvage Vessel Salveda joined the group. But the southward current was so strong that all towing wires except one parted, and the waterlogged ship went through the straits broadside on. Eventually she emerged at the southern exit of the straits, where the tow was resumed.
19th
At 0800 hours Warspite arrived back at Malta. Temporary repairs were commenced. Following her arrival at Malta her CO Captain Parker left the ship and Commander Hon. D Edwardes, the executive officer, took command temporarily.
HMS Warspite was later taken to Scotland for repairs, after which it took part in the Normandy landings the following year.
Having survived the attack at Salerno Bert later served on the New Zealand ship HMNZS Leander, assigned to Y Turret.
<![if !vml]>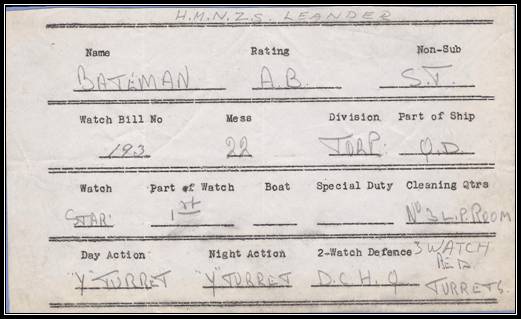 <![endif]>
Transfer to HMNZS Leander
Bert was very much affected by his experiences during World War II, particularly on HMS Warspite when several of his mates were blown up during bombing and enemy fire described above. After the war he worked as a surveyor/draughtsman in a Hereford office. He never married or had children.
Photos from Bert's album
<![if !vml]>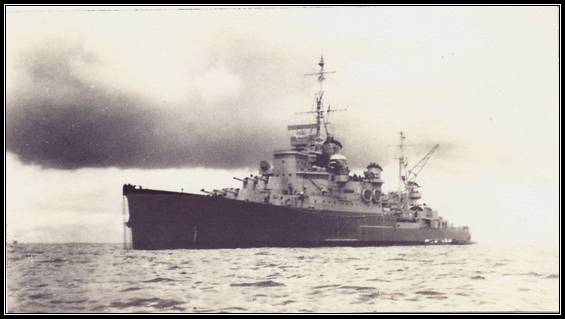 <![endif]>
HMS Birmingham at anchor
<![if !vml]>
<![endif]>
HMS Birmingham leaving harbour
<![if !vml]>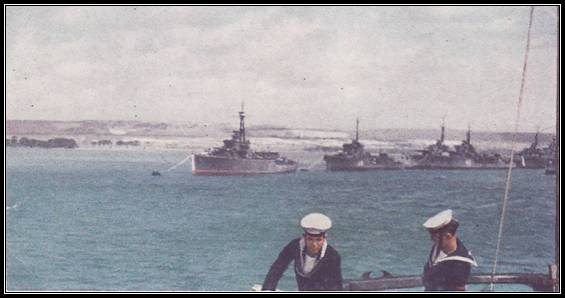 <![endif]>
HMS Birmingham at Alexandria
<![if !vml]>
<![endif]><![if !vml]>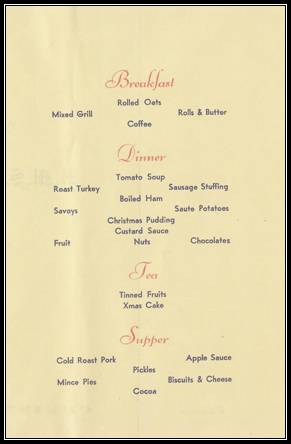 <![endif]>
Christmas Menu 1942
For many of our contributors researching the past brings back sometimes poignant and unsettling memories. It reminds us all of those who are no longer with us and when we search we often find we have more still with us than we ever realised.
The following extract is from one of Elizabeth's letters:
As promised, my parents discovered notes amongst the items already mentioned to you, but that led on to the discovery of a small photo album they didn't realise they had!
The photo album has some revised dates as follows:
Bert was on HMS Birmingham 1941 - 1943.
There is a photo of Bert with his group of new conscripts in WWII.
Also a Christmas 1942 printed menu with "HMS Birmingham" printed on the front plus the plaque with the motto Forward (photo attached).
There are 2 black and white photos of HMS Birmingham and also a larger one HMS Birmingham in Alexandria
Several small pictures of the crew enjoying themselves in the water!
A small emblem (printed in blue) of the plaque, probably cut out from an item of stationery (included in an attached photo).
It appears that Bert was transferred to HMS Warspite from the Birmingham in Durban
There is a telegram to my great grandfather dated 26th March 1943 announcing his transfer to HMS Warspite
The Warspite sailed from Durban to Freetown on the 16th March 1943. He was assigned to the Starboard Battery as a Gunner
I also attach a copy of the Transfer to HMS Leander and also the emblem of HMS Birmingham as mentioned above.
I hope this helps you a little more.
Kind regards
Elizabeth
I am very grateful to Elizabeth Blackstock and her parents for their contribution to the website.
More photos from Bert's album
<![if !vml]>
<![endif]>
<![if !vml]>
<![endif]>
<![if !vml]>
<![endif]>
Members of the crew of H.M.S Birmingham c1942
Bert attended the launch of the new HMS Birmingham. The latest bearer of the famous name is a Royal Navy Guided Missile Destroyer launched 30 July 1973. Bert kept both the newspaper notice and the invitation. Copies of both are shown below.
<![if !vml]>
<![endif]>
Invitation to the launch of the new guided missile destroyer HMS Birmingham
<![if !vml]>
<![endif]>
Newspaper notice regarding the invitation
Back to: