<![if !vml]>

<![endif]> FRANK S. TAYLOR FAMILY AND ROYAL NAVY HISTORY.NET <![if !vml]>
<![endif]>
H.M.S BIRMINGHAM
WALTER TOLLET HARRY SWEETING
Able Seaman
Royal Navy
Service No JX342199
17 April 1945 - 18 September 1945
<![if !vml]>
<![endif]>
Walter Tollet Harry Sweeting
Mr Colin Sweeting from Wales answered the advertisement in the Royal Navy News and was one of the first responses received. He gave me the extra 'kick-start' to get the show really rolling.
His Dad Walter was in Mess 18 on H.M.S. Birmingham. Walter's Certificate of Service and record follows.
Walter enlisted on 12 January 1942. After his early training HMS Royal Arthur and HMS Valkyrie, a stone frigate training establishment near Douglas on the Isle of Man he was posted to the armed trawler HMS Northern Chief.  This was an armed boarding and anti-submarine vessel leased from the United States Navy in 1939, returned February 1946. (see photos below).
A naval trawler is a vessel built along the lines of a fishing trawler but fitted out for naval purposes. Naval trawlers were widely used during the First and Second world wars. Fishing trawlers were particularly suited for many naval requirements because they were robust boats designed to work heavy trawls in all types of weather and had large clear working decks. One could create a minesweeper simply by replacing the trawl with a mine sweep. Adding depth charge racks on the deck, ASDIC below, and a 3-inch (76-mm) or 4-inch (102-mm) gun in the bows equipped the trawler for anti-submarine duties. (From Wikipedia, the free encyclopedia)
This was followed by HMS Kongoni  (Northern Chief), Kongoni (Assegai) in Kenya 1 October 1943 to 27 June 1944 (HMS Assegai Near Durban, South Africa was a Combined Operations training establishment, transit pool and General Drafting Office for Eastern and Med Fleets and South Atlantic Station. Believed to include Mechanical Training Centre Pietermaritzburg)
He was then posted to Europa, Victory and Collingwood until April 1945 then Birmingham April to September 1945. He was present at the celebrations in Copenhagen at the time of the German surrender there. (See Frank Bee, James Herbert Hemsley, HMS Birmingham). He was finally posted back to HMS Collingwood and demobbed 10 December 1945.
<![if !vml]>
<![endif]>
Service Record
<![if !vml]>
<![endif]>
The photos below are aboard the Northern Chief (Armed Trawler) 1942 – 1943
<![if !vml]>
<![endif]>
Walter (left) standing behind anti-aircraft gun
<![if !vml]>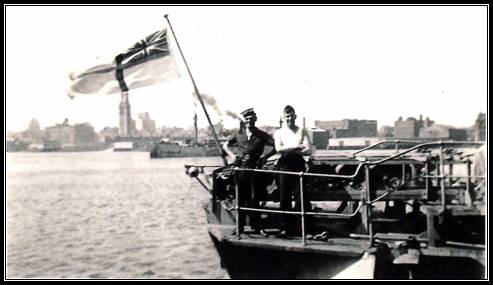 <![endif]>
Walter (Right) with royal ensign flying proudly
<![if !vml]>
<![endif]>
Walter (Right) and shipmate
Colin is the youngest of three children and has his Dad's medals and ribbons from World War II and a model of the ship (Birmingham) that he purchased through the Navy News. Like his Father (a chip off the old block) Colin joined the Royal Navy. His Division was disbanded in 1991. He served mostly in Germany, N.A.T.O., S.H.A.P.E., U.K. and Gibraltar. They were Postal Courier Division. Their "Basic" in the 1960's consisted of weapons training, seamanship and (he says) best of all demolition.
After 3 years they were posted mainly to different parts of Germany but with postings elsewhere as well.
<![if !vml]>
<![endif]>
Colin Sweeting
Colin's own records follow.
Career veteran of 25 years
<![if !vml]>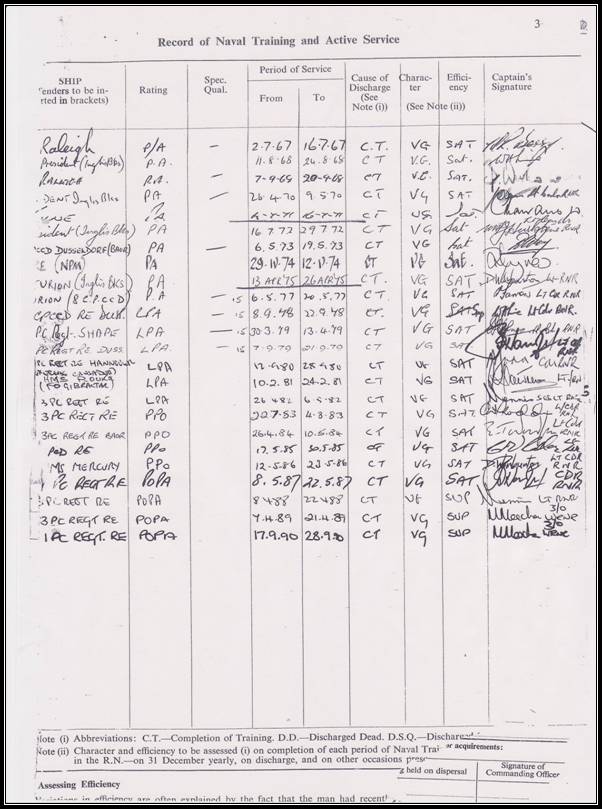 <![endif]>
Back to: