FRANK S. TAYLOR FAMILY AND ROYAL NAVY HISTORY.NET
H.M.S. DAUNTLESS
1932 - 1935
SOUTH AMERICA AND THE STRAITS


PART I
OUR DEPARTURE AND FIRST CRUISE
H.M.S. Dauntless – The Commission Book
South America and The Straits
1932-1935
HMS Dauntless commissioned on July 27th 1932 with an almost new Portsmouth crew, the ship being then in No. 13 Dock in Portsmouth Dockyard. Not a very enterprising opening sentence perhaps but the whole process which precedes 'shoving off' is very commonplace. The appalling din made by the dockyard 'maties' armed with pneumatic drills and riveters, removing the first coat of red lead from your suit before one could go ashore, storing and ammunitioning ship, inspection and farewells - nothing there that anyone would not expect, yet in such a manner were seven weeks spent and a well-filled seven weeks at that.
At any rate, on Friday 9th September we slipped from Fountain Lake Jetty for Spithead, from whence we sailed on the following morning for Gibraltar, having first carried out those very necessary compass swinging and D/F wireless trials.
A very fair four days' run brought us to Gibraltar, looking its grimmest in the light of early dawn. The weather here was very warm, we were wearing whites, and to many who had never had the experience before, it seemed strange that we could go ashore to play cricket in the sweltering heat, and return on board to read that 'poor old Pompey dipped again'. Full facilities were provided for sports here and a good number of liberty-men went ashore each night and week-end even though for over a fortnight we were lying at anchor or cruising around Catalan Bay, exercising guns and torpedoes.
The aspects of the Rock seen on these short cruises gave us an idea of the task with which Sir George Rooke was faced when in 1704 he decided to have a 'rub' at the Rock. It is worthy of note that he was assisted by only a few ships and a small force of marines, facts which make his achievement more outstanding. Of course, Great Britain thinks a great deal of Gibraltar, and what would some of her sailors do if she ceased to hold it?
Some say that there is nothing of interest in Gib., but how do they account for the laden liberty boats, and rapid expenditure? True, there's not much variety of entertainment ashore, but where's anything brighter than the 'Trocadero,' the 'Royal' or even the canteen if one is determined to enjoy oneself? A large number only went ashore to buy postcards or fishing lines, littering the mess table with the former, or playing a game of patience off the foc'sle with the latter. One other diversion was found in the form of a bull-fight in La Linea though a pass to cross the border was required. A good number availed themselves of this opportunity and declared it worth their while.
During our month's stay here, H.M.S. Norfolk, destined to be our flagship, called for a short time, and with her we carried out the gunnery and torpedo exercises mentioned above. The time passed very quickly, and Wednesday, 12th October, found us taking our best view of the Rock, namely from off the Pillars of Ceuta (N. Africa) as we pushed on to commence our first cruise down the east coast of South America, beginning with Rio de Janeiro.
Incidentally, beginning with Rio was not according to our original programme. Calls had been arranged for us at St. Vincent, in the Cape Verde Isles, and Pernambuco, but a revised version sent us to Rio, with a 4,200-mile sea trip. Accordingly, our departure from Gibraltar meant sea with every meal for a further fortnight or so. The time was well spent though; evolutions, a little Lewis gun target practice, and tropical routine passed off the day's work quite well, the dog watches being utilised by all in their own fashion.
Marksmen had two-penn'orth on the foc'sle with .22's, shellbacks frolicked (in a sailor-like manner) in a bath rigged in the port waist, dutiful husbands wrote letters by daily instalments in the rec. space, while here and there, in some shaded spot, groups of men played 'priest of the parish' or 'uckers,' the latter being a form of ludo, except that the dice used in 'uckers' just fits into a fair-sized bucket, and the excitement runs higher.
Nothing of outstanding interest occurred until October 21st when we passed St. Paul's Rock, and became in consequence, very near to the equator.
CROSSING THE LINE
There are few, if any, traditions of the sea which are observed as religiously as that of 'Crossing the Line,' that is, passing over from one hemisphere to the other, and paying homage to King Neptune and his Court, and few can be more amusing if carried out along the proper lines. Briefly, this is what happened aboard the Dauntless, and it is safe to say that everybody had a very entertaining forenoon.
At 8.40 p.m. on Friday, 21st October, the bosun's mate of the watch piped "Clear lower deck. Hands to cross the equator." Five minutes later from the fore-top look­out came the cry "Line ahead, sir." The ship was immediately stopped and from the direction of the paint shop there appeared the herald of King Neptune, with a few bears and mermaids, paraded in the green light of the searchlight.
Having taken up his position, the herald hailed the captain on the bridge:
Herald: Ship Ahoy! What ship is this?
Captain: His Britannic Majesty's Ship, Dauntless, and who are you?
Herald: I am the Herald of His Watery Majesty, King Neptune and Emperor of the Seas.
Captain: Welcome Herald, pray advance. I have sighted the dominion of your royal master, and have stopped my ship until I have
permission to clear the line and proceed.
Herald: My royal master down below has been expecting you, sir,
And sends his royal greetings to you and to your crew, sir,
He instructs me to instruct you that he gives you his permission
To proceed until tomorrow on your southward expedition.
Captain: Our very humble greetings to His Majesty, your master.
We know we cannot enter his domain without disaster.
Until we pay him homage, so we beg to be allowed.
To receive him in the morning, and his court. We'll have a crowd.
To receive initiation in this very solemn rite
Of crossing the equator on this happy Friday night.
Herald: I have a parcel from my liege which now I give to you
Containing Neptune's summonses to you and to your crew.
Our police and bears are large and fierce. I thought I'd give you warning.
I'll take your message down below. Farewell until the morning.
Captain: Farewell until the morning. Clear the line.
Voice from the fore-top: Line cleared, sir.
The ship proceeded on its way to the chorus of the bears and mermaids:
Shave him and bash him.
Duck him and splash him.
Torture and smash him,
But don't let him go.
On the following morning after their arrival on board, King Neptune, and his queen, Amphitrite and court pro­ceeded aft along the starboard battery to where the Royal Marine guard awaited them.
Author's Note:
The ceremony follows the same structure as that described in H.M.S. Dauntless 1930 -1932 America and West Indies Station (this website).
We have included only those sections specific to this commission 1932 – 1935.
Suggestion
Try reading the lines aloud.
If you can do any kind of English accent so much the better!
Neptune: (to Commander)
My dear Commander Faulkner it really gives me pleasure
To see your friendly face once more and greet you at my leisure.
In the mighty HOOD 'twas last you stood, at the gate of my domain.
You were then, I believe, with less gold on your sleeve, on the Staff of the Admiral's train.
'Twas long after that, that you shipped the hat, with the forepeak made of brass,
And with this in view, I confirm on you, the OLD SEA DOG 1ST CLASS.
Neptune: (to Pay Commander)
Now here's the Pay Commander,
a man who's really sound
He'd never shirk a job of work,
nor pinch a single pound.
In spite of delay in finding the way
to the gates of my glittering realm,
My spies report, that he's quite a good sort,
and his qualities quite overwhelm.
That's a good show, and I'd like you to know,
that I take a good view of your past
And although the first time that you've crossed the LINE,
I trust it won't be the last.
Though nothing will serve for what you deserve,
of that there is no doubt
Kneel, I request you that I may invest you,
with the BADGE of THE OLD SEA SCOUT.
Neptune: (to Commander (E) )
Now the Engineer Commander
is a man of sterling worth,
There's nothing below that he doesn't know,
nothing on this earth.
When lighting up boilers and connecting up oilers
he's always on the go
If the bottom fell out he'd give a glad shout
and say 'I told you so.'
He's up to the pranks of all Our tanks,
in fact, he's quite a Star.
'Tis right I suggest, to adorn his chest,
with the BADGE of the OLD FIRE BAR.
Neptune: (to Captain R.M.)
With downcast mien, our gallant Marine
stands there for all to see,
How very odd to spare the rod
and spoil the Giles would be. (Captain R.M. R. C. Giles)
But now you are here it is perfectly clear
that the Doctor and Barber and Bears,
Will be ever so keen to turn on the steam,
and force you to sample their wares!
The orders having been bestowed, the King and Queen sat back, and with a smile which we believe to have been lubricated with a little alcohol of some kind, watched the initiation of the novices in the following manner.
The novice was seized by the police and piloted none too gently to the barber's chair, where the barber and 'doc' took charge. The chair was so arranged that at the con­venience of the barber's assistant, it could tip its occupant backwards into the water, without accident or hesitation. 'Doc' made a rapid examination of each novice as he arrived, with a large and elaborate stethoscope, nodding to his lather-boys to do their worst as soon as his examination was concluded. These loathsome creatures smacked on paint and paste of vile colour, taste, and smell, besides rather more than judicious shares of vaseline and grease, rubbing it all well into the face, eyes and hair with fingers and a brush.
'Doc' then forced a soap pill or two between the teeth of the novice, who was shaved with a razor of fabulous size by the barber. Unceremoniously the poor novice was then tipped backwards into the tank below, where the 'bears' pounced on him and ducked him relent­lessly until they were assured of his allegiance to King Neptune. Each novice was then hurled into a second tank, from which he emerged a little later, a wetter if not a cleaner man.
Occasionally the judge found a warrant to be read to the whole assembly usually on charges of considerable gravity; possibly contempt of court in that the accused did fail to wear their orders or had committed some other breach of etiquette in the presence of the briny monarch. Here are summarised the punishments awarded on these warrants, and let it be said that if each punishment had been carried out as ordered, many of the delinquents would have been uncomfortable in certain quarters for many an hour afterwards.
WARRANT NO. 1
Whereas it has been represented to me that:
Name: George Haines Faulkner
Rating: The Bloke
Conduct: Uncertain
Character: Vile
Leave: Watched
Did:
Display unseemly mirth in the presence of his Wet Majesty, King Neptune
Endeavour to make eyes at one of His Majesty's mermaids.
Fail to give a 'make and mend' during the first two months of the commission.
Appear at dinner improperly dressed.
Attempt to evade arrest with much gusto.
I do hereby adjudge him, the aforesaid to be shaved with black soap, given sundry pills for his inner comfort, and to be immersed four times with his North End up, and four times with his South End up.
Before awarding the foregoing punishment, I did in the presence of the accuser and the accused, investigate the matter, and having heard the evidence of the said mermaid, three Bears, and one Sea Slug, in support of the charge, the accused not being allowed to offer any defence, I do hereby adjudge him to be punished as afore-stated.
Given under my hand on the Equator, on the twenty-second day of October, Nineteen Hundred and Thirty-two.
Reginald Edwards,
NEPTUNUS REX
SENTENCES DURING INITIATION OF NOVICES
P.O. Tel. Hazelgrove
I have heard your Dots and Dashes,
As Southward you did come,
You were served out with a pencil,
Which you'll wish had been a gun.
I believe you perform with a camera,
But one photograph you cannot do,
And that is the one of yourself sir,
As my barber and bears pass you through.
Chief Writer
Hello, here comes the Chief Writer,
I've never seen him before.
It seems that he's getting whiter
Before half the fun is o'er.
You've been a long time coming down here,
But better late than never.
When my barber and bears have finished,
You'll remember this day for ever.
Marine Tanner
Next we have a Royal Marine,
One of a regiment nothing can touch.
But I have a charge against him,
I don't think he can say very much.
As a centre forward at football,
They say he failed to score,
So barber and bears do your duty,
And, if he kicks, give him some more.
Neptune: (to 1st Lieutenant after initiation)
With graceful stride and conscious pride our No. 1 appears,
His known aversion to total immersion does nought to calm his fears.
That reckless smile, and carefree style, makes all the shellbacks sore,
How little he cares that all the Bears are aching for his gore.
So let us gild the pill before we make our kill,
Pin on his chest the SEA SNAKE'S CREST, and fling him in once more.
A.B. Burden
Here is a young old able seaman
Who bleweth his horn far too loud,
Said he was immune from old Neptune,
And said it in front of a crowd.
Now just to show you what old Neptune can do
To a man who has met him before,
A shave and three pills I order for you,
And bears do your worst, and some more!
Marine Freemantle
Lo! here is another Royal Marine,
One of the comical sort
Who thought that all he had got to do
Was to stand there enjoying the sport.
Now Marines, so they say, always join in the fray,
And you're going to be put to the test.
So barber and bears do your worst,
And see that he takes it in jest.
It must be said for the officers and men that they all did everything possible to make an outstanding event of this encounter with Neptune and his merry men. (and mermaids) Many of them had to submit to a terrible gruelling but we all had a good time and felt none the worse for Neptune's visit. The 'make and mend' which followed was very welcome, enabling the multitude to retire to the bathroom to remove stains of paint and lumps of grease from bodies and hair.
The weather was certainly as much as could have been desired. We had one night-storm though which sent us scuttling away, very scantily attired, from billets on the upper deck to shelter below. One C.P.O. seized his camp bed and tried to carry it below full length, but for some reason this scheme would not work. The middle legs of the bed remained straddled over the combing, while the distracted chief wriggled to and fro in tune with the grumblings of those behind him, waiting to find shelter. When he did eventually remove the encumbrance, he signalled his success by striking his head violently against the bell. As many of us had been standing in the rain for no short time like aspidistras, we could only laugh!
H.M.S. Dauntless South America's Cruise Map
RIO DE JANEIRO
Well, after a journey of 4,200 miles we reached Rio de Janeiro on Friday, 28th October, and having heard so much about it from the old 'sea-gulls,' who were walking the streets of Rio while we were toddling to school, etc., we were favourably impressed. All around rose hills, forest-covered, sheltering the city and its environs as they lay protected by a marble front which, we were told, extended for a distance of over five miles, between hills and sea. Two peaks in particular attracted our attention as we steamed into this, the world's most land-locked harbour, the Sugar Loaf, and Corcovado, a majestic peak of 2,300 ft.
The top of the former was accessible by means of a coach which passes along wires through space while at the top of Corcovado is a huge marble figure of Christ, standing with arms outstretched as if in supplication, looking down over the city. By night this figure is illuminated, and presents a most awesome spectacle.
However, let us get alongside first. To do so, we used the same jetty as many of the world's finest liners, including the ill-fated L'Atlantique.
Pay-day saw large numbers of liberty men 'stepping off' for shore to christen the commission in the south with a couple of jugs of sparkling 'chopp' in one of the most famed and beautiful cities of the world. Not that the baptism was limited to a couple of jugs, but, in any case, the jubilation of the ship's company at getting a trip shore-wise was not difficult to understand after a fort­night in the wide-open spaces. A good number of our fellows had seized on enough Spanish (at least, that's what they called it) to enable them to ask for beer, cigarettes and correct change, but nobody in Rio seemed to appreciate this, principally because Portuguese is more widely spoken in Brazil, but there were several amusing incidents here and elsewhere arising out of the language difficulty - we are reminded that a certain stoker's knowledge of Spanish cost him 18/6, but what is a difference of tongue between friends?
As a city, Rio has almost every desirable feature; cheap and rapid transport, entertainments in many forms, mag­nificent beaches, Copacabana, for example, fine and ornately finished buildings, either as business-houses, banks, public offices or private residences, and above all cleanliness in everything. Streets, shops, cafes and street cars all bore the mark of scrupulous cleanliness, which, in view of the heat, was an excellent feature. The cafes provided attractive wicker armchairs on the shaded walks in the Avenida Rio Branco, so that every few yards or so 'Jack' could be seen engulfed in wicker, cooling himself with something off the ice. Car trips were very popular with many of our people, that trip along the majestic Avenida Rio Branco, over a mile long, 108 feet wide, and sheltered and divided by trees, and around the outskirts of Rio being the most popular.
For the benefit of those who made this trip, suppose we give a short account of it - it will probably serve to refresh their memories.
* * * * *
It was a perfect afternoon. Perfect in that the afternoon heat of the sun was steadied by a fresh breeze which swept over the hills around which we toured, breathing coolness over the city. Our trip opened along a route common to motorists, along the Avenida Rio Branco and promenades until we reached the Rua Paysandu, a ribbon of dark grey, stretching from the sea-front to the Federal Palace, and sheltered on either side by lofty palm trees.
This brought us to the official residence of the President of the Brazilian Republic, though to our disappointment we were not allowed even a furtive look at the interior. Adjoining this was the football stadium of the wealthiest sports and social club in Brazil. To satisfy our curiosity we were shown around. All who matter in realms of sport congregate here, where everything points to lavishness on the part of its patrons and skill on the part of its directors. Here, we were told, H.R.H. The Prince of Wales spent many happy hours while in Rio.
Leaving this club, we also left the beaten track somewhat, our way taking us up and down sharp inclines and round hazardous hairpin bends which our native driver negotiated with remarkable skill. A striking feature of the surrounding dwellings, which were occupied by the seemingly poor, was the artistry with which they were finished. A favourite type seemed to be a facia of blue enamel, and more than one homestead bore a picture of what may have been the native conception of a Bible story.
On and on along cool but dusty lanes we went, always climbing, and occasionally rounding a bend within a few inches of a mighty drop. Trees, strange fruits and flowers lined the route which became more beautiful the higher we climbed. The cars sped well, dense clouds of dust marking our progress along the mountain road. A couple more sharp bends, brought us to a level crossing, the point at which the Corcovado light railway crossed the road. Our first stop was at the Hotel Corcovado, an inviting chalet not very far from the top, wherein we found fruit squash and beer very refreshing after the dusty ride. From here we had a commanding view of Copacabana beach, the racecourse at Leblon and those sentinel rocks out in the bay.
Leblon – Present Day
Source: https://en.wikipedia.org/wiki/Leblon
Many wonderful panoramas met our gaze, but we were more interested in the bronzed peasants who prefer life in the seclusion of the hills and forests to the gaiety of the city, 2,000 feet below.
Our descent took us farther into the interior, through avenues even more beautiful than before; down sharp inclines where the hand of man had battled successfully against the hands of Nature, to construct a road to relieve the isolation of the densely-wooded hill slopes. It must have cost a deal of patience, the task of threading into the forests, particularly on mountain slopes. But there is civilisation, lowly but alone in the wilderness.
Our next halt was at the Taunay Waterfall - not a colossal affair, but relieving the density of the surrounding forests. It ran down over a huge rock, which seemed out of place, into a valley clearing to drain off again into the forest. The statue of a former Brazilian President, Senor Taunay, indicated that the waterfall was named in his memory. A butterfly was caught by one of our party, a perfect blue specimen, but the fellow who caught it was warned by our negro driver to avoid rubbing his eyes with his fingers, lest the pollen should send him blind. Rather interesting!
From here we proceeded to yet another haven of refreshment, the Cafe Mei-luiz, the only features of interest on the way being a couple of genuine mud-huts, complete with rush thatching. At the hotel, and by the way, this denomination included anything from a lock-up shop to a fully-fledged hotel, we were provided with a small boy who guided us among its rocks and gardens, explaining that its rocks were due to volcanic eruption.
More cool beer moistened our dusty throats, and we commenced the final stage of our journey, along perfectly constructed roads on either side of which were banana plantations, with many a ripe bunch hanging temptingly over the roadway. Fortunately, our views on private property coincided with the decalogue, (Ten Commandments) or we may have returned to Rio laden with rich clusters of ripe bananas.
At a good speed, we returned to the foot of the Sugar Loaf, via the Copacabana beach, an uninterrupted stretch of sand, such as one sees on magazine covers or post-cards, lying beneath cobalt skies. We returned around the base of the Sugar Loaf and drove some of the distance along the marble fronted promenades, crowded with people, we ourselves feeling quite satisfied that we had seen a part of Brazil as beautiful as might be desired by even the most difficult to please.
PRIDE COMETH
As the majority of the Ship's Company knows, the Centenary Hall at Rio was the rendezvous for anyone who cared for a couple of hours'
enjoyable dancing, and the fare served up in the way of partners was very good. I should have said 'dancing partners,' as there was the
usual number of 'wallflowers,' or to put it more nicely - chaperones. Mind you, they did not go there merely to sit and watch the younger
ones dancing. Oh no! They went to dance also if there was any possible chance of a partner, but, I'm sorry to say that truth be told, very
few partners came their way. The younger ones seemed to be fairly evenly matched in numbers.
I don't consider myself a youngster exactly, but my 'fancy' certainly was, and, while feeling sorry for the decorations round the hall, I
was afraid to be the little gentle­man and sacrifice myself to dance with one of them, in case some other more unscrupulous ship-mate
butted in on my preserves.
But the ever-watchful M.C. soon saw his way to put a stop to all this picking and choosing. Oh yes!
"Ladies and gentlemen," he announced, "the next dance will be a Paul Jones. Ladies in the centre, please!"
Now was their chance. What a charge they made! No wallflowers now, all were eager for the fray! Crash! goes the orchestra, piano and
drum together! Ladies go one way and gentlemen the other. The music stops, and the faces, which have been glum up till now, light up
with hope as the jockeying for the favourite partners takes place and one by one the willing but doubtful starters are eliminated. They
begin to drift back to the paddock and the dance goes on but up they get again for the next round only to be disappointed a second time!
The M.C. has had enough of this and a sharp 'toot' on his whistle brings everyone to a standstill.
"Come along, boys," says he, more in sorrow than in anger, "Play the game, and take what the good Lord sends you. Strike up, band!"
I'm afraid I was one of the culprits he was appealing to but I got what was coming to me, in more than one sense. The music stopped, and
right in front of me was one of the hopeful hopeless ones.
There was no dodging it, so, putting on as bright a face as possible, and my arm around one sixth of her circumference, I sighed:
"Oh, well! One must take what the good Lord sends."
"That's all right," replied she, condescendingly, "I've danced with worse than you!"
F.T.M.
Many happy and peaceful hours were spent at the Y.M.C.A. and the Mission, the time passing very quickly. The last outstanding event of our stay here was the observance of the Two Minutes' Silence on board, when we were honoured by the attendance of the President of the Brazilian Republic and the British Ambassador.
ILHA GRANDE
Proceeding to Ilha Grande seemed like going from the sublime to the - well, it was rather different from what we had expected. We lay in a placid bay, with scarcely a breeze to relieve the heat, at all times most oppressive, we daren't bathe off the ship's side lest the shark which had been seen from time to time should cruise around in time to seize an O.D.'s leg or chief stoker's middle, so bathing and light picnic parties were organised on the sandy beaches which edged the tropical vegetation skirting the bay.
These were grand affairs, the only restriction as regards dress being the necessary wearing of boots and leggings as proof against snakes. As it was, bathers found that the sand flies left irritating lesions after they had settled, though the pain soon vanished once the bather was in the water.
Early in our recuperative stay these parties had returned on board laden with huge bunches of bananas, but after one of the few natives had paid a visit to the Commander and received about 16 milreis for damage to banana plants, bananas were regarded as forbidden fruit, except such as were lawfully purchased at the canteen, or produced from magazines and lobbies where they had been stowed to ripen. The Commander also had a 'picnic' in the form of evolutions, which did not go down at all well in the tropical heat. Nevertheless, the stay had been a welcome relief after the hectic Rio, and as a preliminary to the equally hectic Montevideo, where we berthed on Friday, 25th November.
MONTEVIDEO
Montevideo is the capital of the republic of Uruguay, which name, the guide book tells us, means the river of birds. The harbour looks terribly antiquated and un­interesting compared with Rio, but provided that it tastes alright, a city isn't so bad at all. It's a remarkable thing, though, that in all these large cities sailors hook on to some­body, and before they know where they are, they have committed themselves if not for life, then for so long as we remain in one place. But if a dame becomes 'love, honour and obeyish' Jack looks for another who concentrates more on the first than the last two. This isn't inserted for the benefit of Montevideo, but to serve as an explanation to the whispered conversations heard in the rec. space occasionally after the initial run ashore, for example:
Harry: "I'm through now with this place."
George: "Why? I thought you had a 'grippo' dame who was going to die for you."
Harry: "So she was - till the old man turned up, then I nearly died for her!"
So, you see, nobody would suggest that it was true love and it most certainly didn't run smoothly.
Continuing about Montevideo - in smaller details it is like Rio - a few stately buildings, beautiful surroundings, alluring cafes and bars, and dusky sirens who make whoopee for a sailors' benefit as befits the reputation of South American ports. To Bill's Bar went the wanderers who liked to be near the ship for the final few jugs or who were not keen on company during their refuelling moments. 'Bill' is quite a character. He invariably had a stump of pencil with which he would write down on his table-tops when they were free from peanuts, anything from street car numbers to plans of the city, with the result that fellows used his bar for a Kelly's Directory if for no other reason.
The streets here were not too clean at times, decorated occasionally by a building taller than the rest, but too drab to be interesting on the whole. The only building of note is the Legislative Palace. They reckon the people will still be paying for it long after the proverbial sands of the desert have grown cold. It contains 62 different kinds of marble for interior decoration. The Cathedral about which we had been told a good deal had nothing more than three domes to recommend it and not one bloomin' gargoyle!
The outlying districts were very attractive, from Pocitos, the beach end, to the Prado, or park, wherein they have most certainly mastered the art of landscape gardening.
In these large cities such as Rio or Montevideo, the British Community play up very well, and as a rule spare no expense to give the sailors of visiting cruisers a good time in some shape or form, and we found that Dauntless received quite her share in Montevideo. A football match was arranged and played in the very best of spirits, followed by an almost banquet. On the same evening, many officers and men were entertained by the Services Association A.D.S. at the clever production of "Ambrose Applejohn's Adventure." As a gesture of their appreciation of the dance given in their honour, the ship delegated to its concert party the pleasant task of reciprocating - in the form of a concert. This, we are proud to record, was a great success. (We must confess that after seeing a local show such as the play mentioned, some of us were wondering how our modest efforts might be received, but from the local press we appear to have accounted ourselves well.)
Not content with having entertained us royally, Montevideo prepared yet another outing for us in the form of a trip to the Riding School of the Uruguayan Government, who were hosts (or virtually so) to about 150 from the ship - officers and men. The officers took part in a polo match, looking very imposing in Ranelagh caps etc., but the men looked around for something lively, and most of them found it - on four legs! Then followed the sport. Many fellows who had once or twice ridden steadily plodding farm horses in their youth sought to renew their acquaintance with the saddle, but before they had time in which to become accustomed to the difference between plodders and steeds, they either toppled off or left of their own free will, disillusioned, sore and temporarily misshapen. Some of course managed their horses with skill, the great difficulty being the absence of a horse-interpreter.
One Royal Marine, who had been an equestrian in his time, rode very well indeed, but his horse must have misunderstood his English word of command, with the result that he was precipitated through the air and into the sand, there to reflect presumably on the pleasures of walking. The meal which followed was of a kind strange to most of those who shared it - some obscure form of mutton, I believe - yes, it was, for some Uruguayan sailors indicated its species by a loud baa-baa (same in our language for sheep) but it was said afterwards that it was difficult to imagine that form of mutton ever having been able to bleat!
Time passed all too quickly at Montevideo, so much so that with only a few days to go heaps remained unseen (or un-tasted) and we had to make the best of our remaining time. The ship was opened to visitors and large numbers 'button­holed' sailors on the upper deck to show them around.
Of course, it happened that quite frequently sailors and visitors couldn't understand a word each other was saying, but this seemed to add to the funny side of the whole thing, and you may be sure there was a funny side. Platoons landed for church on our last Sunday there, marching past the British Minister afterwards, and following the band through a labyrinth of streets on the return to the ship.
Late in the afternoon a large number attended the football match between Uruguay and Brazil at the Monte­video Stadium. This is a grand construction and the game was as worthy as the arena in which it was contested, Brazil winning by 2 goals to 1. The last event was the dance organised by the ship's company - a grand success, as was fitting in appreciation of the way in which we had been entertained. Farewells started as early as 2 a.m., when two convivial souls, chanting 'O'Reilly' on the jetty, sobbed almost incoherent farewells over the guard-rail, and though they were a little muddled we believe them to have meant all they said.
PORTS IN THE URUGUAY RIVER
The prospect of going up-river rather interested us, and we tried to imagine the ship up the Thames as far as, say, Kingston or Hampton Court (bridges having been temporarily removed, of course) though the rivers we were to navigate were not quite the same. Our first anchorage was at San Juan, though from the ship little could be seen. No leave was given and early next morning we headed away up the Uruguay River for Fray Bentos, under the guiding hand of a local pilot, the river being rather treacherous as far as depths were concerned in places. The views obtained were beautiful and changing, rural and quiet, but those people who claimed to have seen cowboys watering their horses shouldn't read so much of Zane Grey's colourful literature - anybody can lead a horse and wear a Stetson.
Well, we arrived at Fray Bentos, the home of corned beef, Anglo - Frigorifico having a very prominent building on the river banks. This corned beef company is a very flourishing concern, and from their appearance the employees seem to do well. Here too we were given a good time, including an asado and sports meeting which included a race for greased pigs. Two members of the party became possessed of pigs which were brought on board. Much squealing and wriggling attending their arrival. Their time on board was short, No. 3 gun deck being the scene of their demise. Full details aren't really necessary, but three well-developed marines were seen to proceed to the spot named, appropriately armed, there was a large amount of squealing and on the following day many messes fed on roast pork.
On the evening prior to our departure for Concepción, our concert party rose to the occasion with an excellent performance ashore, thus we were able to do something in appreciation of the hospitality of the Fray Bentosians.
Concepción, our next halt, was marked by nothing in particular except possibly its hordes of locusts, and as leave here was very limited it is not possible to describe the place in any detail. Poverty was in evidence at every turn, and since the inhabitants depended principally upon the land for their livelihood it is very probable that the locusts were responsible for this poverty. The whole aspect was rural. It was a common sight to see a cow tethered in the front garden of these small dwelling places on either side of poorly made roads.
After three days, we abandoned this for more desirable surroundings and anchored near Casa Blanca for Paysandú. Here bathing and sports parties were allowed ashore and two excellent asados were arranged for the ship's company in order that each watch might get its turn. An asado can be a grand affair. A few lines devoted to an account of this in particular would most certainly not be wasted.
The adventure opened at 5 o'clock in the afternoon when we were decanted from Dauntless to a mud hopper by our boats. The mud hopper set off with a firm but steady chug-chug bearing about 120 men on each occasion, collected about this clean little packet in small groups in every accessible position. The only other craft on the river were the boats which plied between the river towns and Buenos Aires or Montevideo, so we contented ourselves with smoking, discussing the rather beautiful scenery or spinning yarns to pass away the hour's run before reaching Paysandú.
Once landed on the jetty we were hurried into a waiting train, although there stood on the jetty several reasons why we might have tarried, if only for a short time. The train journey was quite interesting. Our route seemed to be through all the back-gardens in Paysandú; indeed, we could have touched many of the waving householders as we ran steadily to the scene of the asado. Orange groves, vineyards and apricot orchards were only a few of the interesting things seen on either side of the track, but we gathered speed and gradually lost sight of rural life as with the screeching of whistles we sped along somebody's garden path.
At the crossing of the Paysandú Golf Club we were met by our hosts, who led us through a green-leafed maple avenue to a clearing in which were spread two huge fires of glowing embers, before which were stretched the carcases of freshly slain lambs, destined to appease the hunger of over a hundred sailors. Leaving these for later consideration we strolled, like children of a village Sunday school on their summer outing, through fields swept by locusts to the arena which had grown to mean so much in the lives of two little pigs.
Normally, catching a pig isn't difficult but if it is greased and to be caught only by its tail, rather different tactics are necessary. More than one pork lover, overcome by his enthusiasm, pounced on the poor little beggar's plump body, but each time he was given one more chance though liberty for him was a thing of the past. Two pigs were caught each evening. On the second trip one pig, preferring death by drowning to the indignity of being 'piped' as the day's joint at 6.30 next morning, is reported to have wriggled into the river, though as the mud hopper had a hefty crew of natives his ultimate destination was uncertain.
Sports such as sack-races, three-legged races and tug-o'-war were organised, the marines upholding a time-honoured reputation by winning the latter with no difficulty.
What followed was a feast such as one might not see again in a day's travel. Crudely though it was served it was asado in its most correct form. The lambs had been hacked or torn into huge chunks of all shapes and sizes, served with a knife, fork and roll to each man there. The attending peons went around continuously to provide refills (if any man there was gifted with such capacity as to require a refill) and all the while there was a seemingly limitless supply of beer and soft drinks. Nine large casks of beer were consumed in about two hours, and as many had soft drinks it may well be imagined that some of the remainder were not always as steady as they might have been. (Well, most people have been giddy so they will recognise the sensation.)
The local brass band, under the direction of the padre, rendered selections and gave us a most hearty send-off and farewell. The party came to an end with riotous cheering and singing which continued until we reached the jetty. Once aboard the mud hopper Morpheus claimed his own and the majority were soon slumbering soundly on the return journey to the ship. (One S.P.O. slept with his head on a pig!)
DESCRIPTION OF SHIP GROUNDING
From the happy days at Paysandú, we commenced our return trip down the river by way of Nuevo Berlin, where we were hoping to spend two or three quiet days to recover from that 'asado feeling,' and to prepare ourselves for the hectic days (and nights) in store for us at Buenos Aires. Our hopes were, however, dashed to the ground or should we say the mud? In explanation of this we reproduce the following, it being the true story, as related by an active participant (and weren't we all?) to a group of admirers at the Seamen's Mission, some days later.
'Ave I ever been shipwrecked? Huh! Did you 'ear that? 'Ave I? I'll say! Lots of times! Why only last Saturday we 'ad a narrow escape from a
watery grave! You see, we was just coming down the river from Paysandú and was approaching our hanchorage at Newvo Berlin. I was sitting
down 'aving me tea, when, all of a sudden the ship slowed down just as if somebody 'ad put the brake on.
Reminiscent of our adventure in the Uruguay River
'Allo!' I sez to meself, I sez, 'Something's gorn wrong.'
So I poked me 'ead out of the port - that's what we call the windows, see - and 'ad a look. And there we was - stopped!
Then I 'eard the quarter master piping 'Clear lower deck, everybody for'ard.'
'Blimey!' I thinks. 'Blowed if we ain't been and gorn and got stuck on the mud.'
And sure enough, so we 'ad!
Well - to cut a long story short, we all went up on the foc'sle - that's the front part of the ship, see - officers and all, and the Commander tells us
to get ready to jump ship, while the motor cutter shoved off with a stream anchor to drop it in deep water. So as we could pull the ship off
while she was rocking because of us jumping, like. See what I mean?
The drummer beat time for us and we started jumping - one, two, one, two, one, two - until we were all out of bref­ and then it started to rain.
And when I sez it rained, I means it rained - and then it 'ailed as well! 'Ailstones as big as heggs - and it wasn't long before every one 'ad taken
cover. Without any orders at that.
When the weather was more propi - er, prop - er, - settled, we started again, but the wind 'ad swung the ship round a bit, so that we 'ad to do the
jumping aft on the quarter deck, this time - and not with our caps off neither! Well, we 'ad to keep it up for about an hour, while everyone was
wondering if we'd 'ave to land all our stores and such­like, but at last we was able to go slow astern with our engines and gradually ease the ship
off into deep water.
Then we drops our hanchors and stays put. And, blow me, if the next day a bloomin' pampero didn't blow up and nearly push us back on the
mud again!
So you see, in the Navy we 'as to be prepared to meet danger in the face, like!
* * * * *
Despite our busy and enlivened week-end, however, we soon forgot our troubles and by Tuesday had left the beautiful reaches of the river to arrive at the wide and muddy estuary, where we met Durban, with whom we were to spend Christmas in Buenos Aires.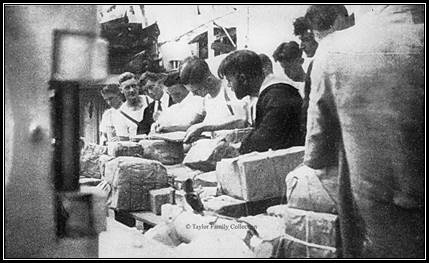 Distributing the Mail
BUENOS AIRES
This city is the largest in the southern hemisphere - famous on many accounts - remarkable docks, extending for 101 miles, fine commercial possibilities and excellent facilities for harbouring the bad boy of the family. It is notoriously popular with sailors who know a fine city when they see one.
Like all large cities, Buenos Aires has many buildings of outstanding interest - the Government House, Cathedral and Post Office which contains a Strangers' Room wherein men and women of all nations may see publications of their own land in their own tongue. There are numerous cinemas, theatres, cafes, bars and other recognized places of amusement. The names Phoenix, German and Splendid Bars soon became household words for our sailors.
For the lover of natural scenery, a trip around the city proves worthwhile on account of the wide range which can be covered in a convenient time, Quilmes, Tigres, Palermo, the last named looking like one long rose-garden adorned by flowered obelisks and an uncommon Japanese bridge. In the city itself the system of street planning is unique, in that part of the world, at any rate. From the main street run lesser streets connected by crossings which split the city up into squares or 'cuadras'' with sides approximately 140 yards long, each side being numbered up to a hundred, making things very easy for the stranger.
The Y.M.C.A. and Seamen's Mission fixed us up very well indeed, and for those who felt so disposed the bars were open all night to serve their requirements. This may or may not be a good thing, it is not a point to be debated here, though it must be said for the scheme that it is a great idea to enjoy the company of those whom it is not always possible to see on board, and to drink with them the cool, refreshing beer of Quilmes without being disturbed by that harrowing cry of "Time, gentlemen, please."
Though the British residents had been given two ships' companies to entertain they did so in excellent fashion, with concerts, teas, a trip to Hurlingham for sports and bathing, and best of all a visit to the headquarters of the Anglo Meat Preserving Company.
Here we witnessed the wholesale transformation of meat by easy stages from the live animal to the meat, either tinned or in refrigerators. Skilled men killed, cleaned, skinned, graded and packed the animals as they were passed round the factory on trolleys, thus proving that the tale of a live pig being pushed into the end of a machine and making its exit at the other in the form of sausages is not so far-fetched after all.
The company is quite self-contained, on the premises we saw made the tins in which the meat was packed, besides the bags for carcases, most of them for export. Hides, hoofs, etc., were also converted into useful products on the premises, thus ensuring the minimum amount of waste.
What of Christmas on board? If we look back a little we can decide for ourselves if it fulfilled expectations. For several days, the canteen staff had laboured ceaselessly with orders and the cooks had been working with full steam to cope with the big spread on the mess-decks. To improve matters, the Paymaster had advanced small sums of money on Christmas Eve, so if any chap couldn't find some way of enjoying himself he was a Scrooge-like individual.
On Christmas Eve, a party of marines invaded the Ward-Room flat where they sang well-known carols for charity, to wit, one bottle of beer per man - this introduced the festive spirit.
On Christmas morning service was held as usual on the quarter-deck, followed by the season's wishes between officers and men, after which we 'piped down.' Then commenced one of the oldest of service ceremonies, Christmas morning rounds.
The master-at-arms, who had temporarily become a defaulter for something 'not hereinafter mentioned' surrendered his rig to the youngest boy in the ship who, armed with the usual one candle-power lantern, led the captain aft from the mess-decks as he inspected them and their Christmas fare. The ceremonial guard which followed held the attention of onlookers as much as the captain and his party - anything from a shiny dress suit and
'topper'' (not so shiny!) to a lady's evening gown was the dress of the day - and having dispersed at the bar aft they joined together over an inch or two of froth in wishing good things for all friends near and far. Large numbers went ashore, principally for all night sittings and there is no reason to believe that Christmas lost any of its flavour because it was spent in a far country.
So it passed, leaving in its wake empty pockets and fat heads, but such effects are only temporary and there's only one Christmas per annum, when all is said and done.
Sporting engagements were made with the Durban and in partnership with her, the results proving very satisfactory as far as we were concerned (ask the mighty men from the Durban if we can play water-polo!) and taken all round Christmas at Buenos Aires had been a very enjoyable festival.
PUNTA DEL ESTE - MAR DEL PLATA ‑ INGENIERO WHITE
On January 3rd war was declared on Durban. For a week, we were to pit against her our strength and skill (and luck) in gunnery of all descriptions and evolutions.
The scene of these competitions was off Punta del Este, a small but fashionable seaside resort in the form of a long and pointed stretch of land, the town being tucked away in the point, though per geometry that's impossible. Leave given here was principally in aid of picnic parties and recuperation. For both these good causes the sandy beaches and pleasant pine wood walks were ideal.
Off these peaceful shores full and sub-calibre 'shoots' and high angle firing, both by day and by night, all con­tributed to a very successful week's exercises as a preliminary run to our competitive 'shoot' with the Commander-in-Chief at Bermuda. On Friday, 6th January, general drill was carried out on board each ship - a word of explanation in case there are any sailors who don't know what that means.
This drill takes the form of a number of evolutions likely to be necessary in emergency, or under abnormal conditions, for instance, fire, collision or running aground. Those carried out on this occasion were "Away all boats." "Away day-men's whaler and marines' cutter." "Fire engine to the
Durban." "Clear the upper deck." "Send a poached egg to the flagship." This last, a freak order, was given to test the readiness and efficiency of people not otherwise affected by the orders. On the following Tuesday, the final gunnery programme was preceded by the never simple evolution of towing for'ard and aft, carried out with the sea blowing up into a fair swell.
All these duties being completed by Thursday, 12th January when we sailed for Mar del Plata, there to bask in the sun of the Argentine Riviera, so we heard from the old 'sea-gulls' who had been there before. We arrived on Friday, 13th January (h'm, I've only just noticed that!), Durban proceeding alongside while we anchored just inside the breakwaters, distance lending enchantment to the view, and the run ashore!
The town of Mar del Plata is picturesque and extremely modern, which is really all that need be said about it. The Rambla Bristol, built on very Spanish lines, is quite a pleasant structure, but apart from this the town was devoid of material interest for most of us. Rather too fashionable and expensive for regular patronage of sailors though the place was, we found people nevertheless hospitable and anxious to give us a good time. An excellent asado, probably the best of the cruise, was given at a large estancia some miles out from the town, at which horse sports, accompanied by beer and beef, were enjoyed in quiet and rural surroundings, added to which fresh fruit was sent on board to the men by the hostess of the day.
The outstanding event of the ship's stay at Mar del Plata was the assault-at-arms staged by the Durban, at which the Dauntless was able to assist, partly with men and partly by illuminating ship. The performance, made possible by kind permission of the Argentine Government, included parades and selections by the Royal Marine Band, drill by the detachment, the sailor's hornpipe, bayonet fighting and cutlass drill and gymnastic displays, all con­cluded by the band's very fine rendering of Elgar's "Land of Hope and Glory."
On Sunday, 22nd January we left for Ingeniero White, arriving on the following morning. Here Britain's Patagonian Navy broke up, our sister ship, Durban, proceeding to Puerto Belgrano while we carried on to Ingeniero White. This we found to be a grain distributing centre and dockyard for Bahia Blanca, which place seemed to hold more attraction for liberty men than its small sea­port of which there was very little worthy of note. The Seamen's Mission made us all welcome and the Bahia Blanca Sports Club gave a dance for the ship's company, but local colour, as it were, was not to be found hanging around the dockyard. The cafes certainly justified their existence, but even so it seemed undignified to get drunk in such a small place. It was certainly rather amusing to see one of our engineer officers stepping off to arrange for a 'rorty' stoker to be set at liberty, armed with a Spanish dictionary.
Back to Punta del Este we went for more evolutions and picnic parties, but the weather was uncertain in the extreme and on one trip our motor boat was damaged against the pier ashore when landing her cargo. From here we went in a calm sea to Rio Grande do Sul, which lies at the end of a long channel bordered by massive breakwaters, estancias and woodlands. At the entrance to the channel, lying high and dry, was a large steam packet lying in such a manner as to suggest that her back might be broken.
The town of Rio Grande do Sul was quaint, in fact, except for a few modern creations it might easily have slept for ten years or so. The main plaza was an example. It was plain to see that municipal progress was a subject about which they never bothered their heads. We were most impressed on the initial run though.
Rio Grande was honouring one of its citizens in respect of services rendered, and while he strolled through the streets accompanied by a fair section of the population and bands, men and women of every clan said or sang his praises at regular intervals in the street. These eulogies were continued when the gentleman attended the cinema that night, though I'm afraid we couldn't appreciate these since they deferred the show from 7.30 p.m. until 9.40 p.m., and leave expired at 11 p.m. An asado, the journey made by train, was arranged here and our football team had a fixture ashore. The band also rendered popular selections to a large and appreciative audience in the main plaza.
SANTOS AND SAO PAULO
From Friday, for three days we were at sea bound for Santos, where we arrived on the morning of Monday, February 13th. The trip had been excellent, and as the sun rose from its multi-coloured bed in the east on that Monday morning we could see the hilly shores of Sao Paulo away on our port bow. For a couple of hours, we steamed steadily on until about 9 o'clock when, passing along the Guaraja channel, we came to our berth at Santos among merchant packets of many nations, not least among them, England.
Santos is noted on account of its being the principal 'coffee' port of the world. Only about 200 miles from Rio de Janeiro it is nearly as landlocked and attractive, though of the city the same could hardly be said. Its principal beauty spot was the Alto da Serra, but we had not time to make a particular feature of such places; our sojourns in these places was limited only to three or four days, and allowing for 'duty' days or organized entertain­ment, we had to make the best of it. Mr. Exprinter was there, anxious to show us the amenities of the land of his birth, at inclusive rates, but he was forestalled by the hospitality of people ashore who arranged for us a trip to Sao Paulo on the Tuesday after arrival.
The journey was made via the mountain railway, covering a total distance of over 50 miles. Here are some of the more interesting points regarding its history and construction. Its summit is approximately 9,000 feet above sea-level. The initial cost was £20,000,000, principally furnished by British investors. Its annual cost of upkeep is £20,000. One wire cable, which lasts only 18 months, costs £2,000. In spite of the many hazardous bends and inclines along its circuitous route in 20 years no accident had ever befallen one or any of its carriages.
Having arrived in Sao Paulo, the home of Brazil's revolutions, the party was split up into three groups, one to visit the snake farm at Buhantan, another to tour the city and the third to witness a football match. This splitting up was disappointing to many who had looked forward keenly to visiting the snake farm, but there it was, and the party as usual made the best of it. At least they saw the tallest building in South America, the Martinelli Building, with 27 storeys. The party at Buhantan were shown tricks of handling snakes, the extraction of virus from their poisonous fangs and the cannibalism of otherwise harmless snakes who swallow up their more venomous neighbours and sleep on indefinitely. The various parties congregated at the Athletic Club, where a sumptuous feast was held, followed by a dance. On the return journey a burning mass, covering many acres, was pointed out to the party as being the scene of destruction of many thousands of bags of coffee for which there was no sale.
BAHIA, BRAZIL AND PASSAGE TO BERMUDA
Bahia, the next port of call, or to give it its full name, the Bay of the Holy Saviour of All the Saints, is the centre of a large cocoa trade and famous for its cigars, tobaccos and curios. In addition, it had a large fishing fleet which had a habit of entering the harbour under sail about 7 o'clock each morning, making a very pleasing picture.
The city was rather unique in design, showing originality on the part of the town planning committee of a few hundred years back. It gave the impression of one city placed neatly on top of the other, the top being reached by lift from the bottom, or by road or footpath. The lifts are modern versions of structures which existed as far back as 1873, driven then by the lubrification of castor oil, which naturally gave the city a smell of which it could hardly be proud. The lower section accommodates the thick-lipped, woolly-headed negroes, poverty-stricken and sadly de­moralised, the Brazilian peasantry, fishers and dock labourers and strangely enough all the large international banks.
Having reached the top, either by turning to left or right, one finds an occasional cafe, churches, churches and more churches. (If their souls were dependent upon the accommodation for their bodies they were almost certain of 'passing over' safely, but society doesn't always build churches to use). Away from some of the busier quarters of the city we found fine buildings and public offices which were of great interest if we were so minded.
The library contained masterpieces of the world's literature, including, we were told, Bunyan's famous allegory, "The Pilgrim's Progress."
While at Bahia our boats' crews settled down to hearty training for the forthcoming regatta at Bermuda, a cool breeze and placid sea making ideal conditions for boat-pulling. The usual sports fixtures were played off ashore, with large and curious crowds looking on. It is rumoured that while here permission had been sought to bring marmosets on board, but as none appeared it is supposed that for rather obvious reasons permission was with-held.
Our last two days were occupied by the carnival raging from end to end of the city, which seemed to have lost some of its melancholy. Formerly, it seemed to be tortured by some secret grief at times. Our sailors went ashore as was to be expected, to join in the fun, to make 'whoopee' amid garlands, flowers and scent-sprays. Of these latter there were hundreds, the contents of which struck one unceremoniously behind the ear, down the neck or, if one chanced to look round to whence it came, in the eye. Some found their way inboard, waking many a slumberer with a cold and scented jet, but the pre-Lent carnival excused it all and Bahia enjoyed itself.
From here we steamed on our way to Bermuda - the last stage of our cruise via the Spanish Main, possibly in the wake of Morgan or Raleigh, carrying out what they could not, a steam trial en route. We arrived at Bermuda on Sunday, March 12th to breathe once more the same air as English-speaking people.
DON'T COUNT YOUR CHICKENS
The dance at the English Club at Santos had been in progress for about an hour, and I was beginning to feel just a little 'fed up' as the saying
goes. All my friends seemed to be enjoying themselves immensely, every one of them had forsaken me for the more congenial company of
charming young ladies, and, as far as I could see, I was the only fellow remaining without a partner.
"Well!" I thought to myself, feeling very much a martyr, but trying to look resigned, "the only thing for me to do is to adjourn to the bar."
Which I accordingly did, and, soon, over a glass of the Navy's staple food, got into conversation with one of the younger members of the club.
Of course, he asked me how I was enjoying myself, and supposed that, as I appeared to be the only uniformed person in the bar, I did not dance.
To which I made reply (with a beautifully sad smile of self-commiseration), that I really liked dancing very much, but had great difficulty in
finding a partner.
"Cheer up, old bean!" he said, "There's no need for you to get down in the dumps about that. My sister couldn't get here early but she'll be along
shortly, and I'll introduce you. Have another drink?"
The news brightened things up considerably, and I felt that, after all, the evening was going to turn out all merry and bright. We had the other
drink, followed by the next two, and then strolled back to the dance floor. Hardly had we time to look around, when, at the other end of the
room, a young lady, whose looks could knock spots off Venus and Greta Garbo both together, entered, and made a bee-line for my companion.
Very soon afterwards I found myself dancing with her.
We got on very well together, the lady and I, during the remainder of the evening. We were soon talking like life-long friends. Then, during the
interval we took our refreshments out to a cosy corner of the verandah and, somehow, managed to miss three dances. The time passed so very
quickly. The prospects for our stay at Santos became rosier as the minutes rolled away, and I thought that South America certainly suited me very
well.
The last waltz, when all the lights were dimmed, was, I thought, wonderful, and as the last strains died away, I whispered the inevitable
question.
"May I see you home?"
"Oh! You really needn't trouble yourself," she replied, "because my husband promised to come and fetch me."
And that was certainly that!
B.I.T.
As frequently seen in South America
SECOND CRUISE
Miles
Exercises at Bermuda 258.9
Left Bermuda 27th May, 1933 1142
At Jamaica 31st May to 1st June 590
Balboa 3rd June to 10th June 353
Buenaventura 12th June to 15th June 478.7
Santa Elena 17th June to 22nd June 173.6
Guayaquil 23rd June to 29th June 217.4
Talara and 30th June to 11th July 44.5
Lobitos
Payta 11th July to 14th July 269.3
Salaverry 15th July to 19th July 259.5
Callao 20th July to 4th Sept. 157.9
Indepencia 5th Sept. to 13th Sept. 307
Mollendo 14th Sept. to 21st Sept. 970.5
Valparaiso 25th Sept. to 10th Oct. 1630.3
Ushuaia 19th Oct. to 25th Oct. 468.9
Falkland Islands 27th Oct.
Total Number of miles covered on 2nd Cruise: 7321.5
BERMUDA AND SOUTHWARDS
This group of islands is one of Britain's possessions which was gained by settlement rather than by conquest or private enterprise. Its principal use as a naval base for a squadron working on the western side of the Atlantic certainly justifies its retention, though among wealthy Americans who have become nerve-racked on account of the industrial depression, etc., it is a very popular refuge for recuperation.
It is recorded that there are 365 islands, covering an area of not more than 20 sq. miles, and that they were discovered by Juan de Bermudez early in the 16th century. That he failed to make any form of settlement there is obvious, for when Sir George Somers in the 'Sea Venture,' carrying ambitious colonists to Virginia, was wrecked on the treacherous coral reefs surrounding the islands, they were uninhabited. Somers perished there and his loyal followers, anxious to perpetuate his memory, are said to have renamed the group Somers Islands, suggesting that they were in ignorance of the earlier discovery of Bermudez.
A fair estimate of the population would be 27,000 people, of which number approximately 60% are coloured. It will not be difficult to understand what has been the result of this fusion of types. The white inhabitants are for the greater part quite well educated and advanced and associations with them have naturally had the effect of modernising the coloured people who have become unusually initiated and self-respecting, so much so that they occupy positions of trust and are given the same chances as their white colleagues.
Not far from these shores in 1926 the ill-fated 'Valerian' foundered in a hurricane, losing most of her hands. Testimony to the damage and devastation which a hurricane can produce is made regularly in the news­papers, but we had a little demonstration on the morning of Wednesday, April 26th, as we lay alongside.
What the hurricane did to our bow bollard at Bermuda
The wind, which was reported to have reached a velocity of 132 m.p.h., tore the awnings from the cruisers in the harbour, leaving them about the guard-rails in shreds. The battle-practice targets were badly damaged and the ship's motor cutter holed and sunk. In addition, general commotion was caused when a hawser gave way for'ard and a huge bollard which had withstood the ravages of time since 1877 was torn from the jetty by the force of the wind on the ships attached to it.
In dry dock at Bermuda
Fortunately, heavy weather here was rare although we had a fair amount of rain, particularly while we were in floating dock, a state of affairs for which no comfort-loving sailor craves. Perched well above sea-level, the outlook on an aged and grey dock is not too pleasant, added to which were the usual inconveniences such as releasing the water outflows only when the dockyard 'maties' weren't under the scupper.
We could also mention the long jaunt to the 'Flaming Chariot' for food, this being the well-known galley which travelled from place to place on its errand of mercy, used while ships' galleys were under repair or refit. The 'tired of life' expression on cookies' face some­times gave evidence as to how popular was this emergency affair, and the cup of comfort was completely upset when the drying rooms went out of fashion and dhobeying was hung on lines under the dockyard wall. As we have said, it rained quite often.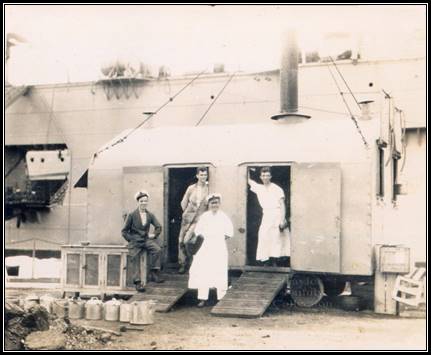 The 'Flaming Chariot'
Still the 'troops' went ashore, dressed as usual with impeccable care in whites, and a good deal must be said for them that they faced conditions so cheerfully. Canteen parties, collecting 'buzzes' principally about the ship, which had been reduced to such a state by rumour that only the dock stays prevented our bottom from falling out, and the 'tinser' parties (not many of these), were practically the only people who left the dockyard save for cricket or football in these early days. It should be men­tioned that our sports' record in commission to the time of leaving Bermuda was exceptionally encouraging.
The dockyard cinema claimed its share of hands nightly, the queue always seemed the same length when we reached it, though few were ever disappointed, and even if some of the films failed to thrill they provided the sailors with a new language which they were not slow to try out on board. (In the course of his rounds day pilgrimage a cook's mate was heard to say to a cockroach which he found lurking in a saucepan:
"You dirty, low-down ant-eater, scram outa' here. You 'eard!")
There are no private motors or taxis in Bermuda. Bicycles which are taxed (!) are the principal means of transport, apart from the Bermuda Light Railway, so trips through these beautiful islands had to be made on foot or bicycle. The same applied to late canteen runs. Of course, if these tombola' trips to the canteen were often made by cycle, and if the happy mariner chanced to win a 'house' or 'line' the bike frequently returned to the dockyard on an unsteady course and not without its ups and downs. Still, it was one way of getting a kick out of life, and at times it was sorely needed.
Author's Note:
TOMBOLA: a lottery in which winning tickets are drawn from a revolving drum. Also 'bingo'.
During our refit, both in and out of dock, our boats' crews had been away very regularly under the watchful eye of the First Lieutenant, who had religiously watched the progress of each man in each boat, so that from the very first we felt rather proud of our chances in the regatta.
While lying alongside we were pleased to greet our Canadian friends, the Saguenay and Champlain, who spent a few weeks with us, including 'firing' and 'regatta' weeks. The two sloops returned to England to pay off while the Dragon, Norfolk and Durban returned from cruises. The Danae, recently re-com­missioned, rejoined the station too, so that we all made merry together.
Things soon began to hum once we had left the dock, including more intriguing 'buzzes,' and Admiral's Inspection became not a rough guess but a rapidly approaching reality. The moment the date of his proposed visit was known to the ship's company 'six' suits were looked over with a critical eye to any defects, kits were checked and every man plunged wholeheartedly into his particular job towards making the ship clean and smart for the Admiral, and it is safe to say at this stage that the results justified the efforts.
Rain fell heavily on each occasion upon which we were prepared for the Admiral's arrival, but once over and we were away to 'Five Fathom Hole' the weather improved considerably.
On Tuesday 2nd May poor visibility made it necessary to cancel our programme, but an enthusiastic start was made on the following day when all guns carried out sub-calibre 'shoots' and two torpedoes were fired. On the following day, full-calibre firing and 'action stations' filled the programme in preparation for the Commander-in-Chief's competitive 'shoot' on the following day.
As the result of the good work put in to date we entered the contest with confidence, and were well placed, as shown by the results.
Dauntless 1478 points
Durban 758 points
Dragon 444 points
Danae 265 points
As seen, we exceeded easily the totals of the other three competitors.
Sore throats and aching arms testified to the enthusiasm with which the regatta was contested, excitement ran high throughout the whole programme which was held on Tuesday and Wednesday, 9th and 10th May. The weather on Tuesday morning was very unsettled - ask any of the crew of the Daymen's whaler! Rain fell in sheets over Port Royal Bay whither the squadron and destroyers had sailed for the event. From the start it was pretty obvious that thrilling finishes might be expected from three ships, Norfolk, Durban and Dauntless, and when at dinner we were only ten points behind the flagship excite­ment ran very high, particularly after our stokers' cutter had won their race from the Norfolk, whose cutter had only once carried an unsuccessful crew.
Two early failures in the afternoon inspired our marines, seamen and artisans to win their events in cutter, gig and whaler respectively (the only 'hat-trick' of the regatta) and with two events to go we were hard on the heels of the flagship for points. Our young Seamen finished third in what was probably the finest race of the day, and the stokers failed to repeat their success of the forenoon so Norfolk carried off the 'cock' or silver chanticleer. Of the Light Cruisers Dauntless with 133 points led the way with Durban only 8 points behind. (You will note that both are Pompey ships).
It seemed mere justice that in the open events on the following morning Norfolk, Durban and Daunt­less should each win one trophy, as they did, in cutter, whaler and gig respectively. None of our crews could complain of apathy on part of their shipmates, either on board or on the 'chucking-up' boat and it is no discredit to us that we were not showing an illuminated 'cock' at night. The victors returned inboard after their races to the strains of "See the Conquering Heroes Come" and prospects of a pint of cold beer. Fears were entertained for the state of mind of Capt. R. M. when the marines' cutter had won and the wine-steward was away in the 'chucking-up' boat with the keys of the wine store in his pocket! Still, well pulled, Dauntless.
Author's Note:
CHUCK: Naval slang for a demonstration of applause.
Enthusiastic supporters of a ship's regatta boat's crew would form a 'chucking-up' party.
Following the excitement of inspections, regatta and gunnery, came a short spell of refit alongside Clock Tower Jetty, with quiet 'tombola' runs ashore, cinema trips and lots of bathing from the targets (one afternoon saw as many as 93 people either bathing or basking in the sun here) and inter-cruiser water-polo matches.
All that happened to disturb the glorious quiet of life was the visit of the admiral to inspect the ship's company in evolutions and action stations. As usual people were all 'fingers and thumbs,' but taking into account this very human failing, which only seems to assert itself on such occasions, things went very satisfactorily. The evolutions, many of which were surprise packets to us, were as follows:
Lay out 2 ½ inch hawser to long-arm and pull ship out from jetty.

Hoist second whaler on first whaler's davits

Mount 3 lbr. on jetty and fire one round.

Fire a rocket.

Place kedge anchor on No. 2 gun deck.

Stokers platoon to land and carry out drill on jetty.

Away demolition party fire 2 ¼ lb. charge in Grassy Bay and catch fish.

Place port lower-boom on the jetty.
By the sailors and marines, particularly those con­cerned, that little list will be regarded as a fair half-hour's work - it didn't take longer - and after the Admiral had said some very nice things to us we 'made and mended.'
The time soon slipped away and the morning of Saturday, 27th May, found us drawing away from the jetty in a typical Bermuda mist. The band and ships' companies of the remaining cruisers in the harbour gave us a characteristic send-off as we steamed slowly into Grassy Bay, on the first trip of our second cruise - to Jamaica.
JAMAICA, THE PANAMA CANAL AND BALBOA
For four days, we had an excellent sea-trip - the sort of thing one reads about - sunny days, placid seas and moonlight nights (so moonlit were they that the duty party were able to paint funnels at night) and on Wednesday morning we entered the rather winding harbour of Kingston, Jamaica. Running around a strip of land which looks like a shoe, we came to a small jetty far beyond the anchorage off Kingston, where we took in oil, returning to the stream to anchor for the remainder of the day and night. Leave was given and extended to enable men to attend a dance arranged for them ashore, but our acquaintance with Jamaica was but brief, for on the following morning we ran on our way to Panama.
At 5 o'clock on Saturday we arrived at Cristobal, at the Atlantic end of the canal, saluting the American flag and taking the pilot on board prior to entering the 42 mile stretch of water which joins the Atlantic and Pacific on the Isthmus of Panama.
The Panama Canal is really worth a paragraph or so to itself. It is regarded as a most remarkable feat of engineering, second only to that of de Lesseps, the con­structor of the Suez Canal. It runs from N.W. to S.E., the Pacific end being about 27 miles east of the Atlantic end, though the actual length of the canal is given at anything between 42 and 45 miles. (Here the sun rises over the Pacific and sets over the Atlantic!)
On the Isthmus of Panama landed Balboa, a Spanish navigator and explorer, the first European to do so, in 1513. Twenty-one years later Spain arranged surveys for an Isthmian canal. It was not until 1881, however, that de Lesseps made a definite effort to construct a sea-level canal. This and subsequent efforts failed, supposedly on account of yellow fever, which had ravaged Central America for many years. The United States Government took charge of constructions in 1904, completing the task in 1914 at a cost of nearly four hundred million dollars. It is estimated that 48 ships can be dealt with daily.
The locks, Gatlun, Miraflores and Pedro Miguel, raise 85 feet and lower 55 feet and 30 feet respectively, to pass ships through from ocean to ocean. The whole cutting is bordered by beautiful scenery, trees of many species, fresh vegetation and huge rocks, which must have made the task of construction even more prodigious than might be supposed. The most beautiful setting was that at the entrance to Culebra Cut. Cameras clicked busily here though from end to end many films must have been expended on items and views of beauty or interest. Incidentally nobody appears to have 'snapped' the alligator which crawled away as we made our approach. Rather shy, maybe.
H.M.S. Dauntless passing through the Culebra Cut
At the Balboa end we fired more salutes, in honour of H.M. the King's birthday, for which we dressed the ship overall, saluting also the U.S.S. Richmond, flying the flag of the Admiral commanding the Special Service Squadron of the U.S. Navy, for which Balboa is a base of operations.
The American sailors and marines were very good fellows ashore, and acted as hosts to our sailors, assisting them in every way possible. In addition, invitations were received and accepted by the ship's company to attend the cinema show on board either the U.S.S. Richmond or Overton, the most up-to-date pictures being shown on each boat.
In the cafes and bars ashore dusky negresses and fair American girls lured Jack into dancing, all making merry over something which had never come under the eye of prohibition but which perhaps should have. One 'dame,' as he called her, is said to have asked one of our cooks if he could dance, to which he replied, with an imported Yankee roll, "Waal sister, did you ever hear tell of St. Vitus? Look me over." But I'm not swearing to this. He had been paid only three days prior to this and was always of an imaginative turn of mind.
After an enjoyable week in this small seaport we proceeded across the Gulf of Panama to Buenaventura, which lies up a channel off Choco Bay. We arrived at the entrance on Sunday night, and things being pretty quiet a whaler was lowered carrying officers, a few ratings, nets and depth charges. Hands on the upper deck stood by to give a hand in with the 'miraculous draught,' if any, but after disposing of a couple of depth charges and manoeuvring with the nets, they caught quite eight, which really speaking was not too good, was it?
On Monday morning, with the pilot on board, we proceeded to find Buenaventura, carefully concealed up the reaches, forest-girt and quiet. The original intention of going alongside was abandoned and we anchored in the bay. The usual calls from shore were made in high speed boats, which we learned were constructed by the English firm of Thorneycroft, and didn't they cause a stir in the calm of the surrounding waters. The squat old peasants fishing from their coracles rolled and pitched as the waves wriggled around them, pronouncing a curse upon science and civilisation probably.
Leave was short and not many ventured ashore, the natives from the town coming to the ship in dozens to inspect us at close range.
BUENAVENTURA, COLOMBIA
From the liberty-men's point of view Buenaventura was not popular. Its amenities were few, and well concealed, and a hike in search of further thrills was most definitely out of the question. Apart from the main streets, roadways were muddy and invariably bordered by ditches, so that if a fellow returned on board muddied to his ankles, it was safe to say that he had strayed from the straight and found the 'rough.' Such curios as were obtainable were curios indeed; raw nuggets of gold, skulls of gold and such trinkets, possessed by even the poorest of natives, who, for some obscure reason, connected with economics, were not allowed to sell their treasures. Just think of it! Hills rich in gold and platinum, yet there were we, without even a modest 'bob.'
The natives were friendly enough. When the ship was opened to visitors, they were all for it, coming on board in hordes. When we fired our salute on arrival the more primitive of them had hurried away for shelter to their huts beyond the town. Their courage returned only when they heard their land guns reply to the salute.
SANTA ELENA, ECUADOR
Our next port of call, Santa Elena, was the station for the export of oil from the Ancon oilfields, and in itself was small and insignificant, Ancon being the residential district of the British community. The initial trip ashore, though, was sufficient to convince our sailors of its suitability, the first beer-house bearing the gladdening device: 'Beer free for Dauntless sailors,' and it is no exaggeration to say that we were simply not allowed to exchange money, either for beer or food. Our friends ashore wouldn't hear of it.
Once in a life-time!
Many pleasant excursions to Ancon were organised, our football and cricket teams enjoying excellent fixtures with the people ashore. On the final run, an exceptionally fine day's entertainment was provided. The trip to Ancon, a football match, a very welcome tea, a look around the oilfields, a limitless supply of supper, followed by a very gay dance making in all a great day for those taking part. To give an idea of how the sailors were enjoying themselves, let us quote the following:
One of our number, enquiring as to how much oil was pumped up daily, framed his question thus:
"What do these wells pump up now?" His genial host replied, with a smile.
"Oh, oil you know, oil." The sailor thought for a moment.
"Huh! Well it might have been beer!"
Then, too, one of our marine detachment, anxious to stretch his legs on the sidewalk, stepped from the car, but it was travelling at about 35 m.p.h. The marine was badly bruised, and adorned for some days with gravel rash, otherwise the trip went without a hitch. No, it didn't, though. Apparently, a petty officer was sleeping when he should not have been, for he fell from the back of the train - also unhurt - the petty officer, I mean.
GUAYAQUIL, ECUADOR
To Guayaquil we went, finding this town 30 miles up the River Guayas. Surrounded by semi-tropical vegetation, Guayaquil looks across the street, as it were, to the Andes, and though it may seem remarkable, away in the distance could be seen the snow-capped peak of Chimborazo (20,498 ft.) From our anchorage, the town looked as inviting as their eulogy of Dauntless and its men which appeared in their daily paper, but actually there was not a great deal to lure anybody ashore, particularly as we were not alongside. The tide in this river was unusually strong; had one transgressed by throwing a tin or banana-skin through the 'port,' and the O.O.W. had seen it, he would have required all his knowledge of mathematics and tides to calculate from which 'port' it was thrown, so rapidly did the flotsam of the river run away.
For sailors on an evening's run the place was not too great. One end was more interesting than the other. It had been rebuilt as the result of a fire which almost com­pletely demolished the city, and to the credit of the Town Planning Committee, it was being modernised. There was one cabaret and a few bars - the cabaret differed from the bars in that you danced between the tables instead of round them. Even this had had its day, and many a man confessed that had it rained it would have been drier outside!
TALARA AND LOBITOS, PERU
At Talara, Peru
We reached Talara on Friday, 30th June, greeted by grey skies and cold winds (in short, we were in Peru, but it was chilly). Talara could be described as being at the head of the pier of the International Products (Oil) Ltd., lying in the shelter of brown hills, practically all sand. The native quarters did not interest us much, so occupied were we in the sumptuous entertainments provided for us by the American and Canadian employees of the company.
These took the form of daily excursions to the oil wells beyond Negritos by car, where drilling, the working of wells and the refinement of gasoline was explained in detail. It was estimated that over 2,700 wells had been sunk in the district surrounding Negritos, the whole business being highly flourishing. The production of gasoline was very interesting, particularly as it is more or less a by­-product of the fields. Even the gasses liberated are never wasted, being used for driving plant, fuelling, lighting, etc. in the native quarters, any surplus then remaining being forced back into the earth via the wells to exude there-from much more oil. The drilling and pumping is also done on simple lines, a see-saw arrangement, needing little attention, working the pump itself.
Every man who went on one or other of these trips was entertained by his host at either the Negritos or Talara clubs; beer, sandwiches and cigarettes supplied, there being apparently no limit except that imposed by a man's own capacity. When we were not enjoying our­selves with these hospitable people, we spent a few hours looking around the native quarters and beauty-spots, even to the cemetery. To this hallowed spot one night there trooped a real herd of natives carrying flares and chanting low incantations. Maybe they had held a funeral or had done a little keening around a grave or graves. They show great respect for departed souls here. If a man dies by accident or other cause, on the road or hills, even though his body may be removed, the spot of his demise is marked by a monument of oil-drums and the like, before which stands a suitably inscribed cross.
A very successful dance and concert was held in the club and theatre respectively (not to mention an hilarious smoking concert, for men only!) In addition to the usual visitors the Peruvian school-children came on board en masse, with the Boy Scout band in attendance, and the English-speaking children were given tea on board and shown throughout the ship.
One hour by sea brought us to Lobitos, similar in purpose to Talara, with fewer English-speaking people. Excursions similar to those at Talara were arranged, an additional attractions being the fair, trapeze wire and all the usual garnish including coconut shies and side-shows for which the prizes were replicas of Inca treasures carefully modelled and coated with some material resembling pitch. Though of no intrinsic value, they were excellent copies of the rare originals, and accordingly made good souvenirs.
PAYTA AND SALAVERRY, PERU
Leaving Lobitos at 6 a.m. on Tuesday, we arrived at 11 a.m. that day at Payta, (Paita) a small seaport lying in a quiet bay surrounded by dun brown hills. The only trip here was that to Piura, some 50 miles distant, where the party were entertained by the English people. A small ceremony was performed here by Lieutenant F. M. Beasley, who placed a wreath from the ship on the monument to Admiral Grau, the 'Nelson' of Peru. Leave here was limited, and in view of our impending visit to Callao what remained of the month's pay could not be spent indiscriminately, so with the observation that Payta is hardly the type of place we crave to visit, we left for Salaverry.
The trip was made in a light breeze which became quite chilly, and when on Saturday morning we came to anchor, it was on the bosom of a heavy swell which shook up china and glass considerably. It scarcely eased during the four days we were there. Its' one redeeming feature was its suitability to sleep. Liberty-men found it necessary to jump from a Jacob's ladder, to leap from swinging ropes over the heavy sea and bounce from a basket to the boat all in the course of a quiet run ashore, thus they had something by which to remember Salaverry. Football parties travelled to Trujillo, and on Monday about 20 men were the guests of the Peruvian Army in Trujillo at lunch. The toasts were made in both English and Spanish, the interpreting being done by members of our own ship's company who had acquired their knowledge of Spanish during the commission.
CALLAO AND LIMA, PERU
Without once losing sight of the Andes, except by night, of course, we reached Callao, passing through a remarkable swarm of sea-birds just outside the harbour.
Our arrival, in a slight mist, meant the customary exchange of salutes, the ship coming to anchor just inside the breakwaters at about 9.30 a.m. All around us were old sailing barques, brigantines and schooners, used principally by the gannets and pelicans as a taking-off stage for their diving expeditions. Watching the birds became quite a pastime - the gannets entered the water so cleanly compared with the wingy flop of the pelicans - reminiscent of my own first efforts at diving.
Callao is the commercial town for Lima. As long ago as the 16th century Drake looked in and left quite pleased shortly afterwards, his gain being the town's loss. From a sailor's point of view there was better sport in Callao than in Lima - just think of it! In a small circle were the Swiss, Lima, Anglo-American, Broadway and many other bars wherein the men found plenty of singing and dancing and no shortage of partners. Then, if they wished to return on board in other than the routine boats, there were usually a string of boats from which they could select, at the rate of about one sol per man. The Mission also was not far from the jetty if one wanted a quiet game of billiards or wished to write a letter, so there are many ready-to-hand reasons why sailors preferred Callao to Lima.
We were normally to have stayed there for three weeks only, but the outbreak of typhus in its most virulent form in Chile brought about considerable changes in our programme, giving us a further three weeks in Callao, only unwelcome from a financial point of view. Incidentally, during our stay here the district was disturbed by cases of bubonic, though the danger zones were principally in the northern or old section of the town. This outbreak meant that all poultry, doves, rabbits and guinea-pigs came to a sudden end at the hands of the port sanitary authority.
To keep us company the Peruvian Navy was assembled in the harbour, incomplete to start with but the return of the Almirante Grau and submarines R1 and R2 made the set as it were. The barracks is at La Punta, the seaside quarter of Callao, the only facilities for bathing being in this part of the town.
Sports were extraordinarily regular, matches twice a week for our football teams, rugby, hockey and inter-part soccer matches all being decided on the ground of the Lima Cricket Club. All these games went well, but when a different ground was to have been used, a different tale can be told. We were to play a team representing the Peruvian Navy at soccer, though some hitch must have occurred over the pitch the teams were to use.
By half‑time it became quite evident that two other teams were expecting to play on the pitch and by shouting loud foreign invective, hurling pieces of mud at our team and finally running off with the ball, these people convinced our sailors that they were going to play there whether we liked it or not. Maybe it's an old Spanish custom, but as it is not done in really sporting circles, our team retired at half-time with dignity (and shirts) intact. In other sports we were well entertained, our marksmen keeping several engagements with local 'big shots,' and if they did not always return victorious they gained experience of different firing conditions from their own.
We might mention that one member of our football team was honoured by being invited to referee the champion­ship match of the First League of the Peru Football Association. That he performed his task creditably and impartially is indicated by the press reports which paid high tribute to his services.
Lima, the capital of Peru, was founded on the site of a village of that name by Francisco Pizarro in 1535. The founder was murdered in 1541, his remains are mummified in the crypt of the cathedral, a beautiful building once almost destroyed but rebuilt in 1746, and regarded as the finest cathedral in South America. The city, through which flows the Rio Rimac after its waters have trickled slowly from glacier and snow-fed lakes, contains many fine sacred and other buildings, though a good deal has been spoiled by revolution, disaster or earthquake.
Slight tremors were felt once while we were there - the bars and cafes, shops and streets were cleared immediately except for our sailors who saw no reason why a mere earthquake should rob them of a tankard of sparkling 'chopp.'
Shortly after our arrival the 112th anniversary of Peruvian Independence came round, with all its pomp and splendour. The President, with a resplendent guard and retinue, attended a thanksgiving service in the cathedral, the British Minister and our Captain representing Great Britain. A company of three platoons from the ship took part in the march-past which followed, supported by the R.M. Band. In addition, we dressed ship, fired salutes at many strange hours during the day and for three nights illuminated ship even more successfully than ever before.
A SOUTH-AMERICAN CELEBRATION
On the 20th July, 1933, H.M.S. Dauntless arrived at Callao, the port of Lima, the capital of Peru. In spite of the land being almost totally obscured on our approach by a particularly damp Scotch mist, most of us appeared more than usually cheerful. Lima being a big place, and eight miles or so from Callao, we had hopes that our small vessel would lapse into insignificance, and that we should be left more or less to our own devices ashore.
This proved to be more or less the case. His Majesty's Minister gave a small dance at the Legation to enable the officers to meet the young ladies, which launched the brighter spirits into the social whirl, while the more sober-minded kept discreetly in the background and declined to commit themselves. A full sports programme was organized and full advantage taken of honorary membership of the golf club. The Minister very kindly put his tennis court at our disposal, and indeed the whole of the Legation, for we were invited to stay up for the night whenever it was possible to do so. The washing of sheets must have figured very largely in the laundry bill!
Life became so pleasant and easy that it seemed certain that the proverbial fly would not remain long out of the ointment. The 28th of July, Peruvian Independence Day, was approaching. We had heard stories from our opposite numbers in the South American Squadron - known colloquially as the 'Patagonian Navy' who had been at Callao at the same time last year, that it was the signal for some sort of endurance test in the Cathedral Square,
or Plaza de Armas, to give it its proper title. They had taken part by landing a company of sailors, and so, not to be outdone, as the day drew near we offered to do likewise.
At first it seemed that our offer was received with little enthusiasm. The Peruvian Government had just negotiated the purchase of two destroyers from Estonia and crews had been sent to Europe to take them over. One cruiser, the Almirante Grau, was somewhere near Panama on her way back from the Amazon, where she had been stationed during the recent dispute with Colombia over Leticia. The other, the Coronel Bolognesi, together with the sloop 'Lima' and two submarines, were therefore the only ships left at Callao. It was doubtful if a strong enough Peruvian contingent could be mustered which would not be dwarfed by any British contingent that might be landed. Naturally nobody wanted this to happen, as although the local people might appreciate our taking part, presumably they wanted to see more of their own Navy than they did of ours.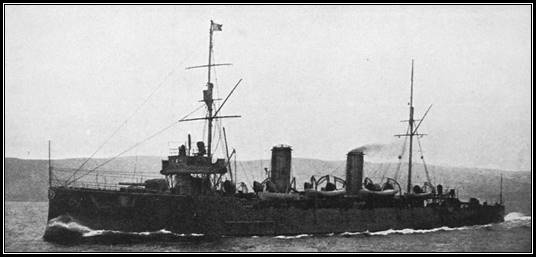 Coronel Bolognesi
Photo courtesy of http://www.photoship.co.uk/
We congratulated ourselves prematurely however. All difficulties were successfully overcome, and arrange­ments were made to land a company of three platoons. They were to consist entirely of seamen as a mixed party of seamen and marines does not work well owing to differences in drill and the speed with which movements are carried out with the rifle. However, the Royal Marine Band would accompany us. Normally the ship, being one of the smaller type of cruisers, would not carry a band, but in view of their peculiar functions, and as they spend the great majority of their time cruising independently, bands have been allotted to the ships on the South American Station. Naturally it is a great godsend to have one for entertainment and ceremonial purposes.
There was little time for practice drills, in fact it was only possible for each platoon to do two hours' drill on board before the actual day. It was the first time we had landed for a ceremonial parade. The ship had been just a year in commission, during which time she had done 17,500 miles, which is not a lot when it is made up of long ocean voyages, but a considerable amount in small coast­wise passages. She was an old ship and a great deal of work was necessary to keep her smart, which it was even more important for her to be than is normally the case, and I think few people will complain that the standard is low.
Occasionally the ship's company had landed by platoons for a church parade, but of course without arms. Landing with arms in foreign countries requires diplomatic sanction, and, at any rate in South America, you need at least twice your strength of police to control attendant crowds. Whatever faults a sailor may have, he may always be relied on to give of his best in an emergency, and to this factor of safety the fortunes of the day had to be left.
A Peruvian naval officer had been attached to the company for liaison purposes, and proved most useful. He became known by the name of 'The Monkey's Orphan,' which was not meant to be derogatory to his character but arose from the difficulty of knowing where to place him when the company was fallen in or on the march, and also from the extreme pessimism with which he appeared to view the whole affair.
The company was landed at 0845. 'The Monkey's Orphan,' after a quarter-of-an-hour of deep gloom in the wardroom, landed with it. His equipment consisted of a leather Sam Browne belt, which was fitted with pouches for a landing-compass, etc. It seemed a very practical article for active service purposes. We envied it for another reason in that it attached his sword firmly to his body, while our own weapons, unless clasped tightly in the hand, dangled perilously between our legs at the end of straps some eighteen inches long. Anybody who has tried moving from the 'halt' or coming to the 'halt' with a Naval sword knows how uncontrollable it is likely to become.
At Callao Station, we met the Peruvian naval contingent and embarked together in a special train for Lima, where we duly arrived some twenty minutes later. The company was fallen in on the platform and fixed bayonets. This was hardly completed when somebody struck up the Peruvian National Anthem and we had to come hurriedly to the 'Present.' This was a foretaste of what was to come. We could see heavy guns trundling over a bridge further down the line and it was evident that the fun had already begun.
The company was marched out of the station and proceeded through crowded streets to the Plaza de Armas. From midnight of the night before the square and its adjoining streets had been closed to traffic, so there was no trouble on that score. The only danger lay in possible collisions with other bodies of troops, but we did not experience this as yet.
The square was reached without mishap and the company drawn up in line in front of the Cathedral facing the main door, from which a flight of steps descends to the road, on the opposite side of which we were standing. This road runs all round the square, which has a fountain and trees in the middle, while from each of its corners a pair of roads ran out at right angles to other parts of the city. To the left of the Cathedral is the Archbishop's Palace, a white adobe building in the Spanish style, with heavy wooden 'miradores' (balconies) and much ornamentation. At right angles to it runs the Ministry of War, while the other two sides of the square are taken up by shops, whose upper storeys are built out over the pavement. All the buildings are white, except the Cathedral itself, which is a pleasantly weathered yellow colour, and with the green of the trees in the middle, the square is very picturesque.
The company was in position at 0930. On our left were the Peruvian sailors, and lining the pavement opposite and all round the square, a regiment of troops. A cordon of police was stationed behind us round the centre of the square, into which the public were admitted. Each of the entrances to the square was blocked by the head of a column of troops, mostly cavalry. One could not help thinking of the awful chaos that would ensue if somebody was unkind enough to throw a bomb or start shooting. On the 30th of April the late President, Sanchez Cerro, had been finally assassinated as he was leaving the Race Course, it being the fifth or sixth attempt. He had been succeeded by the former Peruvian Minister in London, General Benavides, a man of more moderate and progressive political views, but it had yet to be seen if his regime would prove popular.
The President of Peru leaving the Cathedral
Dauntless Seaman Company in right background
Shortly before ten o'clock the cadets of the Naval and Military Colleges arrived and were drawn up on either side of the door of the Cathedral. Both parties were very smart. There followed an interval of waiting which might have been expected to last for a considerable time. In Peru, and in fact all parts of South America, it is con­sidered quite normal and even desirable to arrive an hour late for an appointment. If you really wish to see a person at the time you arrange, it is necessary to specify it as 'hora inglesa.' (literally English Time) Your friend may then be punctual. Actually, the President was fairly well up to time.
His arrival was heralded by the crashing chords of the National Anthem, which burst out from all sides. There seemed to be at least five or six bands in the square and the noise was indescribable. Whatever the aesthetic value of the sound produced, everybody seemed determined that it should lack nothing of the fire and vigour of patriotism. Each band gave its own rendering regardless of the others, and the result was one glorious riot of discord. In the midst of this superb pandemonium, the President and his train, who had disembarked from their cars at the lower end of the square, progressed solemnly towards the Cathedral. To the confusion of sound was added the confusion of colour as rank after rank of distinguished people swept past in gaily-coloured uniforms. Standing rigidly at the salute, one almost lost all sense of solidity and seemed to see the colours flow before one's eyes. The procession passed into the Cathedral and disappeared from view.
Gradually the noise subsided to complete silence. The troops came to the 'stand easy' position. It was now about half-past ten. Even those of the Roman persuasion had very little experience of Te Deums, and there was no knowing how long it would last. The Cathedral clock ticked slowly round and chimed every quarter of an hour. A few stray members of the Diplomatic Corps, who had relied too much on 'hora peruana,' hurried in very late. At long intervals, a military officer trotted past on a horse, or an earnest-looking policeman on a bicycle rode slowly by, diverting one's thoughts momentarily from the hardness of the pavement or the tightness of one's boots. Fortunately, the morning was a cool one.
An hour or so had passed by and our brains had reached a state of pleasant vacuum, when the assembly was suddenly galvanised into furious activity. Pandemonium burst forth once more, the efforts of the bands being supplemented by the Cathedral bells. It was, of course, the culminating point of the Service. The noise was so terrific that no orders could possibly be heard, and in the excitement of the moment the company came to the 'slope,' and the officers to the 'salute.' This was a regrettable, though perhaps hardly surprising, occurrence. One can only hope that the Peruvian soldiers opposite thought it was what was really intended. Gradually the tumult died away, and the assembly relapsed into stolid apathy.
The hands of the clock moved slowly round. At noon the ships at Callao, eight miles away, could be heard firing a twenty-one-gun salute, the second during the day, one having been fired at dawn, while a third was to be fired at sunset. No sound came from the Cathedral where, we learnt afterwards, a long sermon was being delivered on patriotism. Long it certainly was. Twelve o'clock was left behind and one p.m. began to draw closer and closer. The assembled troops stood silent, waiting. There were no signs of fatigue, no individuals falling out. Indeed, one had long ago lost any desire for movement. Once a dog came and inspected the various detachments, and favoured us with his attention for a short time.
Band and Seaman Company marching past the President
of Peru in Lima, at head of Peruvian troops
Just before one o'clock our long vigil came to an end. There was a sudden stir starting at the Cathedral door and radiating outwards. Once again, the bands burst out with a crescendo of sound, which echoed around the square. This time we reached the 'present' while it was still possible for a human voice to prevail. The President passed along the road in front of us at the head of the multi­coloured procession. He carried himself well and made a figure worthy of the surrounding display. No cheering was audible from the crowd behind us however it was impossible to see if there was any other demonstration of enthusiasm. He proceeded to the Ministry of War, from a balcony of which building he was to take the salute of the march past.
As soon as the procession from the Cathedral was clear, the colonel commanding the parade signed to us to move off. All units were to assemble in the streets behind the Cathedral, leaving the square clear. With the R.M. Band playing a lively march to ginger up our stiffened joints, the company moved off to the right, and after a certain amount of positioning found itself halted in a back street, facing the Plaza de Armas again. The Peruvian sailors were just behind us.
Here we waited a short time in comfortable obscurity until the Colonel, who had formed up with his staff on horseback ahead of us, waved to us to follow, and set off down the road. Platoons were opened out to ten paces interval, with their platoon commanders leading, the march-past being carried out in fours. Each platoon saluted independently as it passed the President on his balcony. His high situation made it very difficult to look up at him and march straight as well. It was encouraging to see the British Minister and our Captain standing beside him. No. 3 Platoon laboured under difficulties to a certain extent due to the band of the Peruvian detachment playing just behind them, which made it difficult to hear our own. However, everything appeared to go well.
Once out of the square the ceremony was over as far as we were concerned though unfortunately, our way to the station was blocked by troops who had yet to march past, and a long detour was necessary. Instead of turning right, we turned left, and marched off in the opposite direction. This took us past the Phoenix, an Anglo-American club, whose members gave us a very encouraging cheer, although the waving of gins and tonics at men with such a raging thirst seemed a little unkind.
Some twenty minutes later we again arrived in the Plaza de Armas, but the direct route to the station was still barred, and we had to proceed round the back of the Cathedral, after which we at last managed to get through. The Peruvian sailors, who marched past after us, we found had arrived first. All were soon on the train and heading for Callao and lunch. We got back to the ship at 1430.
Bank Holiday, Portsdown Hill and Portsmouth are in some way related, aren't they? Why should not we substitute the Andes and Peru then, and do things properly? By which we mean that on August Bank Holiday, 1933, a large party left the ship at a comparatively early hour to negotiate some of the slopes of this great range of mountains which runs from north to south of the great semi-continent, which by the end of our time in South America we shall have circumnavigated. This was the principal trip during our stay in Callao and provided a remarkable experience, reaching, as we did, a height of 11,500 feet in one day by means of the Light Mountain Railway of Central Peru.
Some of our officers were more fortunate, reaching La Cima, the summit at a height of 16,000 feet, where they found thick snow and glaciers.
On this morning, we left Callao at 8.45 a.m., one stop being made prior to reaching Chosica to take in beer and the tankards for the same. An hour's run brought us to Chosica, a charming and quiet health resort, at an altitude of 2,800 feet, our way having taken us through lowland farms and cotton fields in bloom. Fruit was hawked freely at this halt, and though we spent but little time here the peasants did very good business.
The resumption of our journey was the commencement of serious climbing. The early mist had cleared, leaving the clear blue skies overhead and towering hills and mountains around us on every side. Only very seldom could a valley or clearing be seen between the hills for some time.
May we tell an old Peruvian story about one such valley just beyond Chosica?
In the sheltered green clearing, there rises a huge rock inside of which is a man-hewn cave. The story goes that Pizarro decreed that the skilful
artisans of the hill tribes should come down from the hills to assist in the task of building the city of Lima, a decree which the hitherto
unfettered tribes resented. One Cuaca took himself away to this cave and ordered his followers to seal him in, in order that he would be spared
the pain of seeing his tribe enslaved. Annually the hill folk came and placed their gifts of foods and flowers at the entrance to the cave,
believing that their martyr still lived. Though this practice has recently ceased, the Cave of the Cuacas still stands, an object of interest to
many visitors to Chosica and the surrounding villages.
Getting back to the track, we made several sudden turns and passed through a few short tunnels before we reached the first switchback of the journey, by which means we were to scale the steeper faces of the mountains at a convenient gradient. Such ascents left us to wonder at the natural beauty of all that we could see for miles around, and at the masterpiece of engineering, by which means we were being taken from the hum-drum of the city to the snowy solitude of the mountains. Occasionally we stopped, either for water or to allow the engine to be turn-tabled and hitched to the other end of the train. At each stop fruit vendors besieged our carriages and windows with limes, lemons, tomatoes and such flowers as one seldom sees except on seed-packets, mountain roses, violets, cloves and carnations, so that by the time we had made a few stops, our carriages resembled a church at harvest festival.
Group admiring a llama, Peru
All the natural beauty of such a trip came in turn. The steady rise of the sun over the mountain tops, fresh and higher peaks of which came into view at every turn of the train, stately old llamas drinking in the waters of the Rimac as it splashed ponderously along down to the sea; light rushen and wood bridges here and there; unexpected tunnels, short and skilfully built, and resembling those of a toy railway. Surco and Matucana - mud and wood villages - turned out their inhabitants to sell their wares or pay their respects to the only link they had with a civilisation possibly less hardy thousands of feet below. As we continued to rise rapidly we passed shepherds tending their llamas and winding wool on short sticks. This wool would be spun into hand-made alpaca articles for the 'big city.'
We arrived at our destination, Rio Blanco, about 2.15 p.m., finding the atmosphere rather chilly and exhausting. We were all warned against behaving too strenuously when we left the train and strangely enough we all felt quite willing to heed that warning, it really was impossible to run more than a few yards without feeling very tired! One venturesome marine afterwards claimed to have run farther than anybody else that day, but taking into consideration the fact that he had been the custodian of a cask of beer until it was emptied and that he could not have stopped himself on that run had he so wished, he has nothing to be proud of.
Group at Rio Blanco, 9,000 ft. above Lima, in the Andes
The return journey lost much of its interest though none of its charm. Unless one has actually seen a sunset in the Andes one cannot possibly imagine its beauty. By the time we reached Lima the mist and darkness had settled down once more over the city, leaving for us empty casks, fading flowers and sore eyes as souvenirs of what had been a great day.
Curios were plentiful, hand-beaten silver ware, lace-work, skin and alpaca articles being brought on board in plenty, to be taken or sent to somebody at home. Of course, it will be quite easily understood that after a few runs ashore in Callao or Lima money became scarce, but generally speaking our sailors stood up to the financial situation very well.
On the Wednesday prior to our departure one hundred men were the guests of the Peruvian Navy at La Punta, where a gymkhana was held, the ship's entrants being mainly successful. The contests were very like those of an English gymkhana, - blindfold boxing, an eating race (won by a Royal Marine... 'Ungry'!) a sabre fight, all followed by beer and an alfresco tea. We were presented with a cup for not losing the football match, and cap tallies as souvenirs. The occasion was strictly naval, very enjoyable and in some cases highly profitable.
Two incidents merit attention as we draw to their conclusion our impressions of Callao and Lima.
The first concerns a number of our chief petty officers who had hied to the 'Phoenix' in Lima for a game of billiards. Sitting down to a few
bottles at supper the peace of their meal was disturbed by the sudden assassination of a young Peruvian lieutenant who was shot through the
stomach. Wisely deciding to preserve an attitude of neutrality among themselves, the party left shortly afterwards. They had hoped to catch the
last tram to Callao, but as invariably happens on such occasions they saw its tail light some distance along the road.
If they hoped for better luck from the taxi which they hired, then they were disappointed, for it broke down on the main road somewhere in the
region of Bellavista. After walking to the jetty, they might naturally have supposed their troubles to have been at an end, but no! No sooner had
they started to pack themselves into the frail craft to return to the ship than one of the party grasped the gunwales and with his feet still on the
jetty unconsciously (but successfully) capsized the boat. The water was several kinds of cold, we believe, otherwise they had a very nice
evening.
Our second story concerns the 'Lady of the Keys.'
A certain young lady of Callao, if able to offer sailors accommodation for the night, dropped the keys to the door and rooms from a top
window. One night (or morning) they fell at the feet of a petty officer, who forthwith pocketed them, turning them over later to an able seaman
with a known liking for keys. This A.B. decided to return on board, but he only remembered the keys next morning, when a young lady almost
tearfully explained to somebody on the gangway that she desired her keys as having got out she could not get in again.
INDEPENDENCIA, MOLLENDO AND AREQUIPA, PERU
At four o'clock on Monday afternoon, September 4th we sailed for Independencia Bay, fifteen hours' steaming south of Callao, arriving next morning after a very necessary airing.
Our visit to Independencia was on the whole, quite welcome. Not a soul on the surrounding hills to disturb us, added to which a full programme had been drawn up for our amusement (?) in the fresh breezes and plentiful sun­shine. The hills were covered by deep deposits of guano manure, which gave off a vile smell if disturbed and which covered almost every square foot of land for many miles, hence this questionable doggerel:
The Dauntless is a happy ship,
Her crew all mucha bueno
They'll scrub her decks henceforth this trip
With whalebone, sand and guano.
Sanding parties landed to sort out sand from shells and manure for cleaning purposes on board, the beaches from which this was collected being dotted with large and small carcases of mammals and fish. Scores of sea-lions were seen, basking in the sunshine, and penguins and lizards also paid their official calls. In aid of Nature's campaign, the captain's cat gave birth to four fine kittens, whose father belongs back in Talara. The Gun Room officers organized a sweepstake on the number of her family, but owing to the uncertainty of cats in travail, it has been decided that this idea should not be recommended to the Dublin Sweepstake Authorities.
Now about this programme.
It opened with General Drill, similar to former doses except that 'Abandon Ship' was exercised. Sailing races were organized with boats' crews, volunteer crews and officers, a stiff breeze adding to the sport. Picnic parties were allowed all available boats, making good cruises all around the island and in the roads, the only boat to suffer the indignity of being becalmed was the second whaler, which limped home something like two hours after all the other boats had made fast.
During our stay here, an unwonted earnest expression was to be seen quite frequently on the Capt. R.M.'s face. Those who knew realised, of course, that weighty matters of military tactics were occupying his attention, but others might have raised questions. The answer lay in the impending skirmish between our sailors and marines, planned for Tuesday, September 12th around the guano-scented slopes of the hills surrounding us. Each party had a preliminary landing for reconnaissance and drill, and the morning of the 12th saw the platoons of seamen, stokers and marines attired in drills and khaki respectively, ready for the 'show-down.'
The landing itself gave people an opportunity of picking up some of the finer points in boat-work in rough weather, a high wind having lashed the waters of the bay into a running sea and as a consequence boat-work became difficult. Nevertheless, things went without mishap and the people in charge had cause to feel pleased with themselves.
Landing parties waiting to re-embark after
The 'Battle of Indepencia Island', Peru
Of the actual encounter, not a great deal can be said. The attack made in the forenoon was quite a success, though from the generally exposed positions of many of the seamen sections, it is fair to say that the marines in defence would have had the better of the argument. The whole exercise showed everybody the principal difficulties of keeping in contact with each other in rough and hilly ground. It gave the sailors a chance of practising simple field movements and demonstrated that one occasionally does other things on land than form fours or march along the main road to the local church!
At any rate, everybody seemed to enjoy playing at soldiers for a bit.
Leaving on September 13th for twenty-nine hours at sea, we arrived at Mollendo, a small seaport connecting Arequipa (7,500 ft.) by rail with the sea. It was quite an old-fashioned place and only sports parties went ashore there. Officers took turns to spend two or three days at Arequipa, a full programme having been arranged for them in advance of our arrival.
A WEEK-END AT AREQUIPA
During our stay at Mollendo, the ship's soccer team, certain members of the Sports Committee and the Royal Marine Band, were invited to spend the week-end at Arequipa, the second city of Peru.
The party totalling thirty-two, left the ship shortly after noon on Saturday, 16th September, and after suffering the indignity of being hauled ashore by crane (the huge swell does not permit landing in the ordinary way) they entrained in a specially reserved coach for the 107 miles railway journey over a railway that took seven years to construct and which was opened fifty years ago.
For the first half-hour, the railway line pursued a course parallel to the shore and it seemed likely that the carriage would be transformed into a sleeping saloon, but, leaving the sea behind, the steady climb began, winding in, out and around the foothills, the scenery immediately claiming attention. Still climbing, they were afforded many fine views. At the one moment they could still discern the white line of the billows breaking on the beach behind them, gaze down the grassy slopes into the fertile Tambo valley some hundreds of feet below and through gaps in the barren rock, were able to see clearly the snow-clad peaks of El Misti, Chacani and Pichu-Pichu rising over a lava sand desert.
At 4.15 with half the journey over, they all left the coach to stretch their legs and to take a hasty but much-needed lubricant and to restock with fruit. In this region, they were on the northern side of the Pampas, where large deposits of borax exist, which are worked by an English company. The mining camps are served by the small stations round about.
Up to this stage they had been subject to the scrutiny of curious natives at every stopping place, and just before 7 o'clock, as the train came to a halt at Tingo, the excitement of the small suburban crowd served to give them some idea of what to expect on arrival at their destination. It must be acknowledged that the reception accorded them as the engine steamed into Arequipa station was such as would befit the world's most popular monarch. They stepped from the train amid loud cheering from a crowd of some 3,000 people and they were treated to a display of fireworks.
Sailors are not often witnesses to such scenes of animation as attended their arrival. Indeed, they were objects of attention to the Peruvians until they reached the hotel. Headed by the banners of all the local football clubs and with the Army band of 50 instrumentalists bringing up the rear, they proceeded on foot to the Hotel Moderno. Their guide, Mr. Gomez-Cornejo, informed the party that their destination was only five blocks from the station, but one of them declares that he counted at least fifty-five. They learned later that they had been taken round the town.
On Sunday morning, in gloriously fine weather - Arequipa is noted for its sunshine - the whole party was conveyed round the city in a fleet of motor-cars to see things and places of outstanding interest. Running south, they passed the Tiabaya valley, noted for its abundance of fruit; next came into view the mountainous piles of huge boulders thrown into their places during volcanic eruptions. Travelling along a circuitous route, they passed through the old Indian village of Sachaka, and turning northwards through Tingo, commenced a steady climb up El Misti (18,000 feet) to the Town Hall at Caima, where they were cordially received by the Mayor of that district.
Here they witnessed a performance of the original Inca dances and songs given by descendants of that almost extinct race. Attired in gaily coloured dresses, their quaint actions in perfect rhythm with the accompaniments rendered on two instruments suggesting some primitive forms of fiddle and harp, gave the display a unique touch. Not one of the party had seen anything of the kind before. (Film directors please note). Further scenes of enthusiasm marked their progress as they made for the centre of the city, where they viewed the very fine cathedral which was partially destroyed by fire about 80 years ago, though since rebuilt.
The next item on the programme was a cocktail party at the residence of Mr. Gomez-Cornejo. It is appropriate at this stage to mention our splendid guide, who was of great assistance and a most capable organiser. Mr. Cornejo is an Anglo-­Peruvian aviator who served in the R.N.A.S. during the war. He was with Sir Alan Cobham for four years and has distinguished himself in England at many aerial displays. The whole party are very grateful to him for the hospitable manner in which he arranged for and entertained them during the weekend.
The next episode was the all-important football match at the Melgar Stadium. 7,500 spectators gave our team a mighty ovation as they took the field and lined up against the second-best club in Arequipa, the Pierola F.C. It was evident from the start that our Peruvian opponents would show themselves to be clever exponents of our great national game. Fast and clever, their forwards frequently swept down the field in grand style, their short and snappy passing movements causing many a breathless moment near the Dauntless goal.
They were met, however, by a stubborn defence in which our left back and goalkeeper excelled, but it always looked as though the Peruvians could not long be denied a goal. It should be said, however, that our players had very little time in which to become accustomed to the conditions of play at such a high altitude - 7,600 feet, and it was with a sigh of relief that the Daunt­less supporters heard the whistle blow for half-time with the score nil all.
The game underwent a great change on the resumption. Rather outclassed except in defence during the first half, the Dauntless eleven set about their task in no uncertain fashion and on several occasions a goal seemed likely. The opposing forwards, being unable to penetrate our defence, seemed to relax a little and the rally of our team pleased the spectators, who were now being treated to a game packed with thrills and interest. On one occasion, our inside-right looked a certain scorer; receiving the ball on the edge of the penalty area and with a clear course for goal, he ran straight ahead, steadied himself, took deliberate aim, but to the chagrin of the crowd, placed the ball just (!) over the bar. Such an opportunity for taking the lead was not likely to occur again and such proved to be the case.
Almost directly afterwards, the Pierola centre-forward, receiving the ball in what seemed to be an off-side position, was allowed to go on and pass to his right-wing partner from whose centre and the resulting melee in the goalmouth, the Peruvians scored the only goal of the match. Soon afterwards the final whistle blew. We do not begrudge Pierola their victory; their short crisp passing certainly contrasted with the long sweeping passes of the Dauntless team, which, it might be added, were not always accurate, and we congratulate them on their winning a game fought out in such a clean and sporting spirit.
After the match, the party adjourned to the Hotel Bolivar, where they were the guests of the Pierola F.C. at a dinner and entertainment. The latter was mainly in the form of dancing, but one of the party came into prominence during the evening by extracting his 'squeeze box' from its case and rendering several of his favourite numbers to the delight of the audience.
With many regrets, the party commenced their return journey at 8 o'clock on Monday morning. The only incident on the way back to Mollendo occurred about half-way. While yet above the clouds, the train was suddenly brought to a standstill, and on enquiry, they learned that a stray ox had endeavoured to resist the onrushing locomotive and had been flung clear of the line and rendered unconscious by the impact. Nothing could be done for it, however, and the train was soon speeding on its downward trek to Mollendo, where they arrived about 1 p.m., every member of the party voting that their sojourn at Arequipa had been a huge success, made the more enjoyable by the enthusiasm and hospitality of the natives.
VALPARAISO, CHILE, AND THE PATAGONIAN CHANNELS
Going further south we reached Valparaiso on Monday, September 25th. This visit to the 'Jewel of the Pacific,' as somebody once called it, was as welcome as it was unexpected. The outbreak of typhus, which had caused a reshuffle of our programme was now under control, and as Valparaiso had been rendered practically clear, we were permitted a visit, Santiago being out of bounds to ratings.
From the harbour where we had secured stern-to, Valparaiso looked a most imposing city. It extends over a long distance of waterfront and its principal residential areas are on the hill slopes and accessible by lifts. By night, when the city and its suburbs are illuminated, it is one huge crescent of twinkling lights. The city has all the usual amenities, plazas, gardens and monuments, the latter including the fine Britannica Arch on the road to Vina del Mar. In the town hall square is the tomb of Almirante Prat, famous Chilean sailor and adversary of Grau, whom we acknowledged in Piura, Peru. While on the subject of sailors, it should be mentioned that our berth in the harbour was alongside the destroyers and cruisers of the Chilean Navy. Incidentally most Chilean warships are of British origin, the Almirante Latorre having once flown the white ensign as H.M.S. Canada, while British Naval Missions have trained the personnel in the working of their ships and material.
Favoured by a fair exchange the ship's company made 'whoopee' from first night to last, arriving back to the jetty in all stages of unstable equilibrium at all hours and by all means. One cook actually rode up with carriage and pair.
Shopping was not quite as profitable as we had all hoped, though food and drink proved to be exceptionally cheap. The Mission to Seamen was, as usual, a very popular rendezvous, dances having been arranged almost nightly, occasionally to such bands as that of the S.S. Reina del Pacifico. Altogether it was not difficult to have a good time. Cabarets, not nearly such sordid affairs as we are often led to believe, abounded in the main streets, though they didn't start business until nearly midnight, by which time the bars had discharged their clients in a state in which dancing became second nature.
Vina del Mar, 9 kilometres distant from Valparaiso, is a very attractive, though somewhat exclusive, seaside resort. It is famous on three accounts, namely, the summer residence of the President of Chile, the race-course and the casino, which faces the bay and which commands a view of almost the whole of Valparaiso. Beyond Vina del Mar, along quiet coast roads bordered by rocks and sand hills, are smaller resorts - Montemar, Salinas and Con-Con. The last takes its name from the river Con-Con, about the only respectable river in Chile, but even so not navigable for more than a few hundred yards for anything larger than a rowing boat. Like the Rimac in Peru it flows down from the mountains and only widens appreciably near the estuary.
Although our sailors made their own entertainments ashore in the absence of the usual organized forms, many English people and natives played the game nobly by taking them around to places they might otherwise not have visited, generally giving them a good time and making them feel at home.
The ship was opened to visitors and on several after­noons school children came on board to be shown around the ship.
There were the inevitable incidents.
A Stoker Petty Officer was about to change a pound note for pesos, when the note was snatched from his hand by a local rogue. The P.O. gave chase, caught the man and recovered his note. Though the police there have no drawing-room methods for such offenders, this particular thief received a pretty stiff hiding before being charged.
By the 'after duty' boat one night there went ashore two marines, one carrying a small circular package. He had been 'late for business' on his last run ashore, but nobody expected to see him return on board next morning with about half an hour to spare, an alarm clock suspended from his belt.
Our football team travelled to Quillotta by train to play the James MacDonald Football XI. After being shown around, they were the guests at a display by the local fire brigade. (If you have never seen one, take warning!)
Our football team and their opponents at Valparaiso
On the morning of Tuesday, October 10th about 9 o'clock, as we were preparing to leave, dozens of small boats and launches, with sweet young things, etc., etc., came alongside and cruised around the ship, while sailors gave one final wave and blew one last kiss to their girl friends who sobbed at regular and discreet intervals until we left about 10 o'clock. Must be something in that 'girl in every port' business! It might reasonably be wondered if such scenes inspired Noel Coward's well-known song, "Half-caste woman." "Some big ship is sailing and bearing your loves in its wake," etc.
Broken hearts and weeping damsels left behind at Valparaiso
The trip to the Gulf of Penas was made in a sea livelier than any we had hitherto encountered. We pitched and rolled fairly heavily under the heavy swell, and when we entered the Messier Straits entrance to the Patagonian Channels on Saturday, October 14th the cold grey skies and waters 'dark and rude' were in strong contrast to those we had seen at Rio and Montevideo.
Interested at the prospect of yet another departure from the wide-open spaces, we watched the ship's progress very eagerly as she made her way along narrow channels between the mainland and islands, through hill-bordered cuttings and wider bays, where creeks emptied out into one waterway. The growth at the water's edge gave no sign of life, neither fox, hare, badger nor bear, though they may have lurked unseen. The hill-tops were covered with snow and the breezes which blew over them gave the air a healthy nip. The scenery was as splendid as the weather was bad, but the absence of any form of life and the forbidding nature of the country makes it the type of place about which it is pleasant to talk afterwards, with one's feet on the mantelpiece in front of a warm fire! Actually, it can be most easily likened to a vast and complete system of Norwegian fiords.
Just before we anchored in Eden Harbour for the night we passed two crude boats, each carrying about ten even more crude Patagonian Indians, who came alongside after we had anchored. A people of bulbous heads, straight and coarse black hair and fat bodies, they cared nothing for cleanliness or clothing, but seemed to enjoy their unwhole­some and very primitive surroundings.
Patagonian Indians begging for clothes
Nestling under the ship's side for'ard, they made signs to the very amused and curious sailors along the guard rails to throw down anything they mightn't want, so that after about an hour the big chief was wearing two pairs of serge trousers and a corporal of marines' old tunic, one of the babes had been forced into a sailor's jumper and lashed up with string and one of the women or, shall we say, squaws, puffed away appreciatively at a
'tickler,' surveying heaps of other smaller articles of clothing and food that had been dropped into the boats from the ship.
Next morning, when the hands were called, these poor folk were alongside again, this time with a fire in the boat. We had seen no sign of hut or shack since entering the channels, so we took it for granted that these hardy people dwelt in caves.
Weighing anchor at about 7.30 a.m., we made another start; it was Sunday morning and to the hands gathered on the upper deck waiting for divisions, it seemed very cold. Snow was certainly more abundant, and after about three hours' steaming, having arrived at Chasm Reach, we saw on our port side several small icebergs. During the day and on Monday we passed one or two small passenger boats and saw the wreckage of a German cargo boat, which had come to grief in what is charted as Victory Pass. The weather had changed since Saturday, and though it was not appreciably colder, much rain fell and visibility was frequently very poor.
Starting early on Tuesday morning, we were in the open sea for a short while at the entrance to the Straits of Magellan, though we found very little difference. The mountains were no longer snow-capped, they were snow-covered! Each glacier was carefully viewed with an eye to possible photographs. The number of wrecks was rather astonishing, considering that they were more frequently seen in the bays and wide streams than in the narrow stretches between winding hills.
TIERRA DEL FUEGO
Snow was beginning to be a regular item in the day's programme and our watch-keepers went on duty in duffel coats, and found they needed them. Once or twice on the last stage of the journey, the ship was stopped on account of the driving snow, making it impossible to see for more than a few yards ahead, and the blizzard continued inter­mittently throughout the day. We saw a series of seven or eight splendid glaciers, down to the water's edge, and when we came to anchor off Ushuaia about 3 p.m. on Thursday afternoon, we were almost surrounded by the Martial Mountains, whose snow-capped peaks shone in the sun.
Typical of the Patagonian channels
Ushuaia proved to be a very small town peopled principally by woodmen and prison officials, the prison being the only place of note ashore. It housed offenders from the whole of the Argentine who were serving anything from seven years to a life sentence, and quite frequently liberty-men saw small parties of them under armed escort, returning to prison after a day's work in the uninviting wastes surrounding the town. Escapes were seldom attempted, we were told, usually resulting in failure by capture or death from exposure in the desolate hills. Even the animals fell victims to the unbroken barrenness of the beaches and hills, their carcases marking the spots where they had strayed away in search of food and had stumbled into a morass from which they had never moved again, perishing of cold and hunger.
The ship's company and officers were given permission to shoot in the valleys surrounding the town, and day by day parties returned on board with loads of geese and snipe, which were distributed around the mess-decks. There were no special excursions or visits, our football team defeated the local side by 7 goals to 1, which, in the light of their lack of experience, was not such a triumph as it may seem.
Before we left, a brass-plate was affixed by our ship­wright to the pier, recording our visit (in accordance with a custom which has been observed since the settlement was formed). The last British warship to visit Ushuaia, by the way, was H.M.S. Southampton in 1923.
For two days, we were at sea en route for Falkland Islands, and although we reached our harbour unscathed, the sea was very lively at times. Fog delayed our arrival by something like two hours, so that it was nearly noon before we arrived at Port Stanley, the main harbour of the islands. As our stay was over a period of six weeks, a short space must be devoted to recording our activities during that time.
SOLILOQUY IN BLANK VERSE
(With apologies to the Bard of Avon)
SCENE: The foc'sle of H.M.S. Dauntless with panorama of Valparaiso in the background.
Enter HAMLET A.B.
To go ashore or not to go ashore - that is the question:
Whether 'tis better to stay on board and flutter
My last bob on Tombola's fortune,
Or, to borrow a quid amidst a sea of troubles
And, by a run ashore, forget them? - A walk! - For curios,
No more; and, by curios I mean to say
Some post cards, and a thousand little things
My youngster will be heir to - if I ever get tied up
Not just at present wished. To look around - for photos
The pictures - perchance a pint: - Ay! There's the rub;
For after that one pint of beer what drinks may come?
When I have shuffled off from shore again,
Perhaps the worse for wear - there's the inspection
That makes calamity of that 'quiet run.'
And yet - to step upon the beach and hear
The clink of glasses, and the ceaseless 'gate'
Of Bertha or Dolores in the Royal!
Big eats at the Neptune! And a game
Of billiards, maybe ping-pong, at the Mission!
Where can I get a 'rubber?' Let me see!
Who's got a quid? For who would stop aboard
To loaf, and waste an evening playing 'uckers,'
But for the lack of 'ackers,' soles or pesos
The lightened belt, the absent credit
In the Blue Book - puzzles the brain.
Think of the dancing in the Piccadilly!
The noise of squeeze box and the beat of drum
The nigger with the trombone! - and the girls!
And thus, the last month's blinkin' resolutions,
Made at Callao, are broken by the thoughts
Of sitting in the Black Cat, swiping hops,
And listening to sweet, dark-eyed Rita
Saying 'Buy me drinky, no?' - Hold on a mo'
Here comes a pal! - Hallo! Old Friend,
I wonder if you have a quid to lend?
F.W.A.
THIRD CRUISE
FROM FALKLAND ISLANDS TO GIBRALTAR
Distance in miles
Exercises at Port Darwin 316.5
Left Port Stanley, Falkland Islands 11th Dec. 1933 622.8
Golfo Nuevo. 13th Dec. - 21st Dec. 429.5
Mar del Plata. 23rd Dec. - 3rd Jan. 1934 258.5
Punta del Este. 4th Jan. - 29th Jan. 249.2
Exercises at Punta del Este 1797.4
Bahia 5th Feb. - 8th Feb. 2253.2
St. Vincent. 16th Feb. - 17th Feb. 1557.9
Arrived Gibraltar. 23rd Feb. 1934
Total No. of Miles covered during Third Cruise 7485.0
FALKLAND ISLANDS AND NORTHWARDS
Situated some 400 miles east of the Magellan Straits, this crown colony consists of two major sections, East and West Falklands. The first Englishman to land on them was a Captain Strong, in 1690, and he gave them their name. During the 18th century they passed through the hands of the French, English and Spanish until 1820 when they were claimed by the United Provinces of South America. Following some small quarrel in 1831, during which an American warship intervened, Great Britain in 1833 resumed her ownership of them, much to the disappointment of the Argentine government, a former owner, who annually submit to Great Britain a claim for the islands, which is disregarded of course.
During the gun-pulling operations it was remarked that the next time they applied they should be given the islands with the gun thrown in as compensation. The total area is 6,500 square miles, most of which is bleak moorland, yielding only pas­ture for the sheep and peat for fuel. Of the population of 2,000 the majority are English and Scotch. Although British the islands were comparatively unknown until December, 1914, when Admiral Sturdee defeated the squadron commanded by von Spee in a running fight around the islands. A monument has been erected to commemorate the battle of which the islanders speak with much pride.
In the harbour are two ships of some interest. One, the Great Britain, has lain in Stanley creek since 1886. She was the first steam ship to cross the Atlantic! The other, a Finnish freighter, had encountered rough weather around Cape Horn and although badly crippled had managed to reach Stanley harbour, where for five years she has remained, a red hulk used only by the Falkland Islands Company for storing wool.
During the first fortnight here, men looked around for something rather more sensational than penguins, peat and sheep, but apart from a few outbreaks of 'up-homers' and four very 'pusser' public houses which closed dead on the Minute, they found nothing.
Author's Note:
'Pusser' is Royal Navy slang for a purser, a ship's supply officer, now called a Logistics Officer.
Thus, the word came to connote 'one hundred per cent Service,' as in 'pusser's issue.'
In this case utterly 'law abiding.'
There was a museum behind the town hall containing a few items of historical interest, a cathedral and two monuments, and that we regret to say, is the limit of the Port Stanley amenities. Its maidens were rosy cheeked and buxom young women, all alarmingly frank, and the children looked as though on the whole the climate wasn't a bad thing for them, but many of the men looked always tired and unwell when actually to scrape a living in such a place they must have been very hardy.
Now for the sequence of events.
The principal evolution of the first fortnight was that of transferring a gun and its mountings, weighing ??? tons in all, from a position overlooking the town, to a hill, some six miles away, commanding an excellent view of the entrance to the harbour. For five days in all 150 men landed daily and succeeded in hauling the separate sections to their new home, the job being done by mounting the load on a skid attached to which were three stout ropes. The men distributed themselves evenly along the ropes and hauled their hardest, so that each rope was about 50 man-power.
Hauling the gun six miles over Falklands swamp
It was not always the load but the nature of the ground over which it had to be drawn which made this at times such an irksome task. A few yards, a bunker of peat, a few yards more, a fence, a few yards, a ditch or morass and so on until the gun was there and when we looked back it didn't seem so far after all! Anyhow, those who were present for the last day's pulling will probably remember that day for many to come.
It rained all day, which meant that a long rest was out of the question. It was very cold which made the wet ropes less pleasant to grasp after each stop, we were all wet through which made things less comfortable still, with water oozing from every conceivable stowing place, from our cap-bands to our leggings. We had dinner as we strolled around in an effort to keep warm and for once a curtailed dinner hour would have been welcomed. We only actually warmed to the task when it was all over and by the time we were back inboard we felt that each one of us was hoarding a very active bunch of influenza germs.
Perhaps at this stage we should mention the passing of Leading Seaman Fairburn, who died on board on Monday, November 6th. The funeral, which was conducted by the Captain, was held in the Stanley cemetery. A firing party, bearers and field-gun's crew besides many mourners attended from the ship and the Falkland Island Defence Force was also represented. A large number of wreaths from the ship and friends ashore marked his grave.
On Saturday, November 11th the Two Minutes' Silence was observed on board with all due reverence, and a full parade of five platoons with band co-operated with the Falkland Islands Defence Force at the Cross of Sacrifice in the cemetery.
The Funeral of Leading Seaman Fairburn
The Cortège leaving Port Stanley
The principal pastimes ashore were hiking and dancing. For those who did neither the place might not have existed except for such havens of rest as the 'Ship' and 'Globe.' Warmed by mighty peat fires and patronised by sociable but slow drinking natives, these places formed an interesting contrast with places which served the same purpose down the east and west coasts of South America.
'Butch' was on his way to the ship one night after a prolific evening's run ashore when he stepped off the jetty into the 'pond' and came up claiming to be Father Neptune. His romance came to an end when he felt a long piece of kelp weed around his neck and thought it was an octopus.
Although the greater part of our time was spent at anchor off Port Stanley we spent a fortnight cruising around the smaller harbours of the East Falklands, visiting in turn San Carlos, Mare Harbour, Goose Green and Port Darwin. The only occurrence out of routine at San Carlos was the riding and shooting expedition from which our party returned laden with geese, snipe, an occasional woodcock and many saddle blisters. Congratulations to the mid­shipman who managed to shoot a very plump old tame goose.
Mare Bay offered facilities for fishing and shooting which were indulged in very freely, each fisherman providing more than one meal for his mess as a result of the plentiful catch. As for geese, they soon became the staple diet for'ard even if their tender years dated back to 1914, and they did at times. The knack lies in picking out the male from the female, the latter was never so tough!
Two of our very able seamen had scotched up many geese without however bringing any to earth. Suddenly one fat old thing hopped up and waddled steadily away in front of them while one of them came up on aim, and stayed there. "Hang on a minute," said his companion, "you wouldn't shoot it unless it were on the wing, would you?" "No fear" was the reply, "but I'm keeping the darned thing covered until it stops, all the same."
On the Monday, we went to our sub-calibre anchorage off Port Darwin for exercises, but bad weather made it necessary to postpone these for a couple of days. The W/T party had constructed for easy use a device which we shall call a radio-ambulator, resembling nothing in particular being just a box on wheels, containing the apparatus for the Forward Observation Post, and fitted with wooden handles.
When the operations were carried out sub-calibre was fired at an unseen anchored target, the position of which was transmitted to the ship by our F.O.P. who thus corrected our range by wireless. (The exercise was reminiscent of that occasion in 1914 when the Canopus, lying inside Stanley harbour, opened fire on the unseen Dresden as von Spee's squadron steamed towards the harbour mouth). (Battle of the Falkland Islands 1914)
Author's Note
For a very fine and detailed account of the Battle of the Falkland Islands 1914
we highly recommend the following site from www.naval-history.net
Volume 1, to the Battle of the Falklands, December 1914 (Part 2 of 2)
by Sir Julian S Corbett
In particular the two following chapters.
Click on these to go directly to either chapter.
OPERATIONS LEADING UP TO THE BATTLE OF THE FALKLANDS
THE BATTLE OF THE FALKLANDS, DECEMBER 8
These two chapters are the most relevant but the whole article is greatly rewarding and well worth reading.
Below are photos of some of the ships involved. For more detail regarding each ship just click on the photos.
SMS Gneisinau SMS Scharnhorst
SMS Nürnberg
H.M.S. Invincible H.M.S. Inflexible
H.M.S. Canopus
The last day's exercises were similar except that we had changed anchorage, thus opening our range, which was again supplied by the F.O.P. Full-calibre was fired and the Royal Marines landed for some tactical work. The only comment we heard on this was that the beach to which they marched to meet the boat after exercises were complete was not as near to the landing place as it might have been.
During the week-end large numbers again set off to fish and shoot, and judging from the amounts which they continually brought on board the Goose Green livestock was not sorry to see the back of the Dauntless. About 40 natives came on board and invited our sailors ashore to a dance, which consisted largely of barn dances and their contemporaries, but 'Jack' survived the ordeal pretty well.
Returning to anchorage in Stanley harbour for a further fortnight we prepared for a few very full days. Men went ashore nightly to put in a few final bursts of training for the ship's company's sports, which were held with huge success on Saturday, December 2nd As this event will be reviewed by our sports secretary, we must not encroach upon his preserves beyond saying how proud we were to see our marines defeat the F.I.D.F. at tug-of-war (the first time they have ever been beaten!) and congratulating the Foc'sle Division and their "Nurmi" - A. B. Ward, on their splendid victories in the field events.
Several events were organised ashore by the ship's company in aid of the dependents of four fishermen who lost their lives while fishing around the islands on the eve of our arrival in Port Stanley, and a very substantial sum was handed to the fund established for the relief of these people as the result. All dances held in the Town Hall were outstanding successes, whether for charity or otherwise, in fact to most people on board they were the only bright phases in what might otherwise have been a most depressing fortnight.
The Ship's concert, which followed the supper party given on board by the officers, was very well attended and thoroughly enjoyed by the islanders. The programme was practically unchanged from that produced in Valparaiso. Incidentally, the receipts acknowledged by the 'Peronelle' Disaster Fund Secretary from this concert constituted a record for any show yet produced in Port Stanley.
Another event which simply must be mentioned was the children's party. Approximately 300 children and 100 parents were entertained on board on December 5th by the ship's company, and, much to our surprise but satisfaction, the weather remained fine until the invasion was finished.
For tea, our young guests were sorted out between all the messes in the ship both fore and aft, and did full justice to the excellent tea organised by the Paymaster's staff at the direction of the Children's Party Committee. On the deck were side shows and amusements of all sorts, hoop-la, football for prizes, fishing the electric bowl, (more a thrill than a gold mine), the inevitable Aunt Sally and a 'shute' (slide) from the pom-pom deck to the foremost end of the port battery. The sound of children's voices did not cease until the distribution of toys and sweets immediately before leaving. All credit is due to the committee who volunteered to arrange things. They may rest assured that their efforts were highly successful.
Of four brilliantly successful dances given during our last week in Stanley possibly the two most worthy of mention were the two held on the Tuesday and Wednesday, one in aid of the 'Peronelle' Disaster Fund and the other the ship's farewell dance.
All arrangements had been made and carried out by three of our canteen committee, and so outstanding was the organisation on each occasion that His Excellency the Acting Governor gave as his opinion that they were the best dances ever held by visiting cruisers. Decorations, catering and ceremonial arrangements all met with universal praise and there is little doubt that the islanders will remember our last visit if only on account of these enter­tainments.
On Monday, December 11th we steamed from Port Stanley harbour in weather characteristic of the Falkland Islands - cold and wet.
Paravanes were run on Tuesday and a night action spent the greater part of the first watch though from the remarks heard for'ard it did not produce very gratifying results. The target was adorned by white gossamer-like muslin and in the light of the star shell burst might have been almost anything! At any rate No. 3 gun's crews were accused of shooting at duck with sub-calibre and firing at the splash of No. 2 gun's shots. By the time fire and repair parties had finished their night action too, it was approaching midnight, so leaving the target to find its own way home we carried on to Golfo Nuevo.
This we found to be the kind of place one dreams about except that no healthy mind should dream about painting ship! Painting was certainly the principal occupation on board during our week's stay there, every part of the ship coming under the brush at some time or another. For our hull and structures by the way a paint was used that most certainly would never have passed as grey. It was decidedly blue and the ship from a short distance presented a very smart if unusually bright appearance. Every available hand donned an overall suit, soon mottled in black, white and greyish blue. Even the cats realized the situation and the captain's cat was reported to be gargling with petrol in order to clean the coats of her offspring.
Ashore, seining, picnic and bathing parties took full advantage of the sunshine and sand to enjoy themselves, the task of getting inshore proving not the least amusing part of the trips. Our motor cutter with boats in tow bounced around the gangway while ratings were ordered to 'jump in as the opportunity arises.' When the motor cutter had anchored at a safe distance from the shore the trippers were decanted to the skiff or whaler and rowed inshore, usually hopping out into a couple of feet of water. Occasionally the skiff was left high and dry and sometimes, going broadside on, all but capsized, but we left Golfo Nuevo with all aboard and intact, sunburnt to peeling point, so we had no room for complaint.
MAR DEL PLATA AND PUNTA DEL ESTE AGAIN
Our visit to Mar del Plata was our second dose - we were there last January with the Durban so we presumed that it had no novelties for us. Its' weather certainly hadn't changed for it rained with creditable regularity and on two occasions side and mooring parties mustered on the foc'sle to let go another anchor. This happened when the harbour was twice swept by a pamper - a mighty wind, torrential rain and a thunder storm into the bargain. Each lasted for about 30 minutes, the first caused slight damage to our motor boat and unshipped the quarter deck awning but otherwise no damage was done.
Ashore, the 'Green Shutters' and 'Tokio Bar' will not easily forget the English sailors, who not only passed on to them all the up-to-date English tunes but supplied an occasional favourite, such as "Cantando," - words and music. On Christmas night, it was estimated that 150 men consecutively groped their way up the gangway, the two places are named above to give them the credit for the convivial hours spent ashore. It was a sight for sore eyes and in the circumstances most cheering, particularly as one marine, when asked why he would persist in standing on one leg replied, "Oh, I'm a teapot. Pour me out, somebody."
Substantial sums of cash were taken into the casino by our officers without any staggering results, except that none of it came out again so we all had a good time ashore in Mar del Plata.
On board, the same routine as last year was carried out. The Captain went rounds with the usual retinue of 'funny staff,' all gathering in the Ward Room flat to toast Christmas, 1933. While this ceremony was in progress, the football trophy was carried prominently around the ship by members of the winning team, the Foc'sle, who found that a parody on a well-known war song suited their purpose very well, the cup was filled and emptied several times to allow them to render their ditty for all to hear!
Several open-air baths and bathing beaches caught the eyes of our sailors, and as 9 a.m. leave was given to each part of the watch in turn it was possible for us all to go ashore to forget the day's routine completely for a matter of 14 hours, weather permitting, of course.
We broke into a New Year before leaving Mar del Plata but left for Punta del Este before any good resolutions could be broken.
After reaching Punta del Este the first item of interest or note so far as we are concerned was the arrival of H.M.S. Exeter, the heavier class of cruiser relieving the Durban as flagship of the division, under Commodore A. E. Evans. As mentioned above she is heavier than the 'D' class cruisers, other differences in appearance, being the complete absence of any rake on her masts and her two seaplanes - their bodies shining in the sun.
We soon found her ship's company to be extremely 'chummy,' witness the many picnic and bathing parties, and quite soon after their arrival they extended an invitation to our ship's company to attend a concert given by their concert party, a very creditable performance allowing for their short time in commission.
There followed a very active fortnight of harbour drills, gunnery and torpedo work. Loader and control parties exercised daily, a loader competition was held, its' results coupled with those of the full-calibre shoot to count for money prizes. Although No. 2 gun's crew led in the loader competition they came to grief in the shoot and their nearest rivals, No. 3 gun's crew (Royal Marines) became first prize winners. The H.A. prize was won by the after H.A. gun's crew, all the drills being watched by inter­ested and excited ratings from all parts of the ship. The actual shoots were on the whole very successful. Exeter's superior armament made it a rather one-sided competition if competition was intended, but our 6" guns proved quite as formidable as ever, in both sub, and full-calibre guns.
There is something very interesting about these exercises. Many men would have welcomed the chance of seeing Exeter's full-calibre night shoot on the final night's exercises. A flashing Verey rocket, their challenge, their searchlight and star shell bursts picking out the target then the salvos, a sharp report, low rumble and a mighty splash, the sound which followed them through the water echoing like a distant train. What she thought of our efforts we cannot say but it was fortunate for us that her trainers made no errors of deflection!
Our torpedo runs were very satisfactory. While on the subject of work we might mention that in the evolutions which were carried out on the morning of our departure we did very well, 'seeing off' the Exeter and Norfolk in several drills. The last named, by the way, arrived a couple of days before we were due to depart, virtually from the station, and the Commander-in-Chief came on board to say more pleasant things to us and wish us good luck on the last Sunday we were to spend at Punta del Este.
The R.F.A. Orangeleaf was also present for the week-end, and very much overdue, we think, and when on Monday, 29th January, we followed her out of harbour on our trip to Bahia, it was to the cheers of the ship's companies of both Norfolk and Exeter, and the salute of their 'planes.
GOODBYE TO SOUTH AMERICA
Our remaining days on the South American Division were so few and marked by so little worthy of note that there is little object in devoting much space to them. Our call at Bahia was solely for the purpose of oiling and storing again and beyond exercising cruising stations before arriving at St. Vincent, Cape Verde Islands, nothing out of the routine occurred on board with an account of which we might improve this narrative. Our short stay at St. Vincent gave little opportunity for shore-going. A few of the ship's company ventured to seek out possibilities for relaxation ashore, but the majority were content to view the island's bleak and uninteresting barrenness from the upper deck.
However, the numerous young natives that came alongside in their boats were a source of amusement for those among us, who had any tendencies towards the 'back-to-nature' movement, while they gave the Corporal of the Gangway ample opportunity to show that, when he leaves the Service, he can at least qualify for a job as a fireman.
A 'Point' of interest, named after Napoleon, and forming a remarkable natural silhouette of that famous Emperor-General, claimed its share of attention, while the vista from the other side of the ship included the German steamer Westphalia employed as a refuelling ship for commercial aircraft.
Twenty-four hours after we had arrived, having been relieved by H.M.S. York of all our connections with the South American station, we left St. Vincent for Gibraltar, there to join the Mediterranean Fleet and to prepare for the second part of the commission.
THE CONCERT PARTY
It is recognised that to possess a good concert party is an asset to any ship carrying out flag-showing duties in the continent of South America, and although we would not go so far as to say that ours was a concert party par excellence, we feel that some light should be shed on their activities towards making a success of our South American cruises.
The party started in the early weeks of the commission under the direction of Paymaster Commander Eagar, and staged their first show at the Chief and Petty Officers' Club, Gibraltar. This, together with another on board, given as a closing incident to the 'Crossing the Line' festivi­ties, did much towards helping the company 'on to its feet.'
As usual, it took some time before the talent in the ship could be rooted out, but those who came forward at the outset, combined to make the earlier programmes quite attractive. Among the more prominent 'turns' were Able Seaman Taylor and Ldg. Seaman Simpkins as 'Toddles and Rooty' (slap con humore) - we lost them at Bermuda - sea shanties which always found favour, Able Seaman Wright (bass-baritone), 'Broadcasting' (a sketch by Paymaster Commander Eagar in which four different stations were represented) which provided excellent comic interlude, and Master-at-Arms Hathaway who combined his job as announcer with a fund of racy yarns which with his idiosyncrasies such as " 'e-sed - like - 'e-sed," made his
'turn' the more alluring. Leading Writer Brown carried out the onerous duties of accompanist with in­variable success and he organised and trained a glee party that received much praise. Later on, Mr. Sonnen and Petty Officer Pragnell added variety with their conjuring.
Two concerts at Rio de Janeiro were followed by others at the commodious Victoria Hall in Montevideo, Fray Bentos, the Seamen's Missions at Buenos Aires and Ingeneiro White, and others at Santos and Bahia, and before reaching Bermuda, plans were already made for the Pacific Cruise.
It will be realised that in a light cruiser there are no facilities whatever for satisfactory rehearsal, and our concerts had, in the main, depended for their success on individual merit rather than concerted efforts. However, our stay at Bermuda gave us an opportunity for effecting a complete change in the quality of our programmes.
To begin with, the ranks of the company received a most welcome rein­forcement in the person of Mechanician Ford, whose very fine playing of the English concertina and extremely clever rendering of amusing and sentimental songs both at the piano and on the concertina, proved to be the 'tit­bit' of our shows from then on, and his repertory of concert attainments was of incalculable value in bringing out the very best from the talent at our command. His experience, coupled with the fact that we were able to work hard at rehearsals in privacy ashore, enabled us to introduce such well-known humorous short sketches as 'Observations' and 'The Ware Murder Case' and the more ambitious 'Antonio,' all of which sought to make an imposing array of numbers of a definitely cheerful variety. The last-named item, an operatic burlesque, ultimately proved to be a most effective finale to our shows.
Within a fortnight of leaving Bermuda for the Pacific Coast, we tried out a new show, with some timidity, before a very blasé audience at the Y.M.C.A., Balboa, but the result was not very satisfactory. However, shortly after, at Ancon, where we found ourselves once more amongst our own 'Kith and Kin,' we were afforded such an old-fashioned welcome that our confidence and enthusiasm were thoroughly restored.
Up to this point, we had given our concerts with a purpose of making some small return for hospitality shown to the ship's company in general, but at Talara, the idea was conceived of making our shows a means of raising money for local charities. This was continued at Lima and Valparaiso, while at the Falkland Islands, where the party gave its final effort, we were extremely gratified to learn that a deserving cause profited to the extent of over £50.
In passing, it is worthy to mention that at Valparaiso in addition to our full performance, we had the unique experience of broadcasting selected items during the weekly British Broadcasting Hour.
For the benefit of readers of this book who had not the opportunity of seeing the concert party 'in action' we give the following report which was published in the 'Penguin' (Falkland Islands newspaper) of the 5th December, 1933:
THE SHIP'S CONCERT
A Happy Evening in the Town Hall.
Whenever one of His Majesty's Ships produces a concert in Stanley the entertainment is always of a high standard and thoroughly enjoyable, and that of the Ship's Concert Party of H.M.S. Dauntless, given in the Town Hall on Thursday last week with the kind permission of the Commanding Officer, was no exception.
The hall was full and among those present was His Excellency the Acting Governor and Captain C. 0. Alexander, R.N. of H.M.S. Dauntless,
under whose patron­age the show was given, while the proceeds were devoted to the Dependants of the Missing Men of the schooner Petronelle.
First of all, the Marines Band, under Bandmaster Weller, rendered some sprightly selections which were followed by an appropriate opening
chorus of 'Hullo Stanley' by the company. A syncopated banjo solo 'Savoy Rag' by G. G. Sims was well applauded, while a clever sketch,
smartly acted by D. Gale, F. Adcock, Paymaster Commander Eagar and C. Allen, produced a slightly embarassing contre-temps for the
husband who thought the 'Brown' eyes of his wife were blue, and for the Mr. Brown hiding behind the screen.
Although all the artistes were well applauded none received a greater measure than A. F. Ford who, as a musical entertainer with his 'yard of
music,' completely held the audience under his sway. In his explanation of how famous songs were composed he proved in a most convincing
manner that there was nothing new under the sun - not even bananas.
As a change A. F. Wright in a nice toned voice, heard at its best, added a sentimental touch with the song 'Glorious Devon' which was well
encored. Then F. 'I'. Martin and F. Adcock in their 'Stilted Conversation' gave a rough and tumble burlesque which brought tears of laughter to
the eyes of many. In view of the entertainment with which they regaled us we sincerely hope they did not suffer throbbing brows the morning
after the night-before.
In our mind, the outstanding feature of the evening was the cutlass swinging by G. L. Lickiss. Not only from the point of view of novelty – for
we believe this is the first time that an item of this description has been staged in Stanley - but also from the point of view of the skilful
manipulation of the performer was the turn so refreshing, while the effect was considerably enhanced by the coloured lights playing on the
shining blades.
'Broadcasting' was an item with some compromising slips in the musical, mechanical, bakery and - was it baby-care? - departments of the
ship. F. Adcock, W. F. Bayley, J.A.T. Bowen and W. James, we think, must have had some­thing to say to the wireless department about this!
We take our hats off to 'Professor' Pragnell and his worthy assistant 'Carmo' Freemantle in their conjuring number. In spite of the fact they
did all they could to show us how 'it was done' we were left nonplussed and, personally, almost inclined to put our hands in neighbouring
pockets to see if our pennies were there. Luckily, however, our attention was taken up with the truly nautical 'Songs of the Sea' rendered in an
excellent manner by the whole company and afterwards the lights went up for the interval leaving us more self-possessed.
After some more well rendered selections by the band the second half opened with the 'Cheer Song,' composed by A. F. Ford and sung by him
and the company (had Ford been a musical hall artist we should not have hesitated to say that he had a future before him - but his lucky star
sent him into the Navy so that we derived the benefit from his entertainments instead of London audiences).
The opening number was followed by a 'thriller' entitled 'The Ware Murder Case' with some tantalising obstacles which confront all super
'Sexton Blakes' simply illustrated by W. Snook, W. E. Bayley, Paymaster Commander Eagar, G. F. Richards and T. Foster. Although poor
Snook was let in for the next number (the management always apologise humbly on such occasions) we were thoroughly worked up with his
clever turn - clever because his song was a memorable memory effort. The words were delivered with such tantalising regularity that going
home the next night even we (again we hasten to emphasise that the pronoun is expressly personal) found ourselves looking for a chick-chick
here, and a quack-quack there and a bow-wow somewhere else so that we despaired of getting to bed.
The 'Dauntless Comrades' in selected Glees made a great impression and are to be congratulated on their harmony. Those who helped to make
this item so enjoyable were F. Nixon, E. D. Gale, G. F. Richards, W. James, W. E. Bayley and C. Allen. After another well-applauded song by
A. F. Wright, W. E. Bayley and G. F. Richards, though they were placed in a setting of real interest, set us a puzzle trying to find a title for
their number and we contented ourselves with giving them the hearty praise they deserved. W. Snook and T. Foster were another pair of
popular men before the footlights and we were glad the 'management' were 'too late' in their efforts to dissuade them from appearing.
After Paymaster Commander Eagar had given a clever impersonation of Cohen at the telephone, A. F. Ford gave an astoundingly realistic
imitation of Church Bells on his accordion. One could almost hear the calling of the different changes in the peals.
To conclude the programme - racy and full of salt sea breezes - the company acted a clever burlesque on opera entitled 'Antonio,' with true
operatic fervour and thoroughness, killing each other off to the chagrin of the audience who had so thoroughly enjoyed the performances of one
and all.
It would seem that we should now write 'finis,' but there are several members of the company who have yet to be mentioned, not least among
them being H. G. Hathaway, who introduced each item to the audience and whose talents as a raconteur proved him to be an invaluable asset to
the party, while A. F. Brown, the accompanist, though not very much in the picture, played a sterling part towards the success of the
production, as did also T. W. Home, who was in charge of the lighting effects.
Finally, we have to congratulate Paymaster Com­mander A. E. A. Eagar (director) and the whole company on their most enjoyable concert and
peppy show.
On Dauntless being transferred to the Medi­terranean Station, we felt there would be no further need for the concert party. Reluctantly, in view of the hard work in which all had done their share, we disbanded. We shall, however, retain many pleasant memories of happy evenings, and friendships formed 'across the footlights.'