FRANK S. TAYLOR FAMILY AND ROYAL NAVY HISTORY.NET
H.M.S. DAUNTLESS
1932 - 1935
PART 3
MALTA AND CONCLUDING WEEKS
Back at Malta again we settled down to await definite news of going home. At various times throughout the commission, and more especially during the latter part, rumours concerning the date of our arrival in England had been rife; in fact, many of us had been looking forward to spending Christmas at home. Now, however, we knew that it was not to be.
Though there is not a great deal that can be said about the last few months of the commission, one or two events are worthy of mention. Amongst these we must include the celebrations on the 29th November 1934 in honour of the wedding of H.R.H. the Duke of Kent and Princess Marina. On that day, the ships of the Fleet "dressed ship" and at noon fired a Royal Salute, while in the evening a search-light display, followed by the illumination of the entire Fleet, formed an impressive sight that attracted crowds to the top of the Barracca and along the front of the Grand Harbour. Unfortunately, Dauntless was not very much in the picture, anchored as we were, out of sight in Calcara Creek, though we did our bit.
Then again, there was that memorable gregale, or three-days' gale, that occurred towards the end of November, which rendered boat-work in Grand Harbour extremely hazardous, and was the cause of one or two libertymen being a little 'late for business.'
On Saturday, 1st December, a large part of the ship's company, numbering about one hundred and fifty, marched to Pembroke Naval Camp, where they stayed for a week.
On the evening before the advance party - should we call them the 'commissariat?' - had proceeded thither in torrential rain, with stores and necessities, and on Saturday morning the Clerk of the Weather showed no signs of relenting. We wondered, as we watched the main body leave the ship, whether they would be able to go the whole of the way by boat, or whether their equipment would include water-wings and lifebelts. However, we heard that, cold and wet through and miserable as they were, they were welcomed at the camp with cups of hot soup, which produced smiles all round.
On Sunday, Old Sol, prevailing over the rain-clouds, 'sold his hurt certificate and had a good laugh' thus providing the much-needed means of drying clothes and equipment.
The first part of the week was taken up with parade work, lectures, skirmishing, general field exercises, and drilling in preparation for the Ceremonial March Past, which took place on the Thursday. On that day, the Rear Admiral Commanding 3rd Cruiser Squadron arrived at the camp at about ten o'clock in the morning, took the salute during the march past, and then inspected the Camp.
On Friday morning an exercise took place, in which the camp represented a village captured and occupied by brigands, which was to be attacked and retaken by a company of sailors, supposedly landed for that purpose. The 'brigands' comprised the Head Quarters' Staff, and the Engine Room Chiefs and Petty Officers, some of whom were dressed for the part. We heard that the exercise took one and a half hours to complete, while at the final storming of their stronghold, the Cookhouse staff bravely defended themselves with cleavers, choppers, knives, hatchets and a rolling-pin.
It was rumoured that one disciple of realism suggested that it would improve the 'atmosphere' if live ammunition were used. We believe that the
'atmosphere' he created was definitely hostile and brought to light an alternative suggestion that two hundred like himself should go out and act as targets!
So much for the work of the week. From statistics received we do not find it hard to imagine how the leisure hours were passed. It appears that one hundred and twenty of the ship's company, excluding Chiefs and Petty Officers, consumed three hundred and sixty pint bottles of a certain commodity in one night, exceeding the demands of a similar number of Royal Marines for the whole of the previous week. We also understand that the Canteen Manager received an ultimatum to the effect that, should the demand for that certain commodity exceed the supply, his display counter would make an excellent target for a little full-calibre bottle shooting. Accordingly, next morning, the Simonds-Farsons 'Ambulance' appeared with another forty cases,
- sorry, - crates!
A football match between a scratch team from the camp and the Rifle Brigade resulted in a victory for the Army by two goals to one.
Of one other incident did we hear. One night one of the sentries was startled to see approaching him a straggling staggering creature, causing him to imagine that the Loch Ness Monster was amphibious and had strayed a long way from its home.
As it drew nearer the apparition emitted a strange sound:
"Ninety-nine - plonk! Ninety-nine - plonk!"
"Ninety-nine - plonk! Ninety-nine - plonk!"
"Halt! Who goes there?" demanded the sentry, with some trepidation.
"A centipede with a wooden leg!"
As a grand finale, an impromptu concert (!?!) was held on the last evening in camp, and on the following morning the campers marched back to the ship with heavy hearts and heavy boots.
The general consensus of opinion seemed to point to the fact that the week should have been extended to a month.
PART IV
SPORTS SECTION
GENERAL
The Sports Committee comprising: Lieutenant Commander H. G. Dickinson, Sports Officer, Leading Writer A. F. Brown, Secretary and Petty Officer
J. W. Conolly (P. & R.T.I.) and one representative from each part of ship, first met before the ship left Portsmouth, and sub-committees were formed for each game. Due to the large amount of organising necessary to carry out efficiently the work of the committee Lieutenant White augmented our forces by performing the duties of deputy Sports Officer.
Our arrival at Gibraltar marked the commencement of activities, and in the early part of our stay there, trial games took place daily, while during the latter part cricket and football matches with local teams indicated that the ship possessed a wealth of talent; we therefore left for South America confident in our ability to meet with as much, if not more, success, as the other ships on the station.
For our visit to Rio de Janeiro, the British Athletic Club provided the opposition at hockey, cricket and football (association and rugby) on their very pleasant ground at Nictheroy, where many of the ship's company were initiated into playing under tropical conditions.
At Bermuda, we sought to regain lost laurels in the annual regatta, which was held on 9th May 1933. Although a description of the happenings on that eventful day appears in an earlier chapter, we should like to add that, to finish only twelve points behind H.M.S. Norfolk - twice our size - is a tribute to the assiduous training of our various crews and a vast improvement on the Dauntless record of the previous commission. Another notable event during our sojourn at Bermuda was an Inter-Part Marathon Race; this was run during the evening of 20th April, and as a result of which the Forecastle Division won the Inter-Part Athletic Cup.
Throughout our lengthy stay at Callao we were afforded liberal use of the Lima Cricket and Sports Club ground, which is delightfully situated and in splendid condition. Needless to say, the ship utilized it almost daily, hockey and rugby matches being arranged, and the second Inter-Part soccer competition began and almost completed.
On Saturday, 2nd December, 1933, we held an Athletic Sports Meeting in conjunction with the Falkland Island Defence Force on the Racecourse at Port Stanley, at which the Inter-Part Athletic Cup was competed for and again won by the Forecastle Division; the heats of the flat and finals of the three miles and one-mile races were run on the three days prior to the Meeting. Happily, fair weather prevailed, and the twenty-two events which were watched with considerable interest by a large crowd, were keenly contested. The programme provided an excellent afternoon's entertainment, well executed and thoroughly enjoyed by contestants and spectators alike.
Apart from soccer and cricket, which are dealt with separately, there was not a great deal of activity in other branches of sport. Least of all was seen of our hockey experts, the only game played during the first cruise being at Nictheroy. Unfortunately, the trial games arranged had to be cancelled owing to inclement weather, and it was not until eight months later at Callao, were we able to root out the talent in the ship. However, to play seven games before sustaining defeat, suggests that our hockey team was a strong one, and no doubt, had it been always possible to put the strongest eleven in the field, their record would have been the more imposing.
During the first cruise, few opportunities occurred to land a Rugby XV, only three matches being played, two at Nictheroy and another at Santos, our opponents on each occasion being English teams. This characteristic was consistent (with one exception) of all our games in South America. As at home, association football is an enormous attraction throughout the continent, so much so, that there appears to be little likelihood of the "handling code" being popularised on that side of the Atlantic for some time to come. Thus, it was difficult for us to gauge our playing strength until our arrival at Bermuda, where, after a couple of games, it was seen that Dauntless was well up to cruiser standard. Later, at Lima, and by virtue of our extended visit to Callao, we were able to engage in several evenly contested encounters with the Lima Club, but travelling south the next match, a pick-up game at Falkland Islands, brought to a close the activities of our rugby foot­ballers until the ship joined the Mediterranean station.
Opportunities for swimming and water-polo were also limited, and like rugby, only three games were played during the Atlantic coast cruise, two against H.M.S. Durban at Mar del Plata and another at Ingeneiro White. At Bermuda, however, we tried conclusion with the other ships of the squadron and lost only to H.M.S. Norfolk by one goal to nil. Early in the second cruise our lads were soon to learn the dissimilarity of playing against those who literally live in and those who live on the water, as was evidenced by their being victims of heavy reverses in the three games at Balboa. At Guayaquil, we played and won a closely contested encounter, and local talent gave an exhibition of fancy diving. Our next game was three months later at Valparaiso, in which our team defeated the Chilean Naval School comfortably.
The only occasion during the commission on which our fighting men took to the ring was at Buenos Aires, when a naval boxing tournament was staged at Prince George's Hall, under the patronage of the British Ambassador, in aid of the Missions to Seamen, and half-a-dozen of our boxers went along to compete against opponents from H.M.S. Durban. It was reported that most of the sailors were short of fighting condition, but Able Seaman Grant is to be commended for putting up a grand fight, which ended in a draw, with a local flyweight champion.
So much for South America. Our passage across the Atlantic was given to much speculation as to how we should fare in the remaining months of the commission against ships of the Mediterranean Fleet. Bearing in mind the knowledge that "foreigners " joining this command usually prove to be "lame ducks," we entertained some little fear for future successes. Subsequent events, however, proved these fears to be entirely groundless. For who, indeed, could have anticipated that such a small unit in a mighty fleet was capable of producing finalists, light and heavyweights, in the fleet Tug-of-War competition? Who could have foreseen that our cricketers should find no-one to defeat them in Malta or that our Water-polo team should meet with success above the average? Who could have prophesied that although we specialised in no particular sport, we should so gain the respect of the fleet by our all-round abilities that they, one and all, agreed that "To win we must beat Dauntless?"
It will be observed that there has been no mention of the activities of our exponents in Tug-of-War. In point of fact, we had seen little of them in South America where few opportunities occurred. At Bermuda, they might well have made history, for it was the intention to enter teams in the annual Open Sports Meeting at Hamilton, but being at sea carrying out exercises precluded our entry.
Prior to the event alluded to, H.M. Ships Norfolk and Dragon (the former won the light and the latter the heavyweight at Hamilton), challenged us, and both ships retired beaten. We had heard that it was the proud boast at Falkland Islands that the Defence Force Tug-of-War team had beaten all ships which had visited there, but our men proved too good for them - this latter event was at catchweights, and formed part of the Athletic Sports Meeting referred to above. At Malta, we entered for the Squadron competition and both light and heavyweights won with an ease which was simplicity itself, for the lightweight team needed only 1 minute 6 seconds for four pulls, while the heavyweights averaged a trifle over 15 seconds for each pull.
And so, our jolly men progressed to the fleet finals where they succumbed to the Queen Elizabeth and Royal Sovereign in light and heavyweights respectively. It must be conceded that the better trained teams won, for it was observed that the victors, among other ships, were already training at Gibraltar - almost before we had realised that we belonged to the Mediterranean Fleet.
The end of June, 1934, witnessed our departure from Malta for the first Summer Cruise - known to all as the "Regatta Cruise" - during which some important events (apart from the Regatta itself, which is dealt with in a pre­ceding article), took place, the most notable being an Inter-Part Aquatic Sports competition which was held on Friday and Saturday, 13th and 14th July, at Zante. The following is a list of the events: - Free Style; 400, 200, 100 and 50 yards. Breast Stroke: 100 yards. Back Stroke: 50 yards. Diving Competition. Relay Race. (Medley) Obstacle Race. The Communications and Daymen Division - who generally "make one" in Inter-Part competitions - created a great surprise in winning four of the nine events and being placed in four others.
The final placings were as follows:
| | | |
| --- | --- | --- |
| Part of Ship. | | Points obtained. |
| Communications and Daymen | | 38 |
| Forecastle | | 16 |
| Quarter Deck | | 16 |
| Stokers | | 16 |
| Royal Marines | | 14 |
| Engine Room Chief & P.O.'s | | 4 |
| Torpedo Division | | 4 |
A most enjoyable programme was brought to a conclusion with a Greasy Pole competition which appeared to cause a great deal more fun for onlookers than for the contestants, and on the following day, prizes, given by the Captain, were presented to the winners.
Watery combat with the other ships of the squadron, when we were in company, compelled our attention on several occasions that games were played, and an Inter-Part Water-polo competition on the League system was commenced. Unfortunately, owing to lack of time, the championship remained undecided between the Royal Marines and Daymen Divisions, who finished level on points. In the 3rd Cruiser Squadron League, the ship's side performed well, being runners-up of that competition.
If, during the first Summer Cruise our programme had been well filled, then the second was almost overwhelming, for visiting Haifa and Port Said, we found plenty of engagements for all varieties of sport. In addition to football and cricket matches, the hockey team made its re-appearance minus the services of Lieut. White and Lieut. (E) Kirkconnel, whose places were difficult to fill, and the running team tried conclusions with the Royal Scots Fusiliers at Port Said in a marathon race over 21 miles. In this contest, we won by 10 points, and Able Seaman Morris, who was the first to complete the course, improved upon his time of 141 minutes in Bermuda, by half a minute. Members of a party which visited Cairo, re­presented the ship at water polo against the Third Battalion of Grenadier Guards, and in a swimming relay, lost by a length. The officers too, had a busy time, golf and tennis teams receiving challenges from shore clubs.
At the time of going to press, now that we are back in Malta, primary interest is centred around association football, other spheres of activity being hockey, rugby football and billiards. We hope the season will end as well as it has begun.
In conclusion, a glance through the records, which follow, will show that sport has taken up a large part of our time away from home, and we would point out that, on the whole, our successes outnumber our losses by a pleasing margin.
ASSOCIATION FOOTBALL
Within ten days of our arrival at Gibraltar and after two trial games, the ship played its first match against the Duke of York Club. Meanwhile, an Inter-Part Competition which had been commenced, kept the talent-spotters busy. Although we were unable to gauge our standard of play, due to the fact that none of H.M. Ships were present during our stay, further games against local clubs gave us a favourable impression of the first XI's ability, for we left Gibraltar unbeaten.
South America presented a changed aspect, for the vastly different style of play of our foreign opponents, the playing pitches being unlike those which we had been used to and having to play under sub-tropical conditions, soon manifested the weak points of the team. A strong defence with Petty Officer Vennell in goal and Stoker Moore and A.B. Nicholson as full-backs, and a sound half-back line with Stoker Rickman in the centre and Musician Mason and A.B. Downs on the flanks, appeared to serve as the foundation of a really good side. But no matter how Instructor Lieutenant Cook, who was captain of the team, tried to marshal his forwards, there lacked that connecting link between half-backs and forwards which causes trouble for opposing defences. Almost throughout our travels in South America, we were faced with the problem of finding forwards who could take up correct positions and who knew the way towards goal. It was therefore decided to run a second eleven with a view to trying out likely candidates for promotion to the senior side, and several matches were arranged. In spite of the deficiency referred to, however, it was later seen at Bermuda in what little inter-ship football was played there, that the side was well up to cruiser standard.
During our stay at Montevideo we had the privilege of witnessing an international match between Uruguay and Brazil and were quick to realize that these representatives of the two countries were clever exponents of our great national game. At Buenos Aires, we tried conclusions with H.M.S. Durban and for some inexplicable reason, lost by three clear goals after having had the better of the exchanges. Later, at Santos, the team had the unique experience of playing a floodlight match - this appeared to be very much to their liking as the score of 7-0 in their favour seems to suggest.
Due to our early arrival at Bermuda, the number of inter-ship matches was limited to three, but the Inter-Part Competition was, however, completed and won by the Stoker's Division.
The team commenced the Pacific Cruise with a flourish of trumpets and won their matches by handsome margins, but later on injuries caused considerable alterations to the side, and this brought about a lack of confidence. The sequel was a long spell of non-success which remained unbroken until our arrival at Callao. It should be noted, however, that adverse ground condition contributed to our failures in northern Peru, where, on many occasions, we played ankle deep in sand, whereas at Lima we enjoyed the luxury of once again playing on English turf at the ground of the Lima Cricket and Sports Club. Here our first and second elevens were engaged in weekly matches with the Lima Club, of whom we shall always retain pleasant memories. A reference to the records will show that the sides were very evenly matched. At Falkland Islands, the team appeared to be settling down nicely, and on our return to Gibraltar in February, 1934, their displays suggested that the improvement was being maintained.
During the following months, few matches took place until after the second summer cruise - in November - when inter-ship and competitive football commenced in Malta. In much the same way as the English League clubs plan for the future during a close season, so our authorities of the game were alive to necessities for forthcoming events, and they had not been idle during the cricket season. To begin with, a complete change of policy followed, wherein two persons - Chief Mechanician Lawes and Marine O'Donnell—were vested with the responsibility of organising, selecting teams, etc., in fact all things in connection with football in the ship. Their task was no easy one, for at the time of taking over their duties, many new faces had appeared on board, and there were fresh claimants for a place in the ship's teams. However, they tackled their job in workmanlike manner, and at Pola, late in September, daily trial matches were arranged and no fewer than eighty players were on view in the several games. Subsequent games during the second Summer Cruise served to facilitate the sifting and final choice of players to represent the ship. In these matches, we met with a fair measure of success, and if the game with the Gordon Highlanders at Haifa was any criterion - the Army is reckoned to know as much about football as the Navy - we need not fear disgrace at the hands (or feet) of the first eleven.
True, a couple of reverses have been sustained, but with the greater part of our programme still before us, all is far from being lost, and we are confident of the team's ability to further our reputation among sportsmen of the Fleet.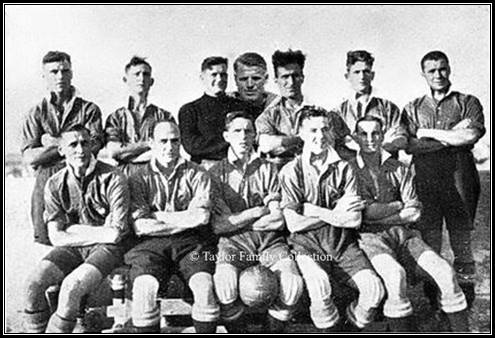 Football Team 1934
MORELLEC, DOWNS, VENNELL, (Inset MOORE), RICKMAN,
NICHOLSON, MASON.
ASLETT, COOKE, PEACOCK, GIBLIN, RALPHS
I ST ELEVEN
Opponents.


Goals.

F. A.

Duke of York Club

2

0

"

Naval Store Department

2

0

"

H.M. Dockyard Riggers

2

2

Rio de Janeiro

British Athletic Club (Nictheroy) 7

0

Montevideo

Shell Mex Oil Company 0

1

Fray Bcntos

Fray Bentos F.C.

1

6

Buenos Aires

Burtons' F.C.

4

2

"

H.M.S. Durban

0

3

Ingeneiro White

S.S. Chaucer

5

0

Rio Grande do Sul

Rio Grande do Sul F.C.

3

2

Santos

British & American Athletic Club 7

0

Bahia, Brazil

Bahia British Club 10

0

Gibraltar

Duke of York Club 2

0

"

Naval Store Department 2

0

"

H.M. Dockyard Riggers 2

2

Bermuda

H.M.S. Dragon 2

2

"

H.M.S. Norfolk 5

2

"

H.M.S. Dragon 4

1

Balboa

Barcelona F.C. 4

0

Buenaventura

Buenaventura F.A. 3

0

"

Tarqui F.C. 9

1

Santa Elena

Cativa F.C. 2

5

"

Ancon F.C. (Ancon) 4

0

"

" 2

0

Guayaquil

Daring F.C. 0

2

"

" 0

1

Talara

Liberale Combination 2

3

Lobitos

Bolognesi F.C. 3

3

"

El Alta F.C. 2

6

Payta

Club Grau de Trio (Piura) 0

4

"

Payta F.C. 2

3

Salaverry

Carlos Tenaud F.C. (Trujillo) 1

4

Callao

Lima Club 1

0

"

" 1

2

"

Club Social San Carlos 1

4

"

Lima Club 2

0

"

" 2

1

"

Ronald F.C. 2

4

"

Lima Club 0

1

"

" 5

0

"

Peruvian Navy 0

0

"

Club Exposición 1

1

Arequipa

Pierola F.C. 0

1

Mollendo

Mollendo F.C. 0

2

Valparaiso

Chilean Naval School 5

2

"

Chilean Fleet 5

2

"

J. McDonald F.C. 3

0

Ushuaia

Ushuaia 7

1

Port Stanley

F.I.D.F. 3

1

"

" 0

2

Mar del Plata

Club Athletico Aldovisi 7

4

Bahia, Brazil

Bahia British Club 3

1

St. Vincent, C.V.I.

St. Vincent 2

3

Gibraltar

H.M.S. Hood 4

1

"

Third Cruiser Squadron 2

2

La Ciotat

Etoile Sportive 3

1

Pola, Italy

Italian Destroyers 1

3

Haifa, Palestine

British Police 6

0

"

Gordon Highlanders 5

4

Port Said

Port Fuad 0

2

"

Ibis Club 1

1

"

Egyptian Athletic Club 3

2

Famagusta, Cyprus

Turkish Club 4

2

"

Anorthosis Club 4

2

Malta

H.M.S. Devonshire 2

1

"

H.M.S. Resolution 3

0

"

H.M.S. Sandhurst 0

0

"

H.M.S. Revenge 1

2

"

H.M.S. Resource 4

2

"

H.M.S. Devonshire 3

0

"

H.M.S. Despatch 1

2
Played. Won. Drawn. Lost. Goals: F. A.
Record in South America 51 27 5 19 138 85
Record in Mediterranean 17 10 3 4 47 27
2ND ELEVEN
Where played.

Opponents.


Goals.

F. A.

Rio de Janeiro

British Athletic Club

5

6

Buenos Aires

Buenos Aires Banks

0

2

"

Azqurta Club

1

4

"

English Banks

1

4

Rio Grande do Sul

Brigada Militar

3

2

Sao Paulo

Toc H

1

3

Bermuda

H.M.S. Heliotrope

3

2

Balboa

Barcelona F.C. Reserves

4

3

Talara

Negritos Combination

0

8

Lobitos

Grau F.C.

2

5

Callao

Lima F.C.

3

2

"

"

1

1

"

"

3

2

"

"

2

4

"

"

2

2

"

"

5

1

"

"

3

2

Mollendo

Mollendo F.C.

1

7

Valparaiso

American Tobacco Co.

2

3

Ushuaia

Ushuaia Reserves

0

1

"

"

0

1

Port Stanley

F.I.D.F. Reserves

5

0

"

"

1

0

La Ciotat, France

Etoile Sportive II

0

2

Haifa, Palestine

Independence Sports Club

3

0

Port Said

Ibis Club reserves

6

1

Famagusta, Cyprus

H.M.S. Ormonde

1

0

Malta

H.M.S. Searcher

7

2

"

H.M.S. Ormonde

4

0

"

H.M.S. Bryony

2

1

"

H.M.S. St. Angelo

1

0
Played Won Drawn Lost Goals: F. A.
Record in South America 23 9 2 12 48 65
Record in Mediterranean 8 7 0 1 24 6
CRICKET
Cricket Team 1934
L. WTR. BROWN, STO. RALPHS, E.R.A. TAULBUT, S.A. ADCOCK, CAPT. GILES, R.M.
INST. LT. COOKE, COMDR. (E) NORRIS, LT. 'WHITE, LT.-CDR. SHER­BROOKE, STO. ROLES.
STO. CAIRNS, S.P.O. JEFFERYS, CH. STO. BERRYMAN.
On our arrival at Gibraltar, a week was devoted to trial games and the first match was played against H.M.S. Cormorant on 30th September, 1932. The players who mainly comprised the side were: Lieutenant Commander Sherbrooke (Captain), Lieutenant White (Vice-Captain), Instructor Lieutenant Cooke, Lieutenant (E) Kirkconnel, Midshipman Walters, E.R.A. Taulbut, Chief Stoker Berryman, Supply Petty Officer Jeffery, Supply Assistant Adcock and Stokers Roles, Ralphs and Cairns.
Judging by the display of the team in the two matches played in Gibraltar, we left for South America with what appeared to be a workmanlike side. The expresses of Chief Stoker Berryman's bowling and the ca'canny slow-medium left-hand deliveries of Stoker Roles, ably backed up by E.R.A. Taulbut, Supply Assistant Adcock, Supply Petty Officer Jeffery and Stoker Cairns, sought to combine in a varied attack which at all times commanded the respect of opposing batsmen. The batting was mainly invested in the flashing willow of Lieutenant White, the dexterous form of Midshipman Walters and the stubborn defence of Instructor Lieutenant Cooke who generally opened our innings with E.R.A. Taulbut. Stoker Ralphs was the wicket keeper, and when he was not available, Instructor Lieutenant Cooke kept' uniformly well.
We played ten matches during the first cruise, of which six were won and four lost. At Buenos Aires we were in company with H.M.S. Durban, and combined teams from the two ships played matches at Hurlingham and Belgrano, where we had the pleasure of meeting several of the South American team which had toured England the previous year.
During our two months' stay in Bermuda an Inter-Part Competition was completed, the winners being the Engine-room Chief and Petty Officers and the runners-up the Accountant Division. Quite the most interesting encounter was that between the Officers and Men. Captain Alexander, playing his first game in umpteen years, made the highest individual score for his side, while the ship's "star" batsman, Lieutenant White, was bowled for a "blob." Needless to say, it was left to the Men to show us just how cricket should be played and they won hand­somely to the tune of 113 runs with a wicket to spare.
Altogether the ship engaged in thirteen matches, and some members of the side accomplished remarkable performances. Midshipman Walters scored 100 not out against H.M.S. Frobisher, and later, Lieutenant White compiled 120 not out (his second century - the other he scored at Gibraltar) against H.M.S. Malabar. Our best performance was probably that against H.M.S. Nor­folk, which we won just on time after a keen and low-scoring game. The flagship, however, defeated us in a return encounter by a narrow margin. For the Royal Navy versus Somerset Cricket Club match, Lieutenant White, Mid­shipman Walters and Chief Stoker Berryman were selected to play for the Navy, but the second named was prevented, through illness, from taking part in the game.
How very different is cricket when playing against Bermudian teams; not so much as regards the standard of play, but rather the enthusiasm of the spectators which changes the aspect of the game. The bowler who sends down a maiden over can count upon a round of applause no less than the enterprising batsman who can hit a six. Then again, if a run is "pinched," the batsmen get the "bird," but if, in "pinching" either is run out, the crowd shows its approbation in no uncertain manner. If the British public showed half as much enthusiasm and keenness for their cricket as do these West Indians, then all those County Clubs who are faced each year with financial difficulties should no longer have cause for anxiety in that direction, and if the placid surroundings of an afternoon's cricket usually associated with County Championship games could be "gingered up," both from players and spectators alike, English cricket would once again flourish. For who has ever heard of rattlers and tin whistles on a County Ground?
Author's Note
Nothing much seems to have changed in Caribbean Cricket since 1934!
It remains as joyous as ever!
After leaving Bermuda, Lieut.- Comdr. Sherbrooke relinquished the leadership of the team and Lieut. White filled the role of captain from then on. Cricket was not so much in evidence during the Pacific Coast cruise, only five matches being played in the four and a half months between Bermuda and Valparaiso. At the latter place the season was just commencing, and the ship's eleven, sadly out of form through lack of practice, was easily defeated in the two games played there.
The ship having been ordered to transfer to the Mediterranean, these two matches played in the Chilean port proved to be the end of our activities on South American soil. During the fifteen months on the America and West Indies Station, altogether twenty-nine matches had been played, of which the ship had won 12, drawn 2 and lost 15. Perhaps we cannot feel enamoured with these results set down baldly in cold print, but recalling the actual games and the type of cricketers against whom we played, we are convinced that they will remember us as an eleven who did their utmost to make a real success of every game.
There followed a rest of nearly seven months before our cricketers resumed activities at Malta. Despite the many changes which took place in the ship's company when the ship joined the Mediterranean Station, the personnel of the team remained almost intact. We lost the valuable services of Lieut. (E) Kirkconnel, who left us at Gibraltar, but in his place Commander (E) Norris, who joined us at Malta, quickly demonstrated his all-round abilities. The team soon settled down again, and when the time arrived for the ship to proceed on the first summer cruise, our record showed: - Played 8, won 7 and drawn 1. By far the most important games were those against the depot eleven, H.M.S. St. Angelo, who were considered at the time to be the best naval side in Malta. In the second game with this side, we found ourselves well on the way to victory when Father Time called a halt. We were, then, within only three runs of our opponents' score and still had four wickets to fall.
Surely, we must have overlooked the fact that in the first game with H.M.S. St. Angelo, Lieut. White com­pleted his 1,000 runs in ship matches, for had we recognised his performance in the manner we intended, the team's captain would have received the sort of ovation his feat so richly deserved - the result of many a dashing innings. A special palm must be handed to Stoker Roles who, shortly afterwards, secured his 100th wicket, the reward of con­sistently skillful bowling throughout the commission.
Only two games were arranged during the first summer cruise, both at Corfu, where the Gymnastic Club proved themselves worthy opponents. Ground conditions caused some of our players to be put off their game, but before we sailed the team managed to avenge their earlier defeat. A striking feature of these games was that neither side topped the hundred mark in any of their innings.
Back in Malta again, the team continued its winning way, and by the end of the season, could boast of being unbeaten by a naval side - surely a proud record. Remaining at Malta for a week or so after the departure of the Fleet for the second summer cruise, we had the opportunity of playing off the much looked-for return game, Officers v Ship's Company. It will be recalled that in the first match at Bermuda, the officers suffered a heavy defeat, and quite naturally, they were determined in this game, to turn the tables.
The match was played on the pleasant ground at Marsa, and from the start the players displayed a keenness which augured a tense struggle. The Officers, who won the toss and elected to bat first, found. run-getting no easy task and were all out for the compara­tively small total of 101, of which Lieutenant Commander Sherbrooke contributed 39 and Captain Alexander 27, while Stoker Roles secured 8 wickets for 47 runs. What­ever difficulties the officers may have experienced while batting, the men found the scoring of runs with any rapidity an impossibility against a steady attack, in which Commander (E) Norris took 5 wickets for 56 runs, and a keen field. In fact, when the last pair came together, they were still 5 runs in arrears and eventually dismissed for 100 runs. Thus, the officers won a splendid game by the smallest of margins.
On the following day in the match against the Rifle Brigade, the team sustained their only defeat in Malta. That the majority of the team appeared to be suffering a reaction from the previous day (or night!) is the only excuse that we can offer for their extremely listless and poor display.
This, apart from two matches played while the ship was at Haifa, brought to an end the activities of our team. Altogether, 18 matches were played during the ship's period of service in the Mediterranean, of which 14 were won, 2 lost and 2 drawn, giving a final record for the commission of Played 47, Won 26, Drawn 4 and Lost 17.
It will be seen that the matches in the latter half of the commission ended more often in our favour than in South America. Keenness and teamwork rather than brilliancy of performance, may be said to have subscribed to these successes, but we are sure that members of the side would be the first to attribute them to the enthusiastic encouragement of their supporters. Leading Seaman Simpkins proved an admirable umpire during the earlier part of the commission, and when he left us at Malta, Captain Giles, R.M. adequately filled the breach, whilst the duties of scorer were shared by Chief Mechanician Lawes and Leading Writer Brown.
Place. Opponents. Result
Gibraltar

H.M.S. Cormorant

Won by 53 runs

"

Imperial C.C

Won by 82 runs

Rio de Janeiro

British Athletic Club

Lost by 130 runs

Montevideo

Montevideo C.C.

Lost by 4 wickets

"

Montevideo C.C.

Lost by 122 runs

"

Montevideo C.C.

Won by 44 runs

Buenos Aires

H.M.S. Durban

Won by 34 runs

Fray Bentos

Anglo Social & Ath. Club

Won by 87 runs

Bahia Blanca

Bahia Blanca Athletic Club

Lost by 57 runs

Bahia, Brazil

Bahia Athletic Club

Won by 72 runs

Bermuda

R.F.A. Orangeleaf

Match drawn

"

H.M.S. Frobisher

Lost by 7 wickets

"

H.M.S. Scarborough

Match drawn

"

H.M.S. Dragon

Won by 18 runs

"

R.N. Hospital & Malabar

Won by 22 runs

"

H.M.S. Norfolk

Won by 2 wickets

"

Dockyard C.C.

Lost by 5 wickets

"

H.M.S. Norfolk

Lost by 4 wickets

"

R.F.A. Orangeleaf

Lost by 23 runs

"

H.M.S. Danae

Lost by 12 runs

"

Somerset C.C. 2nd XI

Lost by 3 wickets

"

H.M.S. Malabar

Won by 134 runs

"

H.M.S. Durban

Lost by 42 runs

Kingston, Jamaica

Unifruitco Club

Won by 40 runs

Balboa Canal Zone

Combined West Indian XI

Lost by 55 runs

Santa Elena

Ancon British Club

Won by 8 wkts

Lobitos

Cia Petrolera Lobitos

Won by 83 runs

Callao

Callao Cricket Federation

Lost by 65 runs

Valparaiso

Valparaiso C.C.

Lost by 90 runs

"

Valparaiso C.C.

Lost by 8 wickets

Malta

H.M.S. Delhi

Won by 125 runs

"

H.M.S. Despatch

Won by 6 wickets

"

H.M.S. Devonshire

Won by 156 runs

"

H.M.S. Centurion

Won by 67 runs

"

H.M.S. Cyclops and

1st Submarine Flotilla

Won by 9 runs

"

St. Joseph C.C.

Won by 114 runs

"

H.M.S. St Angelo

Won by 6 wickets

"

H.M.S. St Angelo

Match drawn

"

H.M.S. Brilliant

Won by 5 wickets

Corfu

Gymnastic Club

Lost by 40 runs

"

Gymnastic Club

Won by 17 runs

Malta

H.M.S. Devonshire

Won by 140 runs

"

H.M.S. Furious

Won by 54 runs

"

H.M.S. Furious

Won by 6 wickets

"

4th Destroyer Flotilla

Won by 77 runs

Haifa

Gordon Highlanders

Match drawn
BATTING
Innings Not out Runs Score Average

Lieutenant White

45

3

1314

120*

31.29

Instr. Lieutenant Cooke

36

5

856

80*

27.61

Midshipman Walters

32

1

806

100*

26.00

Commander (E) Norris

10

1

159

54*

17.77

Chief Stoker Berryman

41

6

563

76

16.09

Lieut. (E) Kirkconnel

19

295

84

15.53

Stoker Roles

42

3

579

62

14.85

Stoker Cairns

25

2

274

72

11.91

E.R.A. Taulbut

34

3

362

56

11.68

Stoker Ralphs

31

4

288

42*

10.67

Lieut.-Comdr. Sherbrooke

20

1

199

51

10.47

Supply P.O. Jeffery

33

5

278

87

9.93

Supply Asst. Adcock

24

14

60

8*

6.00
*Denotes " not out."
Also batted:
Band Corpl. Bennett 9-1-145-77.
Able Seaman Courtney 10-1-156-53.
Captain Alexander 2-0-33-17.
P.O. Vennell 10-2-54-17.
Ch.Sto. Foster 11-2-54-16.
BOWLING
Overs Maidens Runs Wickets Average
| | | | | |
| --- | --- | --- | --- | --- |
| Supply Asst. Adcock 140-4 | 29 | 434 | 41 | 10.59 |
| Stoker Cairns 92-1 | 11 | 395 | 35 | 11.29 |
| Stoker Roles 406 | 50 | 1483 | 127 | 11.68 |
| Supply P.O. Jeffery 165 | 31 | 583 | 48 | 12.15 |
| Chief Stoker Berryman 349-4 | 46 | 1254 | 86 | 14.58 |
| E.R.A. Taulbut 122-5 | 21 | 465 | 28 | 16.61 |
| Commander (E) Norris 62 | 4 | 284 | 17 | 16.71 |
Also bowled:
Ord. Seaman Stevens 8-4-0-28-6.
Lieut. (E) Kirkconnel 16-2-56-7.
P.O. Vermeil 31-4-128-10.
Lieut. White 26-4-101-4.
Catches in the field.
Lieut. White 22
Ch. Sto. Berryman 18
Stoker Roles 17
E.R.A. Taulbut 14
Supply Asst. Adcock 13
Instr. Lieut. Cooke 12
Supply P.O. Jeffery 10
Wicket-keeping
Catches Stumpings.
Stoker Ralphs 13 21
Instr. Lieut. Cooke 11 2


Final Record: Played 47. Won 26. Drawn 4. Lost 17.
WATER POLO
Final Record: Played 42. Won 24. Drawn 5. Lost 13. Goals: For. 89. Against. 74
Where played Opponents For Against
| | | | |
| --- | --- | --- | --- |
| Mar del Plata | H.M.S. Durban | 0 | 0 |
| " | H.M.S. Durban | 2 | 1 |
| Ingeneiro White | Club Pacifico | 1 | 6 |
| Bermuda | H.M.S. Malabar | 2 | 1 |
| " | H.M.S. Danae | 3 | 0 |
| " | H.M.S. Durban | 2 | 0 |
| " | H.M.S. Norfolk | 0 | 1 |
| " | H.M.S. Danae | 1 | 0 |
| Balboa | Balboa Club | 3 | 8 |
| " | Balboa Club | 2 | 9 |
| " | Balboa Club | 3 | 8 |
| Guayaquil | Guayaquil S.C. | 3 | 2 |
| Valparaiso | Chilean Naval School | 4 | 0 |
| Punta del Este | H.M.S. Exeter | 2 | 0 |
| Malta | H.M.S. Durban | 1 | 0 |
| " | 4th Destroyer Flotilla (8th Div.) | 0 | 3 |
| " | H.M.S. Despatch | 3 | 0 |
| " | H.M.S. Durban | 5 | 0 |
| " | Senglea United | 0 | 5 |
| " | H.M.S. Delhi | 1 | 1 |
| " | Senglea United II | 2 | 1 |
| " | Senglea Shrimps | 0 | 0 |
| " | H.M.S. Resource | 2 | 1 |
| Dragamesti | H.M.S. Delhi | 2 | 1 |
| " | H.M.S. Despatch | 3 | 0 |
| " | H.M.S. Durban | 3 | 0 |
| " | H.M.S. Delhi | 0 | 2 |
| " | H.M.S. Despatch | 1 | 1 |
| Argostoli | H.M.S. Chrysanthemum | 4 | 1 |
| " | H.M.S. Chrysanthemum | 2 | 1 |
| " | H.M.S. Decoy | 1 | 2 |
| " | H.M.S. Decoy | 2 | 1 |
| Corfu | H.M.S. Durban | 1 | 1 |
| " | H.M.S. Delhi | 0 | 1 |
| Malta | Senglea United | 0 | 3 |
| Port Said | Rowing Club | 2 | 5 |
| " | Navy House | 3 | 0 |
| Cairo | Grenadier Guards (3rd Bn.) | 3 | 5 |
| Port Said | Navy House | 2 | 1 |
| " | Navy House | 5 | 0 |
| Farmagusta | H.M.S. Ormonde | 7 | 1 |
| " | H.M.S. Ormonde | 6 | 1 |
HOCKEY
Record: Played 19. Won 7. Drawn 2. Lost 10. Goals: For 39. Against. 52
Where played Opponents For Against
| | | | |
| --- | --- | --- | --- |
| Rio de Janeiro | British Athletic Club | 6 | 3 |
| Lima | Lima S.C. | 1 | 0 |
| " | Lima S.C. | 7 | 1 |
| " | Lima S.C. | 5 | 3 |
| " | Lima S.C. | 3 | 0 |
| Valparaiso | German Club | 5 | 5 |
| " | Badminton Club | 0 | 5 |
| " | Badminton Club | 2 | 4 |
| Gibraltar | 6th Submarine Flotilla | 2 | 1 |
| " | 6th Submarine Flotilla | 0 | 4 |
| Port Said | International Sports Club | 1 | 2 |
| Malta | H.M.S. Despatch | 2 | 1 |
| " | H.M.S. Despatch | 0 | 3 |
| " | H.M.S. Queen Elizabeth | 2 | 5 |
| " | H.M.S. Resolution | 0 | 4 |
| " | H.M.S. London | 0 | 2 |
| " | Bryony and Searcher | 1 | 3 |
| " | H.M.S. London | 2 | 2 |
| " | H.M.S. Revenge | 0 | 4 |
RUGBY
Record: Played 12. Won 3. Drawn 1. Lost 8. Points: For 98. Against. 115
Where played. Opponents. For Against
| | | | |
| --- | --- | --- | --- |
| Rio de Janeiro | British Athletic Club | 5 | 11 |
| " | British Athletic Club | 6 | 4 |
| Santos | British and American Club | 26 | 16 |
| Bermuda | Bermuda A.A. | 4 | 9 |
| " | H.M.S. Dragon | 8 | 9 |
| Lima | Lima S.C. | 8 | 8 |
| " | Lima S.C. | 6 | 13 |
| " | Lima S.C. | 6 | 11 |
| " | Lima S.C. | 18 | 10 |
| " | Lima S.C. | 3 | 5 |
| " | Club Exposición | 0 | 8 |
| " | Lima S.C. | 8 | 11 |
PART V
" THE REC. SPACE."
In most of the larger ships of the Navy - probably in every ship that is larger than a destroyer - there is a part allocated as the recreation space, and here, during non-working hours, especially if the weather happens to be cold and it is getting towards the end of the month, one can always find a motley collection of men, seamen, stokers, signalmen, marines, in fact, members of every branch of the Service, each amusing himself in his own particular fashion.
Some may be playing cards, some may be writing home, others may be having a "sing-song" round the piano - if the ship is unlucky enough to possess one. Probably in every part of the Space one can find something to laugh at - Ginger's remarks when his ace is trumped, Spike's rendering of "Danny Boy," Nobby's spirited discourse when he carelessly put his hand too near the "general mess" electric iron - yet none of these things have any connection with each other.
In the same way, although we have reached the end of our book, we still have a motley collection of memories, of events that have happened, of things that have been said and done, at various times throughout the commission, which really have no connection with each other, but which, we feel, should not be left untold.
Therefore, since they have not been included in the narrative, we relate them here, and can think of no better title for this chapter than "The Rec. Space."
* * * *
The lure of the night life at Buenos Aires had been too much for the young O.D., and he arrived on board at seven in the morning, just eight hours adrift.
After the usual preliminaries, the Officer of the Watch inquired how it was that he had missed the boat the night before.
"Well, sir," was the reply, "I jumped into a taxi and said 'Porto' but the driver thought I said 'Sporto' and took me round the cabarets!"
* * * *
Heard during a game of dominoes at the Falkland Islands.
"Did you tap, McHathy?"
"No bloomin' fear - the last time I did that the barman brought another round of drinks!"
* * * *
What nationality?
The Captain's cat, a Siamese, gave birth to four kittens, on a British warship in Peruvian waters. The father resided in Peru, and had a distinct partiality for a local Angora rabbit.
* * * *
From an H.E.T. "trial run."
A muozzin is a chap who climbs to the top of a minaret and pipes the hands to prayer.
* * * *
Bumptious rating: "Some people consider me a wit."
Quiet rating: "Well, they're half-right, you know."
* * * *
We have often been told that too many cooks spoil the broth.
Some of us are of the opinion that one duty Leading Cook is quite as clever. (Sorry chef!)
* * * *
George was studying hard to get a "first" in Geography. Just before the examination he persuaded his "oppo" to ask him a few questions.
The first one was just too easy.
"What is Spithead?"
"Spithead," said George, "is a s-s-stretch of w-water lying off S-S-South Parade P-Pier!"
* * * *
Marine Simple, armed with a chit, button-holed the storekeeper in the bathroom flat
.
"Excuse me," he said, "but Sergeant says, can you oblige him with a couple of yards of one-inch white?"
"Sorry, Royal," replied the soft soap merchant, "but we've got it on charge in fathoms. You'll have to take a fathom instead."
"Right!" said Royal, "but I'll go and see if it will do, first."
* * * *
Questions that we were often asked:
­Is he going the rounds to-day?
What about a rubber?
Are you going to wash your hair now, or do you want some grease on it?
How did Pompey get on this week?
* * * *
During the afternoon, we had been out to visit the Anglo-Frigorifico Corned Beef Factory, at Buenos Aires, and returning to the city, we had decided not to go back on board, hut to remain ashore and make a night of it.
In the course of our peregrinations during the evening, we visited many places, the more well known among them being the "Splendid," the "Derby,"
the "Farmyard" and the "B.A." bars, and towards ten o'clock, feeling that all was well with us, we happened to pass the imposing portals of a Fun Fair.
You will notice that I mention the fact that we passed it, but, having done so we turned back, overcome by our curiosity, and went in to have a look round.
We learned, with interest, that if we cared to pay the sum of three pesos each we could view many curious things, so we paid the necessary fee, and followed our conductress. She took us to a machine such as one finds on the piers of any seaside resort in England.
No doubt, if we had been able to read Spanish, we would have been prepared to see "What Johnny saw in Paris," or "Behind the Scenes," or whatever it is that these things purport to be. As it was, we gazed through a little peep-hole at a picture of a young lady of the Victorian era, seated on a bicycle. When we turned the handle, she was looking in a mirror.
We found her rather uninteresting and demanded the real curiosities.
"Pero, senores," said our conductress, "you have them seen!"
"Is that what we paid three pesos for?" demanded George.
"Si, senor."
Charles stood there dumbfounded, as we others sadly walked out into the street.
We had just reached the pavement, when we heard quite a commotion behind us in the Fun Fair. There was Charles staggering towards us with the
peep-show machine on his shoulder.
"I don't suppose it's really worth twelve pesos," he said," but we might as well take it now that we've bought it."
That's just like Charles, he didn't stop talking about it for the rest of the evening. You see, it cost him another five pesos to square the policeman!
* * * *
This is the story of "The Willing Horse," or "How Angelo Lost his Eyebrows."
Angelo was the genial and obliging "gashing king" at Pembroke Camp, who was never happy unless he was helping someone to do something.
He was the ideal "handy-man."
One morning Angelo arrived at the camp very early. In fact, the duty cook had not been up very long himself. When he entered the cook-house Angelo found the chef in difficulty over getting the fire to burn well. He immediately remembered a can of petrol that he had seen.
Going outside again, he found the can and opened it to see how much petrol it contained. As I said before, it was early morning, and the light was not very good, so Angelo struck a match so that he could see better.
That's how Angelo lost his eyebrows!
* * * *
He had been on a short "unofficial leave," and had returned to the ship looking rather the opposite of "spick and span."
The Officer of the Watch had delivered the verdict that is usual in such cases, and was about to dismiss him, when a shaft of sunlight illuminated his face.
The Officer saw it. "And," he added, as an afterthought, "the next time you think you will be adrift, take a razor with you!"
* * * *
When, towards the end of the commission, we finally discarded our white uniforms and went into blues, we noticed that quite a number of old "No. 6" suits were converted into overalls. This, in view of the present-day need for economy, we consider very commendable. However, we wonder, sometimes, if this economy business can be carried too far.
Anyway, we are hoping to obtain the opinion of a certain Chief Petty Officer, who was seen in the bathroom, dyeing his white socks blue.
* * * *
It was at Rio de Janeiro that I met her, at the Centenary Hall. Our friendship grew rapidly during the first week of our stay, and on the Saturday night, as we were waltzing under dimmed lights, she took me into her confidence.
It appeared that there was a villain in the case - one, Freddy by name, who wanted to marry her, and whom she hated. This creature had wormed his way into the good graces of her parents, had won their entire approval, and on the 'morrow was to dine at her home and make formal application for her hand and heart.
"Will you," asked Daphne, "also come up to dinner and do what you can to save me from him?"
My sympathy was aroused and the idea intrigued me vastly, so, feeling like a Knight-Errant of the days of Chivalry, I accepted her invitation and promised to protect her.
Next evening, arrived at the house, I was introduced to Freddy, who glared at me as at a life-long enemy. He seemed a nice fellow, though - quite different from the awful being I had expected to meet. However, remembering my promise, I glared back, and continued to do so across the dinner table whenever he was looking my way - which wasn't often, since Daphne was sitting next to him.
After dinner Daphne asked me if I would like to see the view from the garden, and before any objections could be raised, I found myself alone with her under the stars. (Not that I had any objections, but I was referring to Freddy). We stayed there for over an hour, and when we returned indoors we found that Freddy had made some excuse and gone home.
"This," I whispered, "has done the trick."
"You bet it has!" said Daphne, and laughed.
Two days afterwards I met her again. She looked radiantly happy and very beautiful.
"I am going to be married," she said. "Freddy proposed to me yesterday."
I staggered.
"What do you mean?" I exclaimed. "Didn't our scheme work?"
"Oh yes," said Daphne, "my scheme worked very well. Freddy has been plucking up courage for weeks, and it only needed something to bring it to a head. You can't imagine how obliged I am to you."
Have you ever seen a balloon suddenly pricked with a pin?
That's exactly how I felt!
* * * *
The following is an account of a "quiet evening ashore," experienced by six of our Chief Petty Officers during our stay at Callao in Peru.
They had been invited by the Phoenix Club in Lima to play a billiards match, and on its completion, they held a short concert in the lounge. They were not quite certain as to what the "Welkin" was, but, anyhow, they made it ring, "Sussex by the Sea" being well and truly "caned."
The party was then entertained to dinner at the Exposición Restaurant, and with the fish came a real live murder, two men being "shot up" at the next table. Having gatecrashed the latter table to the extent of a few dances, and discovering an occasional bullet among the latter courses, the "artillery practice" was concluded for the evening and the party adjourned to the Phoenix Club for the inevitable "one" for the road.
Apparently, our illustrious shell-backs had numerous roads to travel, but eventually a dash was made to catch the last electric tram for Callao. But alas, our worthy mariners were destined for further adventure. Their arrival at the Plaza San Martin was an exasperating experience, for the stern lights of the last tram were observed flickering on the horizon. A taxi was chartered, to the apparent chagrin of its driver, whose air of reluctance, which blossomed forth to a display of imaginary club-swinging, was not understood by the party until Bellavista was reached. It was at this point that both of the back springs of the taxi collapsed. The remainder of the journey to the landing-stage can be better imagined than described.
On arriving at the pier there was, of course, no motor boat to see the "lads" safely aboard, so a rowing boat was procured for the purpose. There was the usual scramble for a seat. Five of the party were successful, but the sixth was beheld "strap-hanging" on the gunwale, crying aloud "All aboard?"
The boat, being unused to this type of behaviour, promptly capsized and precipitated its occupants into the water, which, at that extremely early hour of the morning was distinctly "fria." One of the gang swore that he was submerged for at least five minutes, romping with sea-lions and, on coming to the surface, he beheld a pelican, which eyed him speculatively, as if he were some new amphibian that might possibly have brought up some fish, and commenced caressing him with his beak, much to the discomfort of the bather.
However, climbing into the boat, minus several articles of clothing, the gallant half-dozen resumed their course, and arrived on board, very cold and wet, but decidedly sober.
As one of them tersely remarked "We had a billiards match, a dinner, a murder, a car smash and finally capsized a boat. Apart from that, we spent a fairly quiet evening!"
* * * *
"SHOWING 'EM ROUND"
Wipe your feet, please. That is the Ward Room ice chest. It is used by the Messman to stow alleged food­stuffs, which have passed their first refusal, but which he has not yet given up hope of disguising and slipping across the Ward Room when they are off their guard.
Those two sailors are the Quartermaster and his messenger. Their job is to dodge the Captain and keep the Ship's Company guessing. The first is done by arranging to be on the opposite gangway when the Captain comes alongside or leaves the ship. The second part is done by blowing a whistle and making incoherent noises when an order has to be passed. Sailors nowadays recognise the order by glancing at their wrist watches.
Our next, Ladies and Gents., are the Torpedo Tubes, principally used for obstructing free passage fore and aft the ship. No, Lady, they are not Pompey mud-larks, but Torpedo-men. As a preliminary to a day's work, these men rope off a portion of the upper deck, copiously anoint themselves with oil, and haul an oily torpedo across any space not roped off. When they become tired of any one torpedo the ship goes to sea, the torpedo is fired and chased by the ship until it finally dives for safety. The ship then returns to harbour and draws a new torpedo.
This is the Galley. Meat and potatoes are stored in the ovens, between the times of issue and consumption. Four types of dinners are produced. Straight Rush, Hoosh, Royal Roast and Pot Mess. A Straight Rush is the most common of the four, being the quickest route between Butch and Cookie. Royal Roast is the same except that the mess forgot to draw the spuds. All four are liberally sprinkled with Back Copper Gravy.
Hush! Step softly! The Sick Bay. There are no invalids.
That on the right is the Dhoby Firm caboose. It is said they have some secret hoard.
Here we have a 6" gun. Used for devil worship by a sect who have their chief temple at Whale Island.
We are now passing the P.O.'s Mess. The secret of this part of the ship is closely guarded, but the inmates seem to have had some harrowing experiences. None are ever seen to smile.
This is the Flag Deck. Normally those lockers are used for stowing cups of tea. Flags may also be stowed there. Hurry along, please. Sorry, Madam, you can't go in there.
Forward there are the Mess decks. If no-one else requires them, the sailors live there. Down below there are the "Sparkers" and "Royals," known as the
"batchy party." They take it in turn to say "Ping!"
This hatch leads to the boiler room. Steam is supplied for General Purposes. When no more is required for the engines, the Stokers use it for Turkish Baths. The next hatch leads to the Engine Room, inhabited by oily demons who use up all the steam and scream for more. It is not safe for you to go down there, Lady.
This way, please. Down here and tread softly, is the Ship's Office, a very important place - just ask him. No, sonny, we don't kill cats down here. That noise is a new station coming through on a cabin wireless set. Up again, please.
This is the Quarter Deck, Holy of Holies. Those marks are from Chief's dirty boots. Here sailors get all sorts of things. Speeches, No. 11 punishment, G.C. Medals, boredom and housemaid's knee. That's about all, Ladies and Gents. Empty your pockets of all the bits of brightwork you have snaffled as souvenirs as the sailors would miss them. No thank you, Lady. Keep it for Church on Sunday.
J.W.C.
* * * *
FOR THE BENEFIT OF STATISTICIANS
Number of miles covered from Portsmouth to Bermuda 13,662.1
Number of miles covered from Bermuda to Falkland Islands 7,321.5
Number of miles covered from Falkland Islands to Gibraltar 7,485.0
Number of miles covered from Gibraltar to Malta 2,749.4
Number of miles covered during First Summer Cruise, 1934 2,425.9
Number of miles covered during Second Summer Cruise 3,651.8
Total to the end of the Second Summer Cruise 37,295.7
It is estimated that the Winter Cruise from 10th to 25th January, 1935, and the voyage from Malta to Portsmouth, on our return home will add, approximately, another 3,000 miles to the total, so that, when we are once again in England, we shall have travelled a little over 40,000 miles.
* * * *
SWAN SONG
(After which, however, we do not intend to die)
Our Book is ended! Kind reader, who have read thus far,
You know of all that's taken place on board. Yes, and on shore!
Forty thousand miles! That's the distance we'll have travelled
When we get back to England and our homes, once more!
Forty thousand miles! Under tropic sun we've sweltered,
And shivered during blizzards 'way down South. - One day, we saw
Seven glaciers, - no less! Yet, we'll grumble at the weather
And say "It's cold in England," when we're home, once more!
Forty thousand miles! 'Cross half the world we've voyaged
With the friendliest intentions, tho' this be a ship of war.
To the New World and the Old World, we have shown the British Flag,
And now we'll go to England and our homes, once more!
Forty thousand miles! And, of ev'rything that's happened,
We've done our best to tell you. Now, 'tis finished! So before
You close this Book, we'll tell you that we're happy, for we know,
When you're reading it in England, we'll be HOME, once more!
F.W.A.
(S.A.) F. W. Adcock
Note
Continuation of Chapter headed
"Concluding Weeks."
(Received after going to press).
With the return of the seamen from Pembroke Camp, on Saturday, December 8th the Royal Marine Detachment left for Ghain Tuffieha, in company with the detachments from the Durban and Despatch. We have heard very little of how they fared during the fortnight they were there, nor do we know anything of the subsequent week they spent at Pembroke. We do know, however, that they returned to the ship on December 29th looking very hale and hearty.
Our third Christmas away from England passed in much the same way as the two previous ones, though the inclemency of the weather prevented our holding a fitting Service on the quarterdeck. At about 10.30 in the forenoon, the Captain, accompanied by the Officers, several "foreign dignitaries" and their "wives" - or, should we say? their "wife " - proceeded on a tour of inspection through the mess-decks, announced by a fanfare of trumpet.
(We believe that we are quite correct in thus employing the singular number). Messes and mess-tables were gaily decorated for the occasion, and the ship took on an air of festivity that even the weather could not dampen
.
During the afternoon and evening, most of those, who were able to do so, went ashore to continue their celebrations, the number of those remaining on board steadily diminishing with each departure of the liberty boats.
Exactly one week after Christmas we found ourselves, as is invariably the case, at the commencement of a new year, 1935, with little over a month to pass before we arrived in England. As the days grew shorter, so the hours seemed to grow longer, and it was difficult to realise that very soon we should be leaving the station. There was a short winter cruise to be completed before we finally departed, and until that was accomplished we hardly felt that we were actually going home. However, January 10th arrived, and, with the remainder of the Fleet, we put. to sea; but, before we get fairly started on our cruise, we feel that something should be said concerning our activities in the sporting world during our last few weeks in Malta.
Although the football team did not start the season in quite the way we had expected, towards its end we had every hope of becoming the champions of Division II, Section A, of the Mediterranean Fleet League, of winning the Royal Marines Cup, and of being at the top of the Cruisers' Boys' League. Unfortunately, though the boys won their championship without once suffering defeat, the Royal Marines and the ship's team both lost in their respective finals, the former to the Marines of the Des­patch and the latter against the Resource. In each case, the winning goal was scored under the same peculiar and controversial circumstances, a penalty kick that had to be retaken. Despite these two disappointments, however, we have no reason to be ashamed of our record, in fact, throughout our period of service in the Mediterranean, we have been consistent in producing finalists, in practically every branch of sport.
For the rest, the Rugby team did very well against some of the larger ships, while the hockey team began a programme which they were forced to leave incomplete, owing to weather conditions and lack of time.
For two days, after leaving Malta, we were at sea, carrying out exercises with the Fleet, and on the morning of Saturday, 12th January, we arrived at Argostoli, in company with the Delhi, Durban and Despatch.
And here, at Argostoli, we still are, as our narrative is brought to a conclusion.
On January 21st, we shall go to sea again, to rendezvous with the Fleet for exercises, which are yet shrouded in mystery, and four days later, we shall arrive back at Malta. Then will follow three hectic days of draft chits and farewells and on Monday the 28th up will go our "paying-off 7 pennant, as we leave Grand Harbour for the last time, to go "rolling home to Merry England."
A short two-day halt at Gibraltar, from 1st to 3rd February, will give opportunity, for those who wish, to make a last dash for curios, and then, once more upon the ocean.
Finally, on Thursday, February 7th England will be in sight. We expect to arrive in Portsmouth during the afternoon.
Eagerly we shall watch, first, for the Needles - then, as we round the Isle of Wight, for the Nab. Southsea and Portsmouth will grow nearer and clearer
for who could imagine anything other than sunshine for our home-coming? Till at last, we shall pass Clarence Pier and enter the Harbour.
The scene will be reminiscent of our departure, two and a half years ago, though, now, the atmosphere will be one of welcome, and not of farewell.
On the jetty, impatiently waiting, will be wives and sweethearts, relations and friends. SHE will be there among them!
'Tis a pleasant thought, that bears dwelling upon; and so –
Adios!