FRANK S. TAYLOR FAMILY AND ROYAL NAVY HISTORY.NET
H.M.S. DAUNTLESS
Danae (D) Class Light Cruiser
World War 2
1939 – 1945
Original Cap Tally
H.M.S. Dauntless - April 1942
PHOTO ENLARGEMENT
Photos may be enlarged by clicking on each photo.
For further enlargement click again.
SERVICE HISTORIES of ROYAL NAVY WARSHIPS in WORLD WAR 2
Lt Cdr Geoffrey B Mason RN (Rtd) (c) 2005
Mr Gordon Smith naval-history.net
H.M.S. DAUNTLESS - World War 1 Danae type Light Cruiser

Dragon-Class light cruiser ordered under the 1916 Emergency Programme from Palmers Engineering and Shipbuilding Company, Hebburn in September 1916. The ship was laid down in January 1917 and launched on 10th April 1918. Completed in December 1918 she began operational service in 1919. Whilst serving on the America and West Indies Station in July 1928 H.M.S. Dauntless ran aground off Halifax, Nova Scotia and sustained major damage. Her subsequent refit completed in 1930. After further service in the Fleet the ship was placed in Reserve in August 1936. Laid-up at Portsmouth she was brought forward for service in 1939. On the outbreak of the Second World War, Dauntless was recommissioned and joined the 9th Cruiser Squadron with the South Atlantic Command. In December, the squadron, including H.M.S. Dauntless, was transferred to the China Station, and in March 1940 Dauntless operated as a unit of the British Malaya Force while in the Indian Ocean. She operated mainly off Batavia, keeping watch on German merchant ships in the Dutch East Indies harbours. On 15 June 1941, she collided with H.M.S. Emerald off Malacca and had to put into Singapore for repairs, that were eventually completed on 15 August.
In February 1942 Dauntless returned to Britain, and underwent a refit at Portsmouth. Following this, she was transferred to the Eastern Fleet, and in November was docked in the Selborne dry dock at Simonstown, South Africa, until January 1943. She was then used as a training ship, and in February 1945 was again reduced to the reserve. She was sold to be broken up for scrap on 13 February 1946, and in April that year was broken up at the yards of T.W. Ward, of Inverkeithing.
In December 1942, this cruiser was adopted by the civil community of Taunton, Somerset following a successful Warship Week to promote National Savings.
Battle Honours
ATLANTIC 1939 – MADAGASCAR 1943
Heraldic Data
Badge: On a Field Red a dragon, passant, Gold.
Motto
'We yield but to St George'
Details of War Service
1939
August

9th

Commissioned from Reserve for Royal Review at Weymouth. Attended Review.

In view of the political situation she was retained in service and after storing and completion to war complement sailed with HM Cruiser Danae to join 9th Cruiser Squadron in South Atlantic for trade defence.

September

3rd

Escorted convoy to Cape Town from Gibraltar.

14th

Based at Freetown for trade defence and escorted convoys for part of passage to Cape of Good Hope.

(Note: Deployed for interception of German shipping which was attempting return to European waters. For details of deployment of warships in Atlantic see ENGAGE THE ENEMY MORE CLOSELY by Corelli Barnett).

Transferred to China Station and took passage via Mediterranean.

October

10th

Sailed from Gibraltar for Singapore.

21st

Sailed from Aden for Colombo.

31st

Arrived Singapore.

November

2nd

Deployed with 5th Cruiser Squadron for interception patrol and protection of allied shipping in Singapore area

December

Continuation of duties based at Singapore.
Author's Note:
In 2017, we received a communication from Robin Curry whose father Robert was an engineer aboard Dauntless in 1939.
The following photograph was taken on Christmas Morning 1939. We are grateful to Robin for a unique contribution to the website.
CPO Robert Gerard Curry
Robin states:
I found this photograph amongst my Dad's memorabilia and then googled HMS Dauntless and came up with your site.
My dad was an engineer on the ship and is seated just behind the right shoulder of the officer in the dark jacket.
He was called Robert Gerard Curry and at that time was a CPO I think. He rose to the rank of Lt. Cdr. and died in 1980.
On the rear of the card he wrote "taken on board HMS Dauntless Xmas morning, 1939 at ..............., The Engineers.
(The place was scrubbed out, I assume by the censor)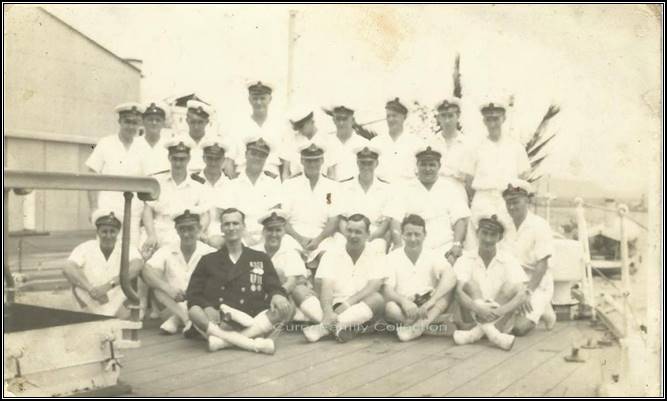 H.M.S. Dauntless Christmas Morning 1939 – The Engineers
1940

January

8th

Deployed in Malacca Straits.

21st

Called at Penang.

February

Trade protection role in continuation

March

23rd

Transferred to British Malayan Force for surveillance of German shipping. Deployed off Batavia to intercept German merchant ships, including Nordmark, Rendsberg and Vogtland.

April

26th

Passage to Hong Kong for refit

May

Under refit

June

4th

Passage to Singapore to resume surveillance and trade defence duties.

July to

October

Continuation of trade defence role in Malacca Straits

November

Passage to Hong Kong for routine docking.

December

4th

Docking at Hong Kong.
1941
January to April

Deployed for trade defence and interception patrol based at Singapore.

May

Under refit in Singapore.

June

9th

On completion resumed trade defence duties

15th

Slightly damaged in collision with HM Cruiser Emerald off Singapore.

(Note: HMS Emerald sustained major damage with several casualties.)

Taken in hand for repair at Singapore.

July to

October

On completion resumed patrol and interception duties on completion.

November

Withdrawn from China Station for refit in UK.

December

Passage to Portsmouth

(Note: This ship was therefore not involved in the operations against Japan
1942

January

On arrival taken in hand for refit by HM Dockyard.

(Note: Work included Installation of Radar Type 286 and Radar Type 271)

AA armament improved by replacement of the after 4in gun by quadruple pom-pom and addition of 20mm Oerlikon guns.

February

14th

On completion carried out post refit trials.

Prepared for foreign service with 5th Cruiser Squadron in East Indies.

March

Took passage to join 5th Cruiser Squadron in Indian Ocean.

April

On arrival deployed for convoy defence and interception duties.

27th

Joined military convoy WS17 as Ocean Escort for the passage from Cape Town to Durban with HM Battleship Revenge.
H.M.S. Dauntless
(Ships Movements)
3 April 1942 - 28 May 1943
Chronology of Operations The capture of Madagascar - Indian Ocean
HMS Dauntless (actual Naval Intelligence document) - April 1942
H.M.S. Dauntless – Special Service Squadron
British Seize Madagascar – Educational Collector's card
| | | |
| --- | --- | --- |
| May | 7th | Detached from WS17 on arrival at Durban and trade defence in continuation. |
Members of the Crew - H.M.S. Dauntless 1942-43 in South Africa.
After operations in the Indian Ocean.
Shipmates with Dad (right)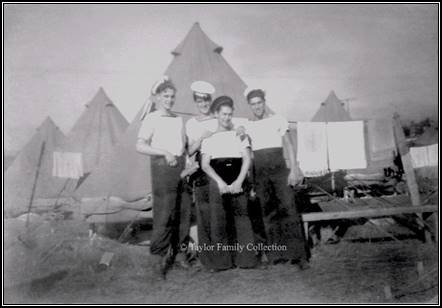 Shipmates with Dad on the right
Dad (left), shipmates and mascot
A good shipmate of Dad's
June

5th

Deployed with HM Destroyer Anthony for trade defence.

On passage to Diego Suarez.

13th

Deployed for patrol duties with HMS Danae between Diego Suarez and Farquar Island to intercept Japanese submarines and supply ships.

July

Patrol duties in continuation.

22nd

Diverted to take part in capture of Mayotte (Operation THROAT).

August

Indian Ocean deployment in continuation.

Nominated for support of planned landings in Madagascar (Operation STREAM)

(Note: Practice landing Exercise TOUCHSTONE was carried out as a preliminary.)

September

Allocated to Force M with HM Cruisers Birmingham, Gambia, Caradoc, Manxman,

HM Aircraft Carrier Illustrious, HM Monitor Erebus and HM Seaplane Carrier Albatross.

10th

Took part in landing operations at Majunga.

(Note: No bombardments were required as there was no opposition)
Morning. Off for a ride at the "Springbok Club"
Pietermaritzburg Kwazulu-Natal, South Africa
September 12th 1942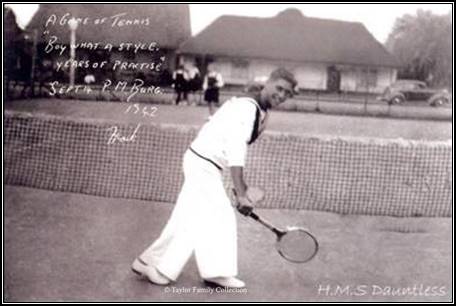 A game of tennis. Boy What a style, years of practice.
Pietermaritzburg Kwazulu-Natal, South Africa
September 14th 1942
October

Indian Ocean trade defence in continuation

November

9th

Joined military convoy WS23 on departure from Durban as Ocean Escort with HM Armed Merchant Cruiser Carthage.

11th

Detached from WS23 on relief by HM Cruiser Hawkins.

December

Indian Ocean Trade defence and interception duties in continuation

Passage to Simonstown for refit.
H.M.S. Dauntless
Frank Taylor Ordinary Seaman (top right)
With shipmates, Shore Leave 1942.
Following operations in Madagascar
Mayotte Island, Indian Ocean
1943

January to

February

Under refit by HM Dockyard, Simonstown.

March

Withdrawn from operational duty.

April

Passage to UK.

May

On arrival deployed at Chatham pending decision for future use. Selected for training duties.

June

to July

Under refit at Chatham by HM Dockyard

Further dockyard work to suit new role to be carried out by HM Dockyard at Rosyth.

(Note: Future deployment as a training ship for Direct Entry Y-Scheme personnel required provision of suitable compartments for instruction and on items of equipment. Ships displacement was reduced by removal of equipment not required for training role. Y-Scheme personnel comprised ratings selected for promotion to commissioned rank in the RNVR.)

August

Passage to Rosyth.

September

Under conversion by HM Dockyard.

(Note: Changes included removal of Pom-pom mounting and installation of additional 20mm close range weapons.

Radar Type 273 was installed for training in use of this Surface Warning equipment.)

October

Joined Training Squadron based at Rosyth on completion of conversion.

November

to December

Deployed at Rosyth for harbour and sea training in Forth area.
1944

January to

October

Training duties in continuation

November

Taken in hand for routine inspection and essential repairs by HM Dockyard, Rosyth

December

Resumed duties in Training Squadron on completion.
1945

January

Deployed for Squadron training duties

February to March

Taken in hand for refit by HM Dockyard, Rosyth.

(Note: This may have been for repair work since ship had not been long out of dock.)

April

Resumed training duties,

May to

August

Squadron training duties in continuation.
Selborne Graving Dock
Simonstown, South Africa
Note Ship's Badges emblazoned on the dock walls.
Source: https://en.wikipedia.org/wiki/Selborne_Graving_Dock#/media/File:SA_Naval_Museum,_West_Dockyard_1.JPG
The Training Group
H.M.S. Dauntless continued service in the Training Squadron at Rosyth (See first-hand account below) until February 1946 when she was placed in on the Disposal List. Sold on 13th March that year to BISCO for demolition by TW Ward the ship was towed to Inverkeithing, near Rosyth during April. This name continued the association with naval training when used for the WRNS Training Establishment at Burghfield, near Reading and when commissioned as an RN establishment in 1953. It had been nameless since opening in 1947 and was used until the training was transferred to H.M.S. Raleigh at Torpoint in 1981.
First-hand account by Mr. Bruce Johns
H.M.S. Dauntless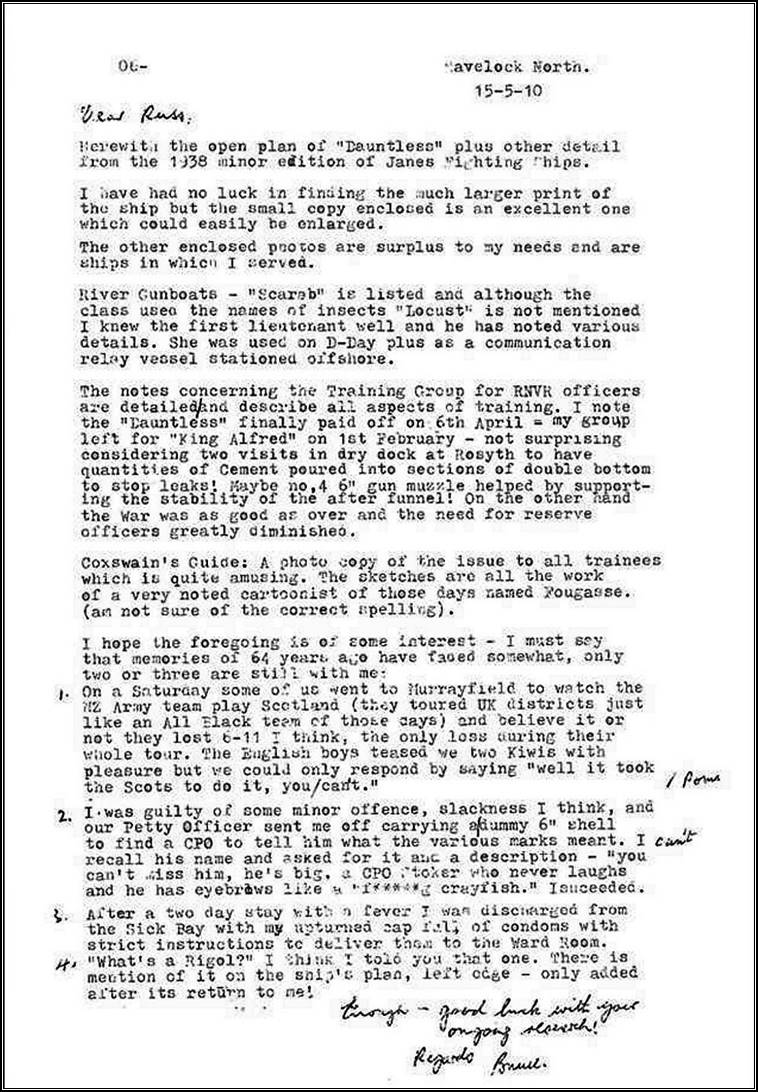 H.M.S. Dauntless – Open-plan Design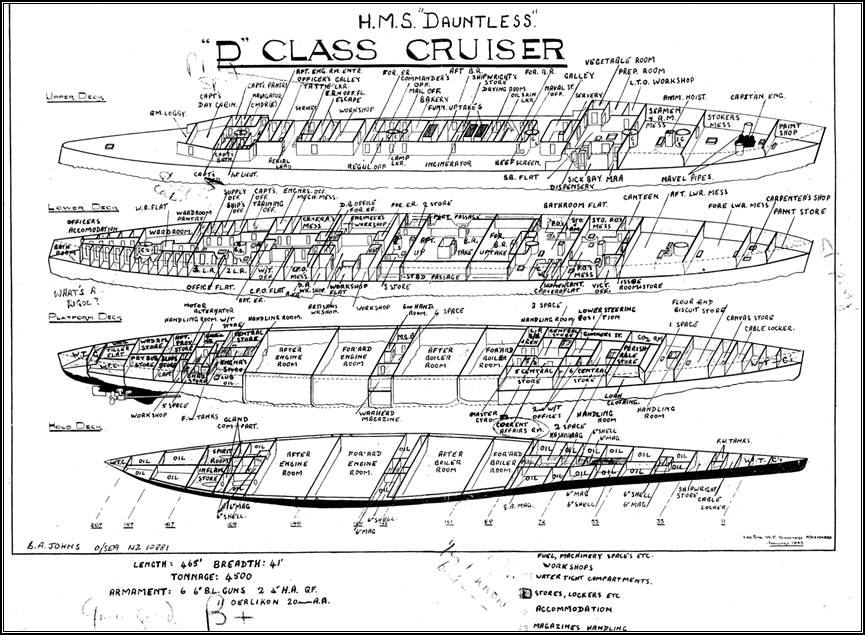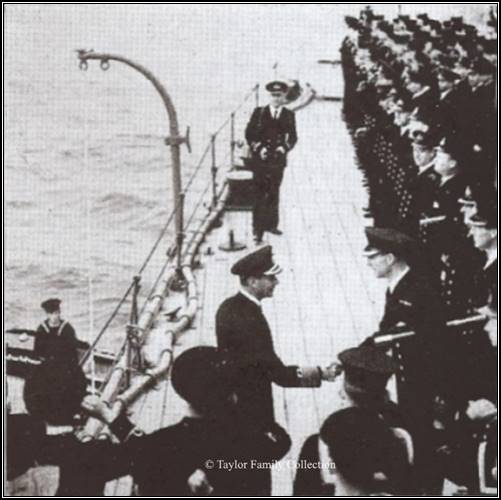 The King on board H.M.S. Dauntless
Author's Note:
In December 2017 we received the following letter from the James Kinloch, the son of the officer greeting the King;
I just want to thank you for this wonderful piece!
My Father was Commander D.C. KINLOCH who is the officer greeting the king and walking behind him.


The King on board H.M.S. Dauntless
Courtesy of Mr Bruce Johns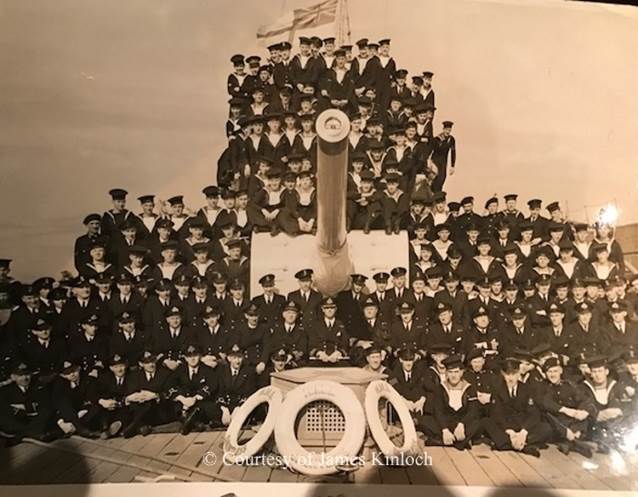 A photo of the crew of H.M.S. Dauntless
Undated but probably between 1 October 1943 and 1945 when D.C. Kinloch was the Commanding Officer.
Photo courtesy of James Kinloch.