<![if !vml]>

<![endif]> FRANK S. TAYLOR NAVY AND FAMILY HISTORY.NET <![if !vml]>

<![endif]>
H.M.S. LADYBIRD
JOHN JAMES JOHNSON
(Johnno)
Gunnery Officer
Royal Navy
and
Royal Australian Navy
Boy 2nd Class – Lieutenant Commander Retired
Member of the British Empire
22 April 1912 - 24 April 1992
<![if !vml]>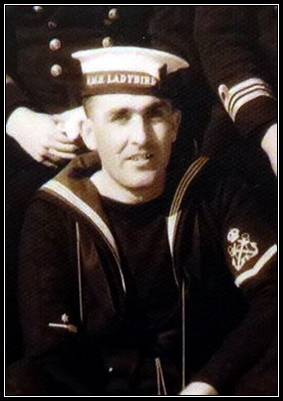 <![endif]>
<![if !vml]>
<![endif]>
HMS Ladybird 1937
China Station
(click to enlarge)
<![if !vml]>
<![endif]>
Ship's Complement Shanghai
December 1937
In this unique photo signed by the whole crew Johnno's signature appears in top left corner
(click to enlarge)
The inscription on the photo (below) suggests the photo was presented to him personally
<![if !vml]>
<![endif]>
<![if !vml]>
<![endif]>
J. J. Johnson front row, 3rd from left, next to mascot. (He appears 4th from the left in full photo above)
Johnno's Story
Written on his retirement 1974
After serving 47 years in the Royal Navy and Royal Australian Navy, Lieutenant-Commander John James Johnson (Johnno) MBE, retires on the 21st April 1974, one day prior to his 62nd birthday. Born in Portsmouth, England, his father was a Chief Petty Officer (Motor Torpedo Patrol) who steamed to Australia on HMS Powerful.
<![if !vml]>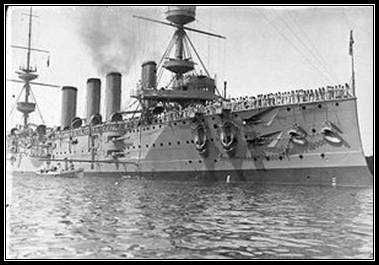 <![endif]>
HMS Powerful in Sydney Harbour
Author's Note:
In August 1905 HMS Powerful was commissioned as Flagship on the Australia Station (This was the formation of the Australian Navy) and stationed at Fremantle
in Western Australia. After WW I she was renamed Impregnable (1919) and remained a training ship until scrapped in 1929.
Johnno's first experience with the sea was when he joined a training ship at Greenwich, London at the age of 10 ¾ years in 1923 and he entered the Royal Navy in 1927 at the age of 15 years. His first ship in 1928 was the coal-burning battleship HMS Marlborough attached to the Atlantic Fleet where his action station was a 13.5 - inch gun turret. This started him on his gunnery career. He then joined the battle-cruiser HMS Renown.
For this first 2 ½ year commission in the Mediterranean Fleet he served in the battleship HMS Royal Sovereign and the cruiser HMS Curacoa which was sunk with all hands in World War II when the liner Queen Mary rammed her while on a high speed convoy in the Atlantic.
He completed his first gunnery course at the Royal Navy school HMS Excellent in Portsmouth in 1932 and joined the battleship HMS Warspite and later the destroyers HMS Wallace, Exmouth and Winchester serving in the Home Fleet and West Indies.
He completed another gunnery course in 1935 and then joined the cruiser HMS Dauntless for the China Station and later went to the gun-boat HMS Ladybird for a most interesting commission for 2 years up the Yangtze River, getting involved in the Sino-Japanese war. During this HMS Ladybird was hit several times and there were many casualties. They were blocked at Nanking (on the Yangtze River) where they witnessed the massed bombing of that city with high explosives and napalm bombs for a month. Two and a half million people perished and the half million survivors spent months clearing the dead that were taken to huge pits, the size of swimming pools along the river bank, 50 yards from HMS Ladybird to be cremated. Ladybird was unable to move up or down the river, they had very little food or water and the stench of the ordeal which Ladybird was "invited" to watch by the Japanese was revolting says LCDR Johnson. But they eventually got down to Shanghai after which they returned to UK for the 1938 crisis and World War II. (HMS Ladybird was later sunk at the siege of Tobruk.)
On return from China he did a course at HMS Excellent for gunnery instructor, specialising in 15-inch turrets and then he joined the destroyer HMS Amazon. He was later posted to the cruiser HMS Cairo and then to the battleship HMS Revenge where he was placed in charge of a 15-inch turret. (At that time, his second gunnery officer was Lieutenant Peek who was recently the Reviewing Officer for the 41st Passing Out Parade (HMAS Leeuwin) but now he is retired Vice Admiral, Sir Richard Peek.)
The Revenge convoyed in the North Atlantics via Iceland, escorting troops from Canada, then to the South Atlantic, round Cape Town to the Middle East, then the North African campaign and later to the Far East.
Lieutenant-Commander Johnson returned to HMS Excellent in 1942 for course and promotion to Gunnery Officer after which he went to the sloop HMS Enchantress (800) tons for the remainder of World War II on anti-submarine patrols in the Mediterranean.
After World War II, he served at HMS ST Angelo in Malta as Divisional Officer to 800 local entry recruits, helping more than 200 of them to migrate to Australia where they have settled in Victoria very well!
Later he joined his first and only aircraft-carrier HMS Indomitable in the Mediterranean Fleet which was paid off suddenly after an Av/Gas explosion which did extensive damage, killing 11, seriously injuring 67 and maiming many for life.
The gunnery officer continued in the Mediterranean, serving on the cruiser HMS Glasgow flying the colours of Admiral Mountbatten, Commander-in-Chief of the Mediterranean Fleet for the Admiral's last commission at sea, prior to being made the First Sea Lord and Supreme Commander.
Lieutenant-Commander Johnson spent 35 years in and out of the gunnery school HMS Excellent mainly instructing, serving twice in the experimental section on the gun and missile trials, finishing up as the First Lieutenant, in which time he met many Australians and was proud to join them in 1966. (He transferred to HMAS Leeuwin in West Australia with his family.)
He recalls that one of the most frightening experiences he had was when he was serving as an ordinary seaman in a 15-inch Gun house crew. As the smallest member of the crew his job during gun quarters was cleaning out the barrel and chamber. On Saturdays cleaning stations would last an hour. His job entailed climbing into the gun chamber where he would wire scrub and oil it by hand.
The chamber of the 15-inch gun is 30 inches in diameter, where the breech is screwed into the gun to take the explosion of four charges of cordite, to drive a 15-inch shell accurately for 22 miles. The breechblock could be closed by power or by hand. As a joke the men locked "Ord" Johnson in the chamber and he lay there for half-an-hour with terrifying thoughts going through his mind but refusing to panic. He stated later that the half hour seemed more like a weekend to him!
Involved in Lieutenant-Commander Johnson's war experiences were evacuating refugees from the 1936 Spanish Civil War and then to China for the Sino-Japanese War. He also took part in several well-known convoys in the North Atlantic. His worst experience was involved in closing in on torpedoed tankers, hoping the odd lifeboat would float out from the smoke, flames and the sickening screams of trapped men. Other highlights were the "Dieppe raid, bombardment of Cherbourg and the Bismarck chase. Also after World War II there was the policing of Palestine for Jewish landings and the Suez Canal Crisis. He claims it has been rather peaceful since 1956!
Lieutenant-Commander Johnson is married with 5 children, one who served in the Royal Navy and another in the Royal Australian Navy. He was awarded the MBE in the New Years Honours in 1972 for services in HMAS Leeuwin and after 47 years of a full, exciting and most enjoyable career, he states that HMAS Leeuwin was one of the most rewarding jobs that he has ever done.
HM Ships served on:
HM Shore Stations
Greenwich, Royal Hospital School 1923
St Vincent
Victory
St Angelo
President
Excellent
Leeuwin
NCR, RAN 1977
HM Ships:
Marlborough
Renown
Royal Sovereign
Curacoa
Warspite
Wallace
Exmouth
Winchester
Dauntless
Resource
Ladybird
Amazon
Cairo
Revenge
Enchantress
Indomitable
Glasgow
On 12 December 1937 HMS Ladybird (and HMS Bee) went to the rescue of survivors from the Panay Incident
after the USS Panay was bombed by the Japanese They came under fire from a Japanese artillery unit near Wuhu.
HMS Ladybird was hit by six shells and HMS Bee dodged a shell as she came upon the scene.
The newspaper clippings and photos are by courtesy of the Johnson Family.
<![if !vml]>
<![endif]>
Text reads:
The entire ship's company of HMS Ladybird were all smiles when they posed for this photograph in Shanghai
after their exciting experiences just previously on the Yangtze when they were shelled by the Japanese and
participated in the rescue of the survivors of the USS Panay.
(click to enlarge)
<![if !vml]>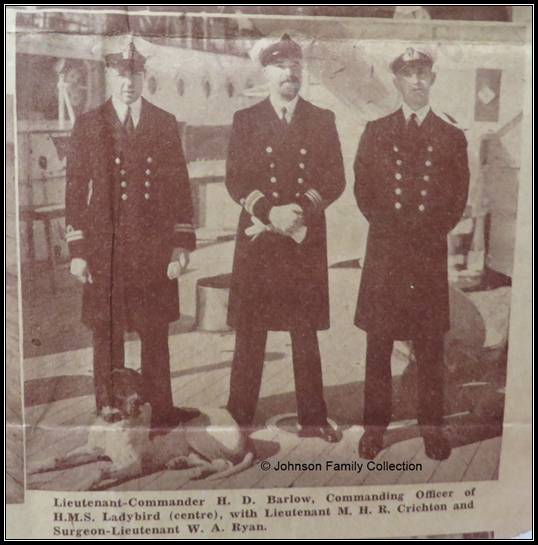 <![endif]>
Lieutenant-Commander H.D. Barlow, Commanding Officer of HMS Ladybird
(centre), with Lieutenant M. H. R. Crichton and Surgeon-Lieutenant W. A. Ryan
<![if !vml]>
<![endif]>
The Commanding Officer and officers of the French sloop Tahure now anchored on the Whangpoo.
Johnson made a schematic drawing related to the incident as follows:
<![if !vml]>
<![endif]>
(click to enlarge)
<![if !vml]>
<![endif]>
Text reads:
Wuhu 5th December 1937
No wind. Sunny Sunday morning. No warning of Jap planes. 6 bombers approached at 10.55 am. Represented by RED lines and their bombs by RED spots.
At 11.02 am. The 2nd raid represented by BLUE lines and the bombs by blue spots. S.S. "Tuckwo" hit twice. Reduced to a hulk.
S.S. "Tatung" hit in 2nd raid and began to sink. "Ladybird" towed her and beached her on opposite bank.
All ships barring (except) the Chinese Trooper by the Custom's House were BRITISH.
We had just finished our Church Service.
Just in time!!
<![if !vml]>
<![endif]>
(click to enlarge)
<![if !vml]>
<![endif]>
(click to enlarge)
Among Johnno's papers was a list of Ladybirds armament and particulars of the vessel. She was a formidable little ship!
<![if !vml]>
<![endif]>
"Ladybird"
620 tons
40 crew
Speed 17 knots
Draught (Deepest) 5 ft 3 inches
2 - 6" Guns
1 - 3" Gun
1 - 2 pounder Pom-Pom Gun
16 - Lewis Guns
52 - Rifles
12 – Pistols
Always full of Ammunition!
---------------------------
Has 2 funnels abreast
Colours – All white, inside and out.
Funnels – Yellow, Black Tops.
Waterline Black
Johnno also notes that Ladybird was white, inside and out and that her funnels were yellow with black tops.
Below is a coloured photo of her sister ship HMS Cricket. The colour scheme was identical.
<![if !vml]>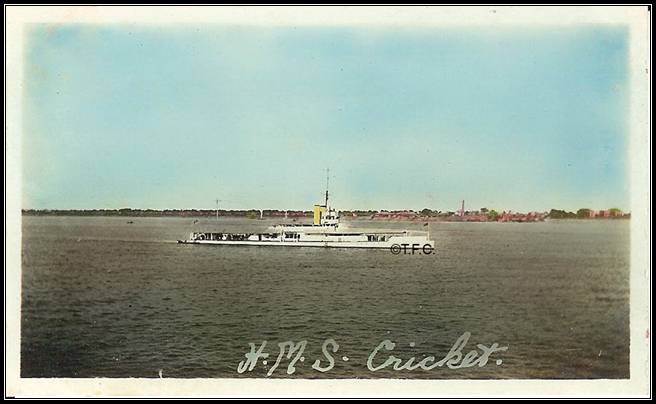 <![endif]>
Also among his papers were the following drawings of the ship's layout; lower and upper decks.
He has noted where he was working and living.
<![if !vml]>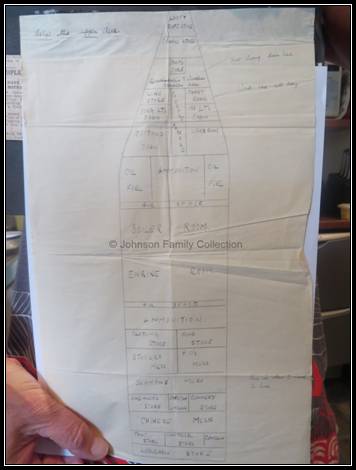 <![endif]>
Lower Deck
(click to enlarge)
<![if !vml]>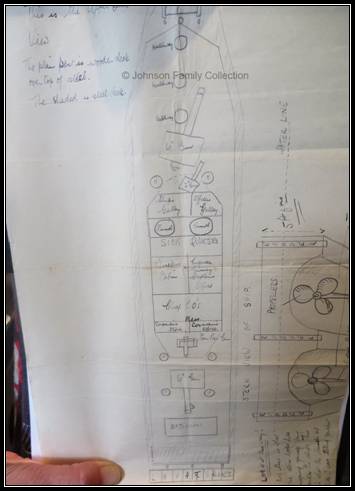 <![endif]>
Upper Deck
(click to enlarge)
<![if !vml]>
<![endif]>
Text reads:
Look at it this way!!
-----------------
Now this is what the stern looks like
keeping yourself busy under the ship.
This is what the tunnels are like I was telling you about
<![if !vml]>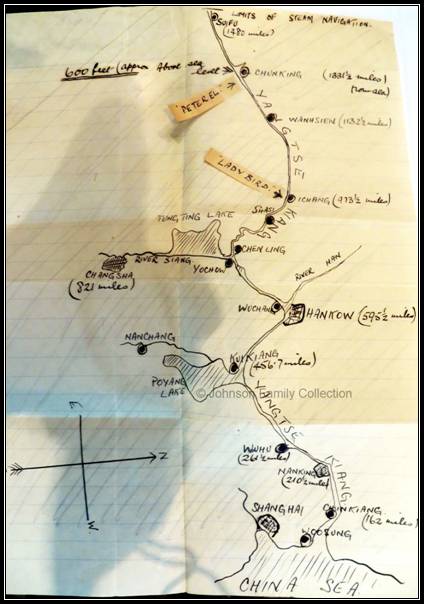 <![endif]>
A Hand-drawn map of Yangtze River from the China Sea to the limit of steam navigation
(click to enlarge)
<![if !vml]>
<![endif]>
Telegram from Jack (Johnno) to his wife Olive December 1937
<![if !vml]>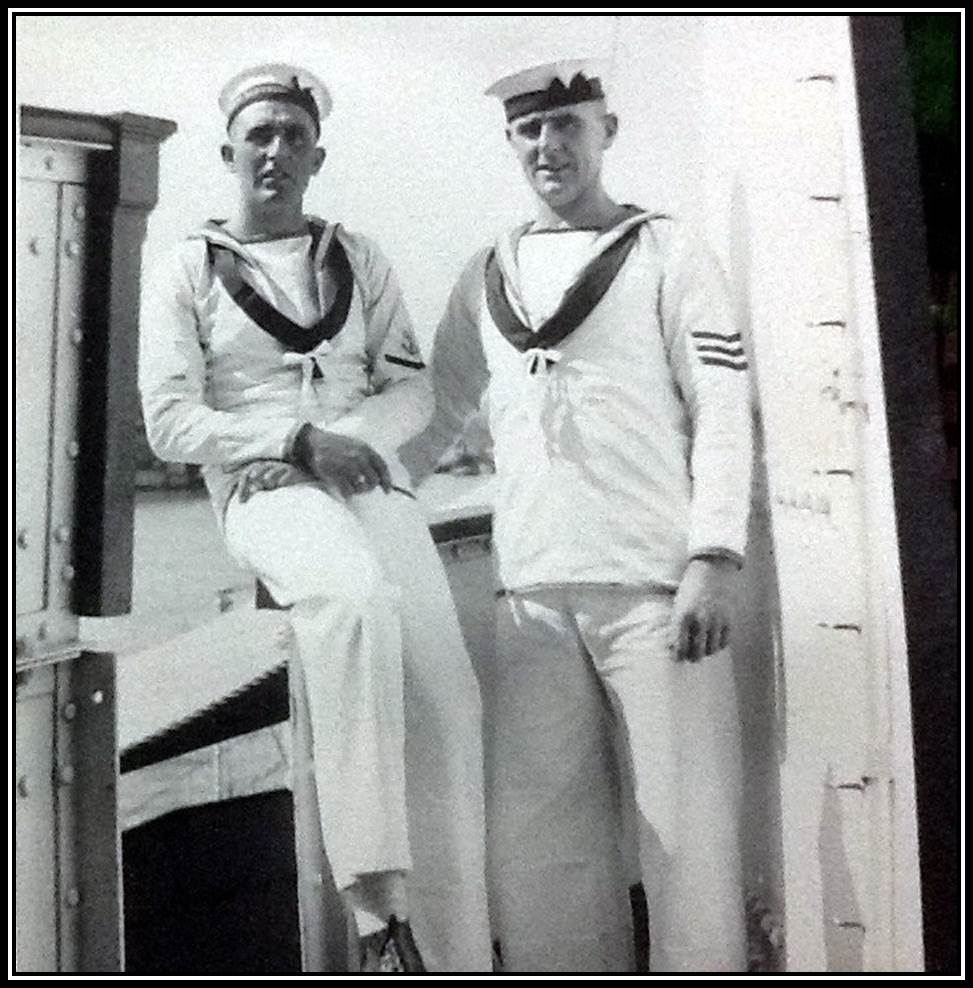 <![endif]>
John James Johnson (left) and shipmate
<![if !vml]>
<![endif]>
Aboard HMS Revenge. Johnno Johnson 5th from right – front row
(click to enlarge)
<![if !vml]>

<![endif]>
<![if !vml]>
<![endif]>
HMS Glasgow Ship's Complement with HRH Queen Elizabeth II and Prince Phillip.
Also Lord Mountbatten whom Lieutenant Commander Johnson knew well.
(click to enlarge)
<![if !vml]>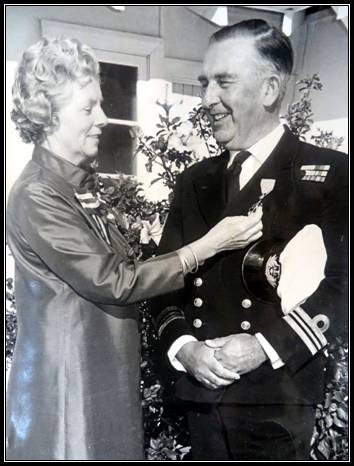 <![endif]>
John James Johnson (with his wife Olive) proudly wearing his MBE awarded at Government House Western Australia on June 22nd 1972.