<![if !vml]>
<![endif]>  FRANK  S. TAYLOR  FAMILY AND ROYAL NAVY HISTORY.NET  <![if !vml]>
<![endif]>
H.M.S. SCARAB
Royal Navy Insect Class River Gunboat
THE EARLY YEARS
1915 – 1938
'A Lucky Little Ship'
<![if !vml]>
<![endif]>
H.M.S. Scarab 1915
Sea Trials
Rare Photographic Imperial War Museum Postcard
Note: Ship named on the bow
<![if !vml]>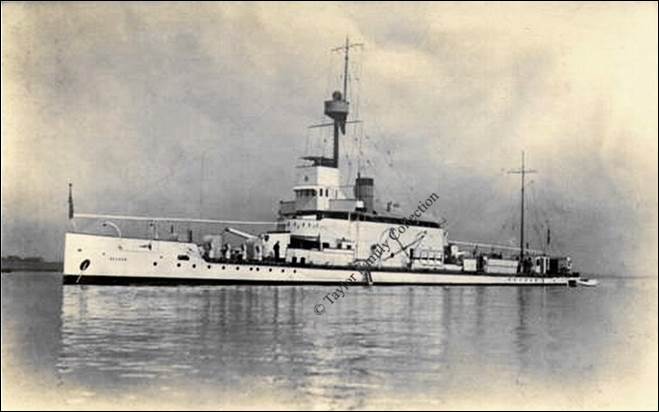 <![endif]>
H.M.S. Scarab
 Suez May 1916
Author's Note
In June 2017, we received a communication from Mr Richard FitzGerald the text of which is below.
We are most grateful to Richard as the photo was taken less than a year after Scarab was launched .
Richard writes:
I was going through my grandfather's WWI photos and came across a very scratchy negative titled "Scarab – Suez May 16", (I think…. Very hard to read). I had it developed and scanned it.
My grandfather was Captain Bryan Reginald FitzGerald of the 13th Light Horse Regiment, AIF. Looking at his war service history, this photo must have been taken between his withdrawal from Gallipoli and re-assignment to the Western Front. He was stationed at Tell El Kebir (Egypt) from late March 16 to early June 16 when I am sure this photo was taken. As far as I can tell he had no relationship to the ship and it was probably an opportunistic tourist snap!
Hopefully this allows you to add to your already extensive and impressive Scarab history.
Kind Regards,
Richard FitzGerald
<![if !vml]>
<![endif]>
H.M.S. Scarab
 China Station c1920
Fantastic original postcard
H.M.S. Scarab Insect-Class River Gunboat ordered from Wood Skinner of Newcastle on 29th February 1915 and launched on 7th October 1915 as the 1st Royal Navy ship to carry this name. Build was completed on 14th November 1915. During 1917 she was deployed in support of military operations on the Danube, based at Bucharest. She remained there until 1918 when she took passage to join the China Squadron for service in the Yangtze Flotilla to provide aid for British flagged shipping and British nationals in an unstable environment. Scarab was powered by Yarrow boilers providing 2000 horsepower and an official top speed of 14 knots but capable of 18. She carried a complement of between 35 and 50 and a very respectable armament. (Refer below)
Battle Honours
(Mesopotamia) 1917
<![if !supportLineBreakNewLine]>
<![endif]>
Heraldic Data
Badge
On a Field Black, a scarab blue and gold
Motto
VIVO UT VINCO
  'I live that I may conquer'
<![if !vml]>
<![endif]>
Early in the First World War, when Turkey became Britain's enemy, there was a requirement for well-armed, shallow draught warships to give support to the army in Mesopotamia, the main supply line being the rivers Tigris and Euphrates. The Admiralty gave Messrs Yarrow of Scotstoun, who knew more about shallow draught steamers than most, their requirements, and this firm designed the Insect class and supervised their building by a number of firms, as they themselves were busy turning out destroyers as fast as they were able.
At the end of the war in 1918 these river gunboats were transferred to the river Dvina in North Russia, the Danube, and other places, and gave very useful support in places inaccessible to ships of normal draught. When these tasks were completed all the river gunboats were sent to China, the majority working on the river Yangtze up to Hankow, other smaller boats being used as far as Chungking. These Yangtze gunboats normally refitted and rested at Shanghai, but were familiar sights at Nanking and other ports on the river. A few were based on Canton (Shameen) for use on the west river refitting at Hong Kong which was in easy reach and calm waters.
These Insect – Class ships were specially designed so that they could be shipped out in pieces and erected easily by firms abroad. The mid-ships section was simply a rectangular box. To avoid propeller damage in very shallow water, the screws were in an interior tunnel of Yarrow design.
The armament of one six - inch gun at either end was a powerful one for such a small ship. Super-firing over these were single twelve pounder guns, but these were later changed in some boats to modern guns such as three - inch and two pounder pom-pom guns. In addition, there were three mountings either side for Maxim machine guns.
There were two Yarrow boilers, mounted side by side, each with its own uptake to the two side by side funnels. Coal bunkers were located outboard of the boilers either side.  Each screw was driven by a set of vertical triple expansion reciprocating engines. Both coal and oil could be burnt in all except Moth, which was all oil. The engines and boilers came much higher than the upper deck, but of course they were hidden in the superstructure. All accommodation was below the waterline. As the China gunboats spent much time in very hot weather, the whole boat was covered with canvas awnings to within a foot of the waterline. Even so it was often desirable for the crews to sleep on the upper deck camp beds.
The Insect class were in China for about twenty years between the wars and their replacement by more modern turbine driven boats had started just before the Second World War. A few were seized by the Japanese and a few scrapped, but a number gave wonderful service in the Mediterranean and other waters in weather conditions much worse than the designers had expected, and even when one was bombed and another was torpedoed they were still used as anti-aircraft platforms, an excellent feature of their design being the large number of water-tight compartments. The last of the Insects was scrapped in 1948 after a long and useful life.
The flagship of the Yangtze Flotilla (R.A.Y.) was H.M.S. Bee which was built up with a lot of top hamper to take the Admiral and his small staff with the necessary administrative offices. Bee looked not unlike a small Mississippi steamer of the Mark Twain era without the paddle-wheel.
<![if !vml]>
<![endif]>
H.M.S. Bee - 1920's
The low ratio of length to beam and the rectangular mid-ship section suggest a good working model. Decks were all steel covered with brown corticene. In China, all gunboats were painted white with primrose yellow funnels and brown mast. Some had two masts. In wartime, these boats were camouflaged or painted in various shades of grey. A kedge anchor was carried on deck aft for helping boats to free themselves of the mud if necessary.
<![if !vml]>
<![endif]>
H.M.S. Scarab steaming up the Yangtze River
Nanking China December 12 1937
She returned fire at the Jap planes.
Bombing her from above
Original press photo
(Courtesy of Rupert K Clarke)
Displacement:

625 tons

Length:

230 feet (BP) 237 ½ feet overall.

Original Armament:

2 six - inch guns, 2 twelve pounder guns and machine guns.

The twelve pounders were replaced by 3 - inch anti-aircraft guns and pom-poms after World War 1

Complement:

About 60 Officers and Men

Engines:

Twin screw reciprocating engines 2000 horsepower for 14 knots max.

Two Yarrow boilers
<![if !vml]>
<![endif]>
<![if !vml]>
<![endif]>
Shanghai Harbour 1934
Photos courtesy Alan Gilby
<![if !vml]>
<![endif]>
Original embroidered badge
Yangtze River Gunboatman's Association
<![if !vml]>
<![endif]>  <![if !vml]>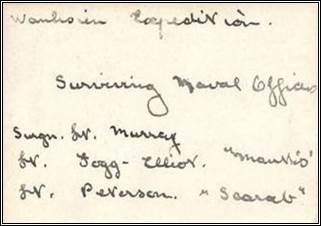 <![endif]>
H.M.S. Scarab Christmas Card 1928
with original photo and Scarab crest
With Heartiest Greetings for Christmas
and Sincere Good Wishes
For your Heath & Happiness
In the new year
"From Herbert on the Yangtze Patrol
to Thirza with kisses"
<![if !vml]>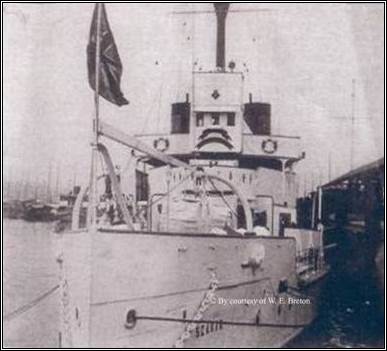 <![endif]>
H.M.S. Scarab original postcard
Concert Party c1920
<![if !vml]>
<![endif]>
H.M.S. Scarab
China Station – 1937
Scarab, Cockchafer and Mantis were involved in what became known as the Wanhsien Incident in August and September 1926
<![if !vml]>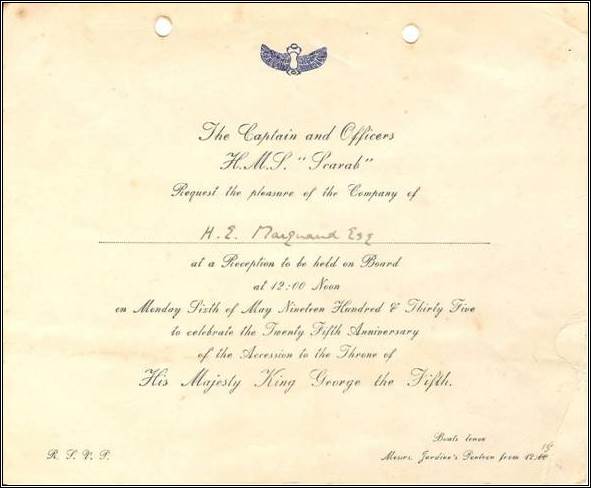 <![endif]>   <![if !vml]>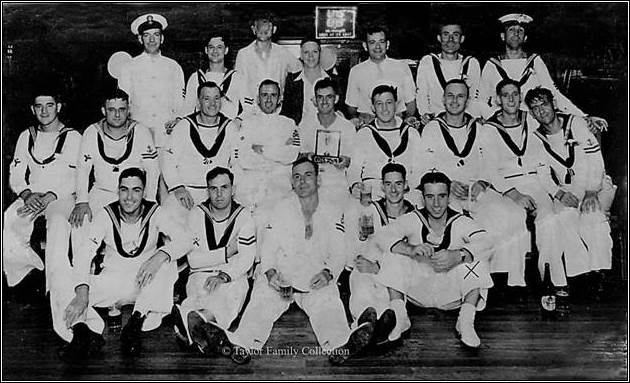 <![endif]>
Wanhsien Expedition
 Naval Officers before the scrap
From H.M.S. Scarab, Cockchafer, Mantis and SS Kiawo
<![if !vml]>
<![endif]>    <![if !vml]>
<![endif]>
Wanhsien Expedition
Surviving Naval Officers 
Surgeon-Lieutenant Murray – H.M.S. Mantis
Lieutenant Fogg-Elliot – H.M.S. Mantis
Lieutenant Peterson – H.M.S. Scarab
(For more details please see Wanhsien Incident)
<![if !vml]>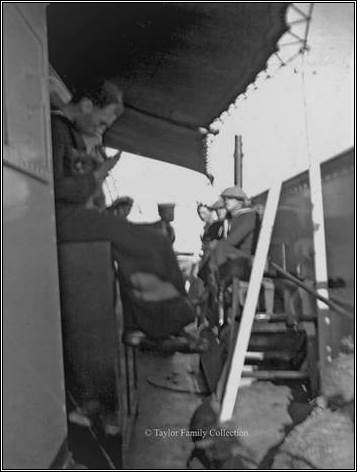 <![endif]>
H.M.S. Scarab
Yangtze 1937 – 1939 Photo courtesy of David Richardson,
son of crew member Petty Officer Ernest Richardson,
H.M.S. Ladybird 1937-1941
CHINA POSTING
Mr W. E. Breton from St Martins, Guernsey writes:
I was serving on H.M.S. Caradoc at Hangkow on the Yangtze River in the early 1930s. The 'Yangtze Cruiser' as it was known
together with 13 gunboats looked after British interests on the river from Shanghai to Chungking.
Most docking and refitting was carried out at Shanghai and it was probably while Scarab was in dockyard hands
that this letter was posted. I took this picture of her alongside there before I came home in 1934.
<![if !vml]>
<![endif]>
H.M.S. Scarab   Shanghai China 1934
During refit
<![if !vml]>
<![endif]>
Entire China Fleet at anchor, Liu-Kung-Tao Island 1934
The whole flotilla, including six submarines.
There will be H.M.S. Ajax, Achilles, Exeter, possibly Leander, Wishart, Keppel, Bruce, Electra, Cumberland, Escort,
and I'm unsure about King George V, it may be there.
<![if !vml]>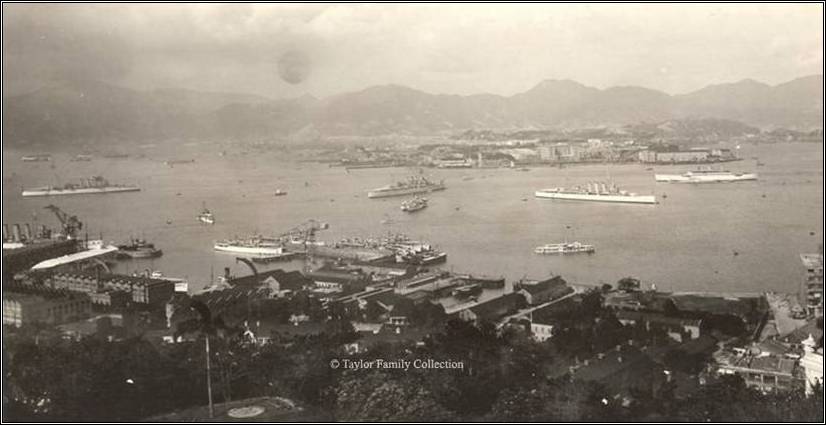 <![endif]>
Shanghai Harbour, Yangtze River, China 1934
Royal Navy ships of the China Station.
Insect Class River Gunboat lower right.
<![if !vml]>
<![endif]>
H.M.S Scarab Bell
 1915
VIA SIBERIA - THE MAIL MUST GET THROUGH!
Mr G. G. Wright from Mt. Maunganui, New Zealand writes:
Prior to 1936 all mail for the China Fleet was sent via Siberia taking up to three weeks if a ship was in
Northern waters and much longer if ships were further South. By sea mail it was never less than six weeks.
When Imperial Airways introduced the Short Empire Flying Boats they took over the mail run as far as Singapore
and from then on mail arrived in days instead of weeks, again depending where a ship happened to be.
It was a great improvement and appreciated by all.
(China Posting and Via Siberia courtesy of Len Mell)
<![if !vml]>
<![endif]>
H.M.S. Scarab Invitation
An old invitation to dine on H.M.S. Scarab to celebrate the 25th anniversary of
King George V accession to the throne.
Yangtze River
China
6 May 1935
H.M.S. Scarab - Ship's Photos taken 1937-1939
Before restoration work
<![if !vml]>
<![endif]>
After
<![if !vml]>
<![endif]>
H.M.S. Scarab ship's complement
Taken in 1938 after free booze up at U.B. Breweries.
X marks me. Bloke in middle holding pint glass – The Buffer
Note: The identity of "X marks me" is unknown
<![if !vml]>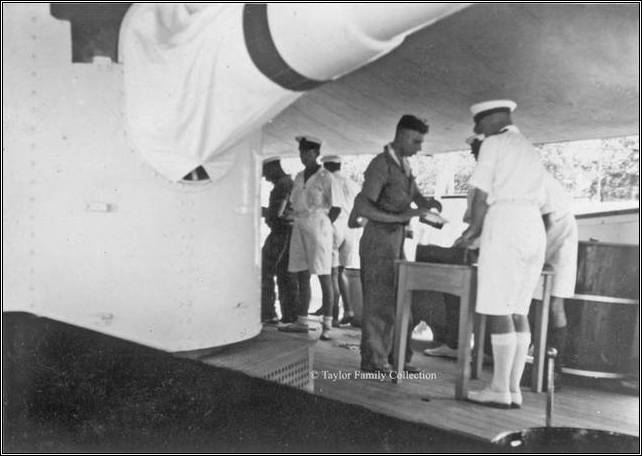 <![endif]>
Pay day under forward 6 - inch gun.
The chap standing with arms behind his back, C.P.O. Bozier,
served in World War I
<![if !vml]>
<![endif]>
"Chinese" No 2 Boat Boy washing the Jack
<![if !vml]>
<![endif]>
Scrub decks - Tin Hats
As my brother, ex RAF type said,
"What a scruffy lot"
X marks me
<![if !vml]>
<![endif]>
H.M.S. Scarab Soccer Team
The Odds and Sods
The tall chap in the middle "Jack Dusty" became a Lieutenant M.B.E.
(Notice the Scarab crests on their shirt pockets)
<![if !vml]>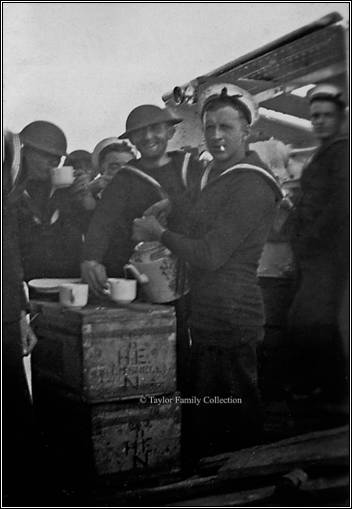 <![endif]>
Closed up at 3 - inch H.A. Gun
Sunday 12th December 1937
<![if !vml]>
<![endif]>
Closed up – day we got bombed
Notice Lewis Gun and the crewman (left)
holding the Scarab mascot Sparky
<![if !vml]>
<![endif]>
H.M.S. Scarab 
Floodlit for King George VI Coronation
Author's Note:
Suggestions for further reading.
We acknowledge the invaluable assistance and encouragement received from Mr Gordon Smith and Mr. Don Kiddle of Naval-History.net
For an account of the Mesopotamian Campaign see:
http://www.naval-history.net/WW1Battle1408Mesopotamia.htm
Regarding North Russia:
http://www.naval-history.net/WW1z05NorthRussia.htm#6
A word of warning here for those not too knowledgeable about Russia in 1919 - you may find the contents startling.
The logbooks of H.M.S. Scarab in China from May 1918 to December 1920 may be found at:
http://www.naval-history.net/OWShips-WW1-11-HMS_Scarab.htm