H.M.S. SCARAB
JAMES (JIM) McKEAN
24 October 1943 Ė 4 August 1944
Petty Officer (Engine Room)
Royal Navy
<![if !vml]>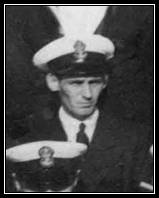 <![endif]>
Petty Officer James (Jim) McKean was born on 17.May 1912 in Blyth, Northumberland. He joined the Royal Navy in 1940, served on HMS Hyacinth (British Flower Class Corvette) which was engaged for defence of convoys and anti-submarine operations between Alexandria and Tobruk. Jim went on to serve on HMS Scarab (Insect Class River Gunboat) as Petty Officer (Engine Room). He served on HMS Scarab from 24 October 1943 to 4 August 1944.
In October 2010 an email was received from the daughter of James McKean, Petty Officer (Engine Room) on Scarab. Ann Simonson who lives in Norway.
†ďI have that group photo. My Father was on the third row, 6th from the left. I have another group photo of the officers. Strange to see this photo on the internet.
My Father was 89 when he died in 2001. He served aboard HMS Hyacinth, I donít have any other names but he was in the navy from 1940 till 1946. His father was also named James and he was killed in the First World War, leaving a widow and 5 children behind. What a hard life the people in those days must have had.Ē
| | |
| --- | --- |
| <![if !vml]><![endif]> | Christmas Card 1943 (picture of Scarab) and Jimís greetings to his wife and baby Ann. Written on the back of the card Annís Mum wrote ďJim arrived home from the Mediterranean September 3rd 1944 and from the Pacific† January 5th 1946. |
Certificate of Service

Collingwood

Victory

Nile (Hyacinth)

Nile (Scarab)

St Angelo (Scarab)

Victory

Shrapnel (Fogmo)

Victory††

Mayina†

Lauha (Pincher)

Mayina

Victory

29.† 4.41 - 19.† 6.41

20.† 6.41 - 12.† 2.42

13.† 2.42 - 23.10.43

24.10.43 - 30. 6.44

† 1.† 7.44 -† 4.† 8.44

† 5.† 8.44 -18.10.44

19.10.44 -30.† 5.45

31.† 5.45 -29.† 6.45

30.† 6.45 -20.† 8.45

21.† 8.45 -25.11.45

26.11.45 -16.12.45

17.12.45 -† 6.† 4.46
Released

War gratuity & post war credit of wages:

29.4.44 - 30.1.46:††

1.1.42 -†† 6.4.46:††

Total:†††

39 pounds 18 shillings

38 pounds 18 shillings & 6pence

78 pounds 16 shillings & 6pence
His daughter Ann Simonsen adds:
Seems like Dad served on several ships. I had always heard that as well. I donít know any details of the other ships. My dad didnít speak much about the war years, he was awarded some medals but refused to collect them, why I do not know.
As I live in Norway I have learned a bit about when they were occupied during the war and the bravery of the people. My daughter-in-lawís grandmother was sent to Germany to a labour camp and was there for years. Her husband and other members of her family were executed in Finnmark, Norway. She wrote a book about it a few years before she died.
I had 2 uncles on my motherís side also in the navy. A Christmas card from one of them from 1945 (HMS Colossus). Also 2 Uncles in the army and 3 in the Air Force. One Uncle was shot down over Germany and is buried there, another uncle was in the army and was shot in Holland and is buried there.
Wars are dreadful but it seems like the human race never learns.
<![if !vml]>
<![endif]>
HMS Scarab 1944
†Crew members (left)including Rags the dog
And crew member (right) with Jenny the monkey.
H.M.S. Hyacinth 4 Mess
Menu Christmas Day 1942
Breakfast:
Sausages - eggs - fried bread
Coffee or tea
Dinner:
Roast pork - apple sauce
Cauliflower -baked & boiled potatoes
Apple pie - custard &c.
Tea:
Mince pies
Peaches - pears - jelly &c.
Supper:
Cheese - pickles - sausage rolls
Coffee
Cigarettes
A MERRY CHRISTMAS TO THE MESS
On the back are 14 signatures
<![if !vml]>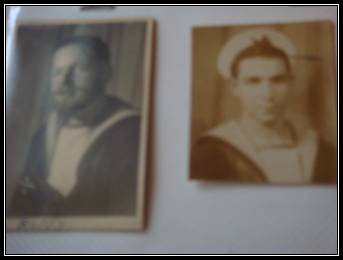 <![endif]>
A photo of 2 shipmates from HMS Hyacinth April 1942
Roffy (left) and Mitch.