<![if !vml]>
<![endif]> FRANK S. TAYLOR FAMILY AND ROYAL NAVY HISTORY.NET <![if !vml]>
<![endif]>
H.M.S. SCARAB
FRED (KIWI) LEMBERG
6 June 1943 – 13 May 1944
Able Seaman
Royal New Zealand Navy
Service No 3486
<![if !vml]>
<![endif]>
This page is dedicated to the Memory of Able Seaman Frederick (Kiwi) John Eastwood Lemberg
Royal New Zealand Navy.
May his name live forever more and be remembered with affection and honour.
4 February 1920 to 4 February 2015
Our Condolences to his daughter Jeni, her partner Gary Cox, grand-daughter Sarah and brother Bill on the passing of Fred.
From: Jeni Lemberg
Dear Russ
I thought you would like to know that Fred passed away peacefully yesterday morning. He made his 95th birthday as he wished,
but his "bucket was full" in his own words. He remained the gentle, kind man with the twinkly smile right to the end.
His Achilles ship pendant will go down to his shipmate, Jim France in Timaru. The two of them had a wonderful catch up here in Nelson
last November with Murray Rowe, another Stoker from the Achilles. We also visited Jim at his farm in Fairlie in early January, when
we took Fred down to see his beloved Mt Cook where he climbed earlier in his life.
He will leave an enormous gap in our lives but we have been so blessed to have had such a magical last 10 years with Fred down here in
Nelson. Our thoughts to you both, and please think of Fred as we celebrate his life on Saturday 7th February at 10.30am at the Nelson
Cathedral. There will be an "up spirits" in our prayers at 11am.
The photo below was taken in November with Murray and Jim at 11am and I think says it all about Fred "Kiwi" Lemberg.
My kindest regards
Jeni Lemberg
<![if !vml]>
<![endif]>
Frederick (Kiwi) John Eastwood Lemberg (November 2014)
From: Bill Lemberg
Dear Russell
I never had the occasion of meeting but brother Fred spoke often of you regarding his life on the HMS Scarab.
I presume you have heard of his passing and I take the opportunity of thanking you for giving him so much pleasure over the years in sifting information both far and near about your own Dad and life on "Scarab" during the ship's service in the Med.
With kindest regards and thoughts of many happy memories.
Bill Lemberg
<![if !vml]>
<![endif]>
Kiwi's Certificate of Service
In the New Zealand division of the Royal Navy
<![if !vml]>
<![endif]>
<![if !vml]>
<![endif]>
<![if !vml]>
<![endif]>
 Russell, I had the pleasure of serving with Buck Taylor on the good ship Scarab from 1943 to 44.
Look forward to hearing from you – Kiwi    
 (Email 22.04.10)
"I remember the rating who spoke with a "Yankee" twang. We were in the seaman's mess together and if I remember rightly he had an ear for music, what with saucepan lids and instruments picked up ashore in Sicily we managed a bit of music on the mess deck. Water polo filled in any spare time, at which he was a great player. Of course we would gather at the 'Fleet Club' when watch ashore in 'Alex' to join in playing 'Tombola' and consuming our issue of "Stella" beer, after which, depending on one's stability, carry on to a Cafe or have an early night at the 'Fleet Club' annex. Taking a 'Gary' back to ship late at night was not well advised as we were dressed in white tropical rig and travelling through narrow streets. The wogs liked tipping 'sludge' etc on the 'matloes' sitting in the 'Gary'."
<![if !vml]>
<![endif]>
Fred (Kiwi) Lemberg and Russ Taylor
 at Kiwi's home in Nelson, New Zealand 2010
(H.M.S. Scarab Model in background)
  <![if !vml]>
<![endif]>
<![if !vml]>
<![endif]>
December 9th  2011  Reunion in Nelson
Note: Painting of H.M.S. Scarab at rear and Kiwi's model of H.M.S. Scarab in front
<![if !vml]>
<![endif]>
(Click to enlarge)
<![if !vml]>
<![endif]>
<![if !vml]>
<![endif]>
Hi Russ, many thanks for your wonderful Christmas greetings
 and congratulations on becoming an uncle.
We send you a belated Merry Christmas and our best wishes for 2012!
With all our love, Fred, Jeni , Gary and Sarah
(L-R)  Sarah (granddaughter) Jeni (daughter) Fred and Gary)
Kiwi was born on the 4th of February 1920 in Pahiatua, Wairarapa, (Palmerston North,) New Zealand. He was an engineer by trade and seaman gunner and bosun's yeoman on Scarab. He attended to the canvas repair work etc. His first posting was on the Depot Destroyer HMS Hecla. She was torpedoed in the Med by U Boat 515. He was picked up by the 1916 vintage destroyer HMS Venomous which had served in the Middle East during WW I. 
<![if !vml]>
<![endif]>
HMS Hecla supply and depot ship
(Fred's Account)
Reference from "A Hard Fought Ship: The Story of HMS Venomous"
Please refer to http://www.holywellhousepublishing.co.uk/lemberg.html
<![if !vml]>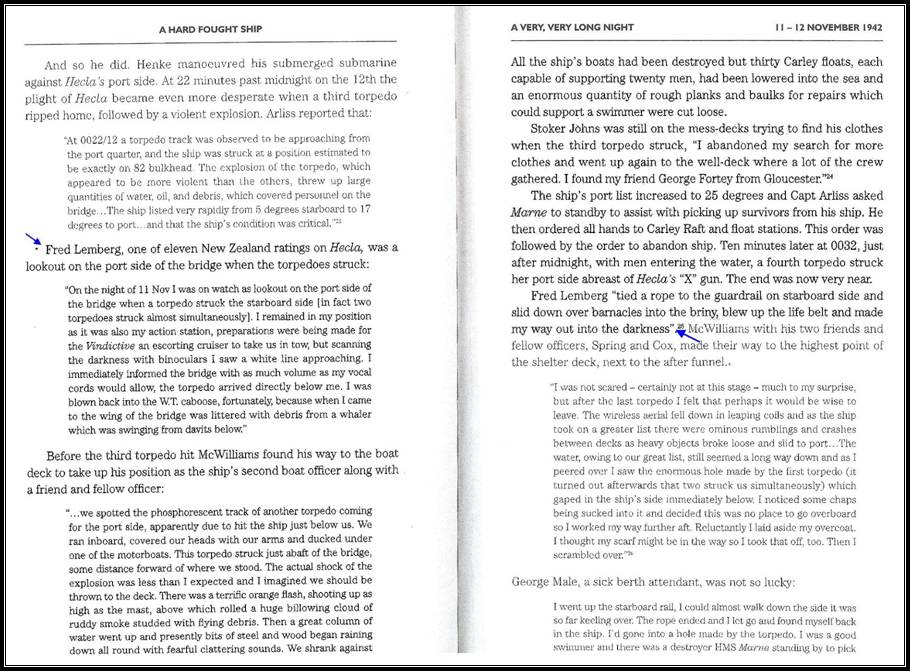 <![endif]>
| | |
| --- | --- |
| <![if !vml]><![endif]>  | <![if !vml]><![endif]> |
Fred (Kiwi) Lemberg then went on to serve on the river gunboat HMS Scarab.
H.M.S. Scarab
HMS Scarab was with Combined Operations attached to the Navy and Army and was involved with anti-aircraft defense and inshore bombardment duties. With her shallow draft she was first in to a lot of these actions.  
Scarab had quite a few near misses which caused leaks on one occasion heading back to Valetta Harbour, Malta. Scarab was given the naval salute by HMS Nelson and others as steam poured off from the steam injectors due to leakage in the hull.
<![if !vml]>
<![endif]>
                                                     H.M.S. Nelson:                Valetta Harbour, Malta
(Nelson Class)
16 inch Battleship
The sailors on the other ships lined their decks and gave them a naval "Hurrah!" and salute. Pipes and whistles were the order of the day. Scarab tied up alongside the oil tanker Ohio. It is one of Kiwi's fondest memories.
Kiwi has very happy and fond memories of Scarab. His good mates were Blondie, Buck, Lofty, Taffy and Jock. Scarab's crew was issued a "rum" every day. Kiwi had the honour of presenting a little clock to Lieutenant Cameron when he left Scarab on his return to New Zealand. Lieutenant Cameron was very well liked and respected by the crew.
One of Kiwi's duties was manning the 6-inch gun. He was a "Layer". The Layer's job was controlling the movement of the 6-inch gun vertically for range. Kiwi would get the signal and the range for firing. The "Trainer" controlled the movement of the 6-inch gun from left to right. "A" gun (where Kiwi was manning) was for'ard and "B" gun aft. During the inshore bombardments gun crews wore earmuffs and flash-gear. On occasion there would be misfires - i.e. the gun didn't work. Projectiles weighed approx. 56 pounds. The cordite was 2 to 3 feet long with the full charge wrapped in a silk bag. When the projectiles were fired you could actually see the projectile leave the barrel of the gun. The 3 inch High Angle guns that "Buck" served on were used against approaching aircraft at a distance and the oerlikons at close range.
Kiwi, also confirmed Scarab was armed with 2 six-inch guns, 1 three-inch gun, and 8 twenty-millimetre oerlikon anti-aircraft defence guns. The oerlikon cannon anti-aircraft gun rounds were 23 mm in diameter and 9 inches long. There were 60 rounds before you would have to change a barrel. The gunner would be strapped into a harness and aiming and firing the weapon were manual operations. There were no mechanical or electronic aids. Scarab had a 100 mm round magnetic cable around her hull because of the threat from mines.
In addition as Bos'n Yoeman Kiwi was responsible for rope splicing and canvas work. This included the preparation for burial of any casualties that occurred. For this one received an extra tot of rum and half a crown in his pay packet.
HMS Scarab was originally built for 48 crew. In 1943 there was a crew complement of 70 to which was included all the extra armaments that needed to be carried including food provisions. On many occasions the crew would sleep on the upper decks. Scarab had a flat bottom due to her having been built as a river gunboat and was not comfortable at sea. In a heavy swell she bucked instead of rolling and took a lot of water on-board. It was necessary to make sure the hatches were closed securely.
Kiwi remembers Scarab's adoptive town of Sudbury, Suffolk very well. Receiving the parcels sent by the town was a real morale booster. At that time there was severe rationing happening in England. Items received were cakes, pipe tobacco, tins of biscuits with the names of the Sudbury families that baked the biscuits. When the mail bags came in (when Scarab docked) you could always count on Sudbury as there was always a parcel waiting.
After the Sicilian campaign Scarab returned to Alexandria then carried on to Port Said and anchored in the Bitter Lakes in the Suez Canal. Leave was given to half of the ship's company at a time for ten days stay at a rest camp in Palestine which meant an all night trip across the ''Sinai" desert by rail, ten glorious days in Netanya amidst orange groves etc. The camp there was run by Italian prisoners of war. "Great cooks" says Kiwi!
Fred served 12 months on Scarab then went on to join HMS Achilles in the Pacific. After the war Kiwi returned to New Zealand and visited his old skipper Ewan Cameron's mother in Riccarton, Christchurch to pay his respects, as Ewan had lost his life while returning to New Zealand for leave.
"In my many interviews with Kiwi Lemberg he always made himself available to assist me. I personally found him to be one of those rare patriotic New Zealanders who call a spade a spade. I had the pleasure of meeting him in his later years. I would like to have met him all those many years ago. I can see why my Father and Kiwi were friends." (Russ Taylor 2011)
Fred kept a diary during the war. It provides an interesting and intense personalised view of his experiences. (See Below)
Kiwi

Lemberg's

Story 1943 – 1944
We will start this story in 'Old England', Christmas 1942. I had just had two weeks survivors' leave. Mine had been spent on a farm managed by my never met Godparent who had married a Derbyshire farmer. Mrs Joyce lived at "Townend Farm" Rostan, near Ashbourne and had returned to school teaching as she had done during the First World War in N.Z. It was my pleasure to attend school with her to tell her pupils about life in New Zealand and the Royal Navy. The majority of the pupils were evacuees from London.
I returned to Devonport Barracks at Plymouth, met up with the other eight or so Kiwi's who had returned also and decided (as Japan had entered the conflict) to ask for a draft to the Pacific fleet. Conditions in the Barracks were far from comfortable, if that could be the description. We later found ourselves bound for HMS Assegai (shore base) in South Africa, having just before Xmas returned from six months in Simonstown dry dock, so I was well acquainted with the area.
Setting sail from Glasgow in convoy and taking passage on the Winchester Castle we called into Cape Town and then carried on up to Aden and finally Alexandria to a transit camp in the desert at Sidi Bishr.  Given the duty of harbour defence, on a Greek claque outside the boom of Alex harbour. After several weeks of harbour defence this followed.
1943

June

Sun

6th

I was eventually drafted with Able Seaman Ernie Thomas to Scarab sitting in dry dock in Alex

dockyard .

We both walked aboard an empty ship except for the Quarter Master on the gangway, who informed us the ship's company were down in the dockyard playing water polo. So we went off and joined them, a great crew. I found that the skipper was a New Zealander, Lieutenant Ewan Cameron,

RNZVR

.

from

Christchurch.

Mon

7th

Out of dry dock and tied up alongside HMS Resourse, Depot Ship. Given the job postman

Wed

9th

Left for Port Said and arrived 12.30 Thurs Noon, then through Suez Canal to Tewfik

Sat

12th

In the Red Sea taking part in operations in Gulf of Aqaba. Weather hot and plenty of sand. Gun drill -  Layer for'ard  6-inch gun

Sun

13th

Maneuvers in the Red Sea, gun drill etc. Until June 26.

Sun

27th

Departed from Tewfik early morning, through Suez Canal to Port Said, Left Port Said at sunset and arrived at Alexandria early afternoon.
<![if !vml]>
<![endif]>
Ernest 'Blondie' Thomas
(Kiwi's Best mate)
Like all of the ship's company your Dad (Buck) was a great chap, being a "Kiwi" I returned to NZ but if I had returned to England would have more than likely met up again. I returned to England in 1980 and looked up Ern Thomas's family. Ern "Blondie" had passed away.
<![if !vml]>
<![endif]>
Afternoon leave in Port Tewfik
Kiwi Lemberg (with Beard). Buck Taylor is front row second from the right.
<![if !vml]>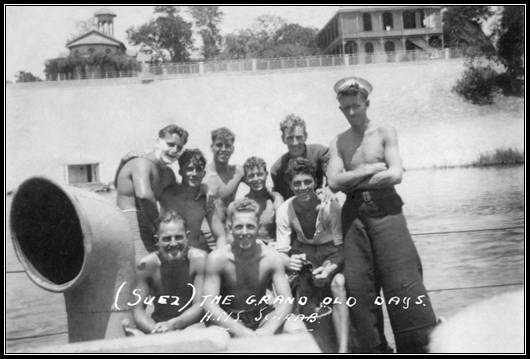 <![endif]>
Suez 1943
Centre Back row L to R: 'Buck' Taylor
Front row L to R: 'Kiwi' Lemberg 1st left
<![if !vml]>
<![endif]>
<![if !vml]>
<![endif]>
Photos from Fred's album
(Click to enlarge)
July

Thu

1st

Weighed anchor at bound for Benghazi following rugged coastline

Sun

4th

Arrived early morning. Harbour strewn with sunken ships. Left at bound for Tripoli.

Tue

6th

Arrived Tripoli at , departed for Malta at .

Wed

7th

Arrived Malta .

Thu

8th

Departed Valletta, Malta at 1.30.pm. Anchored outside boom.

Fri

9th

Lower deck cleared for skipper's announcement. Invasion of Sicily. Weighed anchor at . Joined convoy later midst storm, high seas and gale force winds. Sicily sighted at Rescuing survivors from crashed gliders. Closed up on for'ard 6-inch and commenced bombarding coast at . Air raids throughout the day, intense at times. Near miss developed a leak in fore store. Commando picked up, buried him at sea that evening.

Sun

11th

Returned off patrol, air raid in progress, two ships hit.

Mon

12th

Air raid at dawn, one ship hit. Had to be sunk by us as it carried ammunition. Proceeded on E-boat patrol off Avola Bay. Attacked by torpedo planes frequently

Tue

13th

Back at anchorage, several raids during the day, fresh convoy arrived. E-boat patrol during the night. Planes attacked several times in middle watch. Gliders and troop carrying transports - overhead.

Wed

14th

Escorted convoy into Syracuse and returned to anchorage

Thu

15th

Filled with water, hard to get, plenty of dobying to be done

Fri

16th

Leak in fore store, bailing out, plates leaking through near misses.

Sat

17th

Alongside of HMS Delhi for oil. Swam ashore - plenty of citrus fruit and grapes. Patrol again in evening.

Sun

18th

Another night over, patrol getting monotonous, still have interception with bombers; full moon makes us an easy target. Alongside freighter for water. Patrol as usual. Attacked twice.

Mon

19th

Anchored and ready for another day's work, swam ashore, grapes and lemons in plenty but not ripe.

Tue

20th

Anchored near inshore. Place a hive of industry, continuous stream of mechanical units being landed, prisoners in plenty unloading supplies.

Wed

21st

Embarking prisoners onto freighters, patrol as usual

Thu

22nd

Tied up alongside tanker in Syracuse, oiled and watered, patrolled alone. Cockchafer having boiler clean. Submarine warning.

Fri

23rd

Back at anchorage in Avola Bay

<![if !vml]><![endif]>

Photos from Fred's  album

(Click to enlarge)

Sat

24th

Patrol, heavy raid on shore, tanker hit

Sun

25th

Quiet night in comparison with the last

Mon

26th

Not out on patrol, coal for galley stove, (air) raid in early hours of morning.

Tue

27th

Stocked with compound rations, food supply low

Wed

28th

Oiled in Syracuse, patrol

Thu

29th

Sailed up to Augusta. Bombarding shore batteries tonight north of Catania, hoping for the best…?  Turned out a success, set what seemed to be an ammunition dump ablaze. Sat in a turret sucking at a tin of condensed milk watching fire works. Anchored in cove near Augusta

Fri

30th

Proceeded into Augusta at

Sat

31st

Remaining at anchor for several days, boiler cleaned
                                August

Mon

2nd

Ship maintenance, busy as Bosun's Yoeman, rope and canvas work. Water sports.

Thu

5th

Completed boiler clean, patrol

Fri

6th

Anchored for night in Avola Bay with convoy

Sat

7th

Under way first thing in morning, arrived Malta 2.30pm.Tied up along side of 'Ohio"- sunken oil tanker. Afternoon shore leave in Valletta.

Mon

9th

Left for Sicily in evening.

Tue

10th

Augusta early morning, raider over in evening

Wed

11th

Quiet in harbour. Will not be so quiet tonight, bombarding retreating Jerry columns on coast road past Messina. Expecting opposition, hoping for the best.

Thu

12th

Little opposition, entered Catania early morning, ashore for several hours in afternoon. Place in ruins. Wine plentiful. Bombarding tonight.

Fri

13th

Returned to Catania. Fresh water. Excessive drinking, many sore heads from vino

Sat

14th

Patrol tonight, bombarding coastline,, caught in heavy shell fire from shore batteries

Sun

15th

Bombarded coast line at dawn, returned to Augusta for fuel, returned to Catania

Mon

16th

Tied up alongside Cockchafer. Italians surrendered

Tue

17th

Church service ashore, attended with 'Blondie' Thomas. Watered, fuelled and topped up galley coal

Sat

21st

Left Catania for Malta

Sun

22nd

Arrived Malta early morning, sailed through Grand Fleet in Valletta harbour, great sight. Leave ashore, café in "The Gut", patriotic parcel onboard. Ship under repairs. Steak and kidney pud at Café. Beer rationed

Sun

29th

Underground church service in dockyard

Mon

30th

Left for Sicily in evening.

Tue

31st

Arrived Augusta at . Operation coming off shortly
September

Wed

 1st

At anchor in Augusta.

Thu

 2nd

Air raid at . Invasion to take place early tomorrow

Fri

 3rd

Quiet night patrolling coastline while troops embark to mainland.

Sat

 4th

Patrol as usual

Sun

 5th

Proceeding to Catania for water, returned to Messina in the evening

Mon

 6th

Patrol in the Straits of Messina. Oiled at Augusta

Tue

 7th

Tied up alongside of Aphis in Messina. Left at for another invasion of mainland

Wed

 8th

At invasion point at break of day. All barges unloaded except two. Heavy fire from shore batteries. Air raid at . Received several shrapnel cases onboard. Marine dead - buried at sea in evening. Bombarding shore batteries. Near misses from mobile artillery. News of Italy's surrender - carry on

Thu

 9th

Patrolling bay throughout the night. Another landing north of our point last night near Naples. Proceeded to Messina at dusk  (24hrs off)

Fri

10th

Alongside jetty in Messina

Sat

11th

Filled fresh water. Proceeded on patrol in afternoon

Sun

12th

Dropped anchor near battle zone. Doctor ashore with medical supplies

Mon

13th

Moved few miles further up coast

Tue

14th

Relieved by Aphis, proceeded to Messina

Wed

15th

Oiled and watered at Augusta

Thu

16th

Returned to Messina overnight. Ashore in afternoon. Hair cut and beard trim.

Fri

17th

Drew slops. Rest period

Tue

21st

Aphis alongside, water scarce

Sat

25th

Still alongside jetty in Messina. Ashore several times during the week, met Bob Cleary from Otaki. Vino sold at any quantity. Gracie Fields concert party in Messina. Mail from home. Voted for elections in N.Z

Tue

28th

Left for Augusta in for-noon, arrived at 6.30 pm. Tied up alongside Aphis

Wed

29th

Left for Malta at Heavy swell and gale blowing.

Thu

30th

Arrived Malta forenoon. Mail from home
October

Sat

2nd

Left Malta in forenoon bound for Tripoli. Ran into heavy seas in afternoon, progress slow

Sun

3rd

Seas calmer. Sighted land at , arrived Tripoli at 7pm. Anchored outside boom for night

Mon

4th

Entered harbour in forenoon, duty cook. Ashore in afternoon, street fighting in the past. Films at NAAFI.

Tue

5th

Left harbour at , bound for Benghazi. Heavy seas.

Thu

7th

Sprung leak in fore store

Fri

8th

Arrived Benghazi at . Sewing machine most of day, renew awnings on wings of bridge. Pulled out at 6.30, bound for Alex

Mon

11th

Arrived at Alexandria Heavy stern sea running most of trip.

Tue

12th

Run ashore in evening, visited NZ Club for half-hour. Arrived back aboard an hour adrift. Mail from home.

Thu

14th

Sent in defect list for Bosun's Store. (Rope, canvas, cleaning cloth, soap etc)

Thu

28th

Still undergoing refit in Alex. Starboard watch. On 5 days leave in Cairo.
November

Thu

18th

Refitting alongside jetty. Had six days leave at NZ Club in Alex. Met up with NZ shipmates, Bernie Nicol (Resource) Alan Curry (M.Ls.)  Bob Fulton (Woolich)

Sun

21st

Still undergoing refit. Photographs of ship's company taken
December

Fri

17th

New 6-inch gun replacements. Paymaster aboard

Sat

25th

Celebrated Christmas dinner shore at YMCA  (Rue Fouad) with Peter Fearon (NZD) who was leaving for home. Evening with Skipper

Sun

26th

Christmas dinner aboard, plenty of sore heads?

Wed

29th

Cleaning out store, new awnings and reel covers

Fri

31st

Pay- master. Entered dry dock. Quiet News Years Eve aboard.
1944

January

Mon

 3rd

Out of dry dock, painting for store. (My caboose)

Sat

 8th

6-inch tested outside harbour. (Two rounds per gun). Ammunitioned ship yesterday, leaving for Tewfik tomorrow.

Sun

 9th

Tied to buoy in forenoon, swung compass.  Left Alex at , bound for Port Said, AA Shoot outside boom, in company with HMS Roberts, gale and heavy swell - ship awash. Streamed log

Mon

10th

Seas much calmer, arrived Port Said at . Bilges in for-store flooded, (steam ejectors in use), anchored for night in Bitter Lakes in centre of canal

Tue

11th

Weighed anchor at , proceeded on to Tewfik, arrived at . Refuelled at . Gun drill tomorrow.

Jan

12th

Weighed anchor at , proceeded to bombarding range, 6-inch shoot, 'A' gun faulty. Return harbour, arrived .

Thu

13th

Anchored in Tewfik - Ordinance Artificers repairing gun. Mail aboard

Fri

14th

Up-hook at . Proceeded to Bitter Lakes, taking part in small craft manoeuvres tomorrow. Anchored on edge of lake for the day. Overcast and rain

Sat

15th

Closed up at 6-inch range at . Started firing at . Shifted anchorage at . Made cake.

Sun

16th

Pipe down at

Mon

17th

Anchored in Bitter Lakes

Tue

18th

Weather cold and overcast,

Wed

19th

Anchored off Ismalia, Egypt. Drop in temperature – cold.  48hr leave coming shortly

Thu

20th

Two signalmen on draft. Skipper's rounds shortly

Fri

21st

Mail from home. First batch on 48hr leave

Sat

22nd

Ship alongside jetty. Ashore from in Ismalia. Good shopping - much needed needles for sewing machine and good book shop

Sun

23rd

Skipper's rounds. Baked cake, great day

Mon

24th

Second leave party left. First back on board

Tue

25th

Started screens for wing of bridge. Beautiful day weather-wise.

Wed

26th

Make and mend. Ismalia.

Thu

27th

Leave party returned. Derby Allen's relief on board

Sat

29th

P/O Allen left for U.K. draft. My name in for casual

Mon

31st

Renewing screens
February

Wed

2nd

Inoculation (tab) Mail from home.

Thu

  3rd

Blondie in hospital, (tonsillitis)

Fri

  4th

Played rugger in afternoon against convalescent camp, beaten 8 - 3. Up town in evening.

Sat

  5th

Repairing winch cover

Sun

  6th

Stan Ivers' relief on board.

Mon

  7th

Stan left for Sphinx (shore-base) Alex. Given rugger boots

Tue

  8th

Oiled alongside tanker, stove in our starboard side.

Wed

  9th

Chest giving trouble.

Thu

10th

Repairing starboard wing of bridge

Sat

12th

Saw Doc over chest trouble, given tabs

Sun

13th

Spent most of day at No1 General Hospital. Have cracked rib due to rugger

Tue

15th

Blondie  returned

Wed

16th

Underway at daybreak, arrived at Pt Said at .

Thu

17th

Ashore in evening. Met A/B Herd from Blenheim (H.M.R.T.) Caught in sand storm on way back to ship

Sat

19th

Vaccination for small pox, breakout ashore

Sat

26th

Port Said. Ship in dockyard, under repair. Relief for six seamen

Sun

27th

Ashore in evening. Spaghetti on toast.

Mon

28th

Draft left for HMS Sphinx (shore-base) in Alex. Leaving Port Said tomorrow.

Tue

29th

Sailing cancelled.
March

Thu

  2nd

Ashore in evening.

Sat

 4th

Afternoon leave. Met New Zealanders on draft to Achilles in England.

Sun

 5th

Washed blankets. Small Pox ashore.

Sun

12th

Returned to Bitter Lakes. Alongside jetty in Ismalia.  Lovely spot. Run before breakfast in the morning. Lovely green lawns and first class shopping

Tue

14th

First leave party left for seven days in Palestine. Swim in afternoon. Casual payment.

Sun

19th

1st Lieutenant's relief on board. Parcel from Berry's

Tue

21st

Leave party returned.

Wed

22nd

Left for seven days leave at Netanya near Haifa, Palestine, north of Tel Aviv. Travelled by train across Sinai desert to rest camp. Visited Jerusalem for day -  curfew, plenty of oranges and nuts

Fri

31st

Returned from rest camp.
April

Tue

 4th

Returned to Alexandria. Xmas cake from home. Painted topmast

Fri

 7th

Good Friday.

Sun

 9th

Mail home, Skipper's relief on board. Presentation of clock from ship's company

Wed

12th

Entered dry dock.

Fri

14th

Out of dry dock.

Sat

22nd

Left dockyard, tied up to buoy, testing, degauzing gear, sailing shortly.

Sun

23rd

Swung compass, tied up alongside  Aphis

Mon

24th

Doc aboard, left harbour at with Aphis. Destination unknown.

Tue

25th

Practice shoot with 6-inch

Wed

26th

Arrived Tobruk at 2 pm. Oiled and watered, joining convoy early tomorrow

Thu

27th

Pushed off at , joined convoy at dawn

Sun

30th

Arrived Malta at , not feeling best. Mail aboard
May

Mon

1st

Ashore in evening in vicinity of "Gut", sore heads. 

Tue

2nd

Stores on board, relief for Chief Stoker Ward.

Fri

5th

Several seamen reliefs on board (Pritchard etc). Ashore in evening

Mon

8th

Mail aboard. My relief arrived!

Sat

13th

Left ship with bottle of rum, entered Verdalla transit camp in Malta

Tue

23rd

Still in Verdalla barracks. Detailed draft to Nile

Thu

25th

Bought razor and brush from slops. Beer from canteen.

Mon

29th

Kit muster
June

Thu

1st

Buzz - draft leaving shortly, repacked kit.

Fri

2nd

Draft to HMS Hyderabad (corvette), taking passage to Alexandria. Ashore in afternoon, left harbour at .

Tue

6th

Second front started, Invasion of France. Rejoined convoy.

Wed

7th

Arrived Alex, sent to Sphinx, transit camp (Sidi Bishr). Given special duty transit section

Thu

8th

No mail. Shaved off beard! Beer canteen in evening

Sat

10th

Swim in Bath Club. Alex  in evening.

Sat

24th

Mail from home, touch of flu?
July

Fri

7th

Dinner at NZ Club

Sat

15th

Cable from home. Replied in evening. Visited dentist in forenoon - abscess under tooth, had to be extracted.

Wed

19th

Ashore, dinner at club.

Sat

22nd

Evening ashore, met Jack Tantram, old school mate

Wed

26th

No news of draft. Pictures in camp cinema (Shafto's), Deanna Durbin. Enough of camp life, bed bugs and crabs.

Sat

29th

Rumour - draft shortly. Evening at canteen
August

Fri

4th

On board trooper Strathaird bound for Bombay, Six of us ratings, ship full of RAF personnel off to India

Tue

8th

Arrived Aden after trip down Red Sea. Very hot.

Sat

12th

Stormy conditions.  Rain.

Mon

14th

Driven off upper deck by heavy rain

Wed

16th

Left Strathaird in afternoon and boarded Dunotter Castle

Fri

18th

Ashore in afternoon, air conditioned picture theatre, Ingrid Bergman,"For whom the Bell Tolls". Chicken, eggs and chips for supper.  Two hundred NZEF personnel aboard for trip home

Mon

21st

Left Bombay in evening, heavy rain and hot.

Thu

24th

Reached Colombo in forenoon. Ensa show and concert on board in evening.

Fri

25th

Royal  Marine band recital aboard, Free tea and cakes aboard from citizens of Colombo, left harbour early evening

Sat

26th

Underway with convoy under escort HMS Nigeria and Maidstone.
September

Mon

4th

Convoy split, proceeding alone

Sat

9th

Nearing port of Melbourne. Comparatively calm trip down, chilly on the upper deck, albatross made appearance

Sun

10th

Entered Port Philip. Weather freezing - donned extra jerseys. Change to be in clean port.

Mon

11th

Ashore in forenoon. Great walk into Melbourne, visited museum and art gallery. Great sight to see trimmed lawns and clean wide streets again, tasted fresh apples again! Blisters on feet and stiff muscles, slept well

Tue

12th

No leave granted but free issue of beer (two bottles per man) Several draft still ashore including two naval ratings. Anchored in stream in evening.

Wed

13th

Sailed early morning. Home early next week.

Thu

14th

Day nearer home, overcast and rough sea

Sat

16th

Beautiful weather, calm sea. May see NZ tomorrow

Sun

17th

Sighted land at .  (Cape Farewell) Slight drizzle.

Mon

18th

Entered Wellington Harbour, beautiful clear morning, great sight.
Much of Kiwi's rest and recreational time was spent at the Alexandria Fleet Club and the YMCA located on Rue Fouad.
<![if !vml]>
<![endif]>  <![if !vml]>
<![endif]>
<![if !vml]>
<![endif]>  <![if !vml]>
<![endif]>
Alexandria Fleet Club information Souvenir
(Click to enlarge – 2nd click enlarges more)
Back to: