<![if !vml]>

<![endif]> FRANK S. TAYLOR FAMILY AND ROYAL NAVY HISTORY.NET <![if !vml]>
<![endif]>
H.M.S. SCARAB
LEONARD SEDGEWICK MELL
August 1944 – February 1945
Ordinary Seaman
Service Number PJX 633814
Royal Navy Volunteer Reserve
<![if !vml]>
<![endif]>
Len Mell 
(Before joining HMS Scarab 1944)
  <![if !vml]>
<![endif]>
Len  Mell with Russ
Cheltenham  Gloucester.
On Saturday 16 October 2010 I travelled to Cheltenham to visit Mr. Len Mell who served on H.M.S. Scarab August 1944 to February 45. Mrs. Mell is in her 98th year and what a fine lady she is.
Len was born in Southport, Merseyside, North West England 30 August 1926. He joined Scarab in Taranto, Italy after the South of France. The ships were tied up, stern to wall. The aircraft carrier H.M.S. Attacker, a minesweeper and corvette, then Scarab, and further along Cockchafer, and Aphis.
Scarab was literally ripped apart for rebuilding and a new bridge assembled after sustaining heavy damage in her battle with the two German corvettes.
The crew was relocated to a pavilion outside the dock area with 6 left aboard Scarab for guard duties including Len. Conditions were very rough – full of rats - toilets directly over the stern into the water, no heating to be expected for some time, 1 shilling per day. No one was very happy in the cold conditions. They had to adapt accordingly.
As Len said to me they were "a wild lot, a little bomb happy but a great crew and everyone got on well together".
Len knew Ernie (Blondie) Thomas very well as 'happy go lucky' and a great bloke. One thing he said which sticks in his memory, a Petty Officer  by the name of Young. Blondie made a comment to him, "You're getting a little bit mouthy – you know what will happen – you'll get chucked in the water  - again."
The Commanding Officer at that time was Captain Ball  Royal Navy Volunteer Reserve,  young and recently promoted. Len added that the officers were cautious of the crew, especially those officers who tried to push their weight around.
<![if !vml]>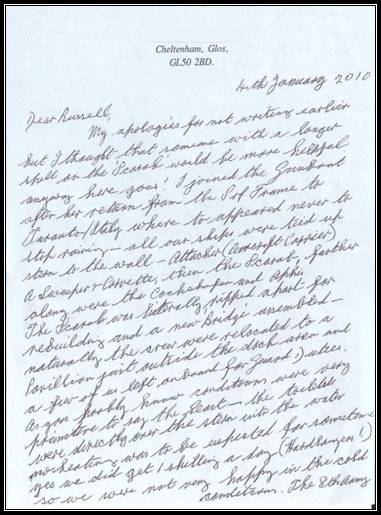 <![endif]>  <![if !vml]>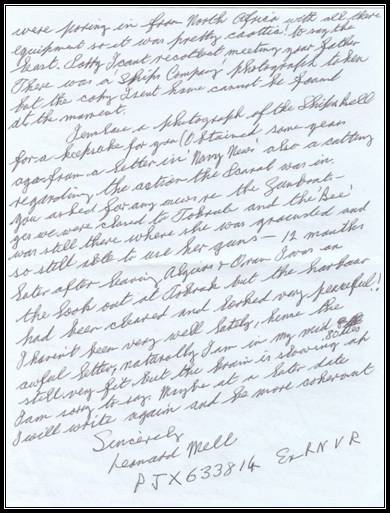 <![endif]>
(Click to enlarge)
Leonard S  Mell
Cheltenham, Glos,
GL50 2BD.
4th January 2010
Dear Russell
My apologies for not writing earlier but I thought that someone with a longer spell on the 'Scarab' would be more helpful. Anyway, here goes!
I joined the Gunboat after her return from the S. of France to Taranto/Italy where it appeared never to stop raining – all our ships were tied up stern to the wall – Attacker (aircraft carrier) a Sweeper & Corvette, the Scarab, farther along were the Cockchafer and Aphis. The Scarab was literally ripped apart for rebuilding and a new bridge assembled – naturally the crew were relocated to a pavilion unit outside the dock area and a few of us left on board for Guard Duties.
As you probably know conditions were very primitive to say the least - the toilets were directly over the stern into the water, no heating was to be expected for some time, yes we did get one shilling a day but we were not very happy in the cold conditions. The 8th Army were pouring in from North Africa with all their equipment so it was pretty chaotic (!) to say the least. Sorry I can't recollect meeting your father. There was a Ship's Company photograph taken but the copy I sent home cannot be found at the moment.
I enclose a photograph of the Ship's Bell for a keepsake for you (obtained some years ago from a letter in 'Navy News'-  also a cutting regarding the action the Scarab was in. You asked for any news re the Gunboats – yes we were closed to Tobruk and the Ladybird was still able to use her guns – 12 months later after leaving Algiers and Oran I was on the look-out at Tobruk but the harbour had been cleared and looked very peaceful!
I haven't been very well lately hence the awful letter, naturally I'm in my mid 80's, still very fit, but the brain is slowing up I am sorry to say. Maybe at a later date I will write again and be more coherent.
Sincerely
Leonard Mell
PJX 633814
Ex  RNVR.
<![if !vml]>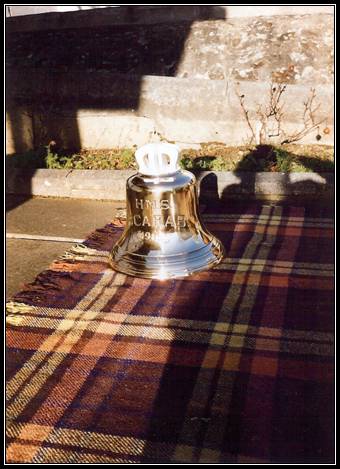 <![endif]>
Len provided a photo of the original ship's bell.
Present Day
<![if !vml]><![endif]>

Len and Mrs Mell

<![if !vml]><![endif]>

Len Mell

Proudly wearing his All Blacks cap
<![if !vml]>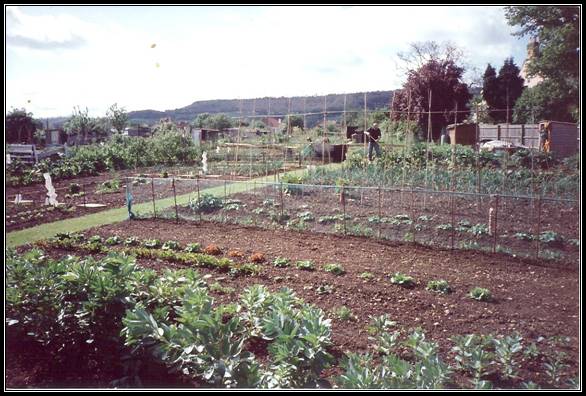 <![endif]>
Len gardening in his allotment - Cheltenham Gloucestershire
Wartime
<![if !vml]>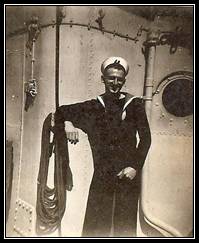 <![endif]>
After leaving HMS Scarab Len served on HMS Sirius
This photo taken in
Haifa Palestine 1945 during heatwave
<![if !vml]>
<![endif]>
HMS Sirius taken at Grand Harbour Malta
<![if !vml]><![endif]>

HMS Sirius (left) & HMS Arethusa

at Trieste 1945 VJ Day

<![if !vml]><![endif]>

HMS Sirius
<![if !vml]><![endif]>

HMS York sunk at Suda Bay, Crete 1941

<![if !vml]><![endif]>

HMS York Crete
<![if !vml]>
<![endif]>
Len  (1st left) St Brides Bay Gibralter