FRANK S. TAYLOR FAMILY AND ROYAL NAVY HISTORY.NET
H.M.S. SCARAB
Royal Navy Insect Class River Gunboat
Sudbury Revisited
On the 14th of August 2013 our Site Author Mr. Russ Taylor returned to the market town of Sudbury.
To his delight the welcome was as warm and inviting as on his first visit in 2010.
Thank you Adrian, Val and Shirley.
A very special thanks to Val for taking me to St Mary's Church in Chilton
to view the commemorative Scroll presented by the Lords Commissioners of the Admiralty
during Warship Week 22 February 1942 and for showing me around Chilton.
I greatly appreciated it.
It was fantastic to meet you all again and a visit with many pleasant memories.
Sudbury's Neighbours
We were very pleased to receive new information regarding the roles played by Sudbury's neighbouring civil parishes during Warship Week 1942.
The Civil Parishes of Acton, Chilton, Little Waldingfield and Long Melford all played their part in adopting HMS Scarab.
We intend to cover this in a later update to the story.
Meantime there is a photo of the scroll acknowledging Chilton's contribution.
(See the photos of St Mary's Church at the bottom of the page)
A photo of Little Waldingfield's scroll is included in a well researched contribution by Peter Schofield Ex-Submariner.
This was part of his Master's Dissertation and examines Warship Weeks in the UK during World War II.
See:
http://frankstaylorfamilyandroyalnavyhistory.net/HMSScarab/WarshipWeeksPeterSchofield.html
ENLARGEMENT
Most photos will enlarge when clicked on.
The Newspaper Clippings and Sudbury's Own Warship photos
have been enhanced by the provision of a magnifier.
You can use the scroll wheel on your mouse to zoom in and out.
Just move your pointer over the image to start.
Following the discovery of the Commemorative Shield from Warship Week 1942 when the town and
its surrounding communities adopted HMS Scarab Sudbury has completed a magnificent new Heritage Centre and Museum.
(More details below)
Presented to Russ Taylor with personal dedications by Sudbury Mayor Adrian Osborne and the book's Editor Val Herbert.
Sudbury: Tribute to WWII gunboat with links to town
By Emma Brennan Tuesday, March 26, 2013
A TRIBUTE to a Second World War gunboat with links to Suffolk has been unveiled
In February 1942 during National Warship Week, Sudbury Borough and Melford District councils as they were known then, joined forces to adopt HMS Scarab – a Royal Navy Insect Class Gunboat that saw active service in the Mediterranean during the war.
The official launch of the HMS Scarab memorial at Sudbury Museum and Heritage Centre
The sponsorship was part of a Government wartime savings campaign, in which people were encouraged to invest in national savings schemes to
help finance the war effort and reduce spending on goods that consumed vital raw materials. The local target was £75,000 but this was far exceeded
with a total of £144,000 raised.
The Admiralty presented shields bearing Scarab's insignia to both local authorities as a reward for their efforts, and these were recently rediscovered in the Sudbury Town Hall cellars. One of the artifacts has been passed on to Long Melford Heritage Centre.
The parish of Chilton was also rewarded for its part in the fundraising with a certificate.
A painting of HMS Scarab in action in WWII is part of the memorial display at Sudbury Heritage Centre
Russ with Shirley Smith (left) and Val Herbert
(local historians and co-authors of the book "No Glorious Dead")
The 625-tonne shallow-draught river gunboat Scarab was used in the First World War and was nicknamed the 'lucky ship' because of the many near misses it encountered during both wars. One of Scarab's finest moments was in August 1944 when the Allies landed a substantial force on the French Riviera and liberated two thirds of France in 30 days. Scarab was one of three ships that had earlier bombarded further along the coast, successfully convincing the Germans that this was the chosen area for landings
Yesterday morning, a tribute to the ship coordinated by the Sudbury Museum Trust was launched at the town hall. This includes the Sudbury shield and a painting of HMS Scarab in action commissioned by New Zealander Russell Taylor, whose father Frank served on the boat.
Mr. Taylor has donated the original painting to the Town Council
On a previous visit to Sudbury in 2010, he said: "The men of HMS Scarab always looked forward to getting into port because they knew there would be gifts and parcels waiting for them from the people of Sudbury."It must have made such a difference to their lives to know that people back home were thinking about them."
A display telling Scarab's story, including Sudbury and Melford's part in her history, is also featured in the tribute, which was developed by the Museum Trust's secretary, local historian David Burnett.
Toast to memory of 'lucky' gunboat
IN BATTLE: A painting of HMS Scarab, by artist Gordon Wright, which is in Sudbury Heritage Centre
Published on 03/04/2013 19:00
A memorial to a Second World War gunboat, nicknamed "the lucky ship" due to its improbable survival, has been unveiled in Sudbury
HMS Scarab, an insect class gunboat weighing 625 tonnes, originally saw service in the First World War but was also called into action in the 1940s
The ship was adopted by the people of Sudbury and Long Melford in 1942 following National Warship Week in February of that year. The week was part of a Government savings campaign which encouraged fundraising to finance the war effort.
Sudbury and Long Melford were set a target of £75,000 but managed to amass a total of £144,000
The boat then went on to fight in the Mediterranean, supporting landings in Sicily and other parts of Italy.
In August 1944, it also provided covering fire in southern France while the Allies landed troops on the French Riviera, helping to liberate around two-thirds of the country in 30 days.
Despite many near misses, the ship's crew, which was credited with shooting down a number of German dive bombers, never suffered any casualties.
On Monday, a specially commissioned picture of HMS Scarab was unveiled at Sudbury Heritage Centre in the town hall, along with a carved wooden shield of the ship. The shield, which was recently found with another in the town hall cellars, was presented to Sudbury town and Long Melford parish councils which adopted the ship
"The story of the Scarab is fantastic," said Valerie Herbert, a member of Sudbury Museum Trust. "The communities really got involved in supporting it and people used to send parcels to the ship from the area whenever it was in port."
John Nunn, from Melford Heritage Centre, which also displays one of the shields, said they were found by "pure chance" while looking for other artefacts.
Sudbury mayor Jack Owen toasted the memory of the Scarab and said he hoped it would attract more visitors to the heritage centre.
"We have a great deal of history in Sudbury and we really want to promote the centre," he said.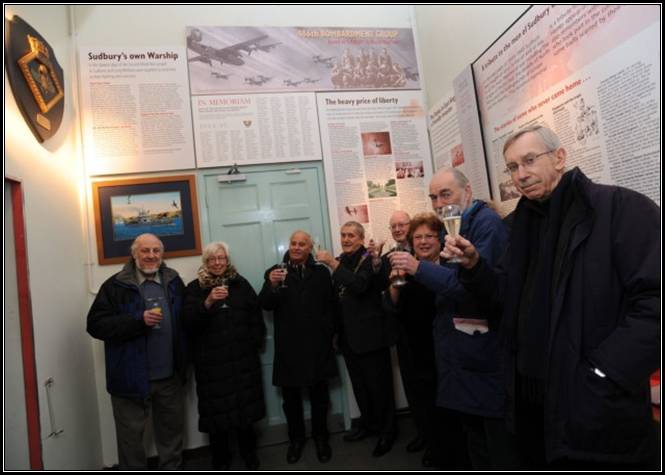 The Opening Toast to HMS Scarab
Peter Minter, Valerie Herbert, Richard Kemp, Jack Owen, John Nunn, Sue Brotherwood, Peter Clifford and David Burnett
Inside the Heritage Centre
The Commemorative Shield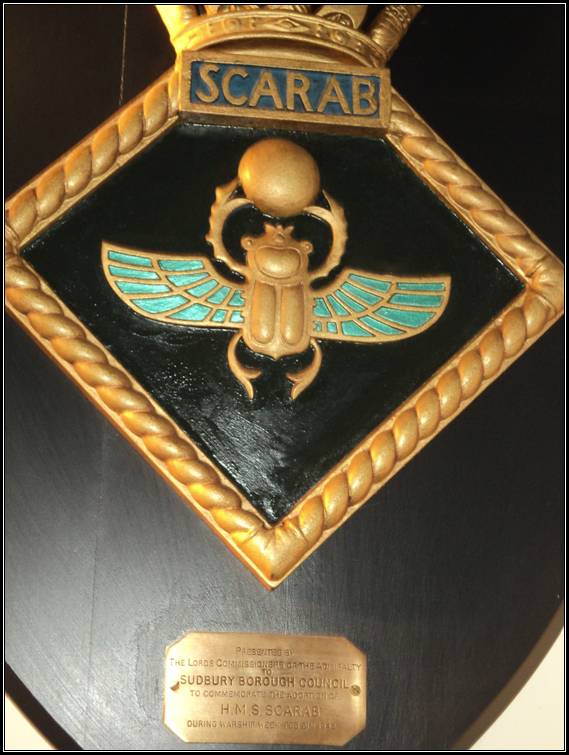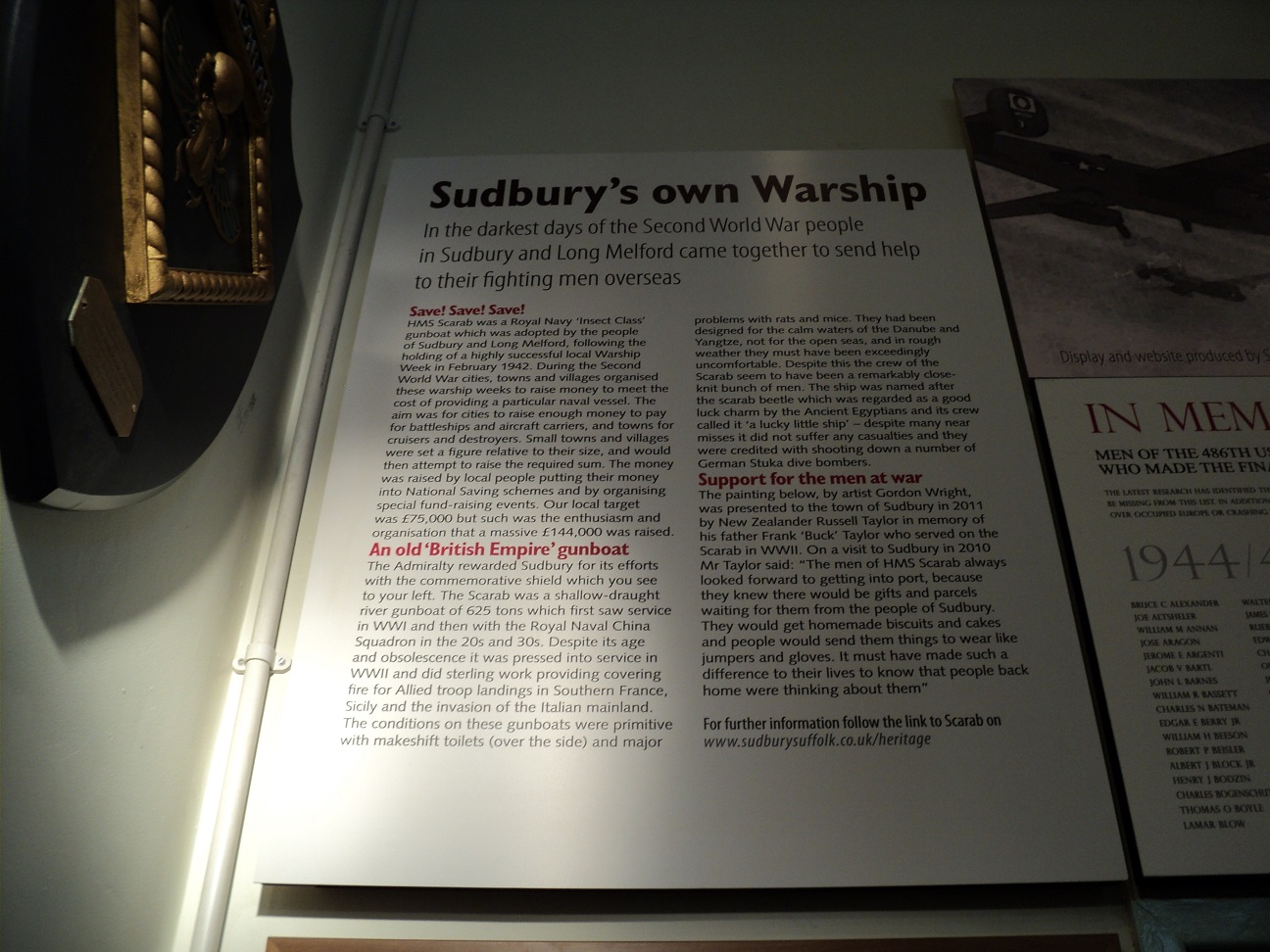 Newspaper Clippings
St. Mary's Church Chilton