FRANK S. TAYLOR FAMILY AND ROYAL NAVY HISTORY.NET
H.M.S. SCARAB
Lt. Ewan Cameron
Early 1943 – February 1944
Royal New Zealand Navy Volunteer Reserve
Lieutenant
The Evidence
Survivors' Accounts
Source: http://collections.anmm.gov.au/objects/74810/ss-nellore?ctx=aba2ec8f-9796-44d2-b402-246b36559909&idx=2
There were only three items found in the papers received from the NZ Defence Force.
Report by British Consulate-General dated 6 September 1944
Statement by Lt. William Bonner McManemin dated 18 February 1946
Copy of cutting from Adelaide Newspaper
Missing items:
Report of the Chief Officer dated 12 July 1944
Report of the Third Engineer dated 8 August 1944
Letter from Capt. E. H. Lee- Steere, A.I.F. to Mrs. Rowan dated 9 February 1945
And any details of the reports by the Javanese survivors.
The letter from the NZ Naval Affairs Officer to The Secretary, C.W. Branch (Cas), Admiralty and dated 14 March 1946 states that:
"The above, together with reports made by the Chief Officer and 3rd Engineer of the ss 'Nellore'
(Copies are no doubt held by the Lords Commissioners) have been carefully perused by the Naval Secretary, and these are the conclusions…"
If they were perused one would expect the copies to be available.
British Consulate-General dated 6 September 1944
Transcript
British Consulate-General
6th September, 1944
Sir,
I have the honour to make the following report concerning certain distressed British seamen who landed recently in Madagascar.
2. On the seventh July a lifeboat was wrecked off Sambava, in the Diego-Suarez region. A rescue party sent from Sambava saved eleven out of the twelve occupants of the lifeboat. As will be seen from the particulars given on the attached schedule three men were members of the crew of the s.s. "Nellore" from which the lifeboat had been launched at the time of sinking by enemy action. Five men were D.B.S. Passengers who were being repatriated on s.s. "Nellore" at the time of the sinking. The remaining three passengers, a woman and her two children one of whom subsequently died of exposure, were passengers.
3. These persons were taken by air from Sambava to Diego-Suarez in a British Military machine, and stayed in the British military hospital there. Essential clothing and stores issued to the seamen issued to the seamen by the Military Ordnance Store and by the Naval stores have been paid for by this Consulate-General, on production of vouchers. An account of the disbursements made will appear will appear in my September Quarter Accounts with the Foreign Office.
4. The Sea Transport Officer and Ministry of War Transport Representative at Diego Suarez took charge of the Distressed seamen. I understand from him that six of them expressed the desire to be repatriated to Australia, one to India, and that the last one, named Mitchell, although born in the United Kingdom is being repatriated to Australia, as he is normally resident there.
5. The S.T.O. reported that the following were sent to Kilindini after their discharge from hospital – 19th August: Robertson and Mitchell, end August: Churchill, Shorter, McCulloch, Miller and Lister. Hubble and Mohamed Kalantan will remain at Diego Suarez, but will be sent on by next available opportunity.
6. Although no definite statement has been made by the S.T.O. it is presumed that these seamen were all fit when discharged from hospital, with the possible exception of Michell who showed signs of mental trouble.
I have the honour to be, Sir,
Your obedient Servant,
A.N. Ballantyne
Vice Counsel,
For and in the absence of
Acting Consul-General.
Addressed to:
The Register of Seamen,
Cardiff.
Statement by Lt. William Bonner McManemin dated 18 February 1946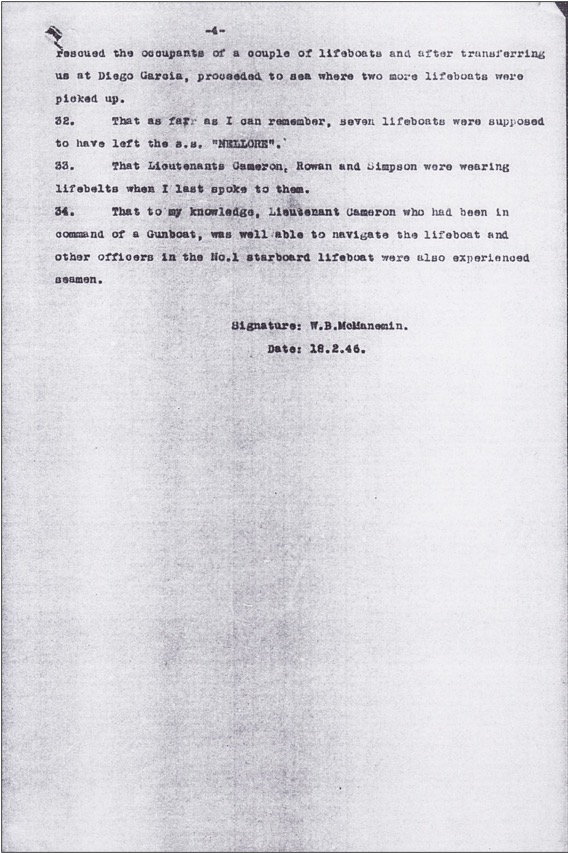 Copy of cutting from Adelaide Newspaper referred to letter 14 March 1946 to
The Secretary, C.W. Branch (Cas), Admiralty S.W. 1.
While researching this story we have found some additional items.
Copies of these are below.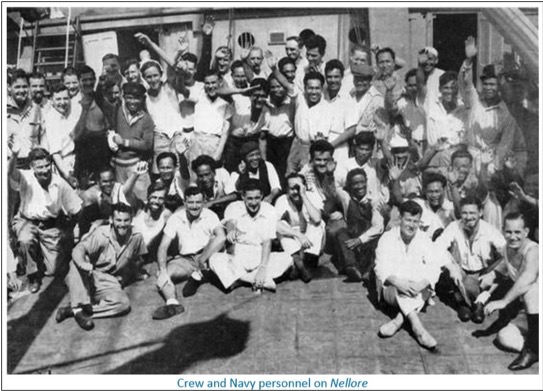 From the Morning Bulletin. Wed. 24th April 1946
" It was indeed fortunate that none of the company's ships was in Japanese waters on December 7th 1941. The nearest, the Nellore, was in Hong Kong and, embarking passengers well above her usual numbers, she sailed for Australia and managed to get through unscathed. The ships were now transferred to the Australia-India run to augment a shipping service the requirements of which had grown with the progress of war, and it was whilst employed on this run that all three ships were lost by enemy action. The Nellore and Tanda continued in the trade until June 29th 1944, when the Nellore, on route from Bombay to Australia, was torpedoed in the Indian Ocean. The torpedoing took place at night without warning, and the Nellore was finished off by shelling from the submarine."
The Tanda was torpedoed and sunk 15th July 1944.
Authors Note:
We believe that the above photograph is the last ever taken of Lt. Ewan Cameron.
He is sitting third from the right (foreground) his hands folded over his knees.
As Kiwi Lemberg said of the photo of Lt. Cameron with Able Seaman Charlie Wells: the stress of active combat and command
was very demanding on his Skipper and that he had lost weight. From this photo it appears that he had recovered a little.
Lt. Ewan Cameron
MERCHANT NAVAL HISTORY
The Sinking of SS Nellore by the Japanese in 1944
By Patrick Bollen
Source: http://www.rusinsw.org.au/Papers/2012A10.pdf
Sixty-seven years ago, Joe Bollen was in SS Nellore when she was attacked by Japanese submarines.
His son, Patrick Bollen, records his father's account of the resulting horror.
Having read in the June 2011 United Service the Obituary of merchant mariner, Jack Murn, who survived the sinking by Japanese torpedo of SS Nellore in 1944, I am reminded of my father, Captain Joe Bollen, Merchant Marine (Ret'd), who also was serving in Nellore when she was torpedoed. When I was young, Dad refused to speak about his wartime service. That was until 1983 when he produced a carefully maintained scrap book and a diary of events after he left Holland.
The Sinking
Some 67 years ago, on 29 June 1944, Joe Bollen, then aged 26 years, was the supernumerary (third officer) aboard the Eastern and Australia Lines SS Nellore enroute from Bombay to Australia. At 2345 hours, Nellore suffered a shattering fate, going down on fire from stem to stern after being attacked by a Japanese submarine. She took two torpedoes and was then heavily shelled by the submarine's deck gun. Reports have it that three submarines took part in the attack.
Shortly after the first torpedo, Joe went to his cabin to collect his sextant and papers, but as he recalls: "All the lights went out. I went to the Port No. 2 lifeboat (passenger muster station) where 26 Javanese seamen had already assembled. I gave the order to lower the scrambling nets to the water and let go the boat lashings. A short time later, the Chief Officer gave the order to abandon ship." The radio officer sent out a Mayday – "SS Nellore torpedoed – [position] – crew abandoning ship".
However, the main aerial had snapped at the impact of the explosion – the message finally getting out on the emergency aerial. The radio officer then dragged on his uniform and headed to his lifeboat. Port Boat No. 1 was already in the water. Joe, along with the ship's apprentice and the bosun lowered Lifeboat No. 2 to the water with 61 persons aboard, including the doctor, stewardess and purser.
At 0145 hours, the submarine surfaced to finish the job. Still aboard Nellore was her captain (Frederick Colvin of Mosman), the second officer and four gunners, all determined to have a shot at the silent enemy. As the lifeboats moved away in a thick, oily sea, another torpedo struck the ship sending up a huge shower of spray amid a pall of smoke. Nellore's gunners were helpless against the might of the Japanese submarine, but continued firing nevertheless.
The radio officer recounts: "Desperately we hoped as we watched from the boats that the Japs would be satisfied with their work and let the ship settle peacefully to the bottom. But they continued mercilessly shelling Nellore – we crouched low in the boats to avoid flying shrapnel and debris."
Three hours after the first torpedo, Nellore, fiercely ablaze, listed fully on her port side and sank in a sea of flames. Captain Colvin, the second officer John Northy from Victoria, a Lascar seaman and four gunners all went down with the ship.
Nellore had been eight days out from Bombay bound for Australia when she was attacked. Joe recalls: "As we watched our blazing ship go down in a boiling sea, we could hear the submarine quite close as she fired another torpedo. We remained in the area until daybreak, spotting three other lifeboats. We all returned to the place of sinking and picked up an Indian seaman who had survived the night with the aid of a lifebuoy. Shortly afterwards we all sailed away in a west nor' west direction."
Survival at Sea
With most of the 61 survivors seasick, Joe was forced to sail and steer lifeboat No. 2 himself. Later, Joe transferred the stewardess and five seamen to the chief officer's boat. This left Joe's boat still dangerously overloaded.
During the black of night of 30 June, the three boats lost sight of one another, but regrouped the next day. Radio Officer Bird, aboard the chief's boat recalls: "Our mainstay was just six ounces of water, each drop growing more precious by the day. By way of variety, glucose and chocolate were introduced to the bill-of-fare, but this made us thirsty."
By 2 July, with the main danger far behind, the survivors were able to concentrate on personal matters once again. Braving the sharks seen earlier in the morning, they swam in the cool Indian Ocean waters. By 4 July, five days after the sinking and, out of touch with one another, all boats were becalmed and, with hunger, thirst and fatigue now sapping the survivors' spirits, it seemed unlikely there would be any hope of survival.
Then, on 5 July, from lifeboat No. 1, the radio officer recalls: "Our first waking thought was whether this would be our day of rescue. All eyes were glued on the horizon. One thing that comes of associating with fellow beings in such close confines is that it brings out the best and worst in people. Never have I encountered such selfishness as that displayed by two survivors on our lifeboat. At times we were more or less divided into two camps. This was hard to account for considering we were all in the same boat in more ways than one."
Exhausted after six days adrift, on 6 July hope came out of the early morning sky in the form of a Catalina flying boat which dropped a message with a course to steer to Diego Garcia; and also informing Joe that a ship was on the way to pick up the survivors. "Full of good hope, we steered for Diego Garcia and issued another ration of water", Joe recalls.
On 7 July at 0130 hours, "the weather deteriorated badly – gale force winds and big seas. We were hove-to at 0930 hours. We hoisted a little sail and tried to continue our course, but to no avail. A reconnaissance plane flew overhead, but did not see us. Conditions were terrible, the bad weather continuing for two days."
On 8 July, Joe says that: "twice we spotted a Catalina, but again they did not see us. Nor did we see the other two life boats. I discovered that our water was being stolen. There was a lot of stealing going on; not only water, but also provisions. Usually, the culprit was caught and duly dealt with."
By 9 July, as doubt and fear gripped some survivors, Joe recalls: "I altered course in the hope of finding one of the northern islands in the Chagos Archipelago, but soon gave up this plan. After taking careful stock of water and provisions and calculating daily rations, I decided to try and make for Madagascar 1500 miles away." From the log report to KPM Company, Joe recounts: "This day we experienced some welcome and tremendous cold driving rain enabling us to replenish our depleted stocks, but this did little to compensate for our shivering discomfort."
For the next two days Joe and his crew of 50 exhausted and weather-beaten Indian and Javanese survivors made relatively good progress under sail. "At approximately 1730 hours on 11 July, we were spotted by a Catalina – also saw land to port ahead. I decided to try and make landfall before sunset. I received orders from the Catalina not to land on the island as we would soon be picked up by a rescue ship which was on its way – also received water and cigarettes thrown down to us in 'Mae Wests'."
After 12 days, Joe and his crew were finally picked up at 1900 hours on 11 July 1944 by the British frigate, HMS Lossie, and received a great reception and welcome aboard. Of the 50 men under Joe's command, 49 survived the 12-day ordeal. One, a Goanese steward, had become insane as a result of drinking seawater and disappeared during the night without trace. Four hours later, Radio Officer Bird's lifeboat was rescued. The third lifeboat made landfall on Madagascar nearly two weeks later. In that boat only 12 of the original 47 survived.
Joe Bollen
Joe Bollen commenced his nautical career in 1934 at age 16 at the Northern Training College for the Merchant Navy known as Abel Tasman at Delfzijl
in Holland. After graduating, he joined the Royal Packet Navigation Company in the Netherlands East Indies. In 1939, he joined the Dutch merchant company, KPM, sailing out of Singapore. In 1944, as a result of crew shortages in Australia, Joe, along with several other officers and seamen, was seconded to the Eastern and Australia ship, SS Nellore. Following the war, Joe joined BHP's merchant fleet, rising to the position of senior master after serving in the Yampi and Flindersclass ships. Two of his commands before retiring in 1980 included BHP Big Ships Iron Somersby and Iron Sirius. United Service 63 (1) March 2012 Page 2
This is a revised and edited version of an earlier paper: Patrick Bollen (1995). Torpedoed by the Japs. Afloat No. 70, 28 – 31. Patrick Bollen is a boating commentator and journalist of 35 years based in Sydney. E-mail: patrickbollen@bigpond.com.
The Story of Silas Solomon
Video presentation by his family
https://www.youtube.com/watch?v=54v-4iqTDk8
The Lifeboat Diary of Jack Sheather
Vetaffairs – June 1994
A Newspaper for the Veteran Community
Source: https://nla.gov.au/nla.obj-1108004851/view?sectionId=nla.obj-1301089980&partId=nla.obj-1108060310#page/n0/mode/1up
Seaman's diary tells of month of death and survival after sinking June 29th 1944.
A diary written by a merchant seaman fifty years ago recalls a dramatic month-long journey across the Indian Ocean by survivors of the sinking of the SS Nellore.
The SS Nellore of the Eastern and Australian Steam Ship Company Ltd, was on a voyage from Bombay to Sydney when it was torpedoed and sunk by a Japanese submarine just before midnight on 29 June 1944. The ship was badly damaged and when it was seen that she was likely to sink, the majority of the crew and passengers were safely got away in the ship's lifeboats.
The author of the diary of one of the lifeboats was Jack Sheather who was awarded the British Medal for his "exceptional courage and coolness" during the voyage. The British Empire Medal citation, reported in the London Gazette on 17 July 1945, praised "his determined efforts and skilful seamanship which contributed greatly to the eventual saving of the survivors."
Jack Sheather could be forgiven for believing he was unlucky to be on the SS Nellore when it was sunk. He was the boatswain of the 'Wairuna' and had been paid off in Karachi in India. He joined the Nellore in Bombay as a passenger for the journey home to Sydney.
He joined a group of 47 survivors in the No. 4 port lifeboat. He was only one of three seamen on the boat. The other two mentioned in the diary were from South Australia. Archie (Lofty) Litster is now living at Semaphore, a suburb of Adelaide. Murray McCullock died on 13th March this year. (1994) They were both mentioned in despatches for their efforts on the lifeboat.
Jack Sheather worked for BHP in Newcastle after the war and died in the 1950s.The extracts from the lifeboat's log, written in diary form, are reproduced here by courtesy of Wally McLellan.
Wally is a life member of the Merchant Navy War Service League with a keen interest in recording the history of merchant marine activity in the war years.
Torpedoed 29 June 1944
11.45 pm
We were hit Port side forrard with some loss of life and I am afraid it sounded like a double explosion tho' I was asleep and thrown out of my bunk onto my feet. The alarms were sounding as I made for the deck. The next cabin was a shambles and Litster has done his arm in, as everything collapsed in there.
I meet Litster and McCullock on the deck and we try to get the rafts away but they jam with the Shenhouse slips. Ship is on an even keel but going down, slowly by the head.
The bulkheads must be holding forrard – it is a good thing as the native crew are having trouble with the boats. Orders came to hold fast and belay abandon ship.
June 30th
About this time, I see the chief officer. He is doing his best and putting in some good work. He says our position is 8S,74 E and we are 200 miles E.S.E. off Diego Garcia. This is good news for we have now a known course if we get away. He also gives orders to carry on abandon ship. I see him no more, but hope he was saved as he is working hard and going about his duties in a calm and efficient manner.
We now shout to the people at the boat to get her into the water and they do, and are now lowering the boat right into the water.
Instead of stopping at the rail to take aboard the women and children, we sent the woman and her husband down the Jacob's Ladder – some of the Javanese passengers and myself keep the natives back, for some are in a near panic, the ship still sinking by the head.
Litster and McCullock now take a baby each in their arms and are going down the ship's side. This is no mean trick at 12.30 am under trying circumstances. Everyone aboard the boat.
We clear the ship going under the counter and joke with the guns crew who are still at their stations. 2nd Mate in Charge – I do not know if he got away. They did not fire for the subs are not in sight yet.
The propellers are now well clear of the water as we clear the ship. A sub breaks the surface near us, but submerges again – rather weird.
Shortly after the subs open up with shell fire from forrard making a sitting duck of the now crippled ship. They are getting the range and two shells whistle overhead of us. The subs fire about 20 rounds into her and she is well afire mid ships, and the magazines exploding. Rockets and fire-works going off etc. It is altogether an imposing but sad sight. She finally sinks about 2 am.
The second steward transfers to No. 4 star-board boat which consists mostly of passengers. W. Churchill asks me to take the boat over, which I do.
There are two subs off our bows with all lights on; turn the boat and see another sub's lights on and making for us. All hands now have the wind up, the sub getting near and we smell her oil and engines. Everyone crouches in the boat, giving her a dangerous list to starboard.
We know not what and the boat is half full of water, not having tightened up yet. A rain squall comes on and blackens us out and the sub, so what luck!
Dawn breaks on a crowd of sad and wondering, but thankful people. See no signs of wreckage, but No. 3 Port, No. 4 Starboard and I think one other boat in the distance. We must have drifted in the night, as we see no wreckage.
Step the mast and hoist sail – calm sea and fair S.E. wind. Steering for Diego Garcia – W.N.W. under way and take stock of ourselves, the boat and stores.
The boat is tightening up some, but still using the pump. The boat is sound but old – 27 ft x 6ft 6 inches and is in good condition. Sorry to say the running gear is not. Mainsail being very weak and old. Sea anchor unusable. Can find no matches.
Have four beakers of water and should say enough biscuits to last about 30 days on half rations, but expect to make Diego Garcia in about 4 days if we do not get becalmed. Also have several tins of chocolate but someone has been at them on the ship or in dock. I only wish the thief was here with me now.
Have no malted milk tablets, which is bad as the woman is feeding the eight-month-old baby. She is a very brave woman, but I wish she was not here as it is not only a responsibility, but a worry too. The little baby boy of 18 months is crying for water and it is heart rending out here, but he must wait till noon for we have set the issue of rations – day break, noon and sundown.
Take the names of all hands and give them to understand and keep the boat trimmed, that we will be picked up in a couple of days or make land in about four days. It is very hot, and the Indians all want to get on the leeside under the shade of the sail giving the boat a list and making it bad sailing.
We are now a little ship and there is not much room in it as we consist of 47 souls all told – seven Australians, seven Javanese including a woman, two children and her husband, and 33 Indians.
We now have our first meal – full rations all hands in good spirits.
One man, Hubble, is in bad shape. He is one of the ship's gunners and several others are feeling the after effects of the shock. Have ideal weather, calm sea and plain sailing.
Dawn breaks and we are all glad to be alive but having plenty to think about and wonder how many lost their lives in the wreck.
July 1st
There are plenty of birds about. Myself at the helm, Churchill and Litster wacking out rations. McCullock serving out and the Javanese calling the roll which we made out yesterday. These will be the stations for the trip. We have lost sight of the other boats. Going to be a trying day. The sun is very hot.
Some feel the thirst today. Douche ourselves with salt water, warn everybody not to drink it. On full rations, 6 0z water per day, double for the woman and children. The woman who is bearing up can still smile.
July 2nd
Good weather and thinking of other Sundays. Some of our people want to know when we will be picked up, and a few are a little hysterical but fix up with sing-song and a little talking. Must sing no more – get too dry. Bribes are being sent to heaven this night and one man offers us 50 pounds if we get him landed safe in Sydney Town.
July 4th
Just before dawn had the shock of our lives for life is getting sweet to us as we expect to make a land fall any time now and have plenty of look outs on.
In the other boat, should say there is about 40 men and we are 47 all told. Just before dawn we sight with great joy and excitement what we think is an island. We ask the other boat what she thinks of it and they are of the same opinion, so both boats make for it and it appears to be a few hundred yards off.
We see lovely sandy beach hills and above all plenty of coconuts and what our Javanese friends are not going to do with those coconuts – for they give us to understand they know all there is to know about them and we believe them – so 87 people are going to have a wonderful time.
It was clouds.
Dawn; another hot day. Becalmed, have not much to say. Litster and myself go for a swim. Get aboard again. Litster sits dangling his feet in the water when up comes the sharks, and a 16ft grey nurse misses him by inches as he goes over backwards into the board amidst great applause. No more swimming for us. Will do my swimming in a bucket.
Noon a light breeze. Both boats hoist sail. We follow 3rd mates.
About 11 pm we sight an aircraft. Great excitement. Have to keep order. Our fingers are all thumbs.
As we get the port lights and rockets away, she sights us. Cheers and hand-shakes. Serve out a double issue of milk and water. Mixed a good drink to celebrate ourselves and the crew of the Catalina. Everyone happy and talkative all night. The R.A.F. boys' ears should be burning.
July 5th
Plane sights us again in the early forenoon. We hold up babies and make signs for water. They dive and drop us their emergency rations, also attach message. Message reads "help coming steer 2250 for Diego Garcia – 50 miles – good luck". We give half the plane's stores to the other boat.
The lifeboat ran into worsening weather as the rations ran down, it also lost contact with the other lifeboat from the Nellore.
July 9th
Weather eased somewhat. Am now on a N.E. course, looking for Diego Garcia, but our vision is only about a mile if that. It is a queer and awful feeling being lost out in the ocean, much worse than out in the bush. We see plenty of terns and Stormy Petrels. Today saw a bird like a Lord Howe Island Bosun Bird so think we cannot be far off land. Plenty of fish, but cannot catch any. Lose some hooks. The bosun bird keeps with us half the day giving us a once over twice. He is very majestic, but we wish he could speak. This is the time when the bird is better than the man. Everybody shaking with cold; cannot sleep much.
July 10th
Another hopeless dawn. Flying fish but none in the boat. Later we come in with a large school of young porpoises and they swim and play around us. They are happier than we are, for am now getting a lot of awkward questions from some of the people, such as when are we going to make land, and where is the ship that is going to pick us up. So, we have a get together meeting, and by vote decide to make for Madagascar, pointing out to all hands that if we get becalmed and if we do not get rain many of us will not survive at all, but with God's help we will do it. We have a sound boat, but running gear not so good, excellent boat charts, a good compass. Rations are now on halved until we get rain. Full rations for the woman and children.
Now feel we are making for a place, and have lost that lost feeling which to say the least, was very nasty.
On 13 July one of the Indian passengers died and was buried at sea, then on 15 July another passenger died from exposure.
July 16th
Gale still holds. Two men short, at roll call. Must have gone over in the night – can only guess now.
The poor old Doc is dead in the bottom of the boat – drowned in the bilge water. What a death. We shall miss him for I was going to make him the family priest.
One man is dying. We wet his lips with fresh water. He is drying from the effects of salt water. He looks ghastly, eyes nearly out of his head, and cheeks sunk right in. Two days of salt water drinking and all go the same way.
Take all tins aft and warn all hands – any man seen drinking salt water his ration of fresh will be cut out.
We must get rain soon as rain clouds are banking all around. We strip the dead and after burial hand the clothes around, some to the woman and children.
She is very cold and suffering misery. She has her children to look after. The poor kids – they do not even cry now. Her husband is a sick man, but hope she does not know it. She still gives us a wan smile, never complaining. Well. She has given a lot of the men a lot of points.
The rest of the clothes we give to the men who are most sick.
The gale is rising as we prepare for the night – doing a good six knots or more. S.W. course, 17 days out, six dead. We must get rain soon.
The boat is making a little more water. One man wants overtime for bailing out after dark. I wonder how many are half dead.
Must grip ourselves for this is the time when a man has to stand on his own feet and if he fails, only his own willpower and determination to see it through. There are three of us who are determined to carry on until we pass out or the boat falls to pieces.
By 20 July the passengers and boat were in desperate shape.
July 20th
The dawn is always the worst but this is our darkest dawn.
This is not our boat. It's a morgue – nine dead today – the living and the dead altogether. Rigor mortis has set in with all.
Will have trouble to get some of the dead over the side, as some are in awful positions. Mass burial, R.I.P.
Mixed meat extract with the water to try to warm ourselves.
By July 27, land is still only a hope.
July 27th
By the boat's charts and estimating roughly our speed and allowing for drift we have about 200 miles yet to do. We are in the northerly drift of the tide now as we can tell and see by the drift of the wake and the line that we have out from the stern. Looking over the side of the boat she has barnacles from a quarter to half an inch long on her.
This morn the woman's husband died. We are all sorry. She breaks down for the first time.
She who has been so brave; never complaining; never asking for a thing unless it was for her children, or a little water for her husband, before he died.
We try to console her the best we can, but she just sobs and cuddles her children.
Now take stock of ourselves. We are seven Australians in bad order and conditions, the woman and the two children, one Javanese man, mad and one Indian Mohammedan.
After dark, we get a couple puffs of hot air and the rain clouds are banking to the South West.
July 28th
At 12.45 am Litster at the helm, hears something like sound of a motor ship. We have not long to wait.
It is the roar of the surf, and we are running right into it as we about ship. Waking all hands and making for the open sea on a N.E. course. Some see the outline of the mountains and it is a pitch-black night.
Serve out an issue of water. Everybody excited – but we still have to bail.
Five full measures of water or a tin of milk for the first man that sights the land at daybreak.
Dawn is breaking as we about ship to S.W. We have not long to wait, as McCullock gives the cry of land ahead. He takes the reward which he shares with us, putting a full tin of milk in a double issue of water to all hands.
Now our troubles start as we near land.
Fire port lights and rockets and our first smoke since the last rocket on July 14th. Can see no habitation. We think of landing, but everyone weak and do not know if there are wild animals.
See the houses of the village about three miles to the North of us, but to make the village we would have to go about and come in on another course.
By that time, it would be too late and too dark to make a landing. Am frightened now of this land, we have been looking for, for so long. The surf is very bad and breaking savagely on a short beach of a few yards.
Decide to go in. If we have another night at sea, there will be another two or three dead by tomorrow night. Everyone to don life belts.
We have only two men who can use the oars so am sailing right into the surf, dropping the sail at the first breakers.
We poop a full sea on about the second last breaker. All hands now have their own problems.
I am in the bottom of the boat under the green seas and feel fear as I hear the wood breaking and the boat cracking up.
Am now thrown out of the boat with the next breaker; into the sea, under the sand, onto the beach.
Everybody washed ashore except one man, the Javanese who was mad.
Soon after the good people of Sambava, black and white, rescued us from the bank above the beach and took us into their homes and hearts.
Am sorry to say the little baby girl died the second day we were ashore.
Plage de Sambava - Present Day
By Tonton Bernardo - Own work, CC BY-SA 3.0, https://commons.wikimedia.org/w/index.php?curid=25897417
To Be Concluded