FRANK S. TAYLOR FAMILY AND ROYAL NAVY HISTORY.NET
H.M.S. SCARAB
Harry Berry
27 March 1944 – 20 January 1945
Royal Navy
Ship's Telegraphist
This page is dedicated to the Memory of Telegraphist Harry Berry.
May his name live forever more
and be remembered with affection and honour.
30 January 1925 to 28 April 2018
1939 – 1945 Star
Italy Star
War Medal 1939 – 1945
1939 – 1945 Star Italy Star War Medal 1939 – 1945
Harry Berry
(his Service Record names him Henry)
was born in Old Monkland, Lanarkshire, Scotland on 30 January 1925.
He entered the Royal Navy 23 June 1943 at age 18 and a half years.
His training as a Telegraphist ended on 26 March 1944 and he was assigned to H.M.S. Scarab on 27 March 1944.
Harry joined the crew of the Insect Class Gunboat Scarab just prior to the Invasion of Elba (Operation Brassard) and the Invasion of Southern France
(The Other D Day). For a better description of these events please refer to: http://frankstaylorfamilyandroyalnavyhistory.net/HMSScarab/HMSScarabWW2.html (this website)
He joined a small close-knit crew who worked and played hard. The little warship would have to be the luckiest in terms of surviving near misses from Stukas and torpedo bombers. They carried out numerous bombardment duties, assisting Montgomery's 8th Army in North Africa and the Mediterranean.
The ship was designed for river use and was never comfortable at sea. She had a very shallow draught and leaked badly in rough weather. Conditions were very primitive - rats, toilets over the side but for close-in support work from the sea they were invaluable.
Harry was with the Special Operations Group (SOG) Task force 80.4 aboard H.M.S. Scarab. Lieutenant-Commander Douglas Fairbanks Jnr was on her sister ship H.M.S. Aphis in command of operations. There was one hell of a battle with 2 Nazi Corvettes with Fairbanks being awarded a decoration second only to the Medal of Honour or Victoria Cross.
For his part in the assault on Southern France, Lt. Commander Fairbanks was awarded the U.S. Navy's Legion of Merit with bronze V (for valour). The citation for this award reads:
On the morning of August 17, when two hostile vessels attacked a group of smaller craft, he courageously led the ships of his unit into action and, aggressively directing the combat operations with expert seamanship against heavy odds, greatly aided in the ultimate sinking of the two vessels. By his brilliant leadership and steadfast devotion to duty throughout this vital period, Lieutenant Commander Fairbanks contributed materially to the successful invasion of a highly strategic area.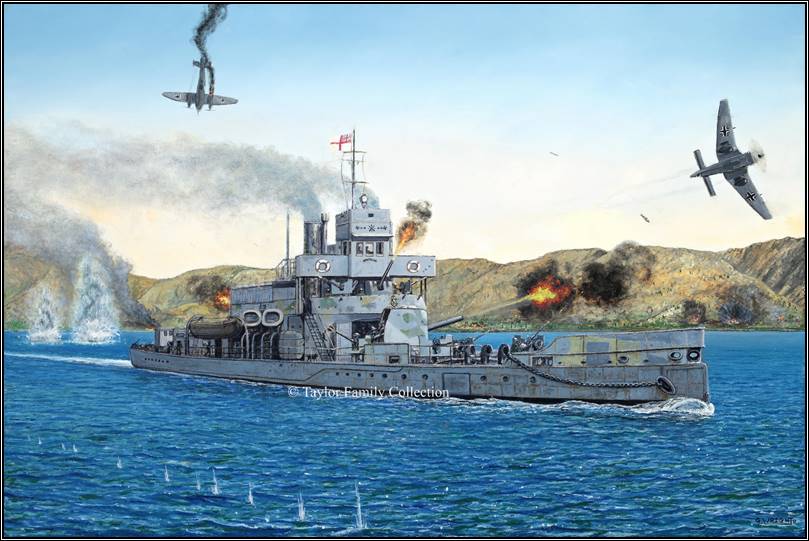 H.M.S. Scarab
Avola Bay, Sicily
Operation Husky 1943
Author's Note:
Our fathers were shipmates on this magnificent little warship Scarab. I have no doubt they knew each other.
They would have served for seven months together.
Excerpts from correspondence with daughter Irene are as follows.
From: Irene Bennie
Wednesday, December 20, 2017
Subject: HMS SCARAB; Telegraphist Henry Berry JX578680
Hi Russell
My father Henry Berry (JX578680) recently asked me to find information of "his old Navy ship" and on looking over his Certificate of Service, I see he was the Telegraphist on HMS Scarab from 27 March '44 to 30 June '44 and from 1 July '44 to 20 Jan '45. His full time of service in the Royal Navy was from 23 June '43 to 12 Sept '46. If it is of interest I can copy his Certificate of Service to you.
"Harry" thankfully is still with us and all going well will be 93 on 30th January. I will print off all the information for him but if you have any further information (and you would not mind forwarding to me) of any of the crew, I would be delighted to take this to him.
I close, feeling privileged to correspond with you regarding the above and look forward, hopefully, to your reply.
Kindest regards
Irene Bennie
From: Irene Bennie
Thursday, December 21, 2017
Dear Russell,
Many, many thanks for your quick return. I am overjoyed at what you have told me and I will ask dad to give me anything he can remember, especially when he hears you have made contact and what you have had to say, I am sure will jolt things along.
I do have a head and shoulders photograph of him in his Naval attire which I will get copied with his Certificate of Service and send them on to you.
I had read over your amazing website and had decided to give the family a treat at Christmas by reading to them what dad had experienced during the war. Especially for the younger members, as it is something that I believe they should be aware of. To include great-grandad in this magnificent story will be an eye opener for them!!! He is very much the quiet man and has been a magnificent father but I will ask him to dig deep and I will give you everything he has to say.
Well, thank you Russell this has been a real joy. I have ordered an HMS Scarab wall plaque to put in with his Christmas as a surprise and I will keep you posted on the family response of what I plan to tell them.
Very best wishes from our family in bonnie Scotland to yours, for a lovely peaceful Christmas.
Kindest regards
Irene
From: Irene Bennie
Monday, January 1, 2018
Subject: Re: Douglas Fairbanks Jnr HMS Scarab. HMS Aphis August 17 1944.
Hi Russell
Many thanks for this attachment, which makes great reading! I can remember dad talking about Douglas Fairbanks Jnr but I'm not too sure if they did indeed rub shoulders, maybe you could confirm with dates on his Certificate of service.
He did love his Scarab wall plaque and I sat with him regarding footage of operations which he could not get enough of. He actually took not well which was scary, I thought it might be anxiety but mum assured me not and it's his "old age" that's getting to him. They are celebrating their 68th Wedding Anniversary today which mum said he's "a bit grumpy" about but he has had a really busy time with the family at Christmas, therefore maybe "another" celebration is too much.
Please find attached dads' photograph and Certificate of service, with his telegraphist paper's.
I apologise for the delay but now managed to get from the loft what I was looking for.
I close wishing you and your family, health and happiness in the coming year, enjoy celebrations!!
All the very best, Irene
H.M.S. Scarab Crew Photo
Alexandria, Egypt - October 1943
Harry's shipmates after he joined Scarab in March 1944.
(See Insert: Harry Berry – Telegraphist)
(Click to enlarge)
Safely Anchored
Jenny and Harry
Celebrated their 68th Wedding Anniversary
in January 2018.
Certificate of Service
Though out Harry's War Service his character was regarded by his superior officers as Very Good.
Harry's training took place at three different locations.
Royal College (Greenwich) Sheffield near Glasgow, Scotia and Mercury,
He was assigned to H.M.S. Scarab on 27 March 1944 until 20 January 1945, then to Malta 16 Oct 45,
To Mercury again on 7 May 1946 and demobbed 12 September 1946.
Ship and Shore Bases

Royal College

Sheffield (near Glasgow)

Scotia

Mercury

Nile (Scarab)

St. Angelo (Scarab)

Fabius (RN Base at Taranto, Italy)

Nile – Shore Establishment - Alexandria Egypt

St. Angelo (Malta)

Mercury

HMS Victory

From

23 Jun 43

24 Jul 43

4 Dec 43

4 Feb 44

27 Mar 44

1 Jul 44

21 Jan 45

27 Jul 45

1 Dec 45

7 May 46

11 Jul 46

To

23 Jul 43

3 Dec 43

3 Feb 44

26 Mar 44

30 Jun 44

20 Jan 45

26 Jul 45

30 Nov 45

6 May 46

10 Jul 46

12 Sep 46 (Released)
Telegraphist Papers