( Please Click here for Our Full Website Index )
_________________________________________________________________________________________________________________________________________________________________________________________________________________________________________________________________________________
H.M.S. SCARAB
Royal Navy Insect Class River Gunboat
1939 – 1945
'A Lucky Little Ship'
 Design concept Russell J Taylor

Artist Gordon Wright

Avola Bay,  Sicily 1943 

Close-up of Inscription plaque
Ordinary Seaman
January 1942
FRANK SUTTON TAYLOR

ABLE SEAMAN

His Service On HMS Scarab

by Russ Taylor

My Dad, Able Seaman Frank Sutton Taylor JX 324358, was born 2 March 1923 and passed away 11 September 1986 aged 63.

H.M. Ships Dad served on:

H.M.S Scarab

Light cruiser

River gunboat

Light cruiser

17 June 1942

11 April 1943

16 Sept 1944

To

To

To

10 April 1943

15 Sept 1944

29 July 1945

 

Frank (Buck) Taylor
In recent years a photo album which had not seen the light of day for many years was recovered. The contents were faded and very worn because of time. I have since started having all them professionally re-done mainly of HMS Scarab. I also made application to the Ministry of Defence and received my Father's WW II Medal entitlement which for reasons unknown he did not collect. These include: 1939 - 1945 Star, Atlantic Star with France and Germany Clasp, Africa Star, Italy Star and 1939 - 1945 War Medal. I believe that the contribution made by gunboats Scarab, Aphis and Cockchafer and the significant role they played in the 8th Army advance in North Africa and in the Mediterranean were grossly underestimated. With her small crew of 70, the men of Scarab seem to have been a very close-knit bunch, at least from the photos I have recovered.
I have since been in contact with a former crew member of Scarab, Mr. Fred (Kiwi) Lemberg. Not only did he serve with my Father but they were good mates. He advised that the crew of Scarab were 'a great bunch with a fantastic Skipper as well. Everyone got on well.' One of many great blokes I have met along the way was Mr Frank Bee, a real character. He is the sort of bloke you just know you would get on with. However going out for a good time, he'd be the one to get you into trouble. I liked him straight away. Another whom I met was Dr. Peter Miller who was Surgeon Lieutenant aboard HMS Aphis. He was able to discuss his first-hand accounts. He also discussed with me his experience aboard Aphis with her Skipper Lieutenant-Commander Frank Bethell and Lieutenant Tony de Cossan. Also Mr. Derek Grainger, who's dad (Albert Harold Grainger) was able to share some of his father's first-hand accounts and Mr. Gordon Smith the site author from http://www.naval-history.net/.
My travels have taken me around the world on a voyage of discovery. I have met so many very fine people along the way which has been very fulfilling. Contributions in the form of anecdotes, photographs, memoirs and diaries, the discovery of Scarab's commemorative shield in the market town of Sudbury in Suffolk (not seen for 60 years) and the excitement that produced, a visit to the Royal Navy Archives at Portsmouth, the list goes on and continues to grow. (See Acknowledgments) I also visited Myanmar (Burma) to meet Si Thu Kyaw Thein Lwin (K.T.) who was the Navigation Officer of HMS Scarab 1946-47 when the ship was on-loan to the Government of Burma.
It is very evident that I did not know where it would take me or where I was going with this project. What started off with some very old, faded and yellowed photographs has made a tremendous impact upon my life. It has become a portal into the past, an intimate look into a time when the future, all that one held dear and survival itself was at stake. When the whole world was at war and nobody and nowhere was safe.
When I mentioned to a few people what I was doing most thought it was a great idea but many felt I would be wasting my time as WW II veterans would be very old or would have passed away. Undeterred I nevertheless felt it was a story that needed to be told, especially about Scarab as very little is written about these river gunboats that served in the Mediterranean or their contribution to the various campaigns.
And by crikey what a magnificent story it has turned out to be.
Russ Taylor 2012
H.M.S Scarab

Royal Navy Insect Class Gunboat WW II

Alexandria, Egypt

October 1943

Frank Sutton Taylor

(1st from the left  5th row from the front)
For enlargement, identification and a list of Scarab's crew members please click on the photo.
Skipper Ewan Cameron

1943

Courtesy

The Grainger Family

HMS SCARAB'S SERVICE

NEW ZEALANDER IN COMMAND

(Special Correspondent)

LONDON, Sept. 23.

The commanding officer of a Chinese river gunboat, the Scarab, which took part in the Sicilian campaign, is Lieutenant E. Cameron, RNZNVR Christchurch. The Scarab was in six successful bombardments. She shot down four enemy aircraft and came through without damage or casualties. Cameron said: "Our most successful bombardment was at Cape Molino when our target was an ammunition dump and buildings. We and another ship caused explosions and a tremendous fire which we could still see when 25 miles away. The day Taormina fell we bombarded roads and other targets north of the town. It appeared that the enemy was waiting for us for he opened up with heavy fire. We went further out but closed up again at night-time. We put a 3-inch shell right under one bomber we got in the daytime. We also shot down a bomber and a torpedo-bomber at night-time."

LED THE INVASION FLEET

"We claim to be among the first ships to go into action against beaches, for we led the invasion fleet in and with our shallow draught got within half a mile of the shore. We spent 39 days round Sicily. We were doing patrols and bombardments or some kind of work every day but four. We sometimes went ashore and bartered old clothes and cigarettes for fruit and vegetables. I got 100 lemons for a pair of old boots."

Cameron joined the Scarab in Singapore where he went in 1940. She was built in 1915 and served in the Middle East during the last war, then from 1918 to 1940 served on the Yangtze River. She fought Chinese pirates and helped to drive off the Japanese aircraft bombing the Panay. She went to the Persian Gulf in 1941 and entered the Mediterranean for the Sicilian Campaign.

Cameron is proud of the Scarab's engines. "When we had to get away under heavy shelling we increased speed from four to fourteen knots in a minute and a half." he said

(Click to enlarge)

Courtesy

'Kiwi' Lemberg  
We would especially like to acknowledge the assistance of the late Mr Geoffrey B Mason, Lieutenant Commander, RN (Rtd) (with respect - lest we forget) and Mr Gordon Smith who opened a segment of their website to us.
 SERVICE HISTORIES OF ROYAL NAVY WARSHIPS IN WORLD WAR 2
That includes this fantastic tribute to HMS Scarab and her crew.
By so doing Gordon and Geoffrey have provided a wonderful impetus to our efforts.
 We are extremely grateful.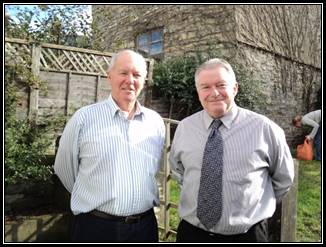 Mr Gordon Smith and Russ in Wales
HMS SCARAB
Insect Class River Gunboat

Including details of service, eyewitness accounts and photographs,
INSECT-Class River Gunboat ordered from Wood Skinner of Newcastle on 29th February 1915 and launched on 7th October 1915 as the 1st Royal Navy ship to carry this name. Build was completed on 14th November 1915. During 1917 she was deployed in support of military operations on the Danube, based at Bucharest. She remained there until 1919 when she took passage to join the China Squadron for service in the Yangtze Flotilla to provide aid for British flagged shipping and British nationals in an unstable environment. During WW2 in February 1942 after a successful Warship Week National Savings campaign this ship was adopted by the civil communities of Sudbury and Melford, Suffolk.
SCARAB was powered by Yarrow boilers providing 2000 horsepower and an official top speed of 14 knots but capable of 18. She carried a complement of between 54 and 65 and a very respectable armament of 2 x 6 inch guns, 1 x 3 inch gun, 8 x 20 millimetre Oerlikon cannons and 4 x Lewis guns ( from the official logs).
B a t t l e H o n o u r s
Mesopotamia 1917 - Sicily 1943 - Mediterranean 1943-45 – Adriatic 1944 - South France 1944


H e r a l d i c D a t a
Badge: On a Field Black, a scarab blue and gold
M o t t o
Vivo ut vinco:  'I live that I may conquer'
Commanding Officers
HMS Scarab 1938 -1945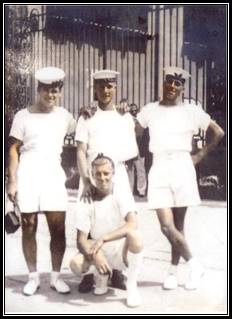 Blondie (at front) & Buck (back row on right)
D e t a i l s o f W a r S e r v i c e

HMS Scarab

Yangtze 1937–39  Photo courtesy of David Richardson

son of crew member Petty Officer Ernest Richardson,

HMS Ladybird 1937-41

1 9 3 9

September

To December

Deployed with Yangtze Flotilla. (Note: Intended transfer to Singapore for patrol and minesweeping to allow return of Fleet Minesweepers for service elsewhere was never implemented.)

1 9 4 0

January

to June

Remained for service based at Hong Kong

July to

December

Withdrawn from service at Hong Kong and transferred to Singapore

1 9 4 1

After deployment at Singapore transferred to East Indies Station.

(Note: No operational use off Burma traced.)

September 14th 1941

Singapore

Original  photos

Crew members of Scarab before the Jap attack on Pearl Harbour

December

Transferred to Persian Gulf

1 9 4 2

January

Arrived Basra, Iraq

1 9 4 3

January

Nominated for transfer to Mediterranean

April

Passage to join Mediterranean Fleet at Alexandria, Egypt
'Buck' Taylor and shipmate man a Lewis gun (left) and 20mm Oerlikon anti-aircraft gun during gunnery practice
1 9 4 3
HMS Scarab  1943
Crossed guns refer to successful bombardment duties.
(i.e. Shelling targets from close inshore)
Plane and Nazi symbols refer to enemy aircraft shot down.
Scarab crest (above gun) 6-inch gun & Turret
Bridge: 'Doc' gets a haircut.
Man at top signalling via semaphore to shore.
March

to

September

Gunboat attached to Persian Gulf Division – Eastern Fleet

Following the distinguished performances by Scarab's sister ship HMS Aphis in North Africa Admiral Cunningham arranged for the loan of the two Insects based in the Persian Gulf .  In the closing stages of the 8th Army's campaign in North Africa Scarab and Cockchafer on station at Basra were seconded to the Mediterranean Fleet. Early in April 1943 they were towed via Aden to Alexandria.

A month later both were refitted and rearmed. In command of Cockchafer was Lieutenant Arthur Dow RNVR (originally her First Lieutenant) and in Scarab Lieutenant Ewan Cameron, Royal New Zealand Naval Volunteer Reserve. Six weeks later the Insects were ready for service and sailed for Malta.

The armament and fire control arrangements of the Insects had remained almost unchanged since World War I. No quality modern weapons, electronic control or precision instruments. To quote one of Admiral Cunningham's dispatches:

"The gunboats have primitive gunnery equipment, with old 6-inch guns having a maximum range of 12,000 yards which were out-ranged by coast defence and mobile batteries which shot with accuracy up to 19,000 yards. They also have crude wireless and signal equipment"

The little armour they had was a few steel shutters over the wheelhouse windows and a number of splinter-proof mattresses lashed around the bridge wings.

At the time of their arrival in the Mediterranean they appeared very different from the grim floating gun platforms they had been during World War I. Their armament consisted of two 6-inch guns, one 3-inch high-angle gun sited immediately before the bridge structure, a 2-ponder pom-pom at the after end of the battery deck and eight Lewis guns mounted four on each beam.

March 

31st

Transferred from Persian Gulf Division – Eastern Fleet to Mediterranean Fleet with HMS Cockchafer.

April     

 

2nd

25th

Arrived Basra, Iraq, Persian Gulf

Departed Aden

North Africa and Mediterranean

May    

             

4th

6th

Arrived Port Said, Egypt, departed 5th

Arrived Alexandria, Egypt
Suez 1943
Centre Back row L to R: 'Buck' Taylor
Front row L to R: 'Kiwi' Lemberg 1st left
HMS Scarab football team
A.B Dalzell 'The painter' back row – dark jumper (goal keeper)
Best mates Bob Keeling and Albert Grainger. 
On leaving Scarab, Bob gave Albert a friendship token.
(A good mates ring)
Passed down to his son Derek by his Dad.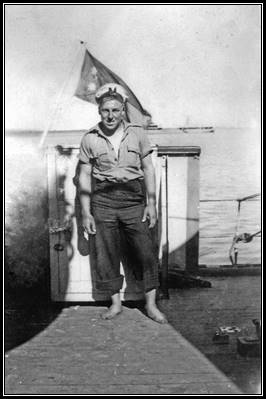 Scarab Crew Member A B Dalzell
(the Painter)
Blondie Thomas on leave
Note Tortoise at front
Netanya, Palestine 1944
| | | |
| --- | --- | --- |
| June | 9th | Departed Alexandria |
| | 10th | Port Said |
| | 27th | Suez and Port Said |
| | 28th | Alexandria |
Great Pyramid of Giza with Sphinx in background                                        Cairo, Egypt  1943

1.  British Army

2.  Ernie (Blondie) Thomas

3.  British Army

4.  Scarab crew member

5.  Timms

6.  Frank (Buck) Taylor

7.  Scarab crew member

8.  Goldie

9.   Chief Petty Officer

10. Scarab crew member

11. British Army

12. British Army

The Sphinx
The mirage between the pyramids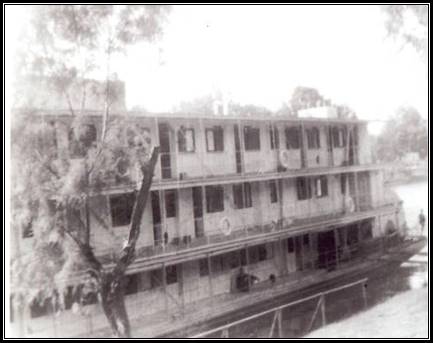 On Leave: House-boat to Cairo  1943
Gyppo boat boys Alex 1943
H.M.S. Scarab W.W. II
 Buck Taylor Able Seaman 1943 – 44
Quartermaster at gangway.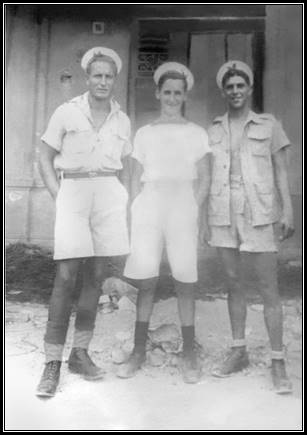 September 1943
Buck Taylor (far right), A.B. Timms and shipmate.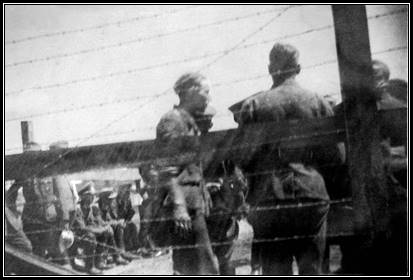 German Prisoners of War after North African Campaign
German officers can be seen – seated
| | | |
| --- | --- | --- |
| July | | Nominated for bombardment in support of planned landings in Sicily (Operation HUSKY) |
| | |
| --- | --- |
| Scarab's Operational Areas | |
HMS St Angelo Malta (Original Postcard)
The Invasion of Sicily
Operation Husky
Author's Note:
For film footage of Operation Husky please click on the following link. (this website)
Operation Husky - The Invasion of Sicily (Film)
For months Allied staff officers had prepared a vast and complicated invasion plan code-named Operation Husky.  In this operation 160,000 British, American and Canadian soldiers were to be landed on the beaches of Sicily, together with 800 guns, 600 tanks and 14,000 vehicles. This force was to be followed up by thousands of reinforcements to go ashore following the main landings. 897 warships from all the allied navies would support the operation from battleships downward. 2000 vessels, fighting ships, landing craft and store, ammunition and fuel carriers were to converge on Sicily from staging ports in the Mediterranean including Gibraltar, Malta and Alexandria. They were to arrive in their allotted areas at the precise point in time designated as D-day and H-hour.
Scarab and Cockchafer met up with their sister-ship Aphis in Malta. That these twenty-eight year old shallow draught, thin skinned vessels were allocated an important role in such an invasion plan with fast, modern, heavily-gunned warships is a measure of their worth. Only one other vessel of comparable age took part in the invasion of Sicily, the veteran battleship Warspite which had been extensively modernised and re-equipped.
The Insects had reverted to their austere appearance of World War 1. Their hulls, funnels and superstructures were now streaked with black and grey camouflage. Above the wheelhouse a small square 'monkey's island' enclosed within bullet-proof steel had been erected to accommodate the searchlight and the air-defence lookouts and their weapons. Fifteen feet of steel plating had been built up at either side of the bows as a forecastle bulwark to keep the ship dry in a seaway and to shield the forward gun-crews from spray. (Light automatic weapons had been mounted forward)
The motor-boats on davits were gone – Carley rafts on quick-release skids were fitted at either side below the battery deck. The Insects armament had also been augmented. In addition to their heavier weapons Cockchafer and Scarab mounted 8 Oerlikons apiece for which they had traded in their pom-pom guns. (their previous weapons were an earlier model with a distressing tendency to jam and the exchange was very much to the crews' approval) Aphis now boasted an Oerlikon and two 20 mm Bredas.
Operation Husky was carried out by the American 7th Army and the British 8th Army under Generals Patton and Montgomery. The invasion fleet was divided into Eastern and Western Task Forces under British and U.S. flag officers respectively. Code-named "Acid, North and South"," Bark East" "Bark South" and "Bark West", the British sectors covered a stretch of coast from a point just south of Syracuse to a line joining the American assault sector ten miles west of Cape Passero. The British bombardment group known as "Force  A" included the 3 Insects, the cruisers Uganda and Mauritius, the destroyers Eskimo, Nubian and Tartar, the monitor Erebus and the ack-ack cruiser Carlisle. Within this sector the 5th and 50th Divisions of the 8th Army would land and capture a bridgehead 5 miles wide.
| | | |
| --- | --- | --- |
| July | 1st | Departed Alexandria |
| | 4th | Departed Benghazi, North-east of Libya |
| | 6th | Arrived Tripoli, Western Libya - departed same day |
| | 9th | Arrived Malta |
July

9th

H-Hour:  12.30 am

5pm. In a strong north-west wind Scarab and fellow ships of the invasion force left Malta in short steep seas and unpleasant spray-wreathed conditions. The wind abated at 11.30 pm and the night became calm.

It was the first time the Insects had worked with a large surface fleet. Their duty was to provide close support gunfire for the allied troops whenever called for. At first light the defending guns commenced shelling the beaches and landing craft and the Insects went into action. By 8 am the enemy gun batteries had been silenced.

Syracuse was captured in the evening of July 10th and 3 days later Allied convoys were unloading in that port. More bombardments were called for as the army fought its way into Augusta and by 13 July the warships were shelling Catania airfield.

The enemy struck back with bombers and E-boats and aircraft dropped mines and torpedoes in the anchorages. Cockchafer's gunners shot down one of the raiders over Catania. Eight Italian U-boats were active in the area but proved to be ineffectual. Four of them were accounted for, one being captured after a brief but fierce action by a British minesweeper.

British Motor Torpedo Boats made nightly forays into the Messino Straits to harass the German retreat accompanied by the Insects to lob shells into enemy troop concentrations waiting their turn to be ferried to the Italian mainland.

Although the Germans had decided that Sicily could not be saved there was stiff fighting as they sought to delay the Allied advance. The ships had daily encounters with Focke-Wulfes, dive-bombers and Ju. 88's, E-boats and submarines, both German and Italian. Enemy coastal batteries on the Italian mainland shelled the waters of the narrow straits to deter naval operations.

By mid-August the American 7th Army had swept round to the north and west of Sicily and were approaching Messina. The Germans stepped up their evacuation and by August 17 were clear of the island. Cruisers and destroyers of both British and American navies shelled the coasts of the Calabrian peninsula bombarding as far north as Naples. General Montgomery prepared to step across to the toe of Italy

July

30th

Departed Augusta, East coast of Sicily
Dad (right) with shipmate H.M.S. Scarab 1944
The Invasion of Southern Italy

Operation Baytown

August

Nominated for support of Allied landings in Calabria, Southern Italy, south of Naples

Invasion of the Italian Mainland by the 8th Army at Calabria and Bombardment support by Royal Navy Ships, 3rd September, 1943

The Royal Navy Ships involved were HMS's Mauritius, Loyal, Offa, Orion, Quail, Queensborough, Quilliam, and Monitors Abercrombie, Erebus, Roberts, Aphis and Scarab. In the early hours of the 3rd of September 1943, troops of the 8th Army crossed the Messina Strait and landed on the Calbrian coast at 0430 hours. Their objective, to advance through Calabria to link up with the US 5th Army at Salerno, after their landing there on the 9th September 1943.

7th

Arrived Malta, departed on 9th

13th

Bombarded roads near Taormina, Cape Schiso (Sicily) at 500 yards range with Dutch Gunboat Soemba to impede the German retreat.

Dutch Gunboat Soemba

22nd

Arrived Malta, departed 30th

30th

Deployed with HMS Aphis and HM Monitors Erebus, Roberts and Abercrombie to bombard shore positions (coastal gun-batteries) on the Italian main coast between Reggio, Calabria, Pessaro and Villa San Giovanni prior to landings by British 8th Corps across the Straits of Messina. (Operation Baytown)

September

2nd

Took part in preparatory bombardments before landings.

3rd

One hour before daylight 300 landing craft headed for Italian beaches just north of Reggio.

They were accompanied by the squat shapes of Aphis and her sister ship Scarab, their guns as usual spouting flame in their support. The third Insect, Cockchafer was acting as watchdog over the Sicilian port of Catonia where this landing fleet had been assembled. The previous night German Focke-Wulf fighter-bombers had attacked the concentration of shipping within the port but had lost four planes shot down plus a probable fifth.

The landing was supported by the cruisers Mauritius, Uganda and Orion, the monitors Abercrombie and Roberts, and the destroyers Quilliam, Quail, Queensborough, Offa and the Polish Piorun. The monitor Erebus and gunboats Aphis and Scarab with flak and gun landing craft were on the northern flank.

Provided cover and naval gunfire support for Operation Baytown (first assault on mainland of Italy by 8th Army ferried from West Sicilian ports to landing beaches north of Reggio) during landings. Note: HM battleships Valiant and Warspite, cruisers Orion and Mauritius together with the river gunboat Aphis, destroyers Queenborough, Quilliam and Offa departed Augusta, east coast of Sicily.

There was little resistance as the Germans were already withdrawing to the north. Three days after the initial landing 35,000 troops and nearly 7,000 vehicles had been ferried to the mainland in a swarm of craft of every description in what the navy came to call the "Messina Regatta"

4th

To remain under command of Flag Officer Sicily to assist 8th Army.

Returned to Malta on release

5th

Arrived Augusta, departed same day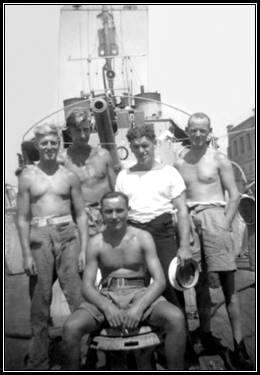 H.M.S. Scarab             1943-44
Back Row left to right
Blondie Thomas, Lofty Evans, Charlie Wells with shipmates
Note: 3 and 6 inch guns and smoke stacks.
Allied Landing at Vibo Valentia, Italy

Operation Ferdy

September

8th

Italy was practically out of the war. Mussolini had been toppled from power and a fresh invasion was underway. A new Allied army, the Fifth under U.S. General Mark Clark was about to be landed at Salerno, just south of Naples. It was essential that Montgomery's troops should join up with them. A lightning operation was planned with no time for rehearsals. The plan was to land a large body of troops behind enemy lines in the Italian 'toe'. Their purpose was to interfere with enemy withdrawal, prevent demolition of roads and bridges and thus aid the advance of the British 8th Army.

The landing was to take place at Vibo Valentia Marina, a little port 25 miles up the toe of Italy. Wooded hills rise steeply above the road and railway along which the enemy's guns and transport would have to pass.

24 landing craft ferried the troops accompanied by 18 tank landing craft and 2 tank landing ships carried the necessary guns and vehicles.

In support were Aphis and Scarab backed up by the monitor Erebus. With them were 2 Landing Craft (Gun) and 2 Landing Craft (Flak). Present in person aboard M.T.B. 77 was Rear-Admiral McGrigor to oversee the operation.

Although the landing was timed to commence at 2.30 am the night was very dark and Vibo Valentia's breakwater impossible to locate. The flotilla cruised around for 90 nerve-wracking minutes while the beach party searched desperately for their landing place. Dawn was barely an hour away by the time that the assault craft at last received the landing signal.

Only slight opposition had been anticipated by the planners but in fact the coast road was thronged with retiring German troops fully equipped with artillery, mortars and machine-guns. They opened fire at once and pinned down the invaders almost before they managed to get off the beaches.

Aphis, Scarab and Erebus opened fire in support. As daylight came enemy fire grew more intense and in places German defenders broke through to within a few yards of the beaches. Dive bombing attacks developed in one of which Admiral McGrigor's M.T.B. was near-missed, sunk and the admiral wounded. Undeterred he transferred his flag to a harbour defence motor launch.

Standing off the little bay Erebus and the two Insects were continuously in action. Shelling targets were signalled back to them by forward observation officers. Unfortunately one was killed and another lost touch with his bombarding ship. Until liaison was re-established supporting fire was badly compromised at a critical stage. If the soldiers were to avoid being driven back into the sea they urgently needed the guns and vehicles still on board the 2 tank landing ships.

Led by the Admiral in his motor launch the two vessels headed for the harbour.

One of them was soon in trouble but her consort zigzagged under the heavy fire, charged in and ran her bows up on the beach. She had been hit too many times on her way in and some of the vehicles set on fire. To make matters worse one of her bow doors jammed but by some miracle there happened to be a bulldozer on the beach and with its aid the damaged door was wrenched open. The guns went into action as soon as they were unloaded but the unfortunate L.S.T. remained where she was for many hours sustaining heavy damage and casualties from enemy shellfire.

Fighting raged all day with the Insects and Erebus slamming their 6 inch and 15 inch shells into the enemy at almost point-blank range. The fact that the German guns were all mobile made their work difficult. Although practically unscathed themselves the gunboats' attendant landing craft fared badly, one of them having all her officers killed or wounded by a direct hit.

With nightfall fighting eased and by 11 pm the Germans had withdrawn. Erebus escorted the crippled landing ships back to Sicily but the Insects remained until Lt. Frank Bethell in Aphis was satisfied all enemy opposition had been overcome. The gunfire of these hard-hitting little ships had saved the day.

By the time Aphis and Scarab were able to withdraw from Vibo Valentia Marina the Allied landing at Salerno was in full swing.

  

Vibo Valentia Marina – (present day)

Photos courtesy of Giuseppe Adessi (Italy)

Thank you Giuseppe. April 2013

Despite their usefulness the fact is often overlooked that they were elderly little ladies never intended for ocean operations. The venerable engines had to be carefully nursed and their thin, worn hulls constantly patched to withstand not just rough seas but the underwater concussion of exploding shells and bombs. Expendable yes, but uniquely valuable since they were of very shallow draught, reasonably speedy and manoeuvrable yet boasted a weight of shell equal to a destroyer.

Little more than flimsy floating platforms the gunboats were nearly helpless in large seas. Pushing head into the wind was unhelpful. The violent shock of pitching onto a flat bottom could not be endured by either crew or ship. Such "bumping" was actively dangerous since it hammered the hull plating and caused the superstructure to work back and forth loosening the securing rivets. For example the Insect Cricket required some 3,000 new rivets in her hull on arrival at Port Said after a short but rough voyage from Port Sudan.

Normally all small vessels were due for an overhaul and boiler clean after every thousand hours steaming but this was not always possible either because the ship could not be spared or because there was no dockyard berth free.

A good example is Cockchafer which when her engines had become urgently critical was sent wandering across to Malta, then to Benghazi, then Haifa on a variety of tasks until in May 1944 she arrived at Suez where the needs of her protesting machinery could finally receive attention.

But early in September, Cockchafer, Aphis and Scarab were retained along with Erebus to continue to aid the advance of the 8th Army which they did sharing the army's calls for flank bombardments with destroyers and light craft.

28th

Arrived Augusta departed 29th

30th

Arrived Malta.

In October the Admiralty informed the C.I.C. Mediterranean that the three Insects would remain at his disposal but that they should be refitted one at a time and modernised. This was to be deferred time and again.

The two Allied armies in Italy, the 5th on the west and the 8th on the east slowly forged northward against tough German opposition with the climatic obstacles of rain and snow, swollen rivers and glutinous mud which beset their efforts with the onset of winter. Each defensive river line was bitterly contested by the Germans under Kesselring.

Aphis and Scarab joined Cockchafer at Suez for overhaul and were fitted with a fresh pair of 6 inch guns apiece. Though these were not new they were a much later model and capable of effective fire at much greater range. In addition Aphis and Cockchafer were re-equipped with radar and Scarab given a VHF wireless set. Lieutenant Cameron was replaced by Lieutenant Edward Albert Hawkesworth, Royal Naval Volunteer Reserve in February 1944

While in dockyard fuel capacity and endurance were checked. Capacity was similar for all three – 106 tons but endurance range differed. Cockchafer's was nearly 200 miles less than her sisters and speed slower probably due to the poor condition of her engines and boilers. Maximum endurance range for Aphis and Scarab was a little over 800 nautical miles
                                            .
With Respect
Lest we forget
Lieutenant Ewan Cameron
Lieutenant Ewan Cameron  New Zealand Naval Volunteer Reserve, of Christchurch, who was appointed as skipper in March 1943 died while returning to New Zealand on leave on the steamer Nellore, which was torpedoed by the Japanese in the Indian Ocean in June 1944.
He was well respected and liked by all crew members.
'Kiwi' Lemberg visited his old skipper's Mum to pay his respects on his return to New Zealand.
October

 2nd

To remain at disposal of Commander in Chief, Mediterranean to be refitted and modernised.

3rd

Arrived Tripoli, departed on 5th

11th

Arrived Alexandria

June

24th

Taken in hand for cleaning and repairs.

November

to

December

At disposal of Commander in Chief, Mediterranean.
Netanya, Palestine 1944.
 South African (left) Dad in middle and shipmate.
| | | |
| --- | --- | --- |
| | | 1 9 4 4 |
| January | 10th | Arrived Port Said, Egypt |
| | 14th | Departed Suez |
| February | 14th | Departed Alexandria |
| | 29th | Departed Port Said |
| March | | Alexandria |
| April | 25th | Departed Alexandria, at sea with Convoy GUS 38 of 51 merchant vessels escorted by Aphis, Dart, Shiel, Sharpshooter, Woolborough and Primula |
| | 30th | Arrived Malta |
| May           | 26th | Departed Malta |
| June | | Nominated for support of landings in South of France under US command. |
| June  | 15th | Arrived Porto Vecchio – Southern Corsica, departed 16th |
| | 16th | Deployed with Flotilla to carry out landing on Island of Elba. |
| | 17th | Provided naval support fire in Operation Brassard (assault on Elba) with HM River Gunboats Aphis and Cockchafer, also HM Minesweepers Rosario, Spanker, Brave and Rinaldo which cleared 40 mines in advance |
The Invasion of the Island of Elba

Operation Brassard

Author's Note:

For film footage of Operation Brassard please click on the following link. (this website)

Operation Brassard -The Assault on Elba (Film)

June

17th

H-hour 4.00 am

In October 1943, the French cleared the enemy out of Corsica which released additional bases for operations against German coastal supply lines and from Corsica an attack on Elba could be mounted. Seizure of this island was essential because German guns on Elba dominated the Allied convoy channels supplying their armies as they advanced.

The assault was to be carried out by the French 9th Colonial Division who would be transported to the island in British and American landing craft. Supporting gunfire to be provided by the three Insects. The land forces were commanded by the French General Magnan and Rear-Admiral Thomas Troubridge was Naval Force Commander.

The Insects were to have undergone a preliminary workup in Malta but the refit of Cockchafer was so long delayed there was no time left to allow her to exercise with her sisters. The three gunboats departed from Malta on June 16th    for Porto Vecchio in Corsica where the invasion fleet for Elba was assembling. On June 16th the ships sailed from Bastia, Northern Corsica and Porto Vecchio bound for Elba.

Allied intelligence about the island's defences proved to be hopelessly inaccurate. The garrison was expected to be formed of only 800 men mostly Poles and Czechs waiting to be evacuated to the mainland. In fact there were no less than 2,600 Germans manning powerful concrete beach defences and strong-points throughout the island supported by numerous gun batteries both fixed and mobile. Caves had been excavated in the granite cliffs flanking all likely disembarkation points mounting 88 mm guns, mortars and machine-guns.

Diversionary landings intended to mislead the enemy were mounted some three hours before the main assault went in. A group of American PT boats under the command of Lieutenant-Commander Douglas Fairbanks Jnr, U.S.N.R. simultaneously staged a noisy demonstration off Porto Ferrajo which was strongly defended. Also shock troops landed to silence the enemy batteries at Cape Enfola and on Cape Ripalti to the south-east. At the same time the smaller island of Pianosa eight miles southwest of Elba with a small German garrison would also be seized by a French landing party. Minesweepers had cleared a channel from Pianosa to Campo Bay cutting nearly 50 moored mines. Even so one British flak landing craft was sunk and a gun landing craft damaged by mine explosions.

In one of the preliminary landings 200 shock troops were put ashore 2 miles west of Campo Bay to neutralise an enemy gun battery on Cape Poro, that overlooked the main, landing beaches. The guiding motor launch was stopped in the water waiting to guide the empty landing craft back to the invasion fleet when the dark shape of a powerfully armed German F-lighter loomed up. On board was the garrison from Pianosa which the Germans had decided to evacuate. The waiting motor launch was spotted and immediately attacked with heavy and light machine guns. Fire was promptly returned and a brisk battle raged during which the Lieutenant in command of the motor launch was killed and several of her crew wounded.

(Note: The Germans called the F-lighter design Marine-fahrprahme (MFP), which means naval perambulators. The F-lighter design used a beaching craft with a very shallow draft Drawing only four feet of water these modified landing barges could get in very close to the beach.  At 163 feet long they were slightly over twice the length of PT boats. In spite of their ungainly design they were capable of 10 knots with their diesel engines but what put them in a different league from normal cargo barges was their armament. Not only were they partly armoured but they were heavily armed with guns up to 75mm and 88mm size. "An MFP could hold its own with a destroyer, let alone a PT boat which had nothing more powerful than a 20mm machine gun to shoot with." (History of United States Naval Operations of World War II, Vol. IX Sicily-Salerno-Anzio, 1954, Samuel Eliot Morison at Page 189)

The F-lighter sailed on into Campo Bay where she unloaded her passengers. The Germans apparently went to bed remaining unaware that an assault on the island was imminent. Despite the interchange of fire the shock troops had scrambled ashore without interference and started off on their 2 mile trek in darkness over rugged terrain to the Cape Poro gun battery.

On the north side of the island 80 French commandos went ashore near Cape Enfola where a battery of four 6 inch guns was mounted. This battery was sited on a miniature rock of Gibraltar reached only by a narrow strip of land with precipitous sides protected with barbed wire. The commandos scaled the cliffs and charged into the battery. They put three of the guns out of action before the enemy counter-attacked in force. The invaders were eventually overwhelmed and all either killed or captured. One of the survivors managed to escape and later joined up with his own forces while another was rescued by Cockchafer two days later.

It wasn't until 3.30 am that the Germans realised a full-scale attack was about to commence. Twenty minutes later the dim shapes of the invasion fleet were spotted and challenged with a signal lamp. When this was unanswered they opened fire.

Four British rocket craft their rocket arrays giving them the look of huge floating hedgehogs fired an answering barrage of fifty-five tons each of high explosive which temporarily stunned the defences. While they were silent the assault boats went racing in to Campo Bay.

Two British naval beach commando units comprising a total of 7 officers and 59 ratings, each unit in its own landing craft headed for the German F-lighter now berthed alongside the breakwater protecting the harbour of Marina di Campo to the west of the bay. The guns of this formidable vessel could dominate the main landing beach at point-blank range. The commandos leapt onto the mole and charged aboard firing tommy-guns and hurling grenades. In minutes the ship was taken and the main body of the commandos took up defensive positions on the pier.

Then came disaster.

The Germans had heavily mined the breakwater and although the commandos had cut the demolition wires when they discovered them the charges themselves were still in position. A German battery to the east opened fire on the marina and some shells fell on the pier near the naval men. This perhaps set off the charges which blew up with a shattering roar. (Alternatively they could have been detonated by remote control). Four officers and thirty-one ratings were killed and eighteen wounded. The F-lighter itself was subsequently burnt out by German mortar fire. When daylight came more enemy guns began shelling the Campo area and the landing craft standing off the beaches.

The Insects had been pounding two coast defence batteries that were eventually silenced. They now began targeting enemy howitzer batteries under the direction of British forward observation officers. They also engaged the battery at Cape Ripalti which the shock troops had failed to quieten. This was able to dominate the assault area and so was put out of action by the Insects.

With nice precision Aphis lobbed a complete 6-inch salvo inside a house that was being used as an enemy headquarters earning almost lyrical praise from her forward observation officer. "Very successful shooting" he crooned. "Lovely work!" On board Scarab the shock and vibration of her big guns was too much for the newly installed VHF set which ceased to function. Between them the three gunboats expended some 500 rounds of 6-inch ammunition.

While the ships were pounding away at the defences the invading troops had clawed their way inland but it was tough going. The enemy mobile batteries were a major menace and had to be individually nullified by the guns of the Insects.

By evening Scarab had run out of ammunition and was ordered to return to at Maddalena, Northern Sardinia. The next morning Aphis whose magazines were also now empty followed her towing a damaged gun landing craft. Cockchafer was cruising off the east coast in support of the French advance when her lookouts reported a group of Germans on the shore. Lieutenant Dow, her commander closed in and over the Insect's loudhailer ordered them to surrender on pain of death. Intimidated by the vessel's bristling guns the Germans threw down their weapons and surrendered to steel-helmeted sailors from Cockchafer's motor-boat.

In the late afternoon of the 19th Cockchafer too returned to the Sardinian base escorting another of gun landing craft which was no longer needed. Cockchafer had been patrolling in Rio Marina Bay in the north-east corner of Elba. Her crew had spotted an enemy truck and staff car speeding along the coast road and Dow had decided to put the road out of action to prevent the Germans using it to evacuate the island. However the enemy troops in the vehicles who were equipped with mortars and automatic weapons hastily debarked and opened fire on the gunboat scoring a number of hits.

Below deck the Cockchafer's shipwright who was off duty was reading a book when it was suddenly dashed from his fingers. When he picked it up he found a German machine-gun bullet embedded in its pages. The bullet had penetrated the ship's side plating and the book had saved his life. The title was (ironically) "No Arms, No Armour".

Meanwhile half-a-dozen rounds of 6 inch gunfire at point blank range silenced the German fire. But the exchange had been spotted by an enemy battery in Piombino, (Tuscany, Italy between the Ligurian Sea and Tyrrhenian Sea), on the mainland. Although they had been unable to help their comrades trapped on Elba the German gunners knew the little British warship was within range. When Dow saw the tall geysers of water cast up by the enemy's first salvo he instantly realised their danger and rang down for full speed. With unnerving accuracy the enemy shells from the mainland crept closer to the hurrying Insect.

Somewhat to Dow's annoyance Captain Reid of the Royal Artillery who acted as the gunboat's bombardment liaison officer lounged unperturbed in a corner of the wheelhouse timing the enemy salvos on his stopwatch. "They're firing at extreme range, old boy" he said calmly. "It's practically impossible to hit so small a target with three-gun salvos."

"Well, I'm getting out of here, quick. One hit or even a near miss is all this old tub needs to send her to the bottom" rejoined Lieutenant Dow. At that moment came a loud crash from aft and Dow paled.

It was not a hit. The captain of Cockchafer's after 6 inch gun exasperated at the German's persistence had elevated his gun to maximum and fired a shell in reply. Dow recorded it as being excellent for line but about 5 miles short. Soon after the Insect was safely out of range.

There was little more to do. By 11.00 am the remnants of the enemy garrison had surrendered. The Germans had lost more than 500 killed and over 1,800 taken prisoner. French casualties numbered 400 dead and 600 wounded. The Royal Navy lost 65 officers and men killed and 58 wounded. Only a handful of the enemy managed to escape to the mainland under cover of darkness. This included the German commander.
An interview with Douglas Fairbanks Jnr.
In his real life role as a naval officer in World War II
Excerpt from interview with Douglas Fairbanks Jnr:
SPECIAL OPERATIONS GROUP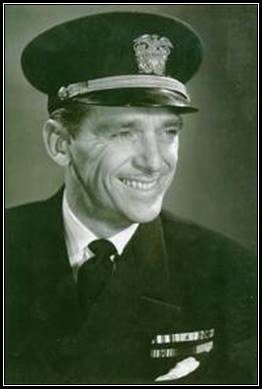 Lieutenant Commander Douglas Fairbanks Jnr.
United States Navy Reserve
WWII Were you involved that June in the D-Day landings at Normandy?
Fairbanks:  No, but I did take part in a smaller invasion in the Mediterranean that month – the tiny island of Elba, where Napoleon had spent his first exile. At 6 am on June 17, 1944, a Free French Bataillon de Choc was to land on the island's south coast. Four hours earlier however, I was to lead a group of PT boats to the north in hopes of diverting German forces toward us. After our commandos landed and signalled us we began firing, smoke-laying, rocket launching and blaring pre-recorded sound effects. The Germans responded with tracers and 140mm guns, but fortunately their fire was inaccurate. One German we found in a little sort of cement hut was chained to his machine gun. His superiors were afraid he'd run away. He stopped shooting but he couldn't get away from his gun and he was afraid we'd shoot him. He was a little butcher from Hamburg and he was terrified, poor fellow. But he managed to hang a dirty, white handkerchief to the muzzle of his gun and he survived
*              *              *              *              *              *
July

23rd

On July 23rd His Majesty the King visited Naples and inspected British and Commonwealth troops and units of the Mediterranean Fleet. The hard-fighting little Insects whose active life had begun in his father's long reign were not invited to take part.

Even before the conclusion of Operation Brassard the Cockchafer's defects had again become apparent. Her operational speed dropped from 14.5 to 9 knots. This was not only due to her superannuated engines and boilers but also her worn out propeller shafts and propellers themselves. By this late date there were no spare fittings available for the Insects. The Admiralty had intended to scrap these long-lived little ships before the war when the new Dragonfly class became available.  Spares still in store at Hong Kong and Shanghai were transferred to Singapore when the gunboats left China but had either been destroyed or were in Japanese hands. To keep the Insects running was a case of "make do and mend".

After a spell in Maddalena – Northern Sardinia, Cockchafer went down to Malta for another patching up. Aphis and Scarab remained behind periodically providing heavy gun support to light forces engaged in attacking enemy supply ships between Porto Fino and the river Arno

July

Joined Western Task Force and attached to Special Operations Group (SOG) at Ajaccio, Corsica.

August

Joined HM River Gunboat Aphis, HMS Antwerp, HMS Stuart Prince, four Motor Launches and 12 US Navy PT Boats to form the eastern section of SOG. (Note: HMS Antwerp was deployed for Air-Sea Rescue and HMS Ulster Prince for Fighter Direction duties. The SOG was deployed to create a diversion to suggest landings were to be made between Genoa and the Spanish border.

5th

Departed Malta

7th

Arrived Ajaccio, Corsica

14th

Departed Ajaccio with SOG except for the PT Boats which joined later. Air cover was provided to prevent enemy air interference.

15th

Carried out bombardments with SOG between Antibes and Var River.

(Note: Simulation operations carried out to provide an indication of a large assault force were a complete success. Radio countermeasures were used to divert attention from the bombardment ships.)

17th

Participated in Operation DRAGOON (Allied landings on South Coast, France)

Took part in second diversionary operation off La Ciotat, bombarded Baie de Ciotat (15 miles E of Marseilles) with HM River Gunboat Aphis and US Destroyer Endicott

Returned to Assault area.

18th

After retirement from La Ciotat engaged Nazi corvettes UJ6082 and UJ 6083 with HMS Aphis and later USS Endicott.

Both German vessels were sunk and 210 survivors taken prisoner. (See eye-witness account below – Douglas Fairbanks Jnr)  

Released from DRAGOON and resumed duty with Mediterranean Fleet

September

to December

Deployed in Adriatic in support of shore operations, based at Ancona
The Allied Invasion of Southern France

Operation Dragoon: 

(The Other D-Day)

August

September

15th

Once the Allied forces had succeeded in breaking out of the Normandy bridgehead, General Eisenhower required the assault in the south, planned at the same time as 'Overlord' to be staged. Codenamed 'Dragoon' the aim of the operation was to land the US 7th and French 1st armies in southern France to capture Toulon and Marseilles, then turn north and drive up the Rhone valley. The initial landings were to be made at St. Raphael, St. Maxime and St. Tropez.

Enemy forces consisted of the German 19th Army (8 infantry divisions, 1 panzer division and 1,500 aircraft plus 70 German warships including a number of U-boats based between Toulon and Spezia. The whole length of the coastline was well defended with underwater obstacles, guns, pillboxes, machine gun emplacements, beach obstructions and mines – both anti-boat and shallow water.

Note:  Royal Navy Ships were under overall command of Vice Admiral H Kent Hewett, US Navy and Admiral Cunningham C-in-C Royal Navy.

Between mid-June 1944 and the end of July more than a division a week and huge stocks of vehicles, equipment and supplies, were withdrawn from U.S. Fifth Army in Italy to train and stage for Operation Dragoon. Final approval for Dragoon came on 11 August 1944, and the landings took place 15 August, between Toulon and Cannes on the French Riviera, preceded by a parachute drop inland, behind the German lines, and commando raids. Over 900 ships and 1300 landing craft were utilised, covered by a huge air fleet of 1300 British, American, and French bombers. Over ninety-four thousand troops went ashore on the 15th, composed of three U.S. divisions (3rd, 36th, 45th) supported by French and British units. Eleven thousand vehicles were also landed on the first day. They were followed several days later by U.S. VI Corps HQ, U.S. 7th Army HQ, French First Army, and French I and II Corps, all operating under the command of Lt. General Alexander M Patch's Seventh U.S. Army.

The operation was a phenomenal success. Within two weeks the Allies had captured 57,000 prisoners and opened the major ports of Toulon and Marseilles at a cost of less than 7,000 casualties. Dragoon forces then advanced nearly 400 miles north up the Rhone River Valley toward Lyon and Dijon, capturing Lyon on 3 September. In less than 1 month, on 11 September, they linked up with Patton's Third Army west of Dijon, creating a solid wall of Allied forces stretching from Antwerp, Holland to the Swiss border. Four days later, Dragoon forces were reorganized into the 6th Army Group, under the command of Lt. Gen. Jacob L Devers, reinforcing Eisenhower's force in Europe to three full army groups.

Aftermath and Analysis of Dragoon

Operation Dragoon was an outstanding success. The Allies annihilated Hitler's 19th Army, captured over 100.000 German prisoners, liberated the southern two thirds of France and linked up with the Normandy invasion forces, all within thirty days. Until the port of Antwerp was opened in November 1944, the ports of southern France ere the source of more than one-third of Allied supplies in Europe.

2,250 Allied ships and craft were assembled in Naples, Taranto, Oran, Palermo and Malta to take part. From British, Canadian, American, French, Polish and Greek navies they included 5 battleships and 9 aircraft-carriers under Vice-Admiral Kent Hewitt, US Navy.

In order to mislead the enemy as to the actual landing areas an elaborate scheme of deception had been prepared including both Aphis and Scarab. This was Special Operations Group known as Task Force 80.4
After action 1944
(South of France)
interview WITH Douglas Fairbanks Jnr  ( continued )

WWII:   What was your role in the Allied invasion of southern France?

Fairbanks:   The Americans were to land at three places simultaneously, Saint-Tropez, Saint- Maxime and Saint-Raphael - on the morning of  August 15. Prior to that, my BJ unit was to stage its largest diversion since its inception – two big mock invasions, one to the right and one to the left of the actual beachhead. I was to command the operation from HMS Aphis, an old British Yangtze River gunboat. She and her sister ship, HMS Scarab, each mounted a 6-inch gun as its principal weapon. We also had 12 American PT-boats, some air-sea rescue craft (ASRCs) and some amphibious raiding craft called MLs (motor launches). We were also afforded backup firepower from the destroyer USS Endicott, commanded by Lt. Cmdr. John D. Bulkeley, who had already won the Medal of Honour for commanding the PT-boat squadron that evacuated General MacArthur, his family and staff from the Philippines in 1942. For the first stage of our operation, we landed a group of French commandos, called the Groupe Navale d'Assaut, at La Pointe des Deux Fre`res, between Cannes and Nice –the first Free French troops to return to mainland France.

WWII:   What diversionary tactics were you able to then bring into play?

Fairbanks:   Our small craft broadcast lots of meaningless radio chatter while a single airplane was dropping tinfoil that somehow gave the German radar the impression of an imminent major air attack. At the same time, aircraft dropped 300 dummy paratroopers in the hills near Toulon. They were inflatable dummies that I'd invented myself. They could be packed into a small-size carton, and when released, they would blow up into a full-size man. Some were on a smaller scale, so that they would look like they were farther away, in the far distance. They were also booby-trapped, so that when Germans came up to take a closer look at and inspect them, they'd blow up at a touch. Dirty trick, wasn't it?

Some information shows evidence of controversy and substantial differences from other sources. See excerpt below re battle with Capriolo and Kemid Allah

 

Lieutenant Commander Douglas Fairbanks Jnr, USNR Commander of the Special Operations Group's Eastern Diversionary Unit (Specialist in Diversion) aboard Scarab's sister ship Aphis when both she and Scarab were involved in a battle with two German Corvettes. USS Endicott was called to assist and arrived (as Fairbanks relates) when the action had already more or less been concluded. (The US version tells a different story.) Please refer to the above references and USS Endicott site on Google.

*              *              *              *              *              *

Further excerpt from interview with Douglas Fairbanks Jnr.

WWII:  While you engaged in this diversion, I think you got a surprise of your own, didn't you?

Fairbanks:   That's right. At 5:40 a.m., we were just retiring when one of our air-sea rescue craft, ASRC-21 reported an enemy hull on the horizon, and that she herself was under fire. I sent a PT–boat ahead and rushed to her aid as fast as those gunboats could go – only about 10 knots – while reporting the situation to Admiral Hewitt's headquarters ship, Catoctin, and radioing Endicott to come to our assistance. At 6:10, we opened fire on the enemy ships which turned out to be two corvettes: Unterseebootjager-6083, which had formerly been the Italian Capriolo, and Kemid Allah, a former Egyptian khedivial yacht that had been purchased by the Germans and converted into a warship with two radar-controlled 88mm guns. Commanded by Lt. Cmdr. Hermann Pollenz, they had just left Toulon and were en route to Marseilles when they ran into us.

WWII:   What did you do?

Fairbanks:   Not much. Besides learning very quickly that we were outclassed by the enemy, I learned from my gunnery officer that our guns were overheated and would need a few minutes before they'd be fit to fire again. I ordered our Motor Launches to screen us as best they could, and we circled around in the smoke while the enemy's accurate gunfire straddled us ever closer. The radar of both gunboats was shot away, but we fired back with our small anti-aircraft guns.

WWII:   In the heat of action, I suppose your fear had been overcome by the need to fight and to survive?

Fairbanks:   No. Indeed, I was still terrified. I had a way of disguising it- somewhat- with a forced show of good spirits. Usually, only I knew that my light-hearted banter was my own private form of hysteria. I'd also deliberately drop my helmet, my binoculars and whatever other objects I could on the deck in order to have an excuse for ducking the next salvo of flying metal.

 

Fortunately, Aphis' skipper was as calm as if he were on a peaceful exercise. Although damaged, the two gunboats had not taken any casualties thus far. At last the gunnery officer announced that our 6-inch guns were cool enough to use again. Then, when we emerged through a thin spot in the smoke screen, we found ourselves at right angles across the bows of the oncoming Germans – "crossing the enemy's T."

It was a classic manoeuvre accomplished through sheer luck. I don't recall whether or not I gave the order, but in any case, Aphis fired a point-blank salvo without the benefit of any targeting device, and by golly, we scored a direct hit on the UJ-6083, while Scarab scored a damaging near miss. UJ-6083 began to list, while Kemid Allah seemed to hesitate.

WWII:  Didn't the destroyer Endicott arrive to help you out?

Fairbanks: Yes, but it was really all over by that time. Admiral Bulkeley and I didn't always agree on what happened. But as I recall, Endicott arrived in time to strike Kemid Allah a mortal blow. Kemid Allah's ammunition began to explode, and she went down at 7:09. After launching two torpedoes at Endicott, which missed, UJ-6083 finally sank at 8:30. Endicott rescued 169 German survivors, while Aphis and Scarab picked up another 41.

 

German survivors about to be picked up.

Photo taken from Scarab.

(Courtesy Blondie Thomas)

           

WWII:  Did the Germans have anything to say about the action?

Fairbanks: They were too scared to talk. They were mostly kids, who had been taught by their Nazi propaganda that we were going to torture them and pull their fingernails out all sorts of things. They were just scared to death.

I witnessed one exceptional incident during the rescue. As you may know, when an officer is coming aboard a naval ship he is supposed to salute the quarterdeck first thing. Well, as a German lieutenant commander was being pulled aboard, he gave a "Heil Hitler" to the quarterdeck. So our chief petty officer (CPO) stuck his foot in the German's middle and pushed him overboard. The CPO then called down in his richest cockney: "Naow, none of that there 'ere! You come back up and do it proper-like-or back in you bloody well go again!"

WWII: The German obeyed?

Fairbanks: Yes, he did. He was furious, but he gave the proper naval salute.

Source:    www.Military.com

http://www.military.com/Content/MoreContent?file=PRdoug and  http://www.military.com/Content/MoreContent?file=PRdoug2
*              *              *              *              *
Khedive Ismail Memorial Alexandria

 1943

Buck Taylor (right) with shipmate

Buck Taylor (left) and shipmate

1944
Author's Note:
The Khedive Ismail Memorial is now the Unknown Soldier Memorial in present day Alexandria.
It was originally built by Italian residents of Alexandria but its status was changed to commemorate
fallen naval personnel following the Egyptian Revolution of 1952
H.M.S. Scarab
  August – September 1944
 Members of the crew
Dad  back row (middle)
H.M.S. Scarab
  Members of the crew 1944
| | |
| --- | --- |
| | 1 9 4 5 |
| January | Deployed in Malta. |
| to June | Nominated for service with British Pacific Fleet against Japan |
H.M.S. Scarab
Ships Company
Taranto Italy, Jan - Feb 1945.
Len Mell, 2nd Row from top, 13th from left.
(Click to enlarge)
| | |
| --- | --- |
| July | Took passage to join Fleet at British Forward Base in Manus, Admiralty Islands |
| August | Diverted to Singapore after VJ Day whilst on passage. |
P o s t  W a r  N o t e s
HMS Scarab was Paid-off on arrival and reduced to Reserve. In May1946 she was lent to the Burmese Navy and returned in 1947. Placed on the Disposal List she was sold in 1948 for demolition locally.
H.M.S. Scarab - The Final Chapter in Burma
(Sithu Kyaw Thein (K.T.) Lwin)
Grandad, Dad and Grandma 1944
Jack (left), Grandad and Dad

Jack (left) and Dad

Jack "Red" Grayston (Canadian Air Force) and Dad on leave at home (34 Bidesford St. Middlesex) with Frederick Taylor (Grandad)

(Note: Jack and Dad had swapped uniforms)
After De-mob 1946
Charlie Crisp (Left) with Dad and his Mum
at home in Middlesex
Frank and Red - Middlesex 1942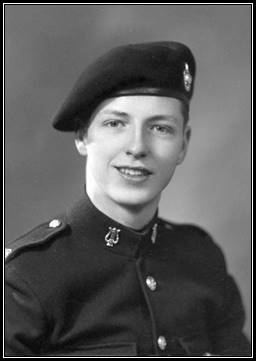 My Dad (right) and his two Brothers, Uncle George (left) and Uncle Harry.
Dad on leave (April 1948), from the merchant navy before his final departure for Australia
 (Dad jumped ship in Melbourne to marry Mum)
H.M.S. Scarab - The Early Years
H.M.S. Scarab - The Final Chapter
(Sithu Kyaw Thein (K.T.) Lwin)