FRANK  S. TAYLOR FAMILY AND ROYAL NAVY HISTORY.NET
Sithu Kyaw Thein (K.T.) Lwin
HIS MAJESTY'S BURMESE SHIP
"SCARAB"
Royal Navy Insect Class River Gunboat
The Final Chapter
Sub-Lieutenant Burma Royal Navy Volunteer Reserve
Navigating Officer (R.N.V.R.)
"Call me K.T. We went by our initials in the Navy."
HMS Scarab 1940 after Hong Kong Refit with the awning up.
Note: The Union Jack
Author's Note:
On the 28th of January 2014 we received the following email from K. T. Lwin
My name is K.T. Lwin. I am an 87 year old WWII veteran of the Burma R.N.V.R.
I came across your most interesting history of this historic China River Gunboat today.
Please allow me to add a bit more of her history during the time she was lent to the Burmese Navy.
In May 1946 our unit was still known as Burma R.N.V.R before Burma attained Independence in 1948. It was just after World War II and we were experiencing undesirable rice smuggling activities along the Irrawaddy river, and the Navy was fully engaged in river patrols by minor landing craft, which needed a Mother ship. The British Government loaned us the Scarab, renamed H.M.B.S. Scarab for one year after removing the six inch guns at Singapore. The ship was handed over at Singapore and commanded by Lieut. Commander Tommy Cole, Burma R.N.V.R , who himself was a Captain of the Scottish Irrawaddy Flotilla Company mail steamers serving Rangoon to Mandalay in the pre-war. I was appointed as her Navigating Officer. We had great fun sailing up and down the uncharted Irrawaddy with many unexpected shoals and sand-banks, not unlike during her earlier service in the Yangtze, except that we had, by then, the hi-tech Echo Sounding machine.
After a year of useful service in Burma and coastal waters, the ship finally sailed to Singapore and was handed back to the Royal Navy when the British Government presented the new Burmese Government with a frigate named H.M.S FAL.
I do not know of anyone else still living who has served on this Great Lady and I consider myself very fortunate.
K.T. visited family members Australia during March 2014.
 After conversations between Author Russ Taylor and K.T.
 An opportunity arose to visit and interview him.
I was very privileged to meet KT.
A true gentleman in the full sense of the word.
What a fantastic guy.
What a wonderful afternoon.
Prof. Rob Burn
(New Zealand Army Veteran, Rtd.)
Later in 2014 the Site Author Russ Taylor had the pleasure of visiting K.T. in Myanmar.
Together he and K.T. toured sites where HMS Scarab performed her duties.
His observations and photos are included below.
Russ and KT aboard KT's private launch (1 Jul 2014) revisiting KT's trip to Twantay Canal on HMS Scarab.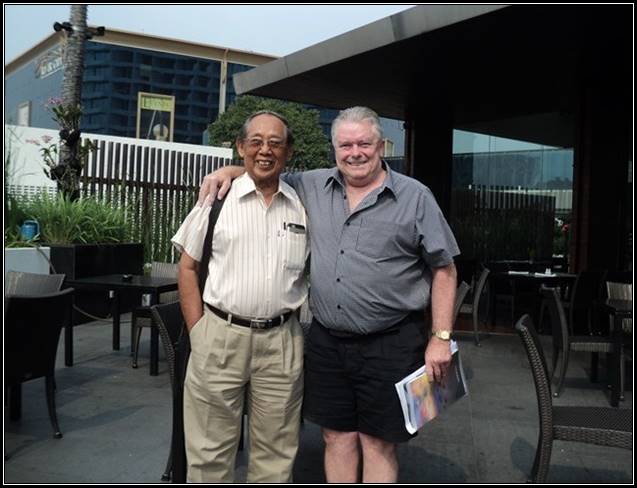 K.T. and Russ at the Royal Orchid Sheraton. 27 January 2015
Lunch by the Chaya Praya River, Bangkok, Thailand.
Russ is holding a book presented to him by the Burmese Naval Association. (published annually)
Also included are copies of first-hand accounts from the book "The Banzai Hunters" by Peter Haining.
It is sub-titled 'The Forgotten Armada of Little Ships that defeated the Japanese, 1944-45'.
The first-hand accounts have been personally verified by K.T. who was there with the fighting men
and the Fairmiles of the Arakan Campaign, Burma, World War II.
Author's Note:
K.T. remembers his navy days with great fondness.
In particular he remembers certain songs which were popular sing-alongs. We have added these to his story.
To access the playing menu please click below.
Woodpecker Song

Source: http://www.colombohash.com/content/woodpecker-song
Bless 'Em All

Source: http://www.youtube.com/watch?v=BYGyAez5_MI
We also offer the reader a "gallery view" of the photos.
Simply click on any photo. You can then move from one photo to the next (or previous)
by clicking the arrow which appears on the right or left of the pop-up photo.
Or pick from the photos which appear at the bottom of your screen.
Interview with Sithu Captain Kyaw Thein Lwin
Senior Director
Myanmar Marine Co. Ltd
Blacktown
Sydney
Australia
15 March 2014
Background
Burma's Navy originated during World War II while the Country was still a colony of the British Government. A fully voluntary reserve force known as Burma Royal Naval Reserve (Burma RNVR) was formed in June 1940, commanded by Commander R.N. (rtd.) Kenneth S. Lyle who was recalled to active service. The newly established Force was recruited mainly from the people of Burma and took an active part under the British Eastern Fleet. Arakan Coastal Forces with a flotilla of nine Fairmile M.Ls participated in the Arakan Campaign, Reoccupation of Akyab, Landings at Kyaukpyu, Myebon and Invasion of Rangoon together with other flotillas from the Royal Navy, Royal Indian Navy, South African Naval Force and Royal Australian Navy. After the reoccupation of Rangoon, now known as Yangon (End of Strife) in May 1945 and the subsequent surrender of the Japanese, the other Navies were withdrawn and naval responsibility for safeguarding the coast and rivers of Burma was transferred to Burma R.N.V.R.
In 1945 the immediate task of the Government of Burma, which had now returned home from Simla, India where they had been evacuated during the War, was to rebuild the economy and promote the traditional export of rice, timber and oil. This had been completely ravaged during the Japanese occupation and needed to be done as early as possible. It therefore received topmost priority. However, due to the lack of Rule of Law and Good Order, there was a serious problem of smuggling rice along the lower Irrawaddy river. This illegal export onboard war-surplus Landing Craft (Tank) was occurring without any control. Naval Command was therefore asked by the Government to resolve the problem and adopt anti-smuggling operations.
The Navy had thirty various types of MLs in commission. The majority of these needed to be urgently decommissioned as they were becoming unserviceable. The Navy did not have any craft suitable for the intended requirements. Captain K.S. Lyle, designated as Commanding Officer, Burma Navy (COBN) happened to be a pre-war well experienced retired Officer. He was Naval Officer-in-Charge, Chittagong. He was familiar with various Royal Navy ships and using his wide expertise he could choose the most suitable type of ship and request the loan of that ship from the RN as a temporary solution. His choice fell upon one of the Insect Class River Gunboats to act as a mother ship for a flotilla of LCAs. (Inshore Landing Craft (Assault).
The Admiralty considered his request and agreed to provide H.M.S. Scarab on-loan to the Government of Burma for one year. She was in Singapore awaiting disposal after World War II active service.
Commander K.S. Lyle
Lyle,
Kenneth Sidebottom

Son (with one sister) of Robert Lyle (1859?-), and Jane Sidebottom (1867?-).
Married 1st (03.07.1929, St Barnabas Church Queens Chapel, Wincanton district, Somerset) Ethel Annette Hale.
Married 2nd (18.09.1958, The British Consulate, Baghdad, Iraq) Iris Edna Blackburn.

22.02.1901
Dunbarton, Scotland
-
14.08.1970
Kings Stanley, Stroud district, Gloucestershire

| | |
| --- | --- |
| Midsh. RN | 15.08.1917 |
| A/S.Lt. RN | 15.05.1920 |
| S.Lt. RN | 15.01.1921 |
| Lt. RN | 15.01.1923 (emgcy 01.01.1930) |
| Lt.Cdr. RN (emgcy) | 15.01.1931 |
| A/Cdr. (emgcy) | < 10.1944 |
| Cdr. RN (emgcy) | 08.05.1946 (reverted to engcy 22.09.1947) |
| A/Capt. RN (emgcy) | ? |

| | | | |
| --- | --- | --- | --- |
| | CBE | 01.01.1947 | New Year 47 |

| | | | |
| --- | --- | --- | --- |
| 15.09.1914 | | | entered RN |
| ... | - | ... | ... |
| 03.09.1939 | - | 02.09.1941 | Naval Officer-in-Charge, Rangoon [HMS Gloucester II, renamed 01.04.1940 HMS Lanka (RN base, Colombo, Ceylon)] |
| 03.09.1941 | - | 28.02.1942 | HMS Sultan (RN base, Singapore) (additional; for various services) |
| 1942? | - | 1947? | Commanding Officer, Burma Royal Naval Volunteer Reserve (CBE) |
| 01.03.1942 | - | 16.01.1944 | HMS Lanka (RN base, Colombo, Ceylon) |
| 17.01.1944 | - | 19.10.1945 | HMS Braganza (RN base, Bombay, India) |
| 20.10.1945 | - | 12.11.1945 | Commanding Officer, HMS Chinthe (major Naval Party 1031, Rangoon) |
| 13.11.1945 | - | 22.09.1947 | HMS Terror (RN base, Singapore) |
Source: http://www.unithistories.com/officers/BRNVR_officers.html#L
Quote from Insects with Stings by A Cecil Hampshire:
In Burma which had attained a considerable degree of self-government before the war there was talk among native politicians of full independence outside the British Commonwealth of Nations but after four years of Japanese occupation and the ravages of war the country was in a state of chaos. There were mutinies, disorders and armed insurrections and dacoits (bandits) roamed the country districts robbing and murdering. To help in the work of restoring order the Government of Burma asked the British Admiralty for the loan of a warship for use in anti-dacoit operations on the Rangoon River.
The Commander in Chief (East Indies) was instructed to make the Scarab available for this purpose and at the end of May 1946 the Insect sailed for Penang and Rangoon. Somewhat grudgingly the Admiralty permitted the Scarab to be chartered but only on a monthly hire basis declaring that they could not part with her seeing as she was earmarked for retention in the post war fleet. Yet had the Insect been offered for sale the Burmese would probably have purchased her and later she would have formed the nucleus of their own Navy.
For twelve months the Scarab manned by officers and men of the Burma Royal Naval Volunteer Reserve cruised in the Rangoon river delta acting as  mother ship for a flotilla of twelve assault landing craft which policed the riverside districts. Then in 1947 the British River Class frigate 'Fal' was handed over to the Burma R.N.V.R. and Scarab was returned to the Royal Navy. By the end of June she was back at Singapore with her sisters.
H.M.S. SCARAB
Background service
Scarab was an Insect Class River Gunboat completed in Newcastle, in November 1915. She was deployed on the Danube during World War I until 1919, when she joined the China Squadron of the British Fleet for service in the Yangtze Flotilla. At that time she was steam propelled, providing 2000 BHP and capable of a top speed of 14 knots. Her main armament consisted of 2 x 6-inch guns, 1 x 3-inch gun, and 8 x 20mm Oerlikon cannons. She was based in Hong Kong in 1940, transferred to East Indies Station, Singapore in 1941-1942 and later to the Mediterranean in 1943, taking part as a bombardment support ship in Sicily and Italian mainland landings, South of France and the Adriatic during World War II. She was transferred to Singapore in 1945 to be reduced to Reserve in May 1946 where her heavy armament of 6-inch and 3-inch guns were removed, and was then prepared for one year's service on-loan to Burma R.N.V.R.
I can fill you in on what is not recorded. By then, mid 1947 I had already moved into the War Office because the new office was set up in January 1948. Six months before that the British Staff Officer (Operations) handed over to my mentor, Commander (later Brig. Gen.) Khin Maung Bo who
took over as Staff Officer Operations (S.O.O.) knowing that in six months time he would be C-in-C. He got me in. So we were already more or less taking our positions so to say. Then the issue came up about the Scarab, whether we could keep it, but we were actually more ambitious. We were after a destroyer. And not only that we were after a Hunt Class  destroyer with 4.5-inch twin turrets. The 4-inch single firing gun was something obsolete anyway and the British at that time didn't want to give us too much.
The reason for that was that we hadn't decided whether we were going to be in the Commonwealth or not. The tendency was no Commonwealth so they were afraid to let us have too much. So that was the reason. They were going to scrap Scarab anyway as well as the frigate we finally got. Because they gave us a frigate which was actually quite useless for us. It was only an anti-submarine thing. The war was over and it was only good for showing the flag and all that. We wanted a destroyer but we didn't get it. We had to accept what was given. That is how we got it.
Our senior native leader was Aung San, a young fellow. He was the Head of the Army and he was a patriot and he was the one that the British were dealing with. The Governor of Burma, when he came back after evacuation thought he had a deal with the politicians, the older ones that he knew and he was all for it. That Mountbatten, he was wise. He wanted to know what was really happening in the country. So he told Lieutenant-General Slim who was 14th Army Commander (William Joseph "Bill" Slim, 1st Viscount Slim), the man on the spot "There's a guy called Aung San who is leading the patriotic Burmese forces. See him and see what you think of him. Is he any good?"
Author's Note: William Joseph "Bill" Slim was a brilliant Commander who was later appointed Governor-General of Australia
At the time the Governor was already out to arrest Aung San and accuse him of killing some important person and Slim had a one-on-one with this Aung San. Slim told Mountbatten that whatever the case he was a patriot and he had the backing of the public and he (Mountbatten) should stay with him. So Mountbatten asked Aung San to come to Kandi. (Sri Lanka) There he made a deal saying that he would allow him 5000 troops when he got to defend Burma so that was the initial start and then Aung San went to England to talk. Luckily it was Atlee and not Churchill (hah hah)...
Before this U Saw, the political leader during the war and the man who later assassinated Aung San, thought he would go to the UK and negotiate the future of Burma after the war. At that time Churchill was saying Burma had to support the war, just like Australia and New Zealand. So U Saw went there and talked to Churchill and said "Well all right but what's in it for us after the war? Do we get Dominion status like New Zealand and Australia?" And Churchill said "No. No. You'll have it but you're not up to that standard yet." He did not promise. This is a real story. He said "This is not possible."
And the Press surrounded U Saw (U is for Mister) when he came out of Downing Street, and asked "Mr Saw. You've just seen our Mr Churchill. What do you think of him?" He said "Mr Churchill. He is a very blunt man but I'm blunter still!" So the (newspaper) heading was "BLUNT SAW FROM BURMA" So that is the guy who assassinated Aung San.
When Churchill quit Atlee came in. Aung San went there but before he went he wanted to get some ideas off the older politicians and elderly people. He went and saw most of them. One was my Dad. My Dad, Myoma Sayagyi U Ba Lwin was an Educator, not a politician but Aung San respected him because he was heading a national school. They were having dinner together. They were just 'sorting the flies' (shooting the breeze) and all that and I was listening. My Dad said to Aung San "You have to think like this, that the British brought the war to us and ravaged the country. So the British and the Japanese owe us to build it back. Stay in the Commonwealth, let them build it up and then do what you want."
But Aung San said "I agree with you but tell me one thing. How do I get my votes?" How do I get my votes? He had to be elected by the public. The moment he said "I want to be in the Commonwealth" he would be out! Because at that time public sentiment was that we wanted to get rid of everybody. We had a problem with the British. We had a problem with the Japanese. The same problem we have now with his daughter. Now she knows about this growing business with the Muslims. She was educated in India and then later on Oxford. She is very British, very educated. Thank God for that. So she knows the situation.
Memorial Statue of KT's Father Myoma Sayagyi U Ba Lwin outside the National School founded by him.
But this Mr Saw. After he'd seen Churchill he thought "The Brits aren't going to give us independence. I will contact the Japanese." So on the way back to Burma he went to Lisbon. There was a Japanese Embassy there. He wanted to talk to the Japanese Ambassador. "How about we'll join you and you give us independence?" To see if he could make a deal with the Japanese, but he didn't know about MI5! Hah! MI5 followed him and got him as soon as he came out of the Japanese Embassy in Lisbon. They nabbed him and sent him to Uganda, arrested him. He was out of action, away from it all and then they brought him back after the war just to set up something that was trouble. Eventually he conspired to get rid of Aung San because he couldn't have stood against him. Aung San was up and coming and popular, just like the daughter, so he had to do something to get rid of him.
HMS Scarab
H.M.B.S.  SCARAB
Manned by Burma R.N.V.R
The Colony of Burma was governed under the British Governor on behalf of H.M. Government until attaining Independence on 4th January 1948 when she became the Union of Burma (later MYANMAR). The Burma R.N.V.R. which was constituted in June 1940 was disbanded and most personnel were absorbed by the regular Burma Navy.
To the best of my recollection, H.M.S Scarab was delivered to Rangoon Port in June 1946 by a skeleton Royal Navy crew and some key officers and engine ratings of the Burma R.N.V.R.  When she was commissioned as H.M.B.S. Scarab she was still flying the Royal Navy's white ensign. At that time she was the largest man-of-war ever manned by Burma R.N.V.R and the first to be steam propelled. Her size and shallow draft were rather similar to the Scottish owned, world famous Irrawaddy Flotilla Company mail paddle steamers which formerly plied along the Irrawaddy from Rangoon to Mandalay.
Regarding Scarab we had already picked a crew, the key ones. We had anticipated that. Just a matter of following up on signals from the British military. She turned up with a working crew and a Captain and our own people, three or four officers and crew. They went to Singapore to come with the ship. I didn't make it because at that time I had to hand command over to somebody else. But as always the important guys were the Captain and the First Lieutenant.
The choice of first Burma R.N.V.R Commanding Officer for the new flag-ship was logically given to a senior Officer who had been a River Master of the paddle steamers before joining the Naval Reserve. This was Lieutenant Commander Tommy Cole, Burma R.N.V.R. prior to his demobilisation. Tommy Cole was in command of M.L 1101 during the War. He was mentioned in Dispatches (See: Burma's Navy – Honours and Awards) I was a Sub-Lieut. in command of a Fairmile M.L at the time. When officers for Scarab were being chosen, the C.O. Designate asked for my services as Ship's Navigating Officer, possibly due to his confidence in my navigation ability when serving under him during the Arakan campaign.
Tommy Cole knew he was leaving the Navy. The war was over and he was going to demob but they needed him for this ship so they asked him to hang on for one more year. It was very good of him. I'd sailed with him during the war. A very cool Skipper. Nothing worried him, he was never excited and I would say a very good Captain.
I was there when Scarab arrived and went on board straight away. Within a few days we took over. There was nothing tricky on that ship because the 6-inch guns had been removed and on the engineering side the Chief Engineer and some cadets came along. And I believe the British crews never went back to Singapore. They flew back. I think they were demobbed. They were going home.
While we felt confident enough to man this bigger fighting ship and operate the 20mm Oerlikons which we were quite familiar, it was a different story for the Engineering Department. Our Navy at that time completely lacked experience in steam reciprocating propulsion, as all our craft were internal combustion or high-speed diesel engines. However, the then Chief Engineer of Burma R. N.V.R , a Scottish engineer from the famous Burmah Oil Company, who himself was a steam man, found a quick solution by recruiting a competent ex- Irrawaddy Flotilla Steam Engineer and offered him a direct commission as Sub-Lieut. (E) and so Sub-Lieutenant (E) Eric Dender became C.E of the ship. He was a good organiser and lost no time in accelerated training of his engine ratings in operation of the main and auxiliary engines, operation of boilers and various auxiliaries.
All the Officers who were initially assigned to the new ship were selected from the Fairmile M.L. Flotilla and had seen war service in the Burma R.N.V.R. All the senior petty officers and ratings were drafted from the Navy Barracks, H.M.B.S. Ratanabon in Rangoon. They were carefully hand- picked for their good service record and English knowledge and consisted of a mixture of Burmese, Anglo-Burmese, Karen, Shan and other ethnic minorities in a total complement of five Officers and seventy ratings. After about one week to settle down, the first shake-down cruise was successfully completed after a trip down Rangoon river to the pilot station, and return to harbour next day after a night at anchor.
Kyaw Thein Lwin in his days as a young navy officer
Master of a Burmese cargo liner
Operational planning for anti-rice smuggling activities
The Irrawaddy is the main river in Myanmar. It flows from the north of the Country to the south for about 1400 miles and then into the Andaman Sea through the lower delta. It is the most important commercial waterway and has been vital for the Country due to the considerable amount of goods and traffic for trade and export. Prior to World War II, Burma was one of the World's major rice exporters. This came to a complete halt during the Japanese occupation until 1945. Before the major export trade of rice could be reorganised at the end of the war, private traders became involved in smuggling out rice from the lower Irrawaddy to the sea via delta routes using surplus ex-landing craft thus circumventing the official export route via Rangoon.
The Navy planned to station and locally patrol the possible routes with two flotillas of war surplus Landing Craft, (Vehicle, Personnel) (LCVP). These were 36ft. shallow draft boats capable of 12 knots to carrying up to 36 men, armed with 2 x .30 cal. machine guns and fitted with a bow ramp. The complement of one junior officer and five men had to live onboard in considerable hardship. It was therefore necessary to provide a floating base and headquarters ship which could constantly patrol the lower reaches from Prome to Ma-u-bin in order to facilitate their operations. H.M.B.S. Scarab, designed as a shallow draft river gunboat was considered to be ideal for the purpose. It would also serve to 'Show the Flag' and confirm to the population that the 'Rule of Law' had been re-established.
Scarab's condition and first impressions
I would say she was very well maintained. The awning (stem to stern) was up when she arrived. The guns were hidden. Although she was built during World War I she was reconfigured for WW II.  Now in our time all the warships and passenger ships were constructed with teak decks. This ended with the war. After World War II they couldn't have it anymore but any ship that was built before the war had teak decks. So the first thing one noticed was the teak decks. And that kept the ships very clean and neat.
There is a term called holystoning. In the Navy holystoning means scrubbing the deck with sand with a brick called a 'holystone'. This has all finished now because there are no more wooden decks. They are all metal. We had to holystone. Everybody when they went to sea as a cadet or a seaman started with that. Not with a broom but on your haunches. Somebody put sand in front of you and then you used that. As a cadet there were ten of us. We had to do it that way. That was a thing that was kept up in every Navy ship and when you go on board the first thing you see is that the teak deck is white, not polished, and that it is really clean. You can sit on it. You can lie down on it.
That's how your different ships appeared and this was one of the old types. When we got the Frigate it was not like that at all. Her decks were steel, painted and all that. The other thing that was strange in Scarab was the fact that there was such a low freeboard. (the height of a ship's deck above the water level) It had portholes very close to the waterline.
      Author's Note:
      K.T.'s impressions are in stark contrast to the comments of Ordinary Seaman Leonard Sedgewick Mell who joined HMS Scarab in 1944.
I joined the Gunboat after her return from the S. of France to Taranto/Italy where it appeared never to stop raining – all our ships were tied up stern to the wall – Attacker (aircraft carrier) a Sweeper & Corvette, Scarab, farther along were the Cockchafer and Aphis. The Scarab was literally ripped apart for rebuilding and a new bridge assembled – naturally the crew were relocated to a pavilion unit outside the dock area and a few of us left on board for Guard Duties.
As you probably know conditions were very primitive to say the least - the toilets were directly over the stern into the water, no heating was to be expected for some time, full of rats - yes we did get one shilling a day but we were not very happy in the cold conditions.
We were trying to amalgamate three services as far as pay was concerned. The war had ended and we were going to have independence so we had to set up a pay scheme for Army, Navy and Air Force. You start with the difference in rank. An Army Captain is a Three-Pip and equal to a Navy Lieutenant, a two-striper, but when it came to salary a Navy Lieutenant is senior to the Army chap and that kind of thing. So they formed a wider Pay Commission. They elected two candidates, Senior Officers, from the Army, from the Navy and from the Air force, made a commission and they were then to inspect all units of the Burma Armed Forces and really investigate what should be the pay scale equivalents. We had two people from the Navy as our members.
Our Boss wasn't thinking of somebody who was smart and clever and able to explain things. Instead he thought of two people who were redundant. They were Senior Officers. One was his Number Two, a guy who eventually became Admiral, but he was quite useless in this thing. The other one was a Supply Officer. He was Paymaster. Now they had never been on these ships. At that time, the R.N.V.R time, when the war ended we were getting all these small gunboats wanting a hard-living allowance for tough living and very small and cramped conveniences, plus Japanese Campaign fees and all these extra bits. The Army did not want us to get all that and they were the ones who had the say whether or not this was deserved.
So instead of taking this Wider Pay Commission to the small Motor Launches to see how tough the conditions really were they brought them to the Scarab. And they watched how the people were eating and then how they washed their plates. It was very simple. When they finished eating they just put their plates through the portholes and the river water washed them clean. And the toilets were right at the back, in a row, (we called them thunder-boxes by the way) and it goes straight in the water. No need to flush or anything like that. So when the Army guys had been taken around they said     "The Navy's not so hard" and we lost out on the argument for better pay because they were looking at Scarab and not at the smaller ships.
Another thing that struck me was that when we knew Scarab was arriving we looked at some pictures of the time she was on the Yangtze. It looked very odd the way she had been altered. But she had been modernized in the Mediterranean. When we actually saw her for the first time she had a brand new bridge, with a wing, very modern. That makes all the difference you see. She looked very modern. That was my first impression of her.
Then with the extra superstructure - bigger ships have a Captain's Sea Cabin. At sea the Captain slept there instead of going below. Scarab had a Sea Cabin as well but Tommy never needed it so I used the sea cabin instead. It was much better there. So that way I took care of myself. I had separate quarters and they had to share with the other officers down there. We could sleep around 70 crew below decks, and about 10 Officers in double cabins. Only the Captain and First Lieutenant had singles.
The engines were not that loud. Up and down, you could count the beats. Maybe 90 to a hundred a minute. Not like diesels. Very quiet really. Her Scotch boilers burned furnace oil. This was the first time I had ever been on a big ship. She was two and a half times the size of our gunboats – 234 feet in length. The frigate was 360. Anything longer than Scarab would have had difficulty getting through the canals.
Navigation in the Irrawaddy
During the dry season from November to April, navigable depths are at their lowest and ships need to navigate with extreme caution when crossing the many sand bars which are normally regularly surveyed and marked. However no proper surveys or marking of channels had been done due to the war years. During the rainy season between May to October, the river level could rise up to thirty feet, sometimes completely covering the river banks, making it difficult to remain on proper courses against a strong current. Unlike coastal navigation where we could rely on Admiralty charts in which the latest depths and soundings are marked, no such charts existed for the Irrawaddy and we were obliged to use Army Survey Maps which did not show any depths for our general guidance.
First operational voyage to PROME on the Irrawaddy ( July 1946 )
The Port of Rangoon is situated 42 miles from the mouth of Rangoon river in the Gulf of Martaban and is the Country's major seaport. Mandalay, the second largest city is located about 400 miles north on the Irrawaddy. In order to shorten the route from Rangoon to Mandalay the British Government had constructed a twenty-one mile navigable canal called Twan-tay Canal between Rangoon river and Thande ( China Bakir) an Irrawaddy tributary. This was for ships drawing six feet and less to establish a mail-steamer service with Mandalay. This was historically known as 'The Road to Mandalay'. It was necessary to plan a safe passage through this canal for Scarab to navigate past the riverside towns of Ma-u-bin, Nyaung-don, Danubyu and Hinthada to Pyay (Prome) about 170 miles upriver and to be stationed there.
Our first voyage was planned for July, and since I lacked practical experience in navigating a ship of Scarab' size on this route, I sought professional advice from the C.O who had been plying between Rangoon and Mandalay on the Irrawaddy during the pre-war years. Always known to be cool headed, Commander Cole told me very casually that his previous knowledge was ten years ago and was already out of date. He then added, "Well! Pilot - I shall leave it to you to figure out the best route using our echo sounder and your common sense". I never found out whether he actually meant it or if he was just trying to instill confidence in a nineteen year old Sub-Lieutenant or to test me.
Our first day passage to the town of Ma-u-bin , a distance of fifty miles required navigation through the narrow twenty-one mile canal after leaving Rangoon. Except for the passing traffic of smaller craft, it should have been a fairly simple operation. But we realised that there were two sets of  telegraph wires running across the canal which were sagging considerably in the middle due to non-maintenance during the war. (See photo below) Theoretically, the Scarab's tall mast should clear by about ten feet under the telegraphic masts, but no one could guess how much the 'sag' actually was and whether the ship would clear it. The only way to test was by approaching slowly against the tide and hugging close to the bank where the sag was at minimum. For the first time, as we approached the telegraphic mast from a short distance, it was difficult to guess if the ship's mast would clear it. So I suggested to the C.O. that I go up to the crow's nest where I could judge the clearance better, and navigate via the voice-pipe with him at the ship's telegraphs to control our headway. We were stemming the tide so we could control the ship's movement. If there was any chance that we were too close then we could stop. Very hard to judge even from there. It was a chance we took. It was the only way.
Present Day – The canal with overhanging lines just visible above
We came back down the river with the current at quite a rate of knots. We made it from Prome to Ma-u-bin in one day. Those was fast but at Mayugin the place before you go into the canal the river bends. What happens is that there you get the current pushing at you from the side, not just from the back. The riverbank there is steep on one side but not on the other so we hugged the steep side. I was doing the navigation on the way back as well. Captain Cole was already down in his room, below deck, and I must have misjudged. A bit too close. So when we went past with the current pushing us we brushed past the bank.  Luckily, the steep bank but some of the branches came through his porthole... hah, hah... and he came running up. "Hey Pilot! What have you done?!" By then I'd turned round and dropped the anchor and we were quite safe. That scared him! I was very young.
On one occasion while K.T was in command HMS Scarab recorded 21 Knots going with a strong current.
We went for just the one trip out of the Irrawaddy down the coast to Moulmein, east of Rangoon. It's about 10 hours across. That's where they were smuggling so we went there. Sadly we could only do that during the fine season. Frankly I'm surprised Scarab could voyage all the way from the UK to China, then back to Singapore, then to the Mediterranean and do a lot of operations there during the war, and then come all the way back to Singapore. In fact as far as I know she was supposed to go back up to China but the war ended.
These ships were constructed with a tunnel on the shaft so that when you grounded the propeller was clear.  At that time I never knew she had been built in the UK. I had always thought she had been built on the Yangtze. You had the thick upper deck, flat all the way and the Officers' quarters were forward. And at each port there were only hatches to go down, very steep, very small companionways. Inside, when you go down the accommodations are as good as a battleship. Teak steps, mahogany and brass, spit and polished. Not like ships these days.
The best thing I remember about the ship was the echo-sounder. This machine was very reliable. Normally the echo-sounder on a seagoing ship is not that accurate because it's not meant to be for shallow water but this one was especially designed for shallow water and so you could be very accurate. The oscillator was under the hull and the echo-sounder itself was on the bridge. Nowadays it's like radar but in those days it was a paper roll, just like a printer. It 'looked' only down - straight down. We also had, just like in the old days, two guys on the 'chains'. On the ship's sides are platforms with chains and two guys 'swing the lead' There are certain ways to call out... you don't say "Depth 5 feet" you say "One fathom or two fathoms" or "And a half" or "Two and a half." If it's deep enough and you've got up to say 6 fathoms then "No bottom 6". That means you are going to recheck this depth.
Scarab's role in Burma
I would say our role was more propaganda. The town folks on the river see a huge ship. They don't know what's on board this ship. All they can see is a few oerlikons and then they see a lot of people. They had never seen anything like it. Even during the Japanese time there was no navy as such. They were all small boats so this had the same effect as after World War I on the Yangtze when the British and the Americans were doing their 'Gunboat Diplomacy', just sailing up and down the Yangtze and that was good enough. And it certainly stopped any smuggling because they knew that the ship was patrolling and there were smaller ones supporting, going inside the creeks and checking on them. That was the idea.
Scarab served her purpose without firing a shot.
Scarab's return to the RN                                                                                                                                                         
Scarab was returned round about March – April 1947. The reason was that the frigate we were getting was arriving in May. HMS Fal (later renamed HMBS Mayu)  I was already supposed to go on that one. There was no official farewell because they were in a hurry to go and deliver the ship and come back to receive the frigate. Maybe they had a party in the Royal Navy Base at Seletar on her arrival in Singapore but not when she left. It was just a delivery cruise.
One thing that we could be proud of was that she kept the White Ensign right through. She was never under the Burmese Government. This is something unique. She kept it right through until she got to Singapore... then I don't know.
She was so lovely.
HMBS Mayu
(formerly HMS Fal)
Present day. HMBS Mayu preserved in dry dock – Siekkyi Yangon
The Site Author was most impressed with the standard of preservation and the immaculate state of the surrounding grounds.
The site is administered by the Navy of the Union of Myanmar.
Russ noted the pride shown by the naval officers who accompanied him and K.T.
Captain Maung Maung Gyi (Rtd.) Russ, KT and Senior Officers (uniformed) aboard HMBS Mayu. 30 June 2014
Ship's Wardroom aboard HMBS Mayu. K.T. - present day.
His left hand rests next to where in the following photo
General Aung San sits on the same couch in 1947.
General Aung San Signing Mayu's Visitors Book  (with KT's pen) 1947
HMBS Mayu Commanding Officers 1947 - 1976 (date she was decommissioned)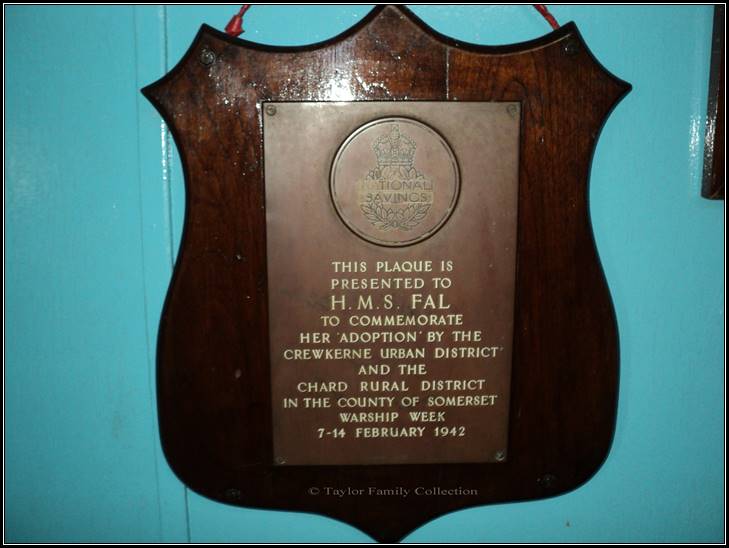 HMS Fal Commemorative Plaque (County of Somerset)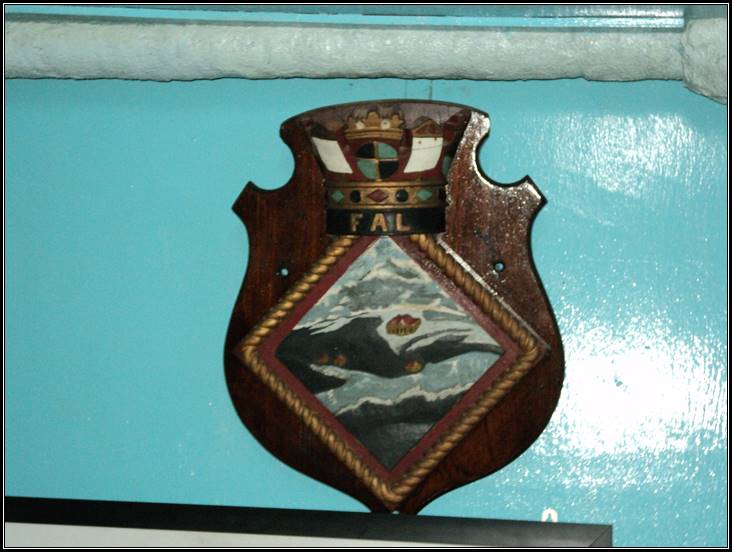 HMS Fal Crest
HMBS Mayu – Crew Photo  (K.T. is directly behind the front officer (right) in the foreground)
Taukkyan War Cemetery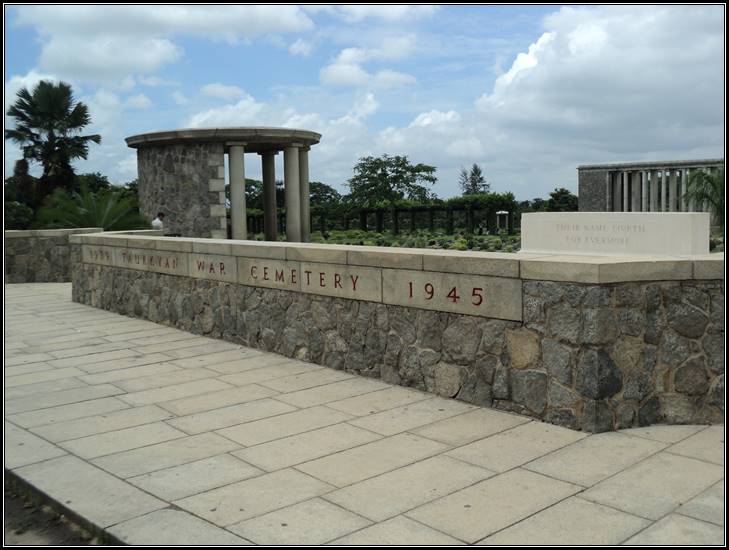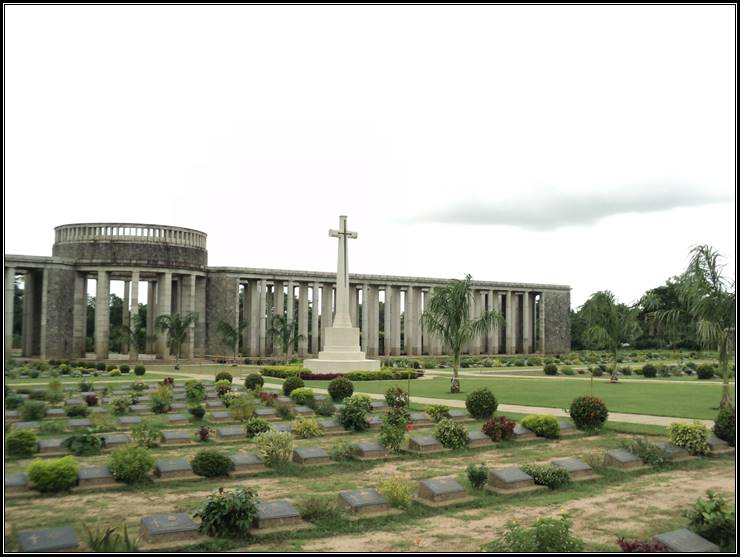 Four of the Memorial Plaques and their inscriptions.
3063652 L Cpl  J.M. Laidlaw (The Royal Scots)
3rd – 4th April 1943 Age 29
Some day we will understand
3657326 L. Cpl F. McCormick (The South Lancashire Regt.)
17th March 1944 Age 26
In loving memory of my dear husband
Nobly he answered his country's call
P3063885 Private J. G. Burnett (The Royal Scots)
3rd – 4th April 1943 Age 31
At the going down of the sun
And in the morning. We will remember them.
5390297 Private J. T. Anderson (The Oxfordshire and Buckinghamshire Light Inf.)
2nd October 1944 Age 32
To live in the hearts of those he loved
Is not to die. Duty well done.
K.T.'s Book "The Gun that Saved Rangoon"
K.T. was interviewed  regarding the book by "The Irrawaddy" (Publication)
For details click here (Irrawaddy Magazine Article)
K.T. made two other contributions which help fill out his story:
The Navy's Most Important Ship
 Transition from Burma RNVR to Burma's Navy 1944 – 1952
Memorial Display
K. T. Lwin is a published author, company director and a most interesting and engaging gentleman.
Despite his years he is animated, gracious, energetic and filled with irrepressible humour.
Interviewing him was a pleasure.
Downtown Yangon (present day)
Local boat on the Irrawaddy
Yangon from the Irrawaddy River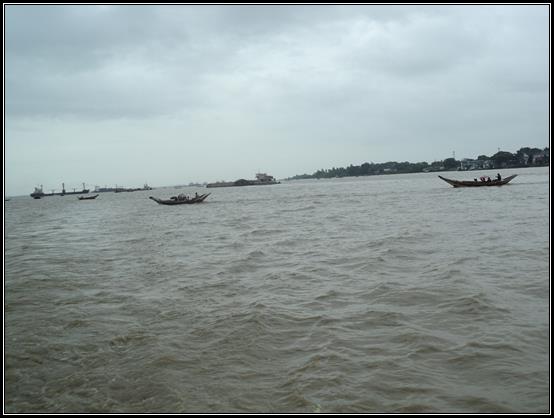 On the Irrawaddy
Famous in Yangon - Padonmar Restaurant and the Mandalay Bar
(Russ, K.T. and the Ambassador enjoyed a very good lunch.)
Further comments by K.T.
On Crossing the Line
About 5 or 6 years later I went to Singapore with Fal and a delivery crew. We took delivery of 10 U.S. coastguard cutters. They came on merchant ships, two at a time. The largest crane in Singapore at that time was 100 tons but not at the site and so the merchant ships dropped them, two at a time and then sailed. The next day the same and so on. We got the first four and these ships, the way the Americans organized it, were lifted out and put in the water. We had our crews standing by with a manual - what to do, one, two, three, and four. They had two engines on one shaft, four engines in all. Diesel, tandem, and all we had to do was switch on this, prime the pump, press a button and the engines started. Then we took the ships out for sea trials.
In those days "Crossing the Line" was an Event. For any sailor - the Father Neptune thing. Unless you went to Australia the normal sailor may not get that far. So I thought why don't we go down to Indonesia and cross the equator. We'd be the first Burmese ship in history to cross and I took four boats across. Now that is History!  Hah...hah! It's a celebration and you used to get a certificate. It was Tradition.
On Racism
K.T. always held the Royal Navy Command in high respect as they treated mess boys up to command authority the same. Later in his career after he joined the Rangoon Pilot Service as the first Burmese Harbour Pilot among Brits a drunken British Cargo Ship's Master told him to "go back where you belong in the trees with the monkeys". The Officer was relieved from his command because the Brit Chief of the Port (K.T.'s boss) insisted the ship would not be allowed to sail out until K.T. received an apology.
On the Wartime Japanese
Everyone knows that their behavior was nothing less than barbaric. Yet, when their Emperor ordered a "surrender" they dropped all their weapons , swords etc, and kept bowing to all of us and behaved ever so politely from Day One and since then. Would you say this was genuine? When we visited Japan in the fifties and sixties, all of our business contacts would turn up at the airport to welcome us and then again at the hotel - because they very much needed new business to build up their economy. If you go to Japan today you need to plan your visit a month ahead to even get an appointment to see them and you must find your own way to your hotel - they don't need your business. I don't believe I can trust them the same way as we trust each other in business elsewhere.
On the Burmese Sense of Humour
I am glad to note your compliments about the national characteristics of our sense of humour. Sometimes, I imagine that this was brought about by the circumstance of the sixty years of military domination. You were not able to challenge it except to "take it with a smile". (Drive you insane).
On the End of the British Raj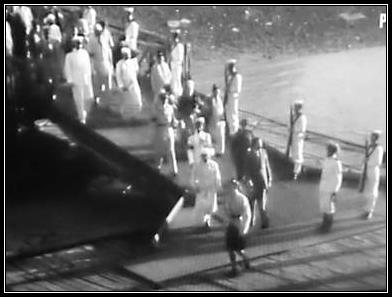 Photo of the Governor leaving Burma on HMS Birmingham 1948
HMS Birmingham is moored alongside the pontoon he is standing on. K.T. is second from the right. (foreground)
K.T. says it was "My Longest Day" and it will feature in his next book.
I remembered my casual conversation with Russ when he was here about the visit of the Birmingham on our Independence day and looked up the account by Cliff Turner.  (See: http://frankstaylorfamilyandroyalnavyhistory.net/HMSBirmingham/HMSBirminghamCliffTurner.html)  It seems that our connections not only started with HMS Scarab but also continued to the cruiser HMS Birmingham. In the above photo you will see our new President and the British Governor at the jetty where HMS Birmingham was berthed before leaving with the British Raj. On the right, I was saluting them with my sword as Officer of the Guard of Honour. Cliff might even have seen me at that time.
While reading through Cliff's following account of his later service after HMS Birmingham, I found that he also served on the frigate HMS Starling which was based at Portsmouth.
I was to go to HMS Starling. I told the drafting Master at Arms that I thought I was about to get my "ticket". He said "You're going to the Starling." I went. The Starling was a frigate that had been adapted as a training ship attached to a shore establishment, HMS Dryad, a navigation training school on the outskirts of Portsmouth. We went to sea most days but returned to harbour almost every night.
It looks like I have found another connection starting with HMS Scarab and the HMS Birmingham. In 1949, after Burma's Independence, I attended a series of technical courses with the Royal Navy in the UK, together with class of International naval officers from the Commonwealth, Irish Naval Republic, Argentineans, and Egyptians. One of the courses was Navigation-Direction at H.M.S. Dryad. Part of our practical sea training was on
HMS Starling leaving the harbour in the morning for exercises all day and returning in the late evening - just as described by Cliff.
Perhaps I might be the only one with links on all three ships!
The Obama Connection
You know that President Obama came to Burma but his Grandfather who was in the West African Rifles had been to Burma before him during the war - from Kenya. I was asked to transport the British General who was in charge of the West African troops (he was going back home) and wanted to wish farewell to his troops who were based in a town in Rakkhine. It's about one night's run from Rangoon. They didn't know how to go there so I went along. My first command. I took him and his Colonel and one cook.
Now that cook – President Obama said his Grandfather was a cook and it could well have been him! Anyway the three of them came on my ship in 1945. This general wanted to address his troops and he wanted to arrive on the dot of 8 o'clock when his troops would all be lined up, He wanted to be there at 8 o'clock. Not a minute earlier, not a minute later. So I promised that and to make sure we got there on time I had half an hour up my sleeve. But when I got in the river I had a flood tide and so I was going to be very early. I couldn't have that. At the same time if I'd stopped or anchored it just wouldn't do either. So as I was going round a river bend I called my Petty Officer and said "You're going to sound the lead now. I am going to slow down and drift. You are going to call out the sounding when it is shallow. Hah... hah. We are going to pretend."
So we started doing that and this guy was worried and he came on the bridge and called me. "Captain, do you think we are going to make it on time?" And I said "Well we won't let you down. Don't worry." And so we got there on the dot. And he marched off and inspected his troops and they said Hip Hip Hooray for General Thomas. Then he was going to get in a jeep and go away but he remembered me and came back from the jeep, walked all the way to the ship and shook hands with me and said "Thank you for the ride." Then he left. They left all their food and their booze on board. Hah... hah.
On the Author's presentation of a Commemorative Paintings to K.T. and Defence Services (Navy) of the Union Of Myanmar.
I got it cleared, just returned home and hastily opened the parcel.
I have to thank Russ first of all, and yourself for two very fine gifts, well framed and packed
and I am sure the Navy would well treasure it forever - and so would I.
K.T.
I passed the presentation on to the Commodore who arranged our visit to the Mayu (K.T. refers to the Author's recent visit to Yangon) and he told me he had presented it to the Admiral personally. Last month, I received a phone call from the Admiral's Chief of Staff, who asked me to convey the Admiral's thanks to Russ. I believe it is now hanging in his Visitor's room for VIPs at our new Capital.
If I should get a chance to visit this place I shall take a photo for you.
Admiral Thet Shwe – Myanmar Navy
K.T. commented that he now feels more hopeful about his country's future.
He was looking forward to driving his personal car across the border with Thailand for the first time.
Thank you K.T.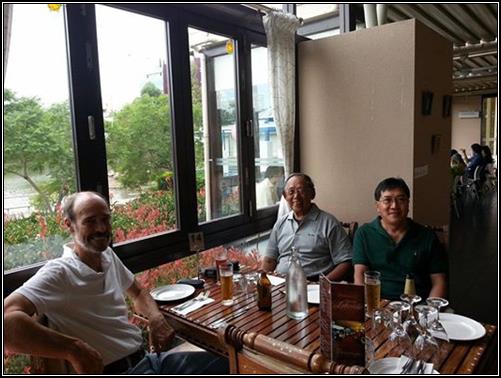 Rob Burn, K.T. and Thet Maw Myint at Blacktown, Sydney
'Prof' Rob Burn and K.T.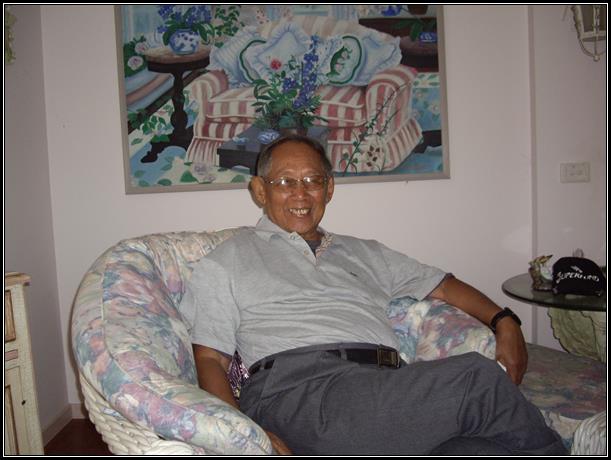 Blacktown, Sydney 2014    Kyaw Thein Lwin
Season's Greetings to Russ Taylor
from
KT and family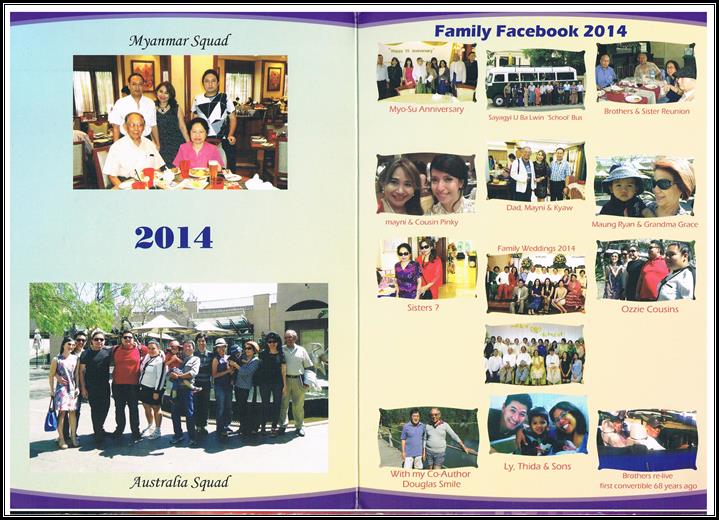 Christmas and New Years Greetings 2014 - 2015 from KT
For further information we can suggest the following websites:
http://en.wikipedia.org/wiki/History_of_Burma
http://en.wikipedia.org/wiki/Aung_San
http://en.wikipedia.org/wiki/Aung_San_Suu_Kyi
http://en.wikipedia.org/wiki/Kyaw_Zaw
http://en.wikipedia.org/wiki/Myanmar_Navy
http://en.wikipedia.org/wiki/Karen_people