FRANK S. TAYLOR FAMILY AND ROYAL NAVY HISTORY.NET
H.M.S. SCARAB
Lt. Ewan Cameron
Early 1943 – February 1944
Royal New Zealand Navy Volunteer Reserve
Lieutenant
The Letters
When reading the correspondence please bear in mind that there would have been an endless series of letters and arrangements to be made by
Lt. Cameron's parents. They had been expecting to see their son on his return home and the news of his death would have been devastating.
Add to that the Admiralty's insistence on secrecy and the ongoing investigation for survivors. The nightmare was never-ending.
The letters below are in date order.
Admiralty to Mr. Hugh Cameron 21 February 1945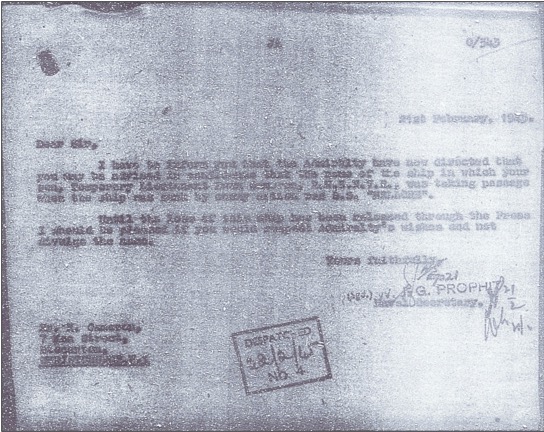 Transcript
21 February 1945
To: Mr. H. Cameron
Dear Sir
I wish to inform you that the Admiralty have now directed that you may now be advised in confidence that the name of the ship in which your son, Temporary Lieutenant Ewan Cameron, R.N.Z.N.V.R., was taking passage when the ship was sunk by enemy action was "S.S. Nellore".
Until the loss of this ship has been released through the Press I should be pleased if you would respect Admiralty's wishes and not divulge the loss.
Admiralty to NZ Naval Affairs 24 April 1945
An indemnity was given by Mrs Cameron for payment of an account from Navy held funds prior to Probate.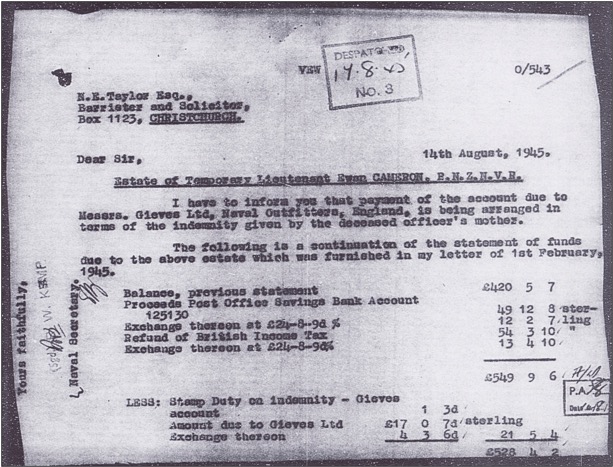 N. E. Taylor, the solicitor acting for Mrs. Cameron called the NZ Navy Office in October 1945 to seek assistance to obtain probate of Lt. Cameron's Will.
A copy of the Navy Office Minute sheet follows:
Copy of Message to Commander in Chief, East Indies, Australian Commonwealth Naval Board, and Admiralty sent 5 October 1945.
Copy of Memo from Commander-in-Chief East Indies 18.11.45
Copy of letter to N. E. Taylor Dated 5 November 1945.
It advises re Lt. Cameron's personal effects and progress regarding the official date of death but was not posted.
See handwritten note bottom right: "Not sent. reports now received"
c
The solicitor wrote again 8 November regarding the date of death and delivery of Lt, Cameron's personal effects.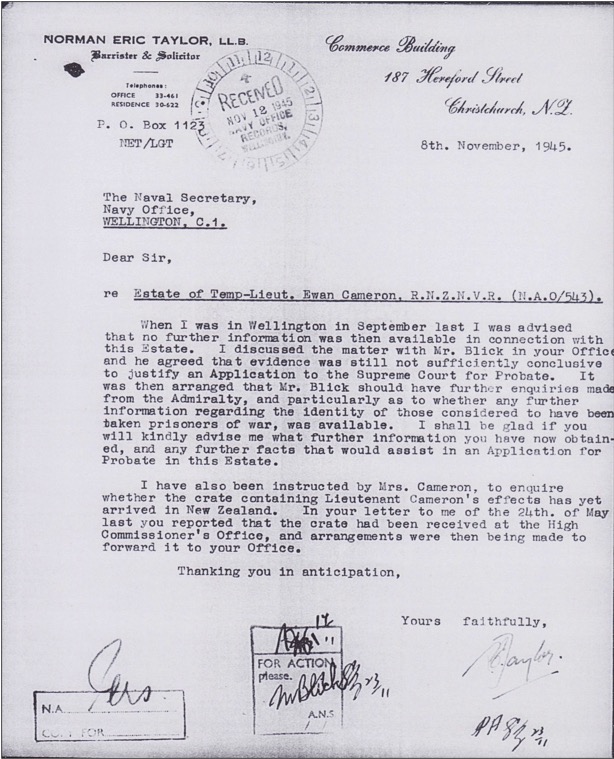 Finally: a letter to Temporary Lieutenant W. B. McManemin, RNZNVR seeking a signed document to confirm date of death.
Advice to solicitor N. E. Taylor regarding Lt. Cameron's effects and loss of S.S. Nellore from Naval Secretary.
Note that the solicitor is still asked to refrain from advising next-of- kin that reports of survivors have been received.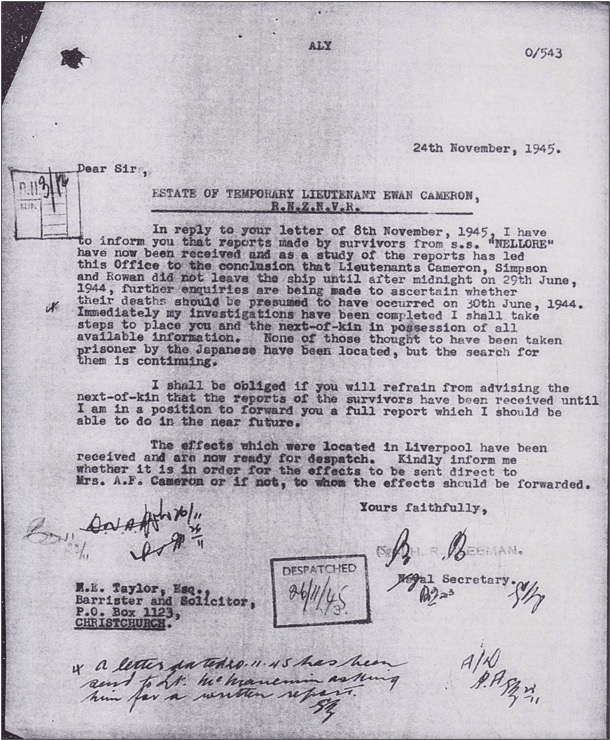 Reply from N. E. Taylor. 28 November 1945.
Letter to N. E. Taylor from Naval Secretary, Wellington. 13 February 1946
We do not have copies of the reports by the Chief Officer and 3rd Engineer.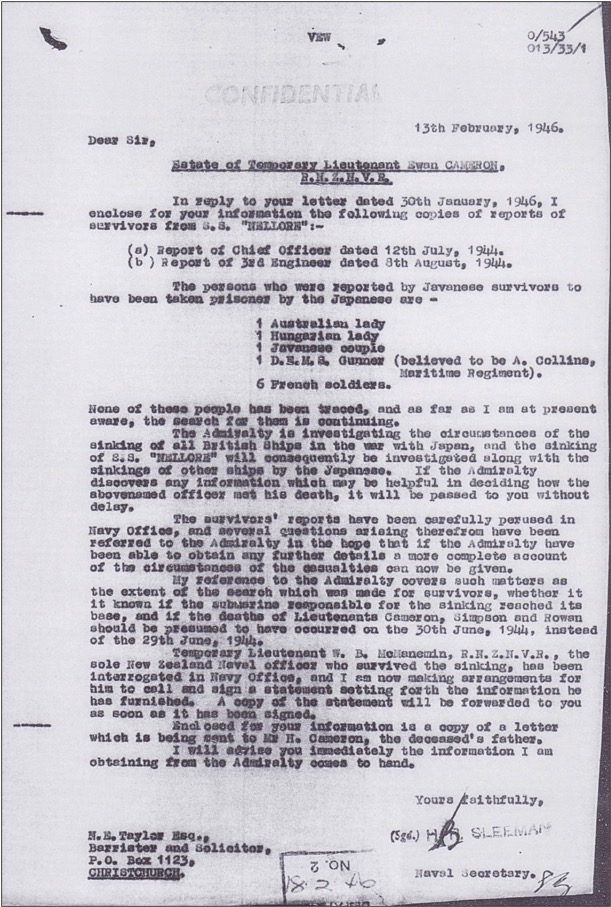 Memorandum for the Commander-in-Chief, East Indies Station
Transcript
Memorandum for:
The Commander-in-Chief,
East Indies Station,
Trincomalee
13 February 1946
Loss of S.S. "Nellore". 29th June, 1944
I am to refer to your memorandum H.I. 15864/45 dated 18 October, 1945, and enclose for your information a copy of a memorandum, N.A. 013/33/1 dated 13 February, 1846, which is being sent to the High Commissioner for New Zealand in London.
2. The solicitors acting in connection with the administration of the estates of Temporary Lieutenants Ewan CAMERON, Richard L. SIMPSON and
Geoffrey A. ROWAN, R.N.Z.N.V.R. desire to place before the Supreme Court, in their applications for probate of the officers' Wills, a complete story of the sinking of S.S. "Nellore", and every shred of evidence which is in the possession of the Admiralty relating to the fates, or possible fates, of the three officers concerned.
3. I am to ask, therefore, that if you are able to furnish the Naval Board with any additional details, the information may be forwarded as early as practicable.
By direction of the Naval Board.
(Sgd.) H. R. Sleeman
Naval Secretary
13 February 1946: Letter to Mr. H. Cameron from Naval Secretary, Wellington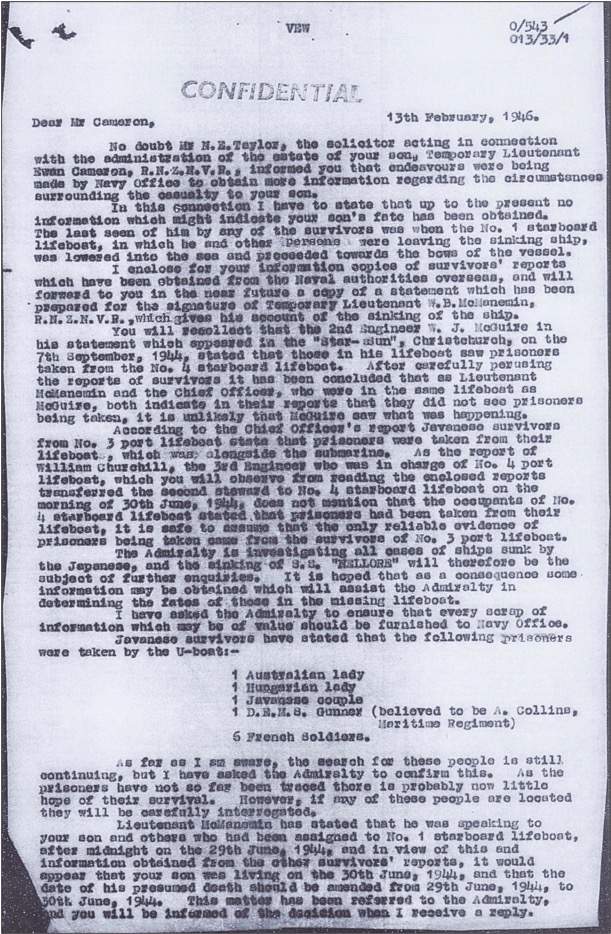 Application for Payment of a War Service Gratuity
Pay Details for War Service Gratuity - 24 May 1946
This calculation reveals that Lt. Cameron was paid the overseas allowance until the date of his presumed death.
Letter from E. A. Broadbridge for NZ Naval Affairs Officer dated 14 March 1945
N. E. Taylor – 28 May 1946 to The Naval Secretary, Wellington.
Once again asking if Admiralty investigation has yet been completed and enquiring whether some or part
of the funds held as deferred pay could be released as Mrs. Cameron had recently taken ill and required convalescence in Nelson, NZ.
Copy of advice to N. E. Taylor that enquiry was still being made: 18 July 1946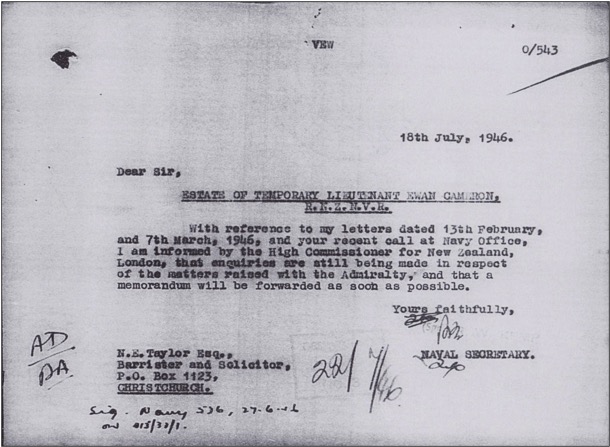 And finally, a Decision
Copy to NZ Naval Affairs Officer, Halifax House.
Memorandum for Navy Office, Wellington.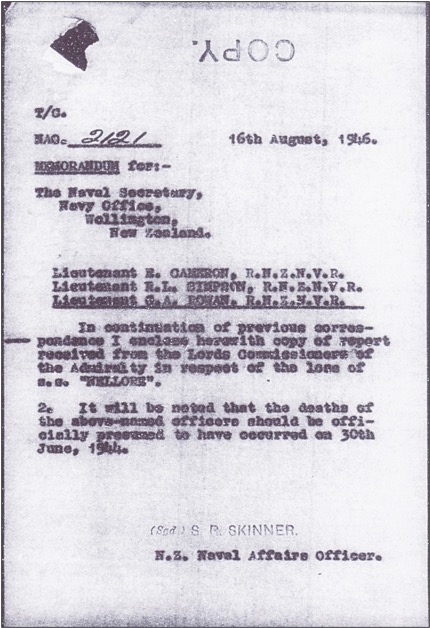 Separate Memo to Deputy London, High Commission for N.Z. 20. 8.46.
Formal Letter to Mr. Hugh Cameron
4 September 1946
Letter from N. E. Taylor to Navy Secretary enclosing Probate.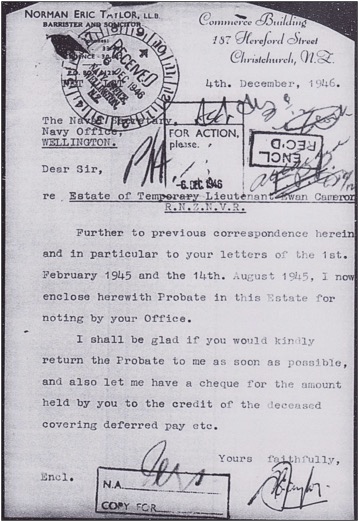 Navy Office Minute Sheet noting Probate sighted 15.1.47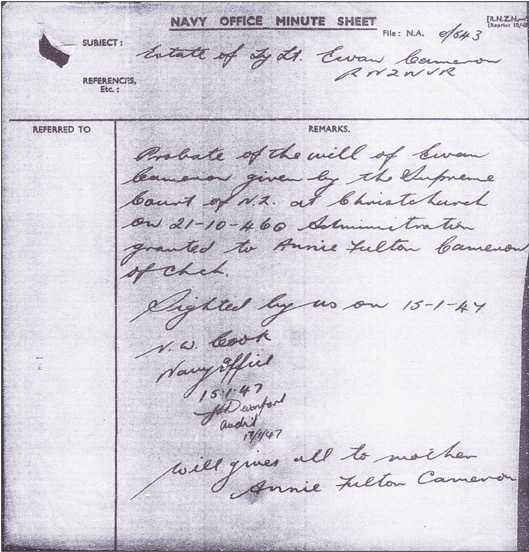 24 February 1947 – N. E. Taylor acknowledging return of Probate and advising:
"I shall be glad to receive this cheque from you at your earliest convenience so that the Estate can be completed"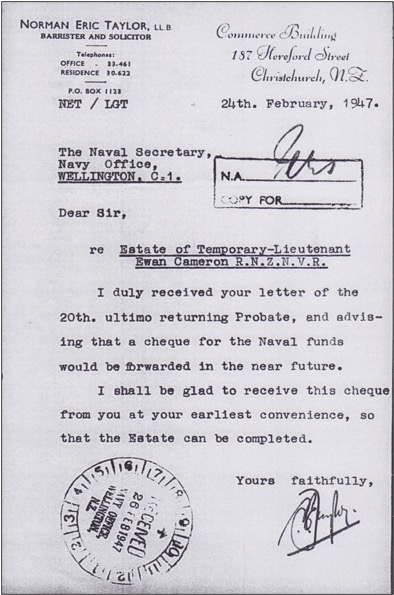 New Zealand Memorial Cross
Source https://collections.tepapa.govt.nz/object/980505
The King George VI New Zealand Memorial Cross was instituted on 12 September 1947 for the relatives of New Zealand servicemen and women who lost their lives on active service between 3 September 1939 and 2 September 1945. The Cross acknowledges their grief and sacrifice.
This Cross was issued to the mother of Lieutenant Geoffrey Alexander Rowan who was killed in active service near Chakos Archipelago, Indian Ocean on 30 June 1944, during the Second World War. He was 28 years old, and serving with the Royal New Zealand Naval Volunteer Reserve.
The Cross was awarded to the families of the more than 11,000 personnel who died while serving in the New Zealand Armed Forces during the Second World War. In particular, many mothers and spouses received the Cross (hence it is sometimes known as the 'Mother's Cross').
Author's Note
Lt. Geoffrey Alexander Rowan died together with Lt. Ewan Cameron and Lt. Richard Lawrence Simpson in the sinking of SS Nellore 30 June 1944.
There is no mention of Lt. Cameron and or Lt. Simpson listed on the website article though all lost their lives in the same incident.
Application for War Decorations and Prize Money
A letter directing the family to apply to the NZ Authorities for War Decorations and Naval Prize Money.
From Director of Navy Accounts 12 July 1949
Ewan Cameron's father died in 1950. It seems that Murray A. Cameron wrote the following letter on behalf of his mother.
We note that this application refers to Prize Money due to Lt. Cameron but the only reference found does not appear in the materials received from the
NZ Defence Force until 30 March 1951. Perhaps the family knew about this from letters home.
Prize Money
At some point Lt. Cameron must have been involved in the seizure of some vessel and was awarded a share of the prize money.
Unfortunately, we know nothing more.
Note the dates of these letters – 1951
Letter from N. E. Taylor to Navy Secretary to collect Prize Money.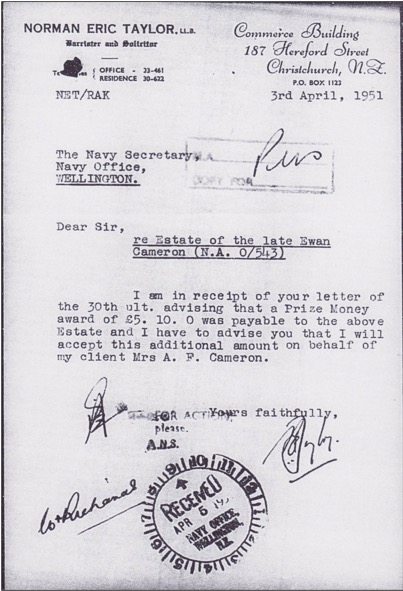 Malayan Bank Account
Letter N.E. Taylor to Naval Secretary, Wellington – 1 August 1952
There can be little doubt that even a professional such as N. E. Taylor would feel relief at finalising such an Estate.
We consider that he managed to conclude the administration of Lt. Cameron's Estate under extreme conditions.
In a final letter dated 13 October 1969 Murray A Cameron wrote once more to the Deputy Secretary of Defence.
He was seeking details regarding his brother's Death Certificate.
A terse and very basic reply.
We note that the trail of correspondence lasted for years following Lt. Cameron's death.
The strain on his parents must have been tremendous. As stated above Hugh Cameron died in 1950 and Annie Cameron in 1953.
Next Section:
The Evidence – Survivors' Accounts