FRANK S. TAYLOR FAMILY AND ROYAL NAVY HISTORY.NET
H.M.S. SCARAB
Lt. Ewan Cameron
Early 1943 – February 1944
Royal New Zealand Navy Volunteer Reserve
Lieutenant
Background events and return to New Zealand
Lt. Cameron had to request a posting back to New Zealand for long overdue leave.
He was also underpaid.
And to cap it all off he was asked to "prove" he was a New Zealander.
On his way back to New Zealand his ship was torpedoed by a Japanese submarine and he tragically lost his life.
Due to a very thorough research effort by MICHAEL WYND - Researcher National Museum of the Royal New Zealand Navy
we can finally present a little of Lt. Cameron's life.
The letters below are in date order.
Prompt communication was not easy in wartime.
The first letter is dated 7 Jan 1943 and Lt. Cameron's reply dated 1 Apr 1943 was not received until 16 July.
Lt. Cameron's reply
Application for relief.
The following letter from Lt. Cameron (18 Oct 1943) was addressed to the Commander-in-Chief, Levant.
The Admiralty responded 29 Nov 1943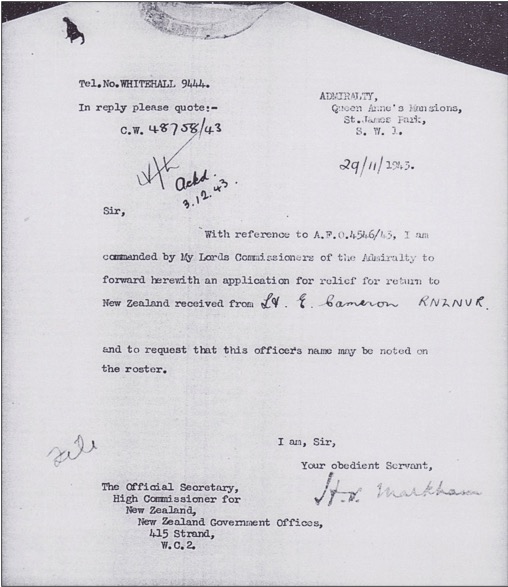 Further action followed two and a half months later on 15 Feb 1944
Lt. Cameron was booked for passage to the U.K. 16 Feb 1944.
Official Leave to go
That journey however did not happen.
See the following letter from Lt. Cameron dated 23 Jun 1944.
Formal report regarding Lt. Cameron's ability and character:
From Rear Admiral Allan Beard, Alexandria – 30. 4.44.
Assumed to be a prerequisite for relief purposes.
"I.K." is possibly "Insufficient Knowledge".
Lt. Cameron's order for his passage back to New Zealand 12 June 1944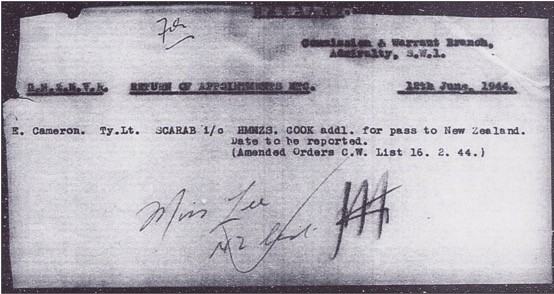 Underpaid for his Service to King and Country
With regard to being underpaid Lt. Cameron was entitled to £4 per month up until 30 June 1943 when he relinquished command.
Press Release: 1 September 1944
Note: the name of the ship and date of sinking are not included.
Reaction of Lt. Cameron's crew to his death
Extract from:
http://frankstaylorfamilyandroyalnavyhistory.net/HMSScarab/ShipsLogs.html
There is however another item mentioned in the logs and this is Punishment.
On 26 June 1944 there is mention of "List of Defaulters". Then from 4 July 1944 until 13 August "Men under Punishment" is a constant entry. We have been unable to find an explanation for this and considering that the ship was in action during this time it seems most unusual.
One possible explanation is that the ship's crew had learned of their previous skipper's death when the steamship Nellore was torpedoed while returning to New Zealand in June 1944. This fits with the dates. We do know that Lieutenant Ewan Cameron was well liked and highly regarded by all the crew. We also know from personal testimony that at least three crew members came to New Zealand and settled here. They all made mention of their Captain's recommendations regarding his homeland and these were a factor in their decision to emigrate and there is no doubt that most of the crew were on warm terms with him.
It is our conclusion that there may well have been an incident involving the crew probably while ashore. We do not know.
Extract from:
http://frankstaylorfamilyandroyalnavyhistory.net/HMSScarab/HMSScarabWW2.html
'Kiwi' Lemberg visited his old skipper's Mum to pay his respects on his return to New Zealand.
Next Section: