FRANK S. TAYLOR FAMILY AND ROYAL NAVY HISTORY.NET

STOP PRESS
Our website has expanded.
We have added this reference for our readers
to give immediate access to
New Articles, Announcements and Updates.
New and recent Additions
H.M.S. Scarab – Lieutenant Ewan Cameron
THE SKIPPER
New September 2022
For many years we have sought and been unable to find details regarding the Skipper of H.M.S. Scarab.
Until now.
This man carried the responsibility for his ship and crew through some of the darkest days of the war.
He was highly regarded by his men.
This is the tale of someone who became a Leader of Men and an Ambassador for his country.
His Tribute also carries details of the distress his family experienced after the sinking of S.S. Nellore.
Hero?
YES.
Announcement
We recently received correspondence from the grand-niece of Bert Lazell, referred to as "The Painter",
who took care of Jenny and Rags the ship's two mascots. He was always referred to as A B Dalzell.
We thank the family of Bert Lazell for bringing this to our attention.
These files have all been revised to correct his name:
Ships Complement & Crew Photos (Oct 1943)
Hi there,
My name is Amelia Toms, myself and my mum have found your website just by googling her uncles ship name. Her lovely uncle Bert was married to her mums' twin Iris, unfortunately we lost Auntie Iris last year, she was 95. We would regularly go through pictures that uncle Bert had got as he always had a camera and took his own pictures where ever he was. I have some pictures we have found going through her things you might be interested in?
We have really enjoyed looking at the pictures. My great-uncle on my mother's side is featured on your site. You have him down as A B Dazell, this is a mistake as his name is Bert Lazell. Also, I remember him calling the Monkey "Gin Girl". He always had lots of stories to tell us about his time on the Scarab and has so many pictures of his own that he took.
Kind regards,
Amelia Toms.
Bert Lazell is on the first camel from the left.
HMS Scarab
Revised June 2023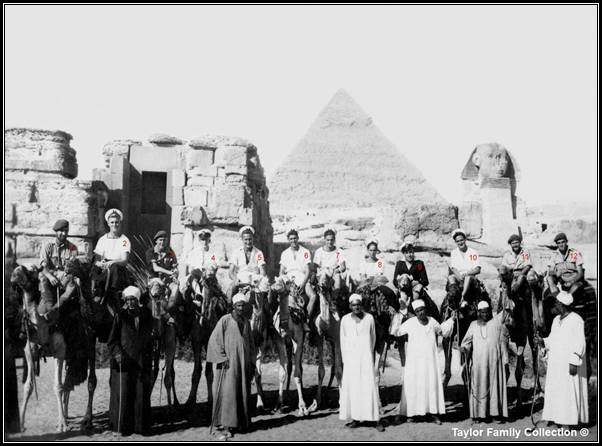 Great Pyramid of Giza with Sphinx in background Cairo, Egypt 1943
Present Day
Author's Note:
A very good friend of mine - Neil (Harko) Harkin took a recent trip to Egypt.
He is aware of the website and took these snaps.
Many thanks for your contribution "Harko".
Cheers Mate.