FRANK S. TAYLOR FAMILY AND ROYAL NAVY HISTORY.NET

STOP PRESS
Our website has expanded.
We have added this reference for our readers
to give immediate access to
New Articles, Announcements and Updates.
New and recent Additions
H.M.S. Scarab – Lt. Ewan Cameron
THE SKIPPER
New September 2022
For many years we have sought and been unable to find details regarding the Skipper of H.M.S. Scarab.
Until now.
HMS Scarab, Cockchafer and Aphis.
RETURN TO THE FAR EAST
TARANTO TO SINGAPORE
1 January – 26 April 1946
New September 2021
HMS Scarab was deployed in the Adriatic in support of shore operations based at Ancona.
Following Victory in Europe she was nominated for service with the British Pacific Fleet against Japan.
However, the Pacific War ended before she and her sister ship's Aphis and Cockchafer left Taranto, Italy bound for Singapore on 1 January 1946.
Revised - New photos including football team 1930 - 31
Revised September 2021
America and West Indies Station 1930 - 1932
A complete account of the ship's commission with photographs taken by Able Seaman W. Fox.
Three cruises, adventures and experiences in the West Indies, the West Coast of North America and circumnavigating South America.
H.M.S. Dauntless – Ship's Personnel
Revised September 2021
We received a message from Paul Diprose regarding his grandfather who served on HMS Dauntless in 1930.
We have added the photo to HMS Dauntless – Ship's Personnel.
Hi. I have my grandfather's album from his time on Dauntless. I can send you some copies of the photos if you are interested.
My Grandfather's name was Ronald Clutton. His number is JX174866
He was a Petty Officer and was in charge of the Guns I was told by my grandmother.
Petty Officer Ronald Clutton.
Service Number JX174866
Announcement
We recently received correspondence from the grand-niece of Bert Lazell, referred to as "The Painter",
who took care of Jenny and Rags the ship's two mascots. He was always referred to as A B Lazell.
We thank the family of Bert Lazell for bringing this to our attention.
25/10/2021
Hi there,
My name is Amelia Toms, myself and my mum have found your website just by googling her uncles ship name. Her lovely uncle Bert was married to her mums' twin Iris, unfortunately we lost Auntie Iris last year, she was 95. We would regularly go through pictures that uncle Bert had got as he always had a camera and took his own pictures where ever he was. I have some pictures we have found going through her things you might be interested in?
We have really enjoyed looking at the pictures. My great-uncle on my mother's side is featured on your site. You have him down as A B Dazell, this is a mistake as his name is Bert Lazell. Also, I remember him calling the Monkey "Gin Girl". He always had lots of stories to tell us about his time on the Scarab and has so many pictures of his own that he took.
Kind regards,
Amelia Toms.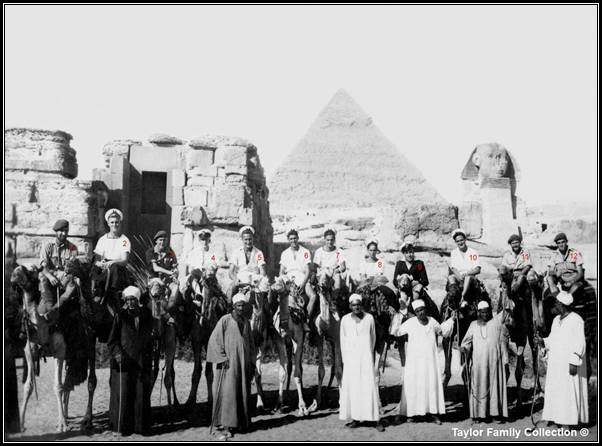 Bert Lazell is on the first camel from the left.